One question for each American League club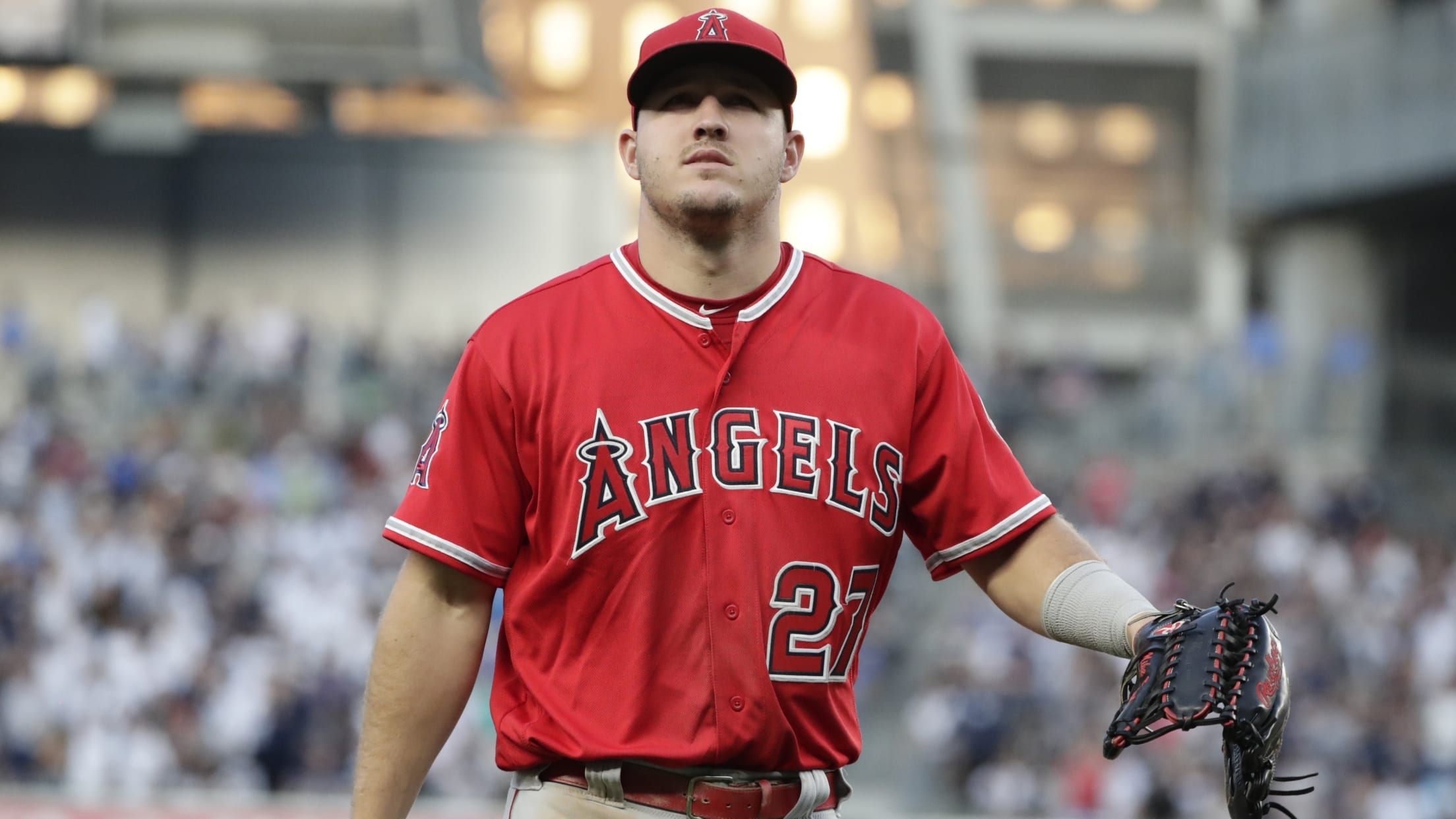 Los Angeles Angels' Mike Trout walks to the dugout after the second inning of the team's baseball game against the New York Yankees on Friday, May 25, 2018, in New York. (AP Photo/Frank Franklin II) (Frank Franklin II/AP)
With Spring Training about a month away, it's a good time to ask some important questions about each MLB team. We'll look at the American League clubs here, with one key question from fans for each of the 15 MLB.com beat writers covering the AL highlighted, as well as a
With Spring Training about a month away, it's a good time to ask some important questions about each MLB team. We'll look at the American League clubs here, with one key question from fans for each of the 15 MLB.com beat writers covering the AL highlighted, as well as a link to more from that reporter's most recent Inbox.
Angels: Are the Halos a free-agent "mystery team?" What would that mean for Michael Trout?
Witht he speculation of there being a "mystery team" on Bryce Harper what is the likelihood it could be the #Angels, also what would it mean for Mike Trout extension if Harper signed?

— JGB2412 (@JaredGBrass) January 16, 2019
Rhett Bollinger, Angels reporter: At this point, it would be very shocking if the Angels were a "mystery team" for Bryce Harper or Manny Machado. The Angels are much more likely to try to use their resources to sign Trout to a mega-extension before his current contract is up after the 2020 season. It would be hard to imagine the Angels being able to sign Harper or Machado and then also having the payroll flexibility to retain Trout.
And while Harper and Machado are elite players, neither comes close to matching Trout's production, as he's been by far the best player in the Majors since his rookie season. (Trout has produced 64 Wins Above Replacement since '12, and the second-highest total in that span among position players is Josh Donaldson with 36.8.)
Angels general manager Billy Eppler, however, has been mum on the status of possibly extending Trout, as he declined to comment when asked about it during the Winter Meetings. But it's clear it remains the top priority for the franchise to keep Trout. More >
Astros: Is Houston pursuing a big trade?
Do you believe the Astros will trade Kyle Tucker and Max Stassi for J.T. Realmuto? If the Astros trade for a starting pitcher, who do you believe it might be?
-- Roland L., Houston
Brian McTaggart, Astros reporter: I think if the Astros were going to acquire Realmuto from the Marlins in a package that included top position-player prospect Tucker they would have done it already. Either they've decided not to trade Tucker, or the Marlins have said "No thanks." Of course, if they decided not to trade Tucker, they could always change their minds. Stay tuned.
A couple of names to keep an eye on in terms of starting pitchers: Sonny Gray of the Yankees and Marcus Stroman of the Blue Jays. More >
Athletics: Is a homecoming in store?
Do you think there is a chance Gray will come back to Oakland?
-- Susan J., Castro Valley, Calif.
Jane Lee, Athletics reporter: Yes. That doesn't mean I think it will definitely happen, but there is a chance. From what I've heard, the A's have kept tabs on Gray all winter. The Yankees have made it known that they'd like to move Gray and it's unclear just how much, if any, their asking price has budged. Sources indicate it was too high in the early going of the offseason, at least too high for the A's.
I personally think a return to Oakland would be a good move for Gray, who has a great relationship with manager Bob Melvin and prefers pitching in a smaller market. The A's, obviously, could use him, so it would seemingly be a win-win should a deal be worked out. More >
Blue Jays: How will Toronto work its outfield?
Don't the Blue Jays need to trade an outfielder? Using a Teoscar Hernandez/Billy McKinney platoon doesn't really make sense because they need to find out if both can be productive everyday players.
-- Christopher M., Richmond Hill, Ontario
Gregor Chisholm, Jays reporter: You're not wrong. At some point the Blue Jays need to make a decision, but it doesn't have to be right away. There should be plenty of at-bats to go around if Toronto puts together an outfield rotation that sees Randal Grichuk making some occasional starts in center and Hernandez receiving occasional at-bats at DH. With five players -- including Kendrys Morales -- for four spots, playing time should not be that big of an issue.
If McKinney and Hernandez have strong camps and get off to hot starts, the Blue Jays might have a problem on their hands, but it's one they'll be more than happy to deal with. Neither player would benefit from yet another stint in the Minors, so the Blue Jays might as well see what they've got at the Major League level, even if it's not in the traditional everyday role. After all, Hernandez is already 26 and McKinney is 24. More >
Indians: Who's on first?
Are the Indians planning on Bauers playing all year at 1b or will Santana split time between DH and 1b?

— Andrew Scherson (@schersonator455) January 16, 2019
Mandy Bell, Indians reporter: The Indians are planning to "blend" Carlos Santana and Jake Bauers at first base this season, but they haven't said who would get the majority of the starts. Spring Training will obviously help determine that, but my best guess is it will also depend on the rest of the team's offseason moves in the next few weeks.
As of now, it seems safe to assume that when Santana is at first base, Bauers will be penciled in as the designated hitter and vice versa. This rotation between the two could work out for the Indians, especially if Bauers gets off to the same hot start at the plate that he did in 2018. But if Bauers is needed in the outfield, then things will start to get tricky.
With Bauers in either corner outfield spot and Santana at first, there aren't many other big bats that the Indians have on their current roster to fill in as a designated hitter. If the team can add another bat via trade or free agency before Opening Day, that could make this process a little easier, especially if Cleveland doesn't pick up another outfielder. Santana could then be an everyday first baseman to allow Bauers to assist in the grass.
Now, if the team does add at least one outfielder and doesn't get a bat, then that could result in Santana and Bauers splitting time or just having Santana shift into more of a DH role, leaving Bauers to man first. More >
Mariners: Is Kikuchi a top prospect -- or even a prospect?
Why isn't Yusei Kikuchi ranked as one of the Mariners' top prospects?
-- Dakota H., Bonney Lake, Wash.
Greg Johns, Mariners reporter: To be regarded as a "prospect" by MLB Pipeline, players must have rookie eligibility, which for the most part means less than 130 at-bats or 50 innings pitched in the Major Leagues. But they don't include players who are 25 or older and have competed in professional leagues in Japan, Korea, Taiwan or Cuba. So Kikuchi, at 27, isn't included on prospect rankings, though he will still be a rookie in MLB and eligible for Rookie of the Year honors and such. More >
Orioles: Can analytics lead Davis to a resurgence?
How is Chris Davis coming along? Will analytics help him?
-- Rivka M., Baltimore
Joe Trezza, Orioles reporter: The short answer is, data has the potential to put any player in a better position to succeed, even if some are reluctant to utilize it. The new, analytically inclined Orioles regime will make sure Davis has access to as much information as he wants, and there are certainly areas of his game that it seems, at least in theory, more data could help improve. Think more advanced scouting reports of pitchers, how they attack him in specific counts, how well he performs against certain pitches, things like that.
That said, I've been sensing a hope among O's fans that general manager Mike Elias and company will be able to wave a magic analytics wand and instantly fix Davis. That's not going to happen. The numbers are not a cure-all by any stretch, particularly for a player like Davis, whose skills were diminished, in large part, by advanced data (think: shifts). I'm more curious about how they'll be able to help him -- stay with me here -- on the mental side.
Davis has admitted how his confidence plummeted last summer, and that led to his slump snowballing into what it eventually became. When reading about that, I'm always drawn to what Cardinals third baseman Matt Carpenter went through last April. Carpenter wound up putting up National League Most Valuable Player Award-type numbers, but if you remember, he began the season in a dismal slump. The 32-year-old hit .145 over the season's first month, at which point Carpenter -- who doesn't dig into data often -- solicited St. Louis' front office for help. Was there anything, he asked, in the numbers that could explain his struggles?
The Cardinals came back with spreadsheets that essentially said, yes. But the diagnosis wasn't dire. The gap between Carpenter's expected stats and actual stats were wider than any player's in baseball. While a lot of players feel like they're hitting into bad luck, Carpenter actually was, and the data proved it. The Cardinals suggested he keep everything in his swing the same, to stay the course. Relieved, Carpenter listened. He ended up having one of the best seasons of any hitter in the NL in 2018.
I'm not saying Davis' problems were all mental last season. But Carpenter's story is an example of how analytics can sometimes provide a player with something as simple as peace of mind, and how sometimes that translates into improved production on the field. More >
Rangers: What's the offseason approach to finding pitching?
It seems that the past 2-3 years, the Rangers signed no less than three pitchers who were coming off serious injuries. Those pitchers were almost immediately ordained as starters. The track records are not good. History is not encouraging. Is the front office hoping against hope that it will work out this time? Are they biding time and saving money in an attempt to sign a proven starter or two next year when the new park opens?
-- Jim C. Stephenville, Texas
T.R. Sullivan, Rangers reporter: The Rangers' strategy the past two offseasons has been quite obvious. Their farm system is barren of young pitchers at the top end, and they have an abnormally high number of openings in the Major League rotation. The Rangers have been relentless over the past 18 months in trying to restock their Minor League pitching and have made significant progress. But it has required them to buy in bulk on the free-agent market to rebuild the big league rotation, and they have had to take chances on pitchers with questionable physical and performance issues. If the Rangers' farm system can start being productive again, they can get back to being more selective and more aggressive in playing at the higher end of the free-agent market in the near future. More >
Rays: Will Tampa Bay sign a strong free agent?
Are the #Rays still in the mix for Realmuto and/or Jose Martinez?
-- @theicchamp11 via Twitter
Juan Toribio, Rays reporter: Even with the acquisition of outfielder Avisail Garcia, the Rays will continue to look for ways to improve, and that includes going after Realmuto, Martinez and others. The Marlins have been consistent with their asking price, and it remains to be seen whether any club will meet their demands. Tampa Bay can check off every box on Miami's asking price, which includes a young Major League player and a variety of top prospects. Realmuto is one of the best catchers -- if not the best -- in baseball and the Rays will look to acquire someone of that caliber if the offer fits their plans.
It's also worth noting that Realmuto only has two more years of control, which could play a factor in Tampa Bay's pursuit. The Rays believe they can compete in 2019 and '20, but they also don't want to trade away too many of their younger players, as their goal is to have sustained success with their young nucleus.
As for Martinez, it still remains to be seen whether St. Louis is willing to trade him. With the addition of Paul Goldschmidt, it appeared that the Cardinals were going to begin shopping Martinez, but nothing has come to fruition over the past couple of months. Martinez is under control for four more seasons, so the Cards aren't forced to make any quick decision on him. More >
Red Sox: Is 2019 the year for a top prospect's debut?
Is it possible top hitting prospect Michael Chavis would play second base this season?
-- Roger, The Villages, Fla.
Ian Browne, Red Sox reporter: I think it's more likely that Chavis will continue to get more exposure to first base. Mitch Moreland and Steve Pearce both are eligible for free agency at the end of 2019. If Chavis has a strong enough season, he could convince the Red Sox that he's ready to take over first base in '20. As far as second base, this could become a more realistic possibility if Dustin Pedroia has more injury complications. But at this point, the Sox are hopeful that Pedroia can get back on the field. More >
Royals: How will the outfield shape up?
How do you see the outfield shaking out? Several options for this season...Gordon, Hamilton, Bonifacio, Goodwin, Soler, Phillips, Gore...

— Shawn Long (@burgmuleman) January 16, 2019
Jeff Flanagan, Royals reporter: This will be a hot topic in camp. Obviously, Alex Gordon and Billy Hamilton have two spots in the outfield. Who will be in right field? Jorge Soler, Brett Phillips, Brian Goodwin and Jorge Bonifacio all will be candidates. As mentioned, Phillips and Bonifacio have options, but I wouldn't be surprised if one of them makes the 25-man roster and gets enough playing time to warrant the decision. Soler, if healthy, is going to get most of the at-bats in any right field/designated hitter rotation. That's a fact. I could still see them carrying one more outfielder beyond Goodwin, though he could be a guy that is dealt at some point as the Royals begin to look toward the future with No. 2 prospect Khalil Lee and others. More >
Tigers: Too soon for Mize's call up?
The Detroit Tigers should call up Casey Mize. He's already 21 with three years of college experience. The Tigers clearly are going to be terrible. So why not let Mize learn on the fly?

— Lenny Padilla (@lenny_padilla) January 16, 2019
Jason Beck, Tigers reporter: Once upon a time, the idea of jumping a pitching prospect to the Majors quickly wasn't that far-fetched. Jeremy Bonderman opened the 2003 season in the Tigers rotation at age 20 after ending the previous season in Class A ball. Rick Porcello did the same six years later. Justin Verlander made his Major League debut in 2005 barely a year after he was drafted.
Those moves rarely if ever happen anymore. Part of that is organizational planning: Teams try to time prospects' arrivals so that they can build a window to contend with young talent before players become eligible for free agency. Part, too, stems from the way teams watch pitchers' innings from year to year in hopes of avoiding too big of a jump that could increase risk of injury.
So, while there's a strong possibility Casey Mize opens Spring Training in Major League camp for the experience like Alex Faedo did last year, I don't expect him to get to the big leagues until next year. More >
Twins: How would you describe the Twins' offseason strategy?
We say we need pitching, we sign a 38 yr. old DH(great move) and let go of a young pitcher🤔, we sign a 33 for one year and let go of another young pitcher. The top people say they are building for the future. How does that work?

— Doug Doescher (@DsrdDoescher) January 16, 2019
Do-Hyoung Park, Twins reporter: It's a balance between building for the future and taking advantage of an opportunity to contend. The American League Central is pretty weak right now, and if the Twins get bounceback seasons from Miguel Sano and Byron Buxton, this roster looks to have the ability to contend for the playoffs, and the front office is moving accordingly with recent moves for Nelson Cruz and Richard Parker.
Letting go of Aaron Slegers and John Curtiss takes away two able arms for the future, but there's organizational depth to keep the pitching pipeline populated moving forward. Eleven of the Twins' Top 30 prospects are pitchers, and Minnesota has many young pitchers that, like Slegers and Curtiss, are on the brink of establishing themselves at the Major League level: Kohl Stewart, Stephen Gonsalves, Fernando Romero, Zack Littell, Adalberto Mejia, Chase De Jong and Gabriel Moya, to name a few.
And if the Twins' 2019 push falls short? In that case, Minnesota can deal some of these players to contending teams for more prospects, just like it did at last year's non-waiver Trade Deadline. More >
White Sox: Should the Sox spend big this offseason?
I don't like to see the Sox willing to commit a large fraction of future spending to one position player. Remember that it was great starting pitching that got us the 2005 championship. And while we have several very good prospects in the pipeline, they are not a sure thing. Any huge contract for a position player has to be one that can be traded away later if starting pitching is needed. Do you agree?
-- Kurt, Cedar Rapids, Iowa
Scott Merkin, White Sox reporter: I don't agree in this case. You don't add a player such as Manny Machado or Bryce Harper with the thought of trading either. These are players you build winning franchises around. The White Sox targeted this offseason as part of this rebuild and have plenty of payroll flexibility over the next few years. Pitching remains important, but the White Sox are developing young hurlers and will add via free agency if the situation dictates. More >
Yankees: What's the deal with Machado?
I have been dreaming about Manny Machado being the third baseman since his rookie year. Why is he not a Yankee yet?
-- Ruben E., Rockport, Texas
Bryan Hoch, Yankees reporter: A couple of years ago, when the Yankees were unloading veterans and embracing the "Baby Bombers" prior to the 2016 non-waiver Trade Deadline, it was easy to look at this offseason and wonder if they might spend a half-billion dollars to add both Harper and Machado, perhaps in one wild Las Vegas Winter Meetings spending spree. That clearly has not turned out to be the case.
It's simplistic and incorrect to say that the team isn't spending -- Giancarlo Stanton's mega-contract hit the books a year ago, and they are on track to exceed the luxury-tax threshold in 2019 -- but general manager Brian Cashman has said several times this offseason that the preference is to "field the best team you possibly can, at a cost-effective price if possible."
Those words have been ringing in my ears over the past few weeks, as the likelihood of a Machado deal seems to have faded and they have appeared to sit out the Harper sweepstakes. As we learned with Stanton, it's wise to never say never. I'll believe they're truly out when Harper and Machado have news conferences holding up other teams' jerseys. More >