Murray makes history as a 1st-round pick again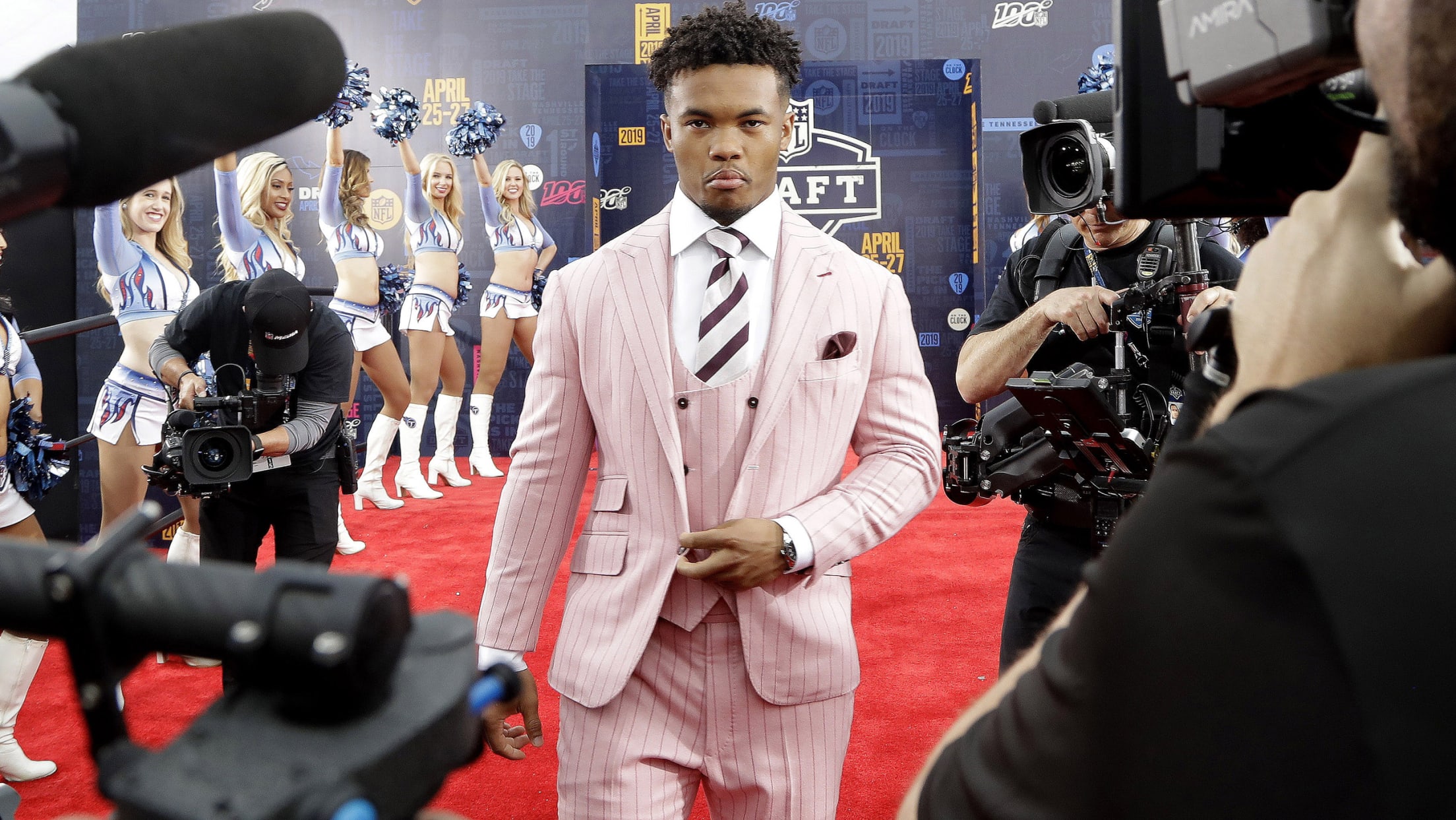 Kyler Murray's pro football career officially began on Thursday after he was selected with the No. 1 overall pick by the Arizona Cardinals in the NFL Draft. Murray, who was the ninth overall pick by the A's last summer, is the first player in history to be selected during the
Kyler Murray's pro football career officially began on Thursday after he was selected with the No. 1 overall pick by the Arizona Cardinals in the NFL Draft. Murray, who was the ninth overall pick by the A's last summer, is the first player in history to be selected during the first round of both the NFL and MLB Drafts.
"It's been a dream of mine since I was a kid," Murray said on ESPN's NFL Draft broadcast. "All the hard work, everyone who's been in my corner who has pushed me to get here, I can't thank them enough I thank god. This is surreal."
Once destined to a sure bet to play baseball, Murray's football career skyrocketed during the 2018 season when he led the Oklahoma Sooners to the College Football Playoff and won the Heisman Trophy.
Baseball badly wanted Murray. And it still can have him.
According to ESPN's Jeff Passan, Murray returned $1.29 million of the $1.5 million he'd already received and forfeited the remaining $3.16 million due March 1. The club also placed him on the Minor League restricted list, but it still retains Murray's baseball rights.
Should his football career end sooner than anticipated, perhaps in a non-injury-related manner such as on-field struggles, Murray could conceivably return to the diamond. And it wouldn't be unprecedented.
The most recent prominent example of a baseball-football player attempting to play both would be Seattle Seahawks quarterback Russell Wilson, a fourth-round pick by the Rockies in 2010. Wilson, who signed the richest contract in NFL history last week, played parts of two seasons in the Colorado farm system before opting for football. He has attended Spring Training with the Rangers, in 2014 and '15, and the Yankees, who now hold his baseball rights, in '18 and '19.
Chris Weinke played five seasons in the Minors before returning to college at Florida State University, where he won the Heisman Trophy and national championship, then spent seven seasons in the NFL after he was drafted by the Carolina Panthers in the fourth round in 2001.
• Top athletes to play two sports
With a 5-foot-10 frame, Murray embodies more of a baseball build, but because of his raw athleticism, NFL scouts have suggested that he could blossom into an elite quarterback.
After being drafted by the A's last June, Oakland agreed to let him return to the Sooners' football team for the 2018 season despite the risks of injury. That agreement -- and the leverage of selecting him with such a high pick -- was built in part around the notion that Murray would eventually hang up his football cleats and commit to a pro baseball career. The A's also gave Murray a $4.66 million signing bonus.
Murray's baseball agent, Scott Boras, repeatedly reiterated that, despite Murray's football development, Murray was exclusively committed to baseball long term. Later, Murray expressed a desire to play both sports, which the A's never publicly backed.
Shortly after Murray declared to enter the NFL Combine in early February, the A's sent a team of executives to meet with Murray, including executive vice president of baseball operations Billy Beane. Members from MLB's marketing team even pitched Murray on his brandability, and the MLB Players Association lobbied for a provision allowing dual-sport players entering the MLB Draft to be eligible for Major League contracts instead of the Minor League deals that cap spending at a much lower cost.