Tough to choose: Top two-sport athletes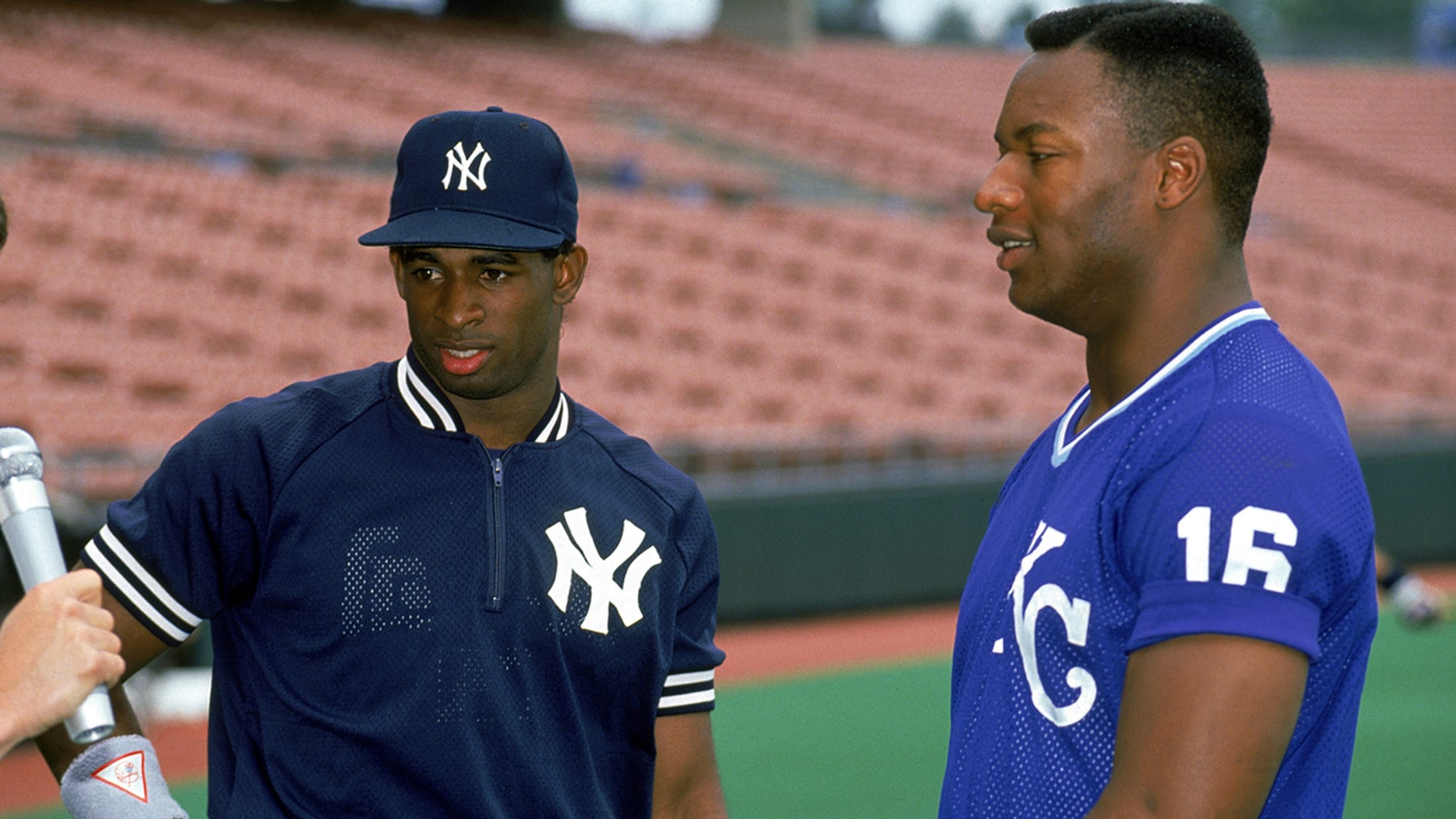 1989: Deion Sanders #21 of the New York Yankees and Bo Jackson #16 of the Kansas City Royals talk to the media prior to a game circa 1989-1990. (Photo by Ron Vesely/MLB Photos via Getty Images) (Ron Vesely/Getty Images)
There are few phenomena in the realm of athletics as fascinating and awe-inspiring as the two-sport star. From Deion Sanders and Bo Jackson, to recent double threats like Kyler Murray and Tim Tebow, we've seen plenty. Even Hall of Fame hurler Bob Gibson, who passed away at age 84 on
There are few phenomena in the realm of athletics as fascinating and awe-inspiring as the two-sport star.
From Deion Sanders and Bo Jackson, to recent double threats like Kyler Murray and Tim Tebow, we've seen plenty. Even Hall of Fame hurler Bob Gibson, who passed away at age 84 on Friday, was a tremendous basketball player.
Creighton mourns the loss of @CU_Baseball and @BluejayMBB great Bob Gibson.https://t.co/T7CN8UB9ec pic.twitter.com/ofOJdlQjCW

— Creighton Bluejays (@gocreighton) October 3, 2020
As we keep an eye on the two-sport stars of the present and future, here's a look back at the amazing athletes we've already seen star in both baseball and football.
RECENT TWO-SPORT STARS
Kyler Murray
Murray's baseball talent made him the ninth overall pick in the 2018 Draft by the A's, and he's the team's No. 4 prospect entering 2019. His football talent made him this year's Heisman Trophy winner. Now the 21-year-old has a big decision to make. Murray had agreed to join the A's for Spring Training 2019 when he signed with them for $4.66 million, but he's also declared for the NFL Draft as a potential first-round prospect, and he appears to be leaning toward picking football over baseball.
Tim Tebow
The former Heisman Trophy winner, college football national champion and playoff-winning quarterback for the Broncos decided to pursue a pro baseball career in 2016 and signed a Minor League contract with the Mets. He's now earned an invitation to Major League Spring Training for a second year in a row. The 31-year-old is coming off a 2018 season at Double-A in which he hit .273 with six homers in 84 games.
Russell Wilson
Wilson was a Rockies fourth-round Draft pick in 2010 after playing football and baseball at NC State, and he even played two Minor League seasons in Colorado's system. But he transferred to Wisconsin in 2011 for one last year of college football, and his amazing year was his ticket to the NFL. He left the Rockies to enter the 2012 NFL Draft, the Seahawks took him in the third round, and he's now a Super Bowl champion and one of the league's best quarterbacks. But Wilson has also stayed close to the diamond -- he'll join the Yankees at Spring Training for a second straight year in 2019.
Jeff Samardzija
Shark was a star pitcher and an All-American wide receiver at Notre Dame in the mid-2000s. He could have been a high-round NFL Draft pick in 2007 -- he had just caught 78 passes for 1,017 yards and 12 touchdowns his senior season and finished as the runner-up to Calvin Johnson for the Fred Biletnikoff Award as the nation's top receiver. But the Cubs beat the NFL to the punch. They drafted Samardzija in the fifth round in 2006 and convinced him to pick baseball over football. It paid off -- the right-hander, a 2014 All-Star, has been in the Majors for more than a decade and earned north of $80 million so far.
THE MLB-NFL BIG THREE
Bo Jackson
Jackson is one of the greatest all-around athletes of all time, smashing prodigious home runs and rushing for jaw-dropping touchdowns. Playing for the Royals, White Sox and Angels from 1986-94, and the NFL's Raiders from 1987-90, Bo is the only athlete ever to be both an MLB All-Star and an NFL Pro Bowler.
Jackson's most memorable moment as a football player came on Monday Night Football against the Seahawks in 1987, when he sprinted 91 yards for a touchdown, the longest run from scrimmage in the NFL that year. It was a feat he would accomplish twice more in his four NFL seasons. Bo's greatest baseball moment came in the 1989 All-Star Game, when he launched a 448-foot homer to dead center field in the first inning at Anaheim Stadium, en route to being named the game's Most Valuable Player.
Deion Sanders
He was known as "Prime Time" during his career in the NFL, and he carried over the excitement he brought to the gridiron to the baseball diamond. Sanders, a Hall of Fame defensive back and occasional wide receiver, totaled 53 career interceptions in an NFL career during which he played for the Falcons, 49ers, Cowboys, Redskins and Ravens.
Meanwhile, Sanders was also playing baseball in nine of the 14 years he was in the NFL, as a speedy ourfielder for the Yankees, Braves, Reds and Giants. He stole 186 bases, including a career-high 56 in 1997 with Cincinnati. He remains the only person to play in both the World Series (1992 with Atlanta) and the Super Bowl (1995 with the 49ers and '96 with the Cowboys).
Brian Jordan
Jordan was selected 30th overall by the Cardinals in the 1988 MLB Draft, and also in the seventh round of the 1989 NFL Draft by the Bills. Jordan chose to pursue football, but was cut by Buffalo. He caught on with the Falcons, however, and played as a defensive back from 1989-91, making the Pro Bowl as an alternate in his last year. Jordan then gave up football to play full-time with the Cardinals in 1992 and would go on to have a 15-year MLB career from 1992-2006, playing for the Cardinals, Braves, Dodgers and Rangers. He was an All-Star in 1999, launching 23 homers and a driving in a career-high 115 runs for the Braves.
MADE IT IN BOTH SPORTS
Drew Henson
Henson was the quarterback who took over for Tom Brady at Michigan, but the Yankees got to him before the NFL. Henson played eight games in the Majors from 2002-03, and got his only career hit in his final game. He pivoted to football in 2004 and made it to the NFL as a backup quarterback for the Cowboys, seeing action after Tony Romo and Vinny Testaverde got hurt and throwing his only career touchdown pass. After playing his final snaps in 2008, he later returned to baseball as a Yankees scout.
D.J. Dozier
Dozier was the Tebow before Tebow. First, he was a running back for the Vikings and Lions from 1987-91, with seven rushing touchdowns in the NFL. Then he made the switch to baseball -- even though he hadn't played since high school -- and worked his way to the Major Leagues as an outfielder… also with the Mets. Dozier played 25 MLB games, all in 1992, going 9-for-47 with two doubles and four stolen bases.
CHOSE BASEBALL
Darin Erstad
Erstad was a two-time All-Star, a Silver Slugger, a three-time Gold Glover and a World Series champion with the Angels. But before the Halos made him the No. 1 overall pick in the 1995 MLB Draft -- a Draft that also included a high schooler Tom Brady, who was taken by the Expos in the 18th round -- Erstad was the punter for the undefeated national champion 1994 Nebraska football team. In the Cornhuskers' Orange Bowl win over Miami, Erstad averaged 41.1 yards on his seven punts, with a long of 54 yards.
Todd Helton
Drafted in the same first round as Erstad, eighth overall in 1995, the longtime Rockies star was also a college quarterback at Tennessee. In fact, he was even ahead of Peyton Manning on the depth chart Manning's freshman year, until Helton hurt his knee in a loss to Mississippi State and was replaced by Manning. It all worked out for Helton in the end, as he went on to belt 369 home runs in his MLB career, make five All-Star teams and win a batting title.
Frank Thomas
The Big Hurt went to Auburn on a football scholarship after he was passed over in the 1986 MLB Draft out of high school. He played tight end for the Tigers his freshman year and caught three passes for 45 yards, but he soon joined the baseball team -- and the rest is history. The White Sox drafted Thomas seventh overall in 1989, Thomas won back-to-back MVP Awards in 1993 and '94, crushed 521 homers in a 19-year career, and was elected to the Hall of Fame in 2014.
Kirk Gibson
The World Series hero for the 1984 Tigers and '88 Dodgers was an All-American wide receiver for Michigan State in the late 1970s. Gibson was even voted into the College Football Hall of Fame in 2017. He could have gone pro in baseball or football -- in 1978, Gibson was selected in both the MLB Draft (12th overall by the Tigers) and the NFL Draft (in the seventh round by the Cardinals). He picked baseball, and the Tigers and Dodgers are glad he did.
CHOSE FOOTBALL
John Elway
The Hall of Fame quarterback defined his legacy when he led the Broncos to back-to-back Super Bowls in 1997 and '98. But he could have been a Yankee. Elway was drafted in the second round, 52nd overall by New York in 1981 -- six spots ahead of Tony Gwynn. In one season at Class A Oneonta, he hit .318 with four homers in 42 games and gave George Steinbrenner visions of Elway playing right field in pinstripes. It wasn't to be. Elway was taken No. 1 overall in the 1983 NFL Draft by the Colts, used his baseball prospects to force a trade to Denver and became one of the great football players of all time.
Ricky Williams
The Dolphins' Pro Bowl running back was also a Phillies prospect once upon a time. Williams was drafted by Philadelphia in the eighth round out of high school in 1995, and he played four summers as an outfielder in the Minors while he was also starring on the gridiron at Texas, where he won the Heisman in 1998. Ricky hit .211 with four homers and 46 steals in 170 games in Rookie ball and Class A. He was even Jimmy Rollins' teammate in 1997 with the Piedmont Boll Weevils. Rollins later called Williams the "fastest guy I've ever laid eyes on" -- and he did lead the NFL with 1,853 rushing yards in 2002.
John Lynch
Lynch was a nine-time Pro Bowl safety and a Super Bowl champion with the Buccaneers in 2002. But before he chose the NFL, he also threw the first pitch in the history of the Marlins organization. Yes, that's right. Lynch was the Marlins' second-round Draft pick as an expansion franchise in 1992 (they took future All-Star catcher Charles Johnson in the first round). He went to the Minors with the Erie Sailors, and that's where the history happened, a year before the Marlins played their first Major League game.
MLB STARS WITH A DIFFERENT SECOND SPORT
Two-sport stars aren't limited to baseball and football, of course. Here are some famous MLB players whose other sport wasn't football.
Bob Gibson: The Hall of Fame hurler also played basketball while in college at Creighton, averaging more than 20 points per game in his career. When he graduated college, he got offers from both the Harlem Globetrotters and the Cardinals. He played for the Globetrotters for a year, before sticking to baseball permanently and beginning his Cardinals career.
Tom Glavine: The Hall of Famer, 300-game winner and Braves icon was also an NHL draftee by the Kings in 1984. Glavine was taken in the fourth round, 69th overall, ahead of hockey Hall of Famers Brett Hull and Luc Robitaille.
Kenny Lofton: The longtime Indians speedster -- a six-time All-Star, four-time Gold Glover and five-time stolen base champion -- attended college on a basketball scholarship. Lofton played in the Final Four at Arizona in 1988, and in two World Series with Cleveland and the Giants.
Tony Gwynn: Gwynn is one of the greatest pure hitters in baseball history, collecting 3,141 hits in his Hall of Fame career. But the same day he was drafted by the Padres in the third round in 1981, he was also drafted by the NBA's Clippers in the 10th round, after starring in both baseball and basketball in college at San Diego State. Luckily for MLB fans, he chose baseball.
Dave Winfield: Winfield was drafted in three different sports. In 1973, the Hawks took him in the NBA Draft (the Utah Stars also picked him in the ABA Draft); the Vikings took him in the NFL Draft (he hadn't even played college football); and, of course, the Padres took him in the MLB Draft. Winfield picked baseball and now he's a Hall of Famer.
Michael Jordan: OK, so he wasn't technically an MLB star. MJ's Minor League run with the White Sox is still one of the most memorable two-sport experiments in recent history. Between his NBA dynasties with the Bulls, Jordan hit .202 with three homers in 127 games for Double-A Birmingham in 1994 and also hit .252 in the Arizona Fall League.
Dave DeBusschere: DeBusschere's stardom was in the NBA with the Pistons and Knicks -- he's in basketball's Hall of Fame, not baseball's. But he played in MLB, pitching parts of two seasons with the White Sox in 1962 and '63. DeBusschere went 3-4 with a 2.90 ERA and 53 strikeouts, and threw a shutout on Aug. 13, 1963 against the Indians. He even got one hit as a batter.
Jackie Robinson: Before he broke baseball's color barrier, wowed Dodgers fans with his electric play, earned his spot in the Hall of Fame and had his No. 42 retired by MLB, Robinson did it all in college at UCLA. He was a varsity letterman in four sports -- baseball, basketball, football and track.
Jim Thorpe: A pioneering multi-sport athlete, Thorpe was the first Native American to win an Olympic Gold Medal for the United States -- winning the pentathlon and decathlon in 1912. Thorpe also played professional football, basketball and baseball. In six MLB seasons, mainly with the Giants, Thorpe hit .252 with seven home runs.