A's looking for offensive boost vs. tough foes
With O's and M's looming, Oakland's bats total 3 runs against Cubs' staff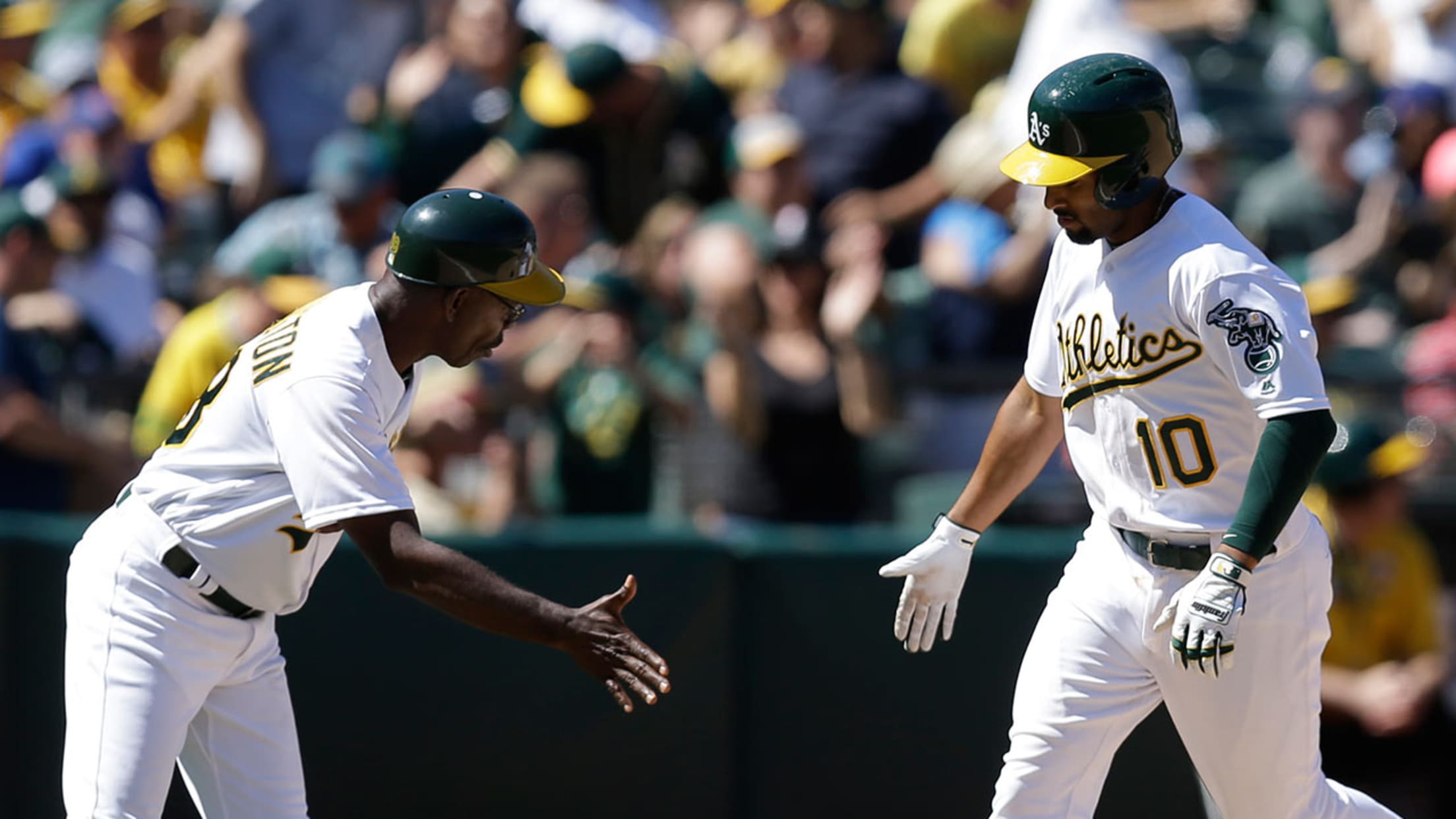 Marcus Semien's solo homer accounted for the A's only run on Sunday vs. the Cubs. (AP)
OAKLAND -- The reeling A's faced the hottest team in baseball this weekend in the Cubs, and opposing Chicago's three strongest pitchers certainly didn't help.Chicago's Jon Lester, Jake Arrieta and Kyle Hendricks all delivered terrific outings, finishing off a sweep Sunday at the Coliseum behind Hendricks. Oakland scored three runs
OAKLAND -- The reeling A's faced the hottest team in baseball this weekend in the Cubs, and opposing Chicago's three strongest pitchers certainly didn't help.
Chicago's Jon Lester, Jake Arrieta and Kyle Hendricks all delivered terrific outings, finishing off a sweep Sunday at the Coliseum behind Hendricks. Oakland scored three runs in three games, advanced just one runner past second base over their last two, and were swept for the ninth time this season in a 3-1 loss.
The A's are losers of eight of their last nine games. Their unsettled starting rotation has gone 0-6 with a 9.96 ERA in their last eight games, but their starters pitched with a slim margin of error against the Cubs. Sunday's starter Sean Manaea threw five scoreless innings before allowing solo homers in the sixth and seventh to Kris Bryant and Jorge Soler, respectively, taking his seventh loss.
"It's a pretty good lineup that, other than two pitches, he did a pretty good job against," A's manager Bob Melvin said.
But Oakland's lineup found exactly one pitch -- Marcus Semien belted a solo homer in the eighth on Sunday on a Hendricks sinker -- to account for its only run. At one point, Hendricks retired 17 straight, and his ERA (2.17) is the second lowest in the Majors (Clayton Kershaw, 1.79).
Semien credited Hendricks' success to his ability to mix pitches and also take an unconventional approach against righties, throwing a steady amount of changeups.
"It's just tough to stay on one thing," Semien said.
It wasn't long ago the A's surged out of the All-Star break, going 9-4 and raising questions as to whether they'd hold off selling at the Trade Deadline. Oakland was swept by Cleveland and ultimately traded Josh Reddick and Rich Hill to the Dodgers before losing two of three to the Angels.
To make matters worse, two Oakland starters (Jesse Hahn and Sonny Gray) hit the disabled list and another, Dillon Overton, was optioned to Triple-A after allowing seven runs to the Cubs on Friday. Oakland has struggled to combine quality at-bats with strong pitching performances over their recent stretch.
"That's why you lose games," Melvin said. "Granted, we had some decent pitching performances, certainly today, but we couldn't do enough offensively to put some pressure on them."
Lester was solid on Friday, allowing two runs in six innings, and Arrieta threw eight scoreless innings Saturday, setting up Hendricks' strong performance in the finale. The A's have just seven hits combined over their last two games, and the Cubs have won seven straight and own the Majors' best record (69-41).
Now, they prepare for a four-game series against the Orioles, who are fighting to remain in first place in a crowded American League East. And after that? Three games against the Mariners, who sit 3 1/2 games back in the AL Wild Card.
"Get back to work, come up with a better game plan," said Semien when asked how the offense must rebound. "Hitting can be contagious, so we have to set the tone early and get out to a big lead and help us out."
Mark Chiarelli is a reporter for MLB.com based in the Bay Area.