Defensive miscues, walks add up in A's loss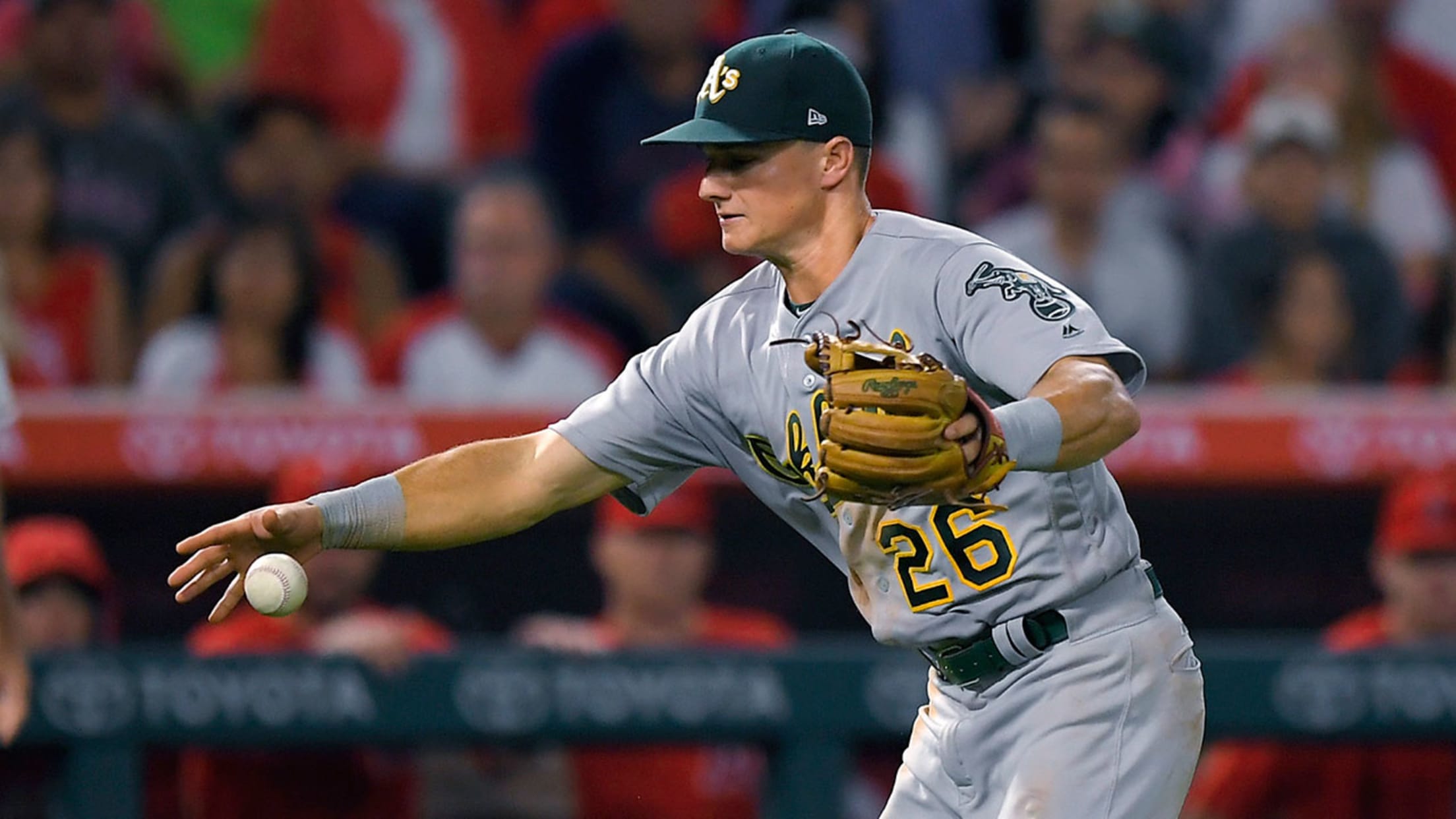 Matt Chapman, known for his strong defense, had a couple of misplays that proved costly in an 8-6 loss to the Angels. (AP)
ANAHEIM -- On a night when the A's put together four extra-base hits and held a 6-4 lead heading to the bottom of the sixth inning, their defense and bullpen let them down.The Angels rallied to beat the A's, 8-6, on Friday night at Angel Stadium, thanks in part to
ANAHEIM -- On a night when the A's put together four extra-base hits and held a 6-4 lead heading to the bottom of the sixth inning, their defense and bullpen let them down.
The Angels rallied to beat the A's, 8-6, on Friday night at Angel Stadium, thanks in part to defensive miscues and a total of five free passes from the pitching staff. The two errors brought the A's season total to 90, which leads the Majors.
The Angels capitalized on the two errors in the second inning. The first error occurred when center fielder Jaycob Brugman let a ball scoot past him in center, moving Ben Revere over to third base before he would score on a sac fly. Then Yunel Escobar hit a roller that third baseman Matt Chapman wasn't able to corral, allowing Andrelton Simmons to come home, and Oakland's 3-0 lead quickly shrunk to a 3-2.
For Chapman, his night was filled with ups and downs, as the Victorville, Calif., native put the A's in front with his three-run homer in the second and made a nice running grab in foul territory to end the sixth, stranding the bases loaded.
"Definitely some highs and some lows," Chapman said. "When you play baseball every single day, there's good things and bad things that happen."
But Chapman again had trouble handling a slow roller from Escobar in the seventh, which put the Angels up, 7-6. While the play was ruled an infield hit, Chapman wasn't making excuses.
"It's not really how I wanted those plays to go," he said. "I think those are both plays I expect to make. It's never a good feeling when you feel like you missed a play that you can make and you lose a tight ballgame, so that's something that's not going to sit very well with me. ... You gotta shake it off and there's a lot of baseball left."
A's manager Bob Melvin is still trying to sort out the closer situation after the losses of Ryan Madson and Sean Doolittle, who were traded to Washington. Faced with a tight jam in the seventh, Melvin called on righty Blake Treinen after Daniel Coulombe walked three straight batters, who all went on to score.
"We made a couple bad pitch selections in some situations," Melvin said. "Walked three guys in a row. We made our own bed as far as that one, unfortunately."
Joshua Thornton is a reporter for MLB.com based in Los Angeles. He covered the A's on Friday.