Padres fans deserve a round of applause
Ovations for Maton, Richard were memorable moments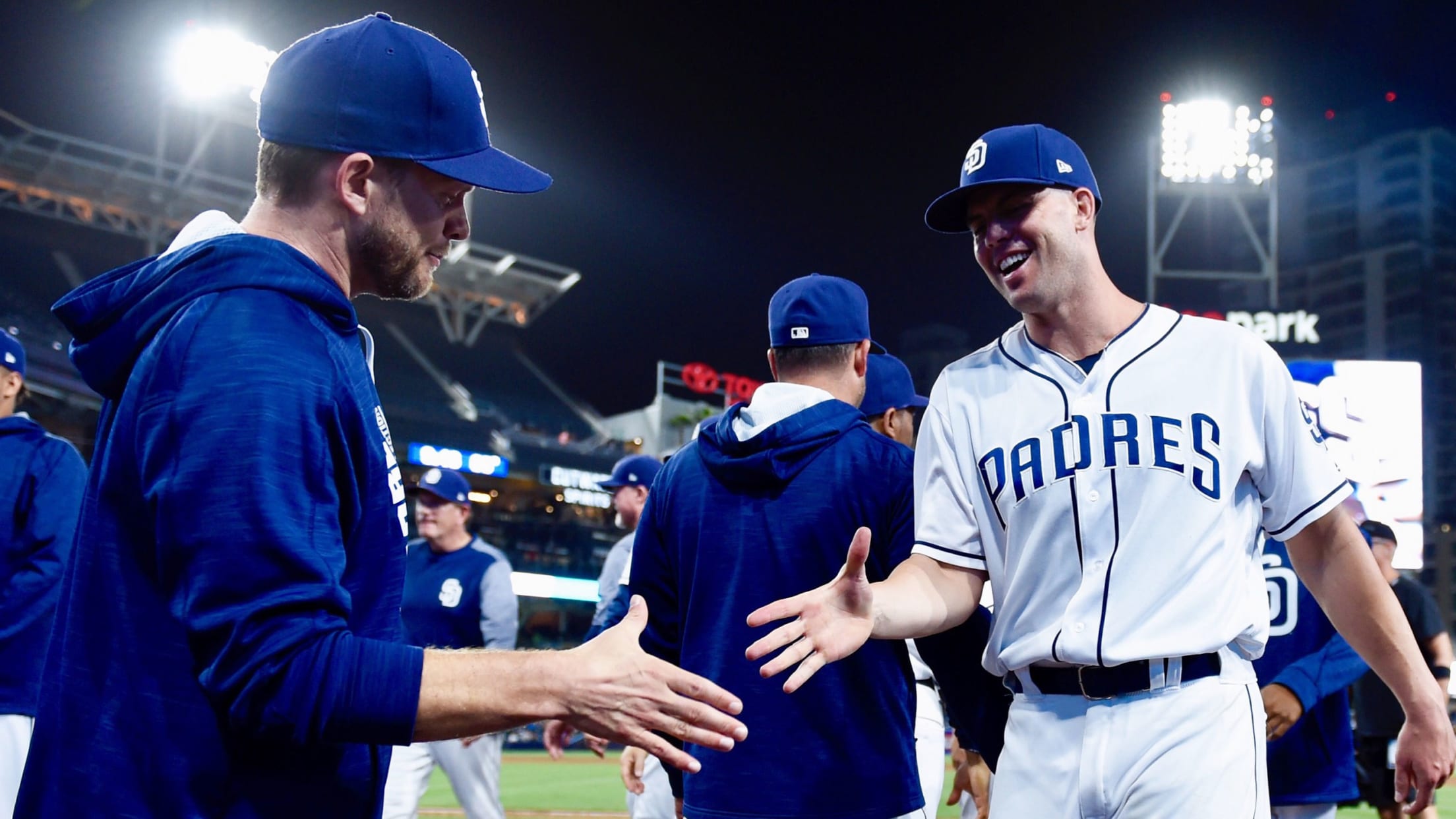 (Padres)
Bill Center, longtime sportswriter for U-T San Diego, is an employee of the Padres.I salute you, Padres fans. Enjoy this one-man standing ovation. You deserve it. Padres fans haven't had a lot to cheer about the past couple of years. But when they do see something they respond in a way that
Bill Center, longtime sportswriter for U-T San Diego, is an employee of the Padres.
I salute you, Padres fans.
Enjoy this one-man standing ovation. You deserve it.
Padres fans haven't had a lot to cheer about the past couple of years. But when they do see something they respond in a way that makes me proud to be a San Diegan.
It's happened twice in the past three days.
On Sunday -- in a loss, fans rose to applaud Phil Maton as he walked off the mound after striking out one in a perfect inning in his Major League debut. It was the perfect "Welcome to San Diego!" moment.
Then came Tuesday night, I have to admit I got a chill when Clayton Richard walked off the mound after falling one pitch shy of the Padres first complete-game shutout in two seasons.
Those at Petco Park stood and applauded Richard. And not just for the moment. It continued until the veteran left-hander walked down the steps of the dugout and disappeared into the night. And it wasn't just cursory applause. It was a standing ovation.
And don't be mistaken, Padres fans. Richard heard you. He even talked about it after the game.
"It's nice to know that the fans get it," said Richard. "It's special to receive that."
Now it's my turn to salute Padres fans. Insert one of those hand-clapping emojis here. The big one.
Richard's ovation - like Maton's - was deserved for different reasons. No. 1, "Nice way to start, Phil . . . welcome to your new home." No. 2, "That was impressive, good on you Richard."
Richard came within one pitch of throwing a complete-game shutout when Cincinnati pinch-hitter Tucker Barnhart dropped a full-count, two-out, two-run double into right in the ninth inning. It would have been Richard's second complete game of the season.
Richard worked out of a two-on, none-out jam in the eighth and came within one pitch of duplicating that performance in the ninth.
There was also applause at the start of the ninth when Richard went out to start the inning. The fans wanted to see Richard go for the complete-game shutout. And so did Padres' manager Andy Green.
"I desperately wanted Clayton to get that last out (for the shutout)," said Green. "He's earned the right."
Honestly, I think some fans might have been applauding Green for letting Richard start the ninth.
Either, way, I'm applauding Padres fans!
NOTE WORTHY:
--I had a favorite play of the game Tuesday night; it was neither of Franchy Cordero's homers. It was a double-play relay by Rule 5 shortstop Allen Córdoba. After touching second for the force to begin the twin-killing, Córdoba threw sidearm to first - forcing Cincinnati baserunner Joey Votto to slide around 20 feet shy of the bag. Old school. This is the way infielders used to turn double plays. They didn't need rules to protect their bodies at second. They dropped their arm angles, avoiding collisions at second by forcing runners to slide early.
--I am saddened by the news that left fielder Alex Dickerson might not play this season due to recurring lower back problems . . . plus the added news that Dickerson could be facing surgery. Dickerson has been on the disabled list since spring training. "He's had another setback," Padres manager Andy Green said of Dickerson Tuesday. "I'm not optimistic that he plays this year." Dickerson, who had worked out at extended spring training, was projected to hit fourth or fifth in the Padres' order this season.
--CF Franchy Cordero hit two home runs Tuesday night, a game after hitting the first home run of his Major League career. He was 3-for-5 with three runs scored, also marking the first time in his 16-game Major League career that he had three hits and three runs scored in a game. Cordero is hitting .327 since being promoted from Triple-A El Paso on May 27 as the replacement for injured CF Manuel Margot.
--LF Jose Pirela was 2-for-5 Tuesday to extend his career-long hitting streak to seven straight games. He is 15-for-27 during the streak with multi-hit performances in six of the seven games. But he did fall under .500 (15-for-31) since being promoted from Triple-A El Paso.
--And 3B Cory Spangenberg had an RBI single in three at-bats Tuesday night to extend his hitting streak to five straight games (9-for-18) with a double, two homers, three RBIs and five runs scored. He also made a great play to end the eighth inning and keep Richard's shutout alive. Spangenberg charged a roller by Adam Duvall, made a bare-hand pickup and threw to first to get Duvall by inches. "That was an awesome play, a big-time play," said Richard. And by the way, Padres fans cheered that play, too.