Jones' donation helps LL team reach tourney
Orioles outfielder contributes $8,500 to cover travel expenses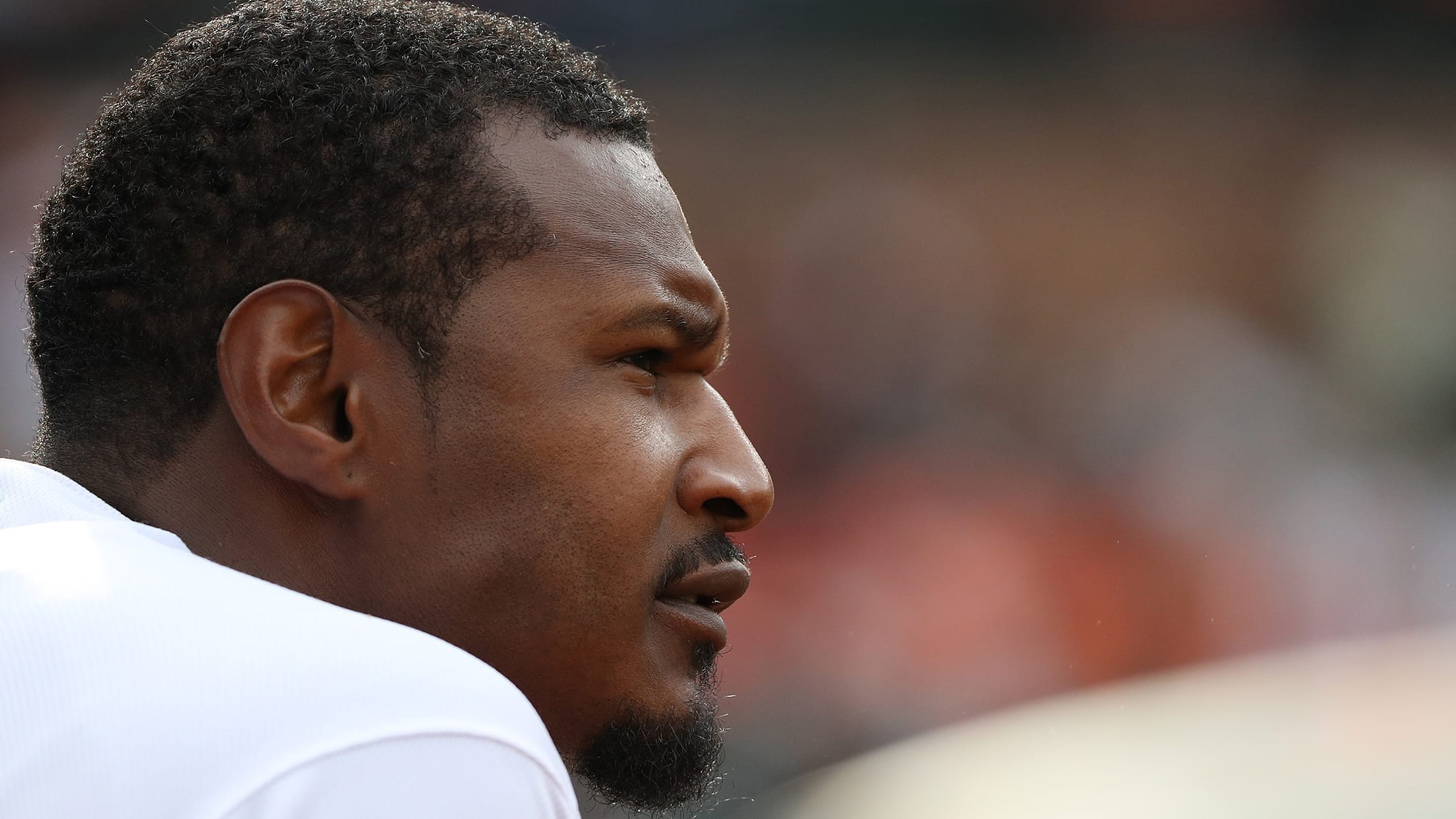 BALTIMORE, MD - MARCH 29: Adam Jones #10 of the Baltimore Orioles in action against the Minnesota Twins in their Opening Day game at Oriole Park at Camden Yards on March 29, 2018 in Baltimore, Maryland. (Photo by Patrick Smith/Getty Images) (Patrick Smith/Getty Images)
ARLINGTON -- The Mamie Johnson Little League team in Washington, D.C., won its district this past week, but it needed financial assistance to cover the cost of travel to Bristol, Conn., to play in the Mid-Atlantic Regional Tournament, which began on Sunday.Orioles center fielder Adam Jones sent $8,500 to the
ARLINGTON -- The Mamie Johnson Little League team in Washington, D.C., won its district this past week, but it needed financial assistance to cover the cost of travel to Bristol, Conn., to play in the Mid-Atlantic Regional Tournament, which began on Sunday.
Orioles center fielder Adam Jones sent $8,500 to the team to help with travel expenses and make that possible.
"It meant an opportunity for a group of young men to further their season," Jones said. "Was something that's easy for me to do. Easy for me to comprehend what these kids have been through, what they've earned and deserved, and I'm glad that not just myself, but other people generously donated to them and are watching their journey."
The Mamie Johnson Little League team is the first predominantly African-American team to reach the Mid-Atlantic Regional, from which the winner advances to the Little League World Series in Williamsport, Pa.
Jones learned of the league's need for financial assistance through a tweet from local television reporter Delia Goncalves, and even before he sent a check, others -- including local Little League programs -- had contributed $15,000. The surplus created by Jones' contribution will go toward enhancement of future participation by the league.
"It's amazing to see these kids," Jones said. "FaceTimed them the other day and was able to see their energy, and that's what it's about. It's about giving the next generation an opportunity to succeed, and hopefully these young men go and make it to the next round, and make themselves proud.
"The thing is that sometimes you just have to do what's right, and that is what's right."

WATCH @SimplyAJ10 talk about his $8,500 donation to cover a Mamie Johnson Little League team's travel expenses. pic.twitter.com/a5UCTmqTwW

— Orioles on MASN (@masnOrioles) August 5, 2018
"But whatever they do, so far, they've opened up a lot of eyes in their respective communities around the country, because it's a bigger story now. I'm sure, as they've planned, some people are going to cheer a little harder for them."
Jones has been deeply involved in the Baltimore-D.C. community ever since joining the Orioles in 2008. That includes yearly contributions to the Boys & Girls Clubs in the area, among several other initiatives.
For his community efforts, Jones was honored with the Marvin Miller Man of the Year Award from the MLB Players Association in 2015, as well as the Brooks Robinson Community Service Award from the Major League Baseball Players Alumni Association and the Maryland Governor's Service Award.
Jones said creating awareness in African-American communities is what drives him in his charitable work.
"These types of things happen all over," Jones said. "You see what LeBron [James] did when he opened up his [I Promise] school, [Derrick] Rose pledged $400,000 [for a scholarship program], and I'm sure I'm missing some other people who have done very great things in their respective communities. Us black men that are successful, we see ourselves in these kids, so it's not hard to give back. It's not hard at all, really."
Though he was reportedly a candidate to be traded by the Orioles prior to Tuesday's non-waiver Trade Deadline, Jones -- who has a contractual right to decline any proposed trade as a result of accruing 10 years of MLB service time and five consecutive years with the same club -- chose to remain in Baltimore, where he has spent the past 11 years of his Major League career.
Jones was given a regular day off and was not in the starting lineup for Sunday's series finale against the Rangers at Globe Life Park.
Wesley Dotson is a reporter for MLB.com based in Arlington.