Sanchez wants Colombia to be baseball hotbed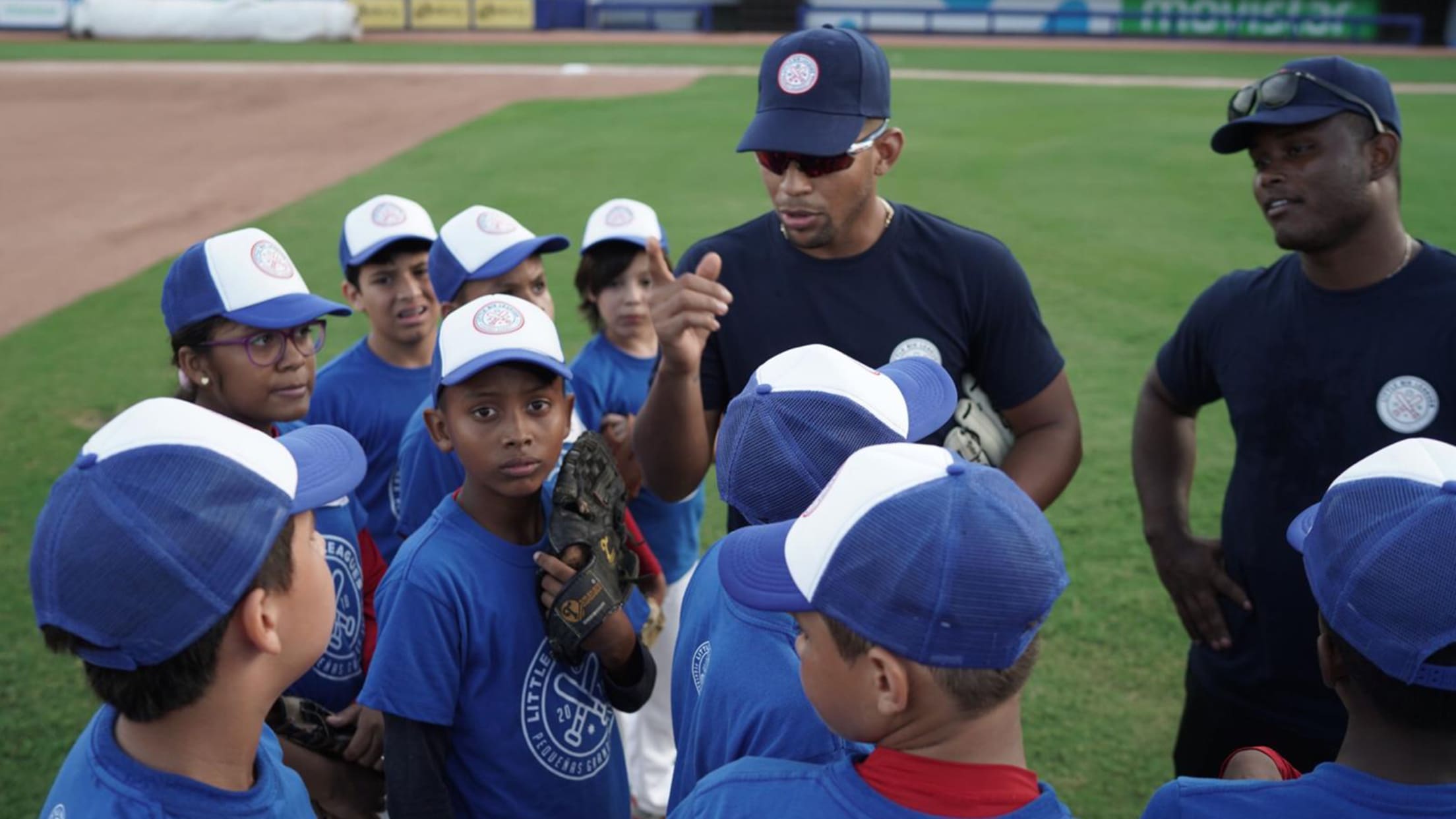 WEST PALM BEACH, Fla. -- Before he left Nationals Park after the team's annual WinterFest event this past December, infielder Adrian Sanchez wanted to make a stop at the team store. He went searching for whatever equipment he could find -- T-shirts, caps, gloves, bats -- until someone from the
WEST PALM BEACH, Fla. -- Before he left Nationals Park after the team's annual WinterFest event this past December, infielder Adrian Sanchez wanted to make a stop at the team store. He went searching for whatever equipment he could find -- T-shirts, caps, gloves, bats -- until someone from the Nats organization spotted him and wondered what he was doing there.
Sanchez was searching for baseball gear to send back to Colombia, where he was hosting two baseball camps for children in Barranquilla under his foundation, "Adrian Sanchez y Amigos." The camps were held at Edgar Renteria Stadium for children ranging from ages eight-to-14, where Sanchez was joined by fellow big leaguers Jose Quintana of the Cubs and Sandy Leon of the Red Sox.
"More than anything we wanted to try and push baseball in Colombia," Sanchez said via team interpreter Octavio Martinez. "Of the over 300 kids in the camp, about 20 of them had never touched a baseball glove, never had baseball introduced to them. Now they get home, and they want their parents to grab them a bat, a glove and actually start showing them the game. That's basically what we want.
"We were able to bring a lot of kids from very far away with very humble and impoverished upbringings, to try to show them, bring them into our world a little bit and show them some baseball skills. But more than anything life values in general."
In the past, Colombia has not traditionally been a hotbed for talent in the same way as Dominican Republic or Venezuela or other Latin American countries. But the sport is seeing a rise in popularity and interest in recent years.
Only about 20 players from Colombia have ever played in the Major Leagues, highlighted by names like Orlando Cabrera and Edgar Renteria, and now featuring names like Julio Teheran, Jorge Alfaro, Sanchez, Leon, and Quintana. And those numbers could grow soon. There were roughly 20 prospects from Colombia to sign with MLB teams during the last international signing period and close to 30 during the previous period. Currently, more than 100 players from Colombia are expected to begin the season in the Minors.
"The biggest sport is usually soccer, but in the city where I live, and other cities close, they know about baseball," Quintana said. "So, we try to help the kids grow up with that. I'm happy to do that. When I was a kid, people did that for me.
• Radamel Falcao wants to play pro baseball after soccer career is finished
"I remember Edgar Renteria when I was a kid….he was the guy we wanted to follow, especially with the World Series. Now, it's really fun when you hear kids want to do things like me, want to be like me. It's a lot of responsibility for me and the other players to do good things, and try to explain to them how important it is for us."
Quintana and Sanchez, who is Colombian and Venezuelan, both played for Colombia during the World Baseball Classic in 2017, when the team finished 1-2 in pool play, but lost a pair of extra-inning thrillers that igniting a passionate fan base. Events like those and the fact that the nation's professional baseball league is looking to expand from four teams to six are helping drive the growth of the sport.
But most of that increased interest will be driven by youth baseball leagues.
"It's already grown immensely," Johnny DiPuglia, the Nationals' vice president of international operations, said. "The more and more you get players signing out of there and people to work out within the offseason then it gets more fruitful. Kind of like Panama. Panama now has a fruitful league."
And getting a chance to see and hear from MLB players from their own country is a start.
So, Sanchez wanted to hold the usual baseball stations -- pitching, infield, outfield, hitting -- but he wanted to emphasize more than just baseball. He talked to them about the values he learned growing up and about carrying themselves off the field. He wants his foundation to give prizes for children who excel in academics as well as athletically and has ideas of hosting an All-Star game to reward those who combine the two.
But it's evident how much Sanchez cares and how much he wants to help out the children in his home country as much as possible. Even if that means going to the store to get them equipment himself.
"More than anything I've always had love for this game. And love for teaching," Sanchez said. "I wanted to teach these kids and show them what I know, pass my knowledge onto them. Especially since me growing up as a little kid, I never was blessed with the opportunity for someone to be able to pass it on to me."