Hall of Famer Trammell takes time to give back
Former Tigers star hosts ninth annual youth baseball camp at Wayne State University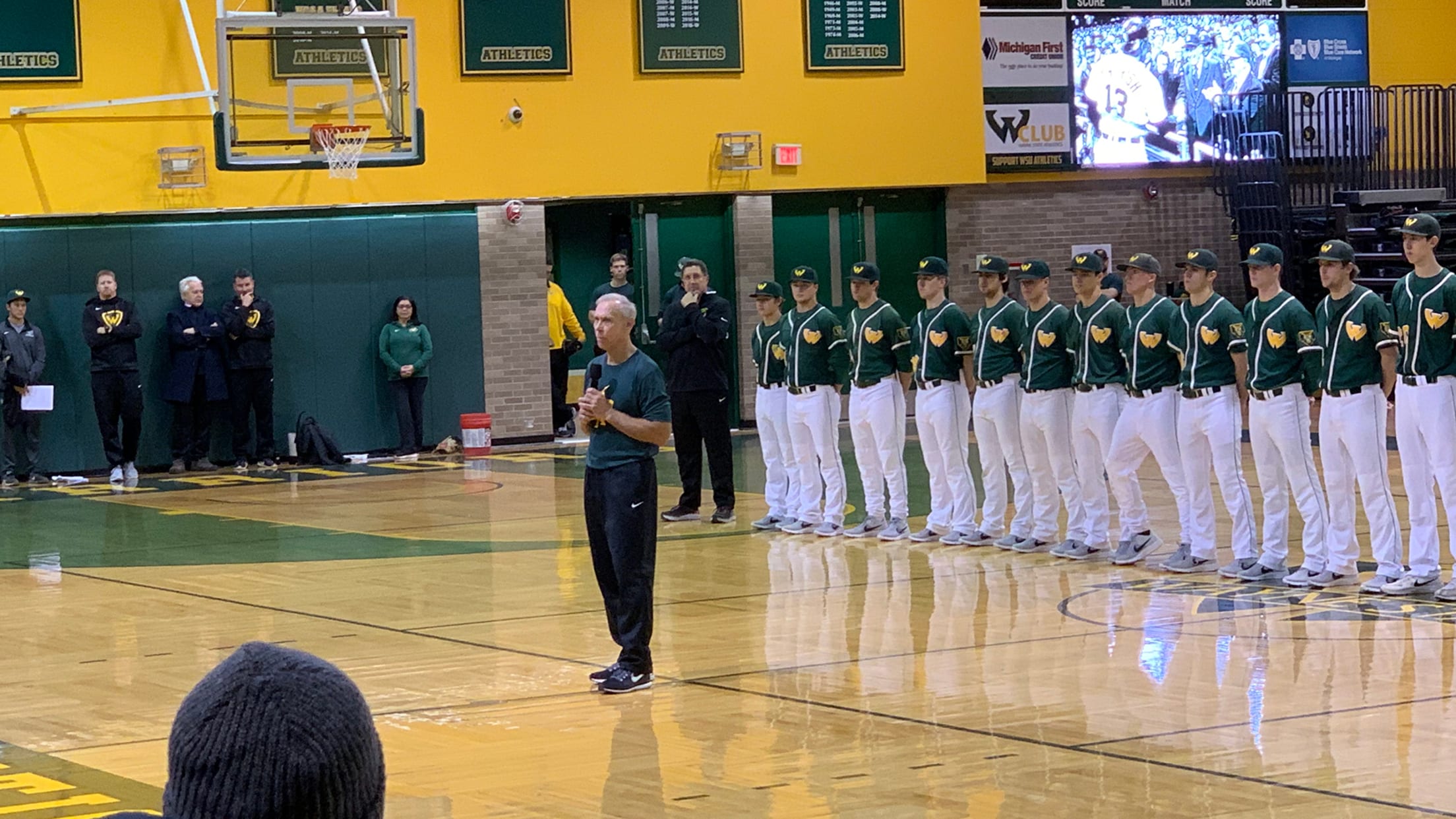 DETROIT -- The whirlwind year had finally slowed down for Alan Trammell after his Hall of Fame induction in July, his number retirement in August and his season traversing the Tigers' farm system. Now, in the middle of December, he's on the move again.After leaving the warm comforts of San
DETROIT -- The whirlwind year had finally slowed down for Alan Trammell after his Hall of Fame induction in July, his number retirement in August and his season traversing the Tigers' farm system. Now, in the middle of December, he's on the move again.
After leaving the warm comforts of San Diego for a few days, Trammell will finish up his annual baseball camp with former teammate Lance Parrish this weekend. Once their final session is complete on Sunday, Trammell will head to the airport for a flight to Las Vegas, where he'll join the rest of the Tigers front office for baseball's Winter Meetings.
This is what he likes to do. It is evident as he fields grounders on the basketball court of Wayne State University's Matthei Center, trying to demonstrate the proper technique to kids ranging from grade school to high school, just as he does on the Minor League fields across the Tigers' farm system. It's clearer as he pulls a kid aside in the camp to give him encouragement for something he got right the second or third time.
His career has been properly recognized with his place in Cooperstown, but his passion -- and Parrish's -- is to pay it forward to the next generations, Tigers prospects and local youngsters alike. And as the game embraces the next wave of stars and their enthusiasm, Trammell hopes to reinforce the basics.
"Even though it's almost 2019, there are things that are still the same -- the fundamentals," Trammell said Saturday between sessions at the midtown campus. "They keep going back to it. I know the game, and there's a little more style and things. But there are still basics that have to be done. End of story. I'll go to the grave with that. So this is what we're trying to do is make sure they get the right teaching points and then it's up to them, obviously. They have to continue to grow and continue to do them."
Camps like these are opportunities Trammell and Parrish didn't have at their age. And they acknowledge that the structure of teaching kids baseball has changed dramatically. Kids often spend more time becoming specialized in one sport than playing different sports year-round. Trammell and Parrish are teaching kids details that were out of reach when they were growing up, but they want to lay down the right foundation off which to build.

"It's important for us that we want to get these kids off on the right foot," Parrish said. "Part of being successful is that you learn how to do things the right way so that when you're working on stuff, you're working on the right things to do. So hopefully we are helping them in that area, by having a camp like this, as successful as it has been, that these kids come out at whatever age and they're learning how to do things the right way."
The camp is in its ninth year, and now ranges from basic sessions for all ages to specialized sessions for advanced hitters, shortstops and catchers. Wayne State head coach Ryan Kelley and his players help throughout the weekend. The camp helps the Wayne State program while also giving a welcome weekend of baseball instruction in the winter, when even a clear diamond can often be hard to find in Michigan.
While Trammell has become a critical facet of the Tigers' front office as a special assistant, Parrish has become a valued part of player development. As manager at Class A West Michigan, the eight-time All-Star catcher works with prospects in their early stages of development. When Detroit drafted Kody Clemens in the third round, West Michigan was his first professional stop, giving Parrish the chance to mold the son of one of his old opposing pitchers.
"He was awesome," Parrish said. "Great teammate, played hard, always had a smile on his face. So I enjoyed that. And [Kody's father, seven-time Cy Young Award winner Roger Clemens] even snuck in for a day or two to watch him."
Top Tigers pitching prospect Matt Manning began last season at West Michigan before his rise carried him to Double-A Erie by summer's end.
Trammell hopes some of these kids have a chance to play in the pros as well. If they do, he wants them prepared.
"They have to understand how to play the game, and that to me will never change," Trammell said. "That goes back to [former Tigers manager] Sparky [Anderson]. You learn all these different facets of the game, but during the course of the game is when they'll come up. You don't know if it's going to happen in the first inning or the second, or the eighth or the ninth. But there's things you have to execute. That's [why] you learn these basics, that when they come up, you can handle it, you can do them. You just don't know when they're going to come up. But you have to be prepared for them. And we were really prepared. That's how we were taught.
"I'm thankful we were taught those things. We can talk to these kids now, because there's certain things that they have to know. If they don't, they're not going to make it, it's not going to work. I hate to say that, but it's the truth."