Pujols a hit with kids at MLB Play Ball event
Cards slugger, Astros' Diaz teach youngsters fundamentals of baseball
MONTERREY, Mexico -- The dozens of kids who gathered at Estadio de Béisbol Monterrey on Saturday morning for the Mexico Series Play Ball event weren't the only ones excited to get an up-close view of a future first-ballot Hall of Famer. "I already took a picture with him," Astros infielder
MONTERREY, Mexico -- The dozens of kids who gathered at Estadio de Béisbol Monterrey on Saturday morning for the Mexico Series Play Ball event weren't the only ones excited to get an up-close view of a future first-ballot Hall of Famer.
"I already took a picture with him," Astros infielder Aledmys Diaz said with a grin. "It's great."
That's the effect Albert Pujols has on kids, young and old, big and small. Donning a full uniform, Pujols, representing the Angels, and Diaz, representing the Astros, spent the better part of two hours mingling with the local kids who flocked to the stadium for the third and final Play Ball event of this year's Mexico Series.
• [Pujols one RBI away from 2,000](Pujols one RBI away from 2,000)
"This is part of the responsibility of the platform that you're given as a baseball player, to make sure you set an example for the kids that follow your career," Pujols said. "This is great. When the Players Association told me about it, it was a no-brainer. This is what we play for, giving back, whether it's the community where you play, or where you're from, or here in Monterrey. It's about giving back."
The station-to-station format of Play Ball gave the Major League players ample time to work with the kids to sharpen their skills in hitting, throwing, catching and running the bases. Both players stopped several times to help kids with their batting stances, showing them the best way to make contact before trotting to first base.
"Some of the kids said, 'I don't know how to play,'" Pujols said. Then, with a grin, he added: "I said, 'Just catch the ball, don't throw the ball, just tag them before they get to the base.'"
The kids invited to Play Ball ranged from ages 5 to 13 and were members of several local organizations, such as Villas de Asistencia, special-needs focused TEDI, Christian-based orphanage/home Casa Douglas and Horno3. All kids received a bat and ball set, Play Ball-branded T-shirts and wristbands to take home.
"For these kids to be around big leaguers is great," Diaz said. "It's a great job MLB is doing right now."
The majority of the kids -- an estimated 99 percent, in fact -- had never played baseball before this Play Ball event, one of many that highlight MLB's ongoing efforts to globalize the game and make it more accessible to kids.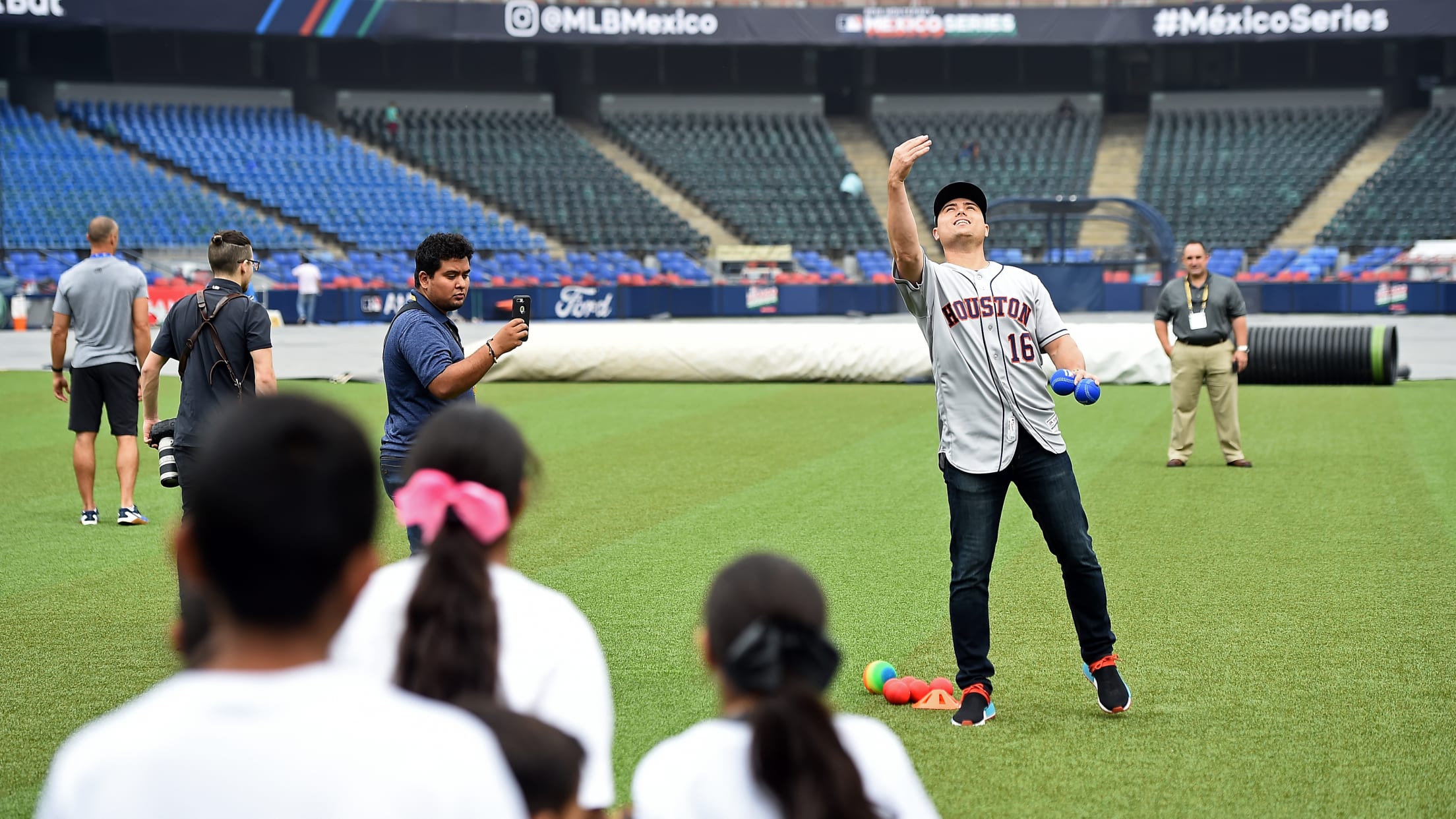 "In Mexico, we have a plan that is called the MLB experience, where we have some sort of baseball event inside the schools," said Rodrigo Fernandez, managing director, Latin America for MLB. "And the first time a kid starts hitting and catching, it's a really powerful experience for them. And just after that they go to their physical education teachers and say, 'We want to play baseball. We want to have a baseball team in our schools.'"
This is the second consecutive year MLB has hosted its signature youth engagement activity in connection with the Mexico Series. Since 2015, MLB and its partners in the Play Ball initiative have hosted hundreds of Play Ball-focused events throughout the United States, Mexico, Brazil, Panama, Puerto Rico and Canada.
The Astros and Angels are the fifth and sixth teams to participate in the Mexico Series this year. The Rockies and D-backs played exhibition games in Monterrey during Spring Training, and the Reds and Cardinals squared off in a 2-game series in April.
"You try to promote the game of baseball and where better to do it than here in Monterrey?" Pujols said. "It's a great city and the teams that have come here and played, they've enjoyed it. This was a trip we were looking forward to. My team, I know for sure, we were looking forward to it. We were talking about it in Spring Training."