Mills, Staumont, Mahle among top prospect performers Monday
Royals' No. 13 prospect fans 11; No. 17 K's career-high 12; Reds' No. 11 hurls no-hitter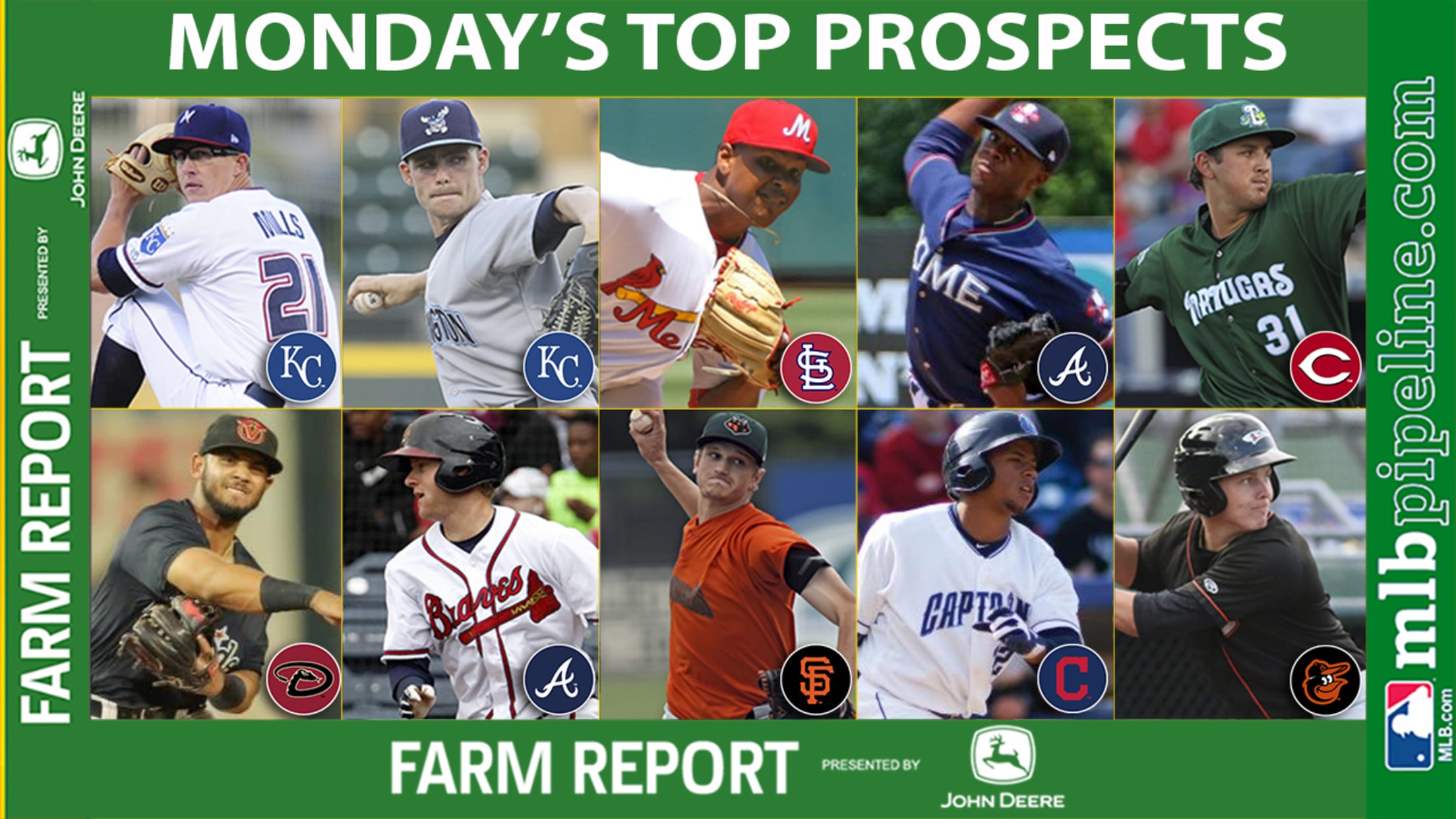 (Paul Sancya/AP)
A pair of Royals pitching prospects shined in Minor League action on Monday as Alec Mills and Josh Staumont set new career highs in strikeouts in their starts for Double-A Northwest Arkansas and Class A Advanced Wilmington, respectively.Mills, the Royals' No. 13 prospect, fanned 11 hitters over seven innings in
A pair of Royals pitching prospects shined in Minor League action on Monday as Alec Mills and Josh Staumont set new career highs in strikeouts in their starts for Double-A Northwest Arkansas and Class A Advanced Wilmington, respectively.
Mills, the Royals' No. 13 prospect, fanned 11 hitters over seven innings in what was his best start of the season, only to not earn a victory after Northwest Arkansas's bullpen blew a ninth-inning lead to lose 3-2 to Arkansas. He allowed two baserunners, both via hits, and generated nine ground-ball outs while throwing 62 of his 90 pitches for strikes.
MILB Video - Title: Watch: Mills notches K - Url: http://www.milb.com/r/video?content_id=811037283
Mills has been dealing for the Naturals since being optioned back to Double-A from the big leagues -- he logged 2/3 of an inning out Kansas City's bullpen during his debut on May 18 -- posting a 2.45 ERA with 24 strikeouts in 25 2/3 innings across his last five starts. For the season, the 24-year-old righty owns a 2.39 ERA with a 68/12 strikeout-to-walk ratio in 67 2/3 innings in the Minors.
Meanwhile, one level down, Staumont struck out 12 of the 23 hitters he faced for Wilmington against Winston-Salem to pick up his second win of the season in a 3-1 victory. The hard-throwing right-hander, ranked No. 17 on the Royals' Top 30, surrendered one run on three hits and three walks while also hitting a batter. Staumont, a 2015 second-rounder, has struggled to throw strikes this year in his full-season debut, with 47 walks in 51 2/3 innings, but he's proven to be adept at missing bats, evidenced by his 72 strikeouts.
The rest of the best performances from top prospects Monday
• After he lasted just 1 2/3 innings in his last start, No. 11 overall prospect Alex Reyes returned to form on Monday by fanning nine hitters over five innings as Triple-A Memphis edged Nashville, 4-3. The Cardinals' No. 1 prospect allowed one run on two hits -- one of those being an Arismendy Alcantara solo home run -- and three walks, with 56 of his 96 pitches going for strikes. With the performance, Reyes, 21, has now piled up 39 strikeouts in 22 2/3 innings across his five starts for Memphis.
MILB Video - Title: Watch: Reyes strikes out batter - Url: http://www.milb.com/r/video?content_id=811281183
• In what was the longest outing of his young career, Braves No. 6 prospectTouki Toussaint fired eight one-run innings to lead Class A Rome past Columbia. He allowed three hits, struck out three and generated a whopping 15 groundball outs. Before Monday, Toussaint had never completed more than six innings. The 19-year-old righty has allowed just one run on five hits in 14 innings across his past two starts.
MILB Video - Title: Watch: Toussaint K's batter - Url: http://www.milb.com/r/video?content_id=810723983
• D-backs No. 22 prospect Jamie Westbrook went 4-for-5 with two doubles and an RBI in Double-A Mobile's 8-7 walk-off win over Jackson, giving him nine hits and seven RBIs over his last three contests. The 20-year-old is more than holding his own this year in the Southern League, with a .281/.337/.365 line.
• Facing brother D.J. Peterson (Mariners' No. 6) and Double-A Jackson, Dustin Peterson tallied four hits and five RBIs across two games for Double-A Mississippi in a twin bill. The Braves' No. 20 prospect went 1-for-2 with a two-run double in the opener and then followed it by hitting a home run and driving in three runs as part of a 3-for-4 performance in the nightcap. He's collected hits in nine straight for the M-Braves.
MILB Video - Title: Watch: Peterson doubles in run - Url: http://www.milb.com/r/video?content_id=811019883
• Giants No. 3 prospect Phil Bickford fired a seven-inning complete game and struck out seven hitters for the third time in four starts in Class A Augusta's 8-1 win against Charleston. The 20-year-old righty, whom the Giants selected in the first round of the 2015 Draft, gave up one earned run on four hits and one walk. Bickford owns a 2.70 ERA through 11 starts to begin his first full season, and he's struck out 69 hitters against 15 walks in 60 innings.
MILB Video - Title: Watch: Bickford fans batter - Url: http://www.milb.com/r/video?content_id=811004983
• In Class A Lake County's win against Bowling Green Indians No. 8 prospect Francisco Mejia extended his hitting streak to 15 games and went deep for the fifth time in seven games. The 20-year-old switch-hitting backstop has 16 RBIs during his streak and has lifted his average from .295 to .335.
• Fresh off of earning Prospect Team of the Week honors, Orioles No. 6 prospect Ryan Mountcastle powered Class A Delmarva to a 3-1 win over Kannapolis by going 2-for-4 with a two-run home run. The 2015 first-rounder has notched 17 hits in his past eight games, during which he's hitting .472 with three home runs and seven RBIs.
• Class A Advanced Daytona's Tyler Mahle, the Reds' No. 11 prospect fired a nine-inning no-hitter against Jupiter. The 21-year-old righty struck out six and generated 11 ground-ball outs, throwing 76 of his 106 pitches for strikes. He faced the minimum 27 hitters, using a 5-4-3 double play in the third inning to offset the only baserunner he allowed, which came via a hit-by-pitch.