Jackson up for MLB debut as catching option
Flowers expects to play soon after HBP, but McCann on injured list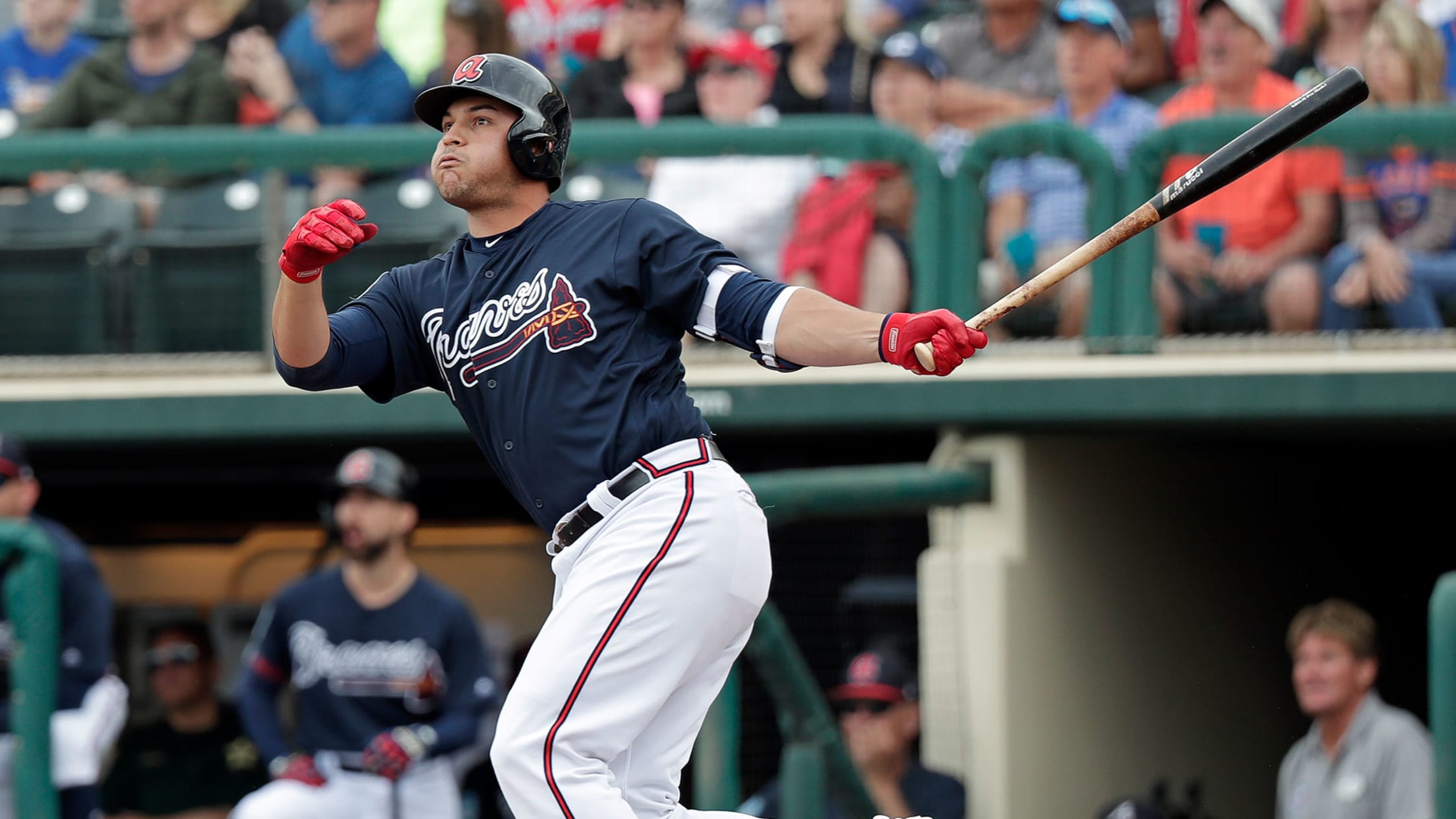 ATLANTA -- When Braves catcher Tyler Flowers' right hand was hit by a pitch approximately 20 minutes after Brian McCann strained his right hamstring Saturday night, Alex Jackson was in Triple-A Gwinnett's clubhouse knowing he was a little more than 12 hours from making his Major League debut. Jackson arrived
ATLANTA -- When Braves catcher Tyler Flowers' right hand was hit by a pitch approximately 20 minutes after Brian McCann strained his right hamstring Saturday night, Alex Jackson was in Triple-A Gwinnett's clubhouse knowing he was a little more than 12 hours from making his Major League debut.
Jackson arrived at SunTrust Park on Sunday morning and immediately began preparing for his start in the team's series finale against the Marlins, during which he went 0-for-3 in a 4-3 win. The former first-round pick and Braves' No. 28 prospect could serve as Atlanta's starting catcher again on Monday at Coors Field. But Flowers remains confident he will return to the lineup within the next couple of days and avoid the injured list stint McCann will now experience.
"I've broken my other hand a few times, and it doesn't seem to be like that," Flowers said. "I'm pretty confident it is intact."
McCann suffered his injury while running the bases during the fourth inning of Saturday night's loss to the Marlins. The 35-year-old will miss at least a couple of weeks and could be sidelined for closer to a month. But he was encouraged with the way he felt Sunday and is aiming to return as soon as possible.
McCann's exit from Saturday's game prompted the entry of Flowers, whose right palm was struck by Marlins reliever Tayron Guerrero's 98.4 mph fastball in the fifth inning. The Braves X-rayed the hand multiple times Saturday and planned to possibly view other images on Sunday. But there have been no signs of a fracture.
"The swelling is a little worse, but the range of motion and everything else seems better," Flowers said Sunday morning. "My grip strength seems pretty good."
So if all goes well for the Braves, Jackson may spend a couple of days in the lineup and then serve as the backup catcher while McCann remains on the injured list.
"Being able to work behind [McCann and Flowers] in Spring Training helped prepare me for this moment," Jackson said. "I can't thank them enough. I'm definitely happy to be here."
The Mariners took Jackson with the sixth pick in the 2014 MLB Draft and traded him to the Braves two years later. Upon joining Atlanta's organization, the 23-year-old slugger was converted from outfielder to catcher, the position he had played before being drafted.
"Catching is my passion," Jackson said. "It's what I live to do. It feels right. When something feels right, you just have to enjoy it, embrace it and run with it."
Jackson hit .201 and tallied eight homers while striking out in 31.8 percent of his 377 plate appearances between Double-A and Triple-A last year, though he shows incredible raw power during batting practice. He has made considerable defensive strides over the past year and is now considered a serviceable Major Leaguer from that aspect.
"He's made huge strides," Flowers said. "Honestly in Spring Training, I couldn't believe it was the same guy. He has a lot of good ideas about the way he wants to do some things. We have a lot of similarities in the way we catch. I think defensively, he'll be just fine."
Mark Bowman has covered the Braves for MLB.com since 2001.