Reyes continues recovery, optimistic about OD
Right-hander will be more than year removed from Tommy John when season starts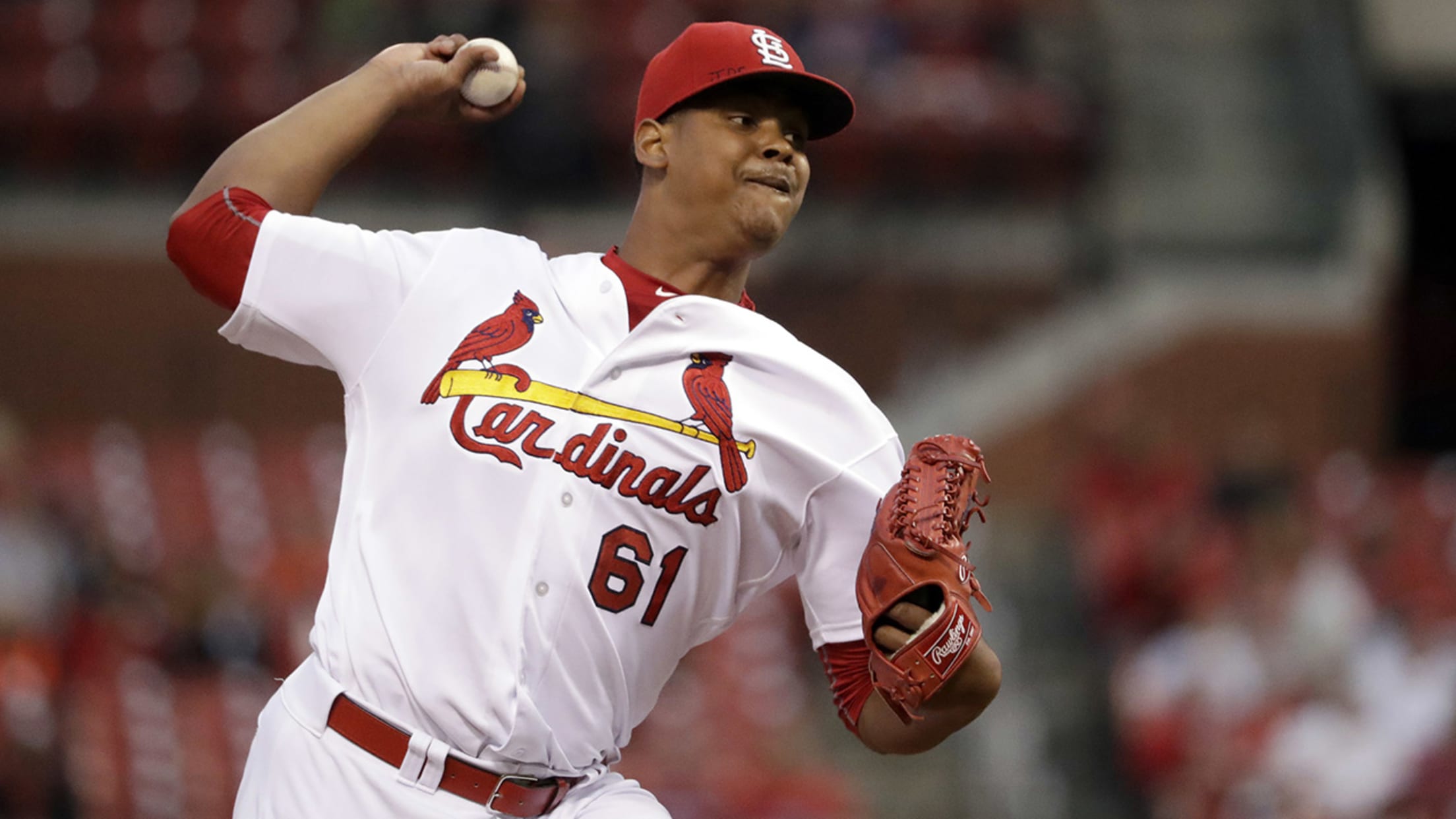 How Alex Reyes fits into the club's 2018 plans won't be known until the Cardinals see how and when his rehab process wraps up. (AP) (Jeff Roberson/AP)
ST. LOUIS -- A season lost provided perspective gained for Alex Reyes, who, after entering Spring Training ranked as baseball's top right-handed pitching prospect, learned that he'd be shut down for the year before ever throwing a pitch in camp.Reyes, 23, underwent Tommy John surgery the same week the Cardinals
ST. LOUIS -- A season lost provided perspective gained for Alex Reyes, who, after entering Spring Training ranked as baseball's top right-handed pitching prospect, learned that he'd be shut down for the year before ever throwing a pitch in camp.
Reyes, 23, underwent Tommy John surgery the same week the Cardinals held their first full-squad workout. But instead of returning home or remaining in Florida once Spring Training ended to continue his rehab, Reyes relocated his work to St. Louis so that he could be exposed to a full big league season, even if from the sidelines.
"By just watching the guys go out there and play really drove me in the gym and the training room," Reyes said. "It reminded me of where I wanted to be. It reminded me of what I'm missing out on. I think just watching these guys play day in and day out and grind, it helped me build a little more passion for myself and for the game."
The timing of Reyes' elbow procedure offers him more than a year of recovery time before the 2018 season, and his progress thus far has Reyes positioned to be ready perhaps by Opening Day. He returned to the mound nearly two weeks ago to throw his first post-surgery bullpen session and planned to remain in St. Louis after the regular season to repeat the exercise another handful of times.
By November, Reyes expects to be in Jupiter, Fla., where he will continue his rehab program under the supervision of the training staff at the Cardinals' complex.
"It was just an excitement that I haven't felt throughout this process yet," Reyes said of throwing off the mound again. "We haven't had any setbacks. I've been progressing nicely and smoothly, actually."
Reyes' focus over the last eight months hasn't been solely on healing his elbow, however. He's also transformed his entire body. Reyes estimates that he dropped 10-13 pounds during the season through his work in the gym.
"I thought that was something I could take advantage of this year and kind of get my body in the best shape I've ever been in," Reyes said. "We've made a huge step toward that."
How Reyes fits into the club's 2018 plans won't be known until the Cardinals see how and when his rehab process wraps up. There will be workload limitations placed on Reyes following this lost season, too, so it's likely that his time will be split between the bullpen and rotation.
For now, the Cardinals remain focused primarily on Reyes' recovery.
"He's had as good an attitude as you can for basically working out by yourself," general manager Michael Girsch said. "The accomplishments when you're going through Tommy John are so small, right? He did a good job coming in and everything seems to be pointing in a good direction. He's going to throw a few times here in the fall, and then we're going to take a little bit of a break. It's all been pretty positive."