Reyes key to Cards' pitching plans, role TBD
Top prospect's innings will be monitored in return from surgeries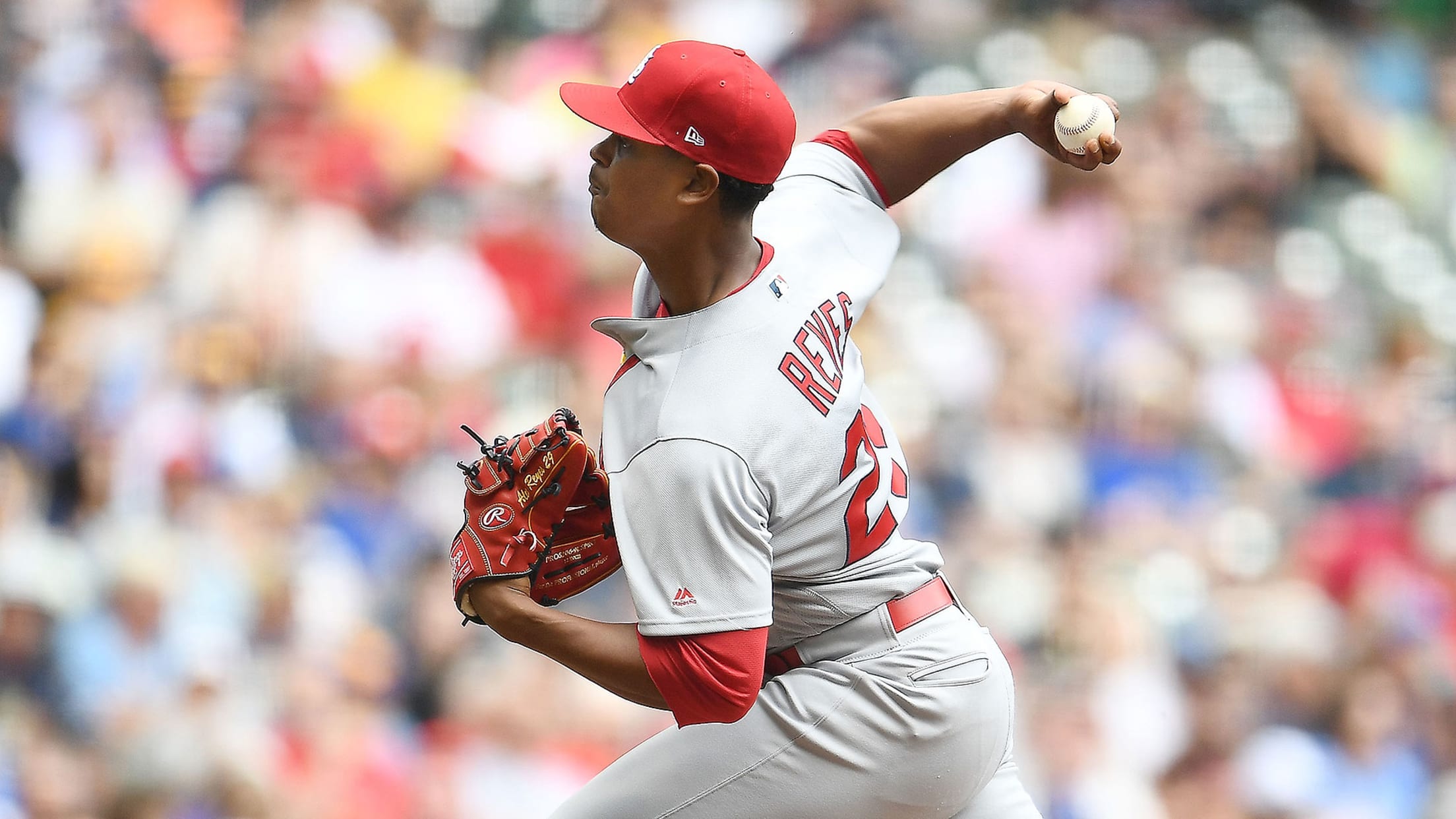 ST. LOUIS -- While the Cardinals consider who might fit where as they fill a rotation and build a bullpen for 2019, they remain open to utilizing Alex Reyes in a number of roles -- or perhaps a hybrid one.Reyes has logged just four big league innings for the Cardinals
ST. LOUIS -- While the Cardinals consider who might fit where as they fill a rotation and build a bullpen for 2019, they remain open to utilizing Alex Reyes in a number of roles -- or perhaps a hybrid one.
Reyes has logged just four big league innings for the Cardinals since ascending to the Majors in the second half of 2016. And though he'll return next year having had both his right elbow and right shoulder surgically repaired since then, the 24-year-old right-hander remains the top prospect for an organization that still believes in his star potential.
How the Cards will utilize Reyes next season remains fluid but also flexible.
There will be limitations on Reyes' usage given his lack of baseball activity over the past two years. He'll come into camp prepped to be a starter, but under a modified program. The Cardinals will see how Reyes responds to the buildup process before considering him for one of three likely spots.
Reyes can pitch his way back into the rotation. He could fill a need in the bullpen. Or Reyes may start the year in the Minors to serve as ready rotation depth.
"I do think that's going to be one of those wait-and-see [approaches]," president of baseball operations John Mozeliak said at last week's Winter Meetings. "Wait and see how he is throwing, see how he's reacting, see how he feels physically, and then determine if we're going to put our foot on the gas a little more or not."
Deciding how to divvy up Reyes' innings over the course of a full season will also be part of the calculus.
"That's certainly part of what we have to figure out -- how much we can use him and when we want to use those innings and what role they fit best in," general manager Michael Girsch said. "Are we going to have him throw 200 innings next year? No, probably not. But is there a magic number, and do I know what that magic number is as I sit here today? No. It's going to depend on how he feels and where he's at."
If Reyes can return to the form that helped distinguish him as one of baseball's top prospects (No. 36 overall per MLB Pipeline), his return could serve as an X-factor for the club. There has already been discussion within the organization about what the back end of the bullpen could look like with him as a weapon. And Reyes hasn't been ruled out as a potential candidate to close.
This will all, of course, be dictated by health. Reyes has endured a pair of setbacks over the past two years, and there is no certainty as to how he'll respond now coming back from a second surgery.