Scuffling A-Rod believes big hits are around the corner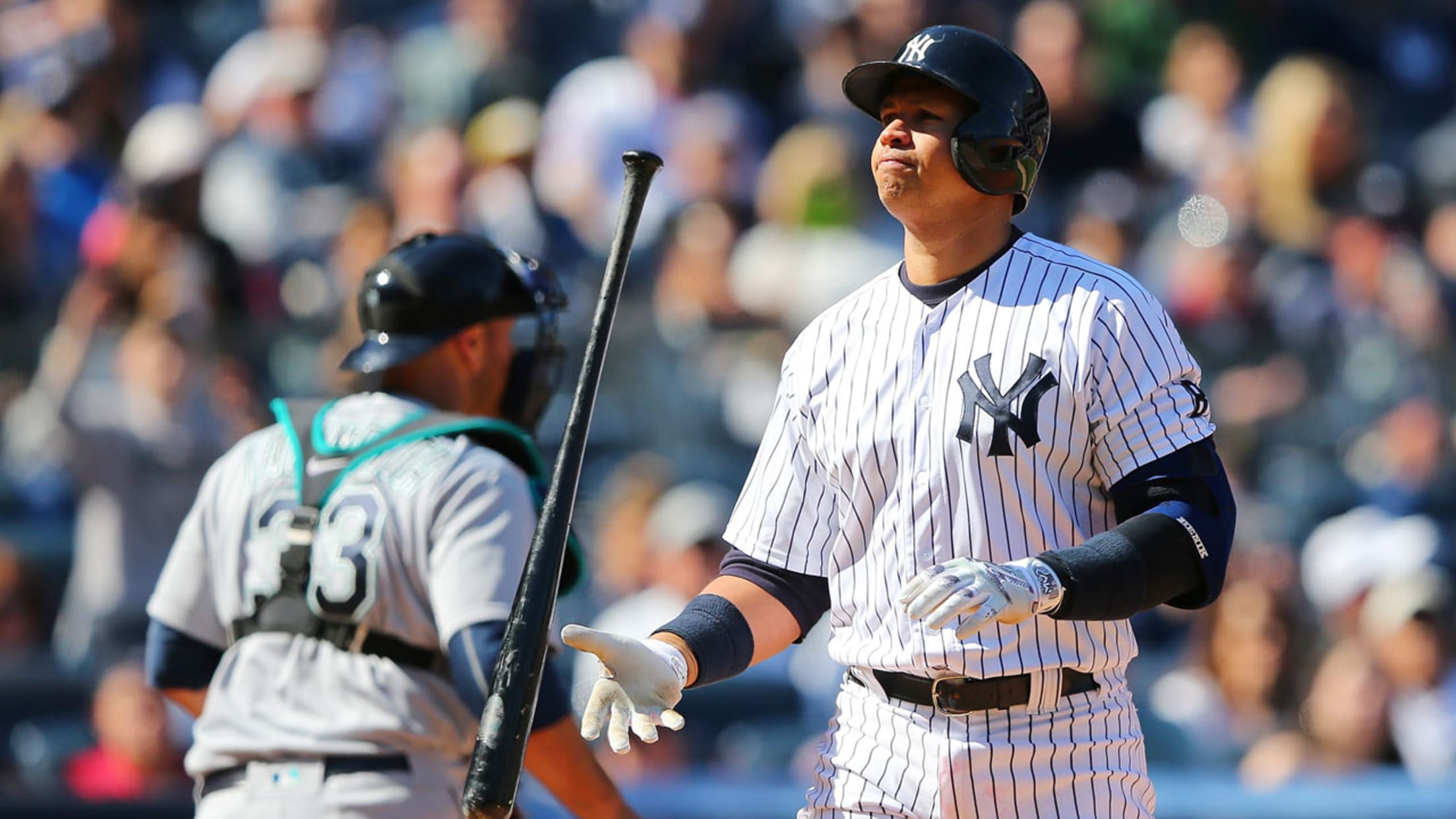 Alex Rodriguez is hitless in 19 at-bats since hitting career homer No. 688 on April 9
NEW YORK -- Alex Rodriguez said he has been "battling his mechanics" the last few days at the plate. But the Yankees' designated hitter continues to believe that the big hits that will bust him out of his funk are right around the corner.Rodriguez went 0-for-5 with three strikeouts in
NEW YORK -- Alex Rodriguez said he has been "battling his mechanics" the last few days at the plate. But the Yankees' designated hitter continues to believe that the big hits that will bust him out of his funk are right around the corner.
Rodriguez went 0-for-5 with three strikeouts in the Yankees' 3-2 loss to the Mariners on Saturday, hearing boos from the crowd of 38,574 following his final whiff of the afternoon. Rodriguez is hitless in 19 at-bats since hitting career homer No. 688 on April 9 at Detroit.
"It's perspective," Rodriguez said. "If it's something that happens in July or August, we wouldn't make too much of it. Two things you can control every day when you come to the park is your attitude and your effort, and I feel pretty good about both."
Rodriguez's season average dropped to .100. He said that he is getting good pitches to hit, but his rhythm is "a little bit off right now." While he fights that, the rest of the Yankees continue to struggle with runners in scoring position.
New York went 0-for-12 in those situations on Saturday, leaving 14 men on base, as it was unable to capitalize on six walks by Felix Hernandez, tying the King's career high. The Yanks have managed just three hits in their last 46 chances with runners in scoring position.
"I just hope we're not putting too much pressure on ourselves," Mark Teixeira said. "We've got guys in our lineup that can drive in some runs, and we will. It's just been a tough couple of days."
Saturday's final opportunity came in the ninth inning, as Chase Headley grounded out against Steve Cishek, leaving Aaron Hicks on third base as the potential tying run.
"I think everybody probably feels it. You want to get it done," Headley said. "Usually, it takes one time and it'll kind of get everybody going. I wish I could have got it done there."
Yankees manager Joe Girardi said that while he has made some slight changes to the lineup, he does not believe a complete overhaul is going to be necessary.
"The one thing you don't want to get too caught up in is changing your lineup every day, because you want some consistency," Girardi said. "But, obviously, some guys have to produce to stay in the spots to be consistent."
Rodriguez preached that some perspective is necessary over a 162-game slate, but acknowledged that it hurt not to support starter CC Sabathia by taking advantage of Hernandez's wobbly performance.
"We've had a couple games; today's frustrating," Rodriguez said. "CC pitched well enough to win -- and if we score four or five runs, we win the game. I have a lot of confidence in our offense, and we're going to be fine."