Wilson searching for ways to limit homers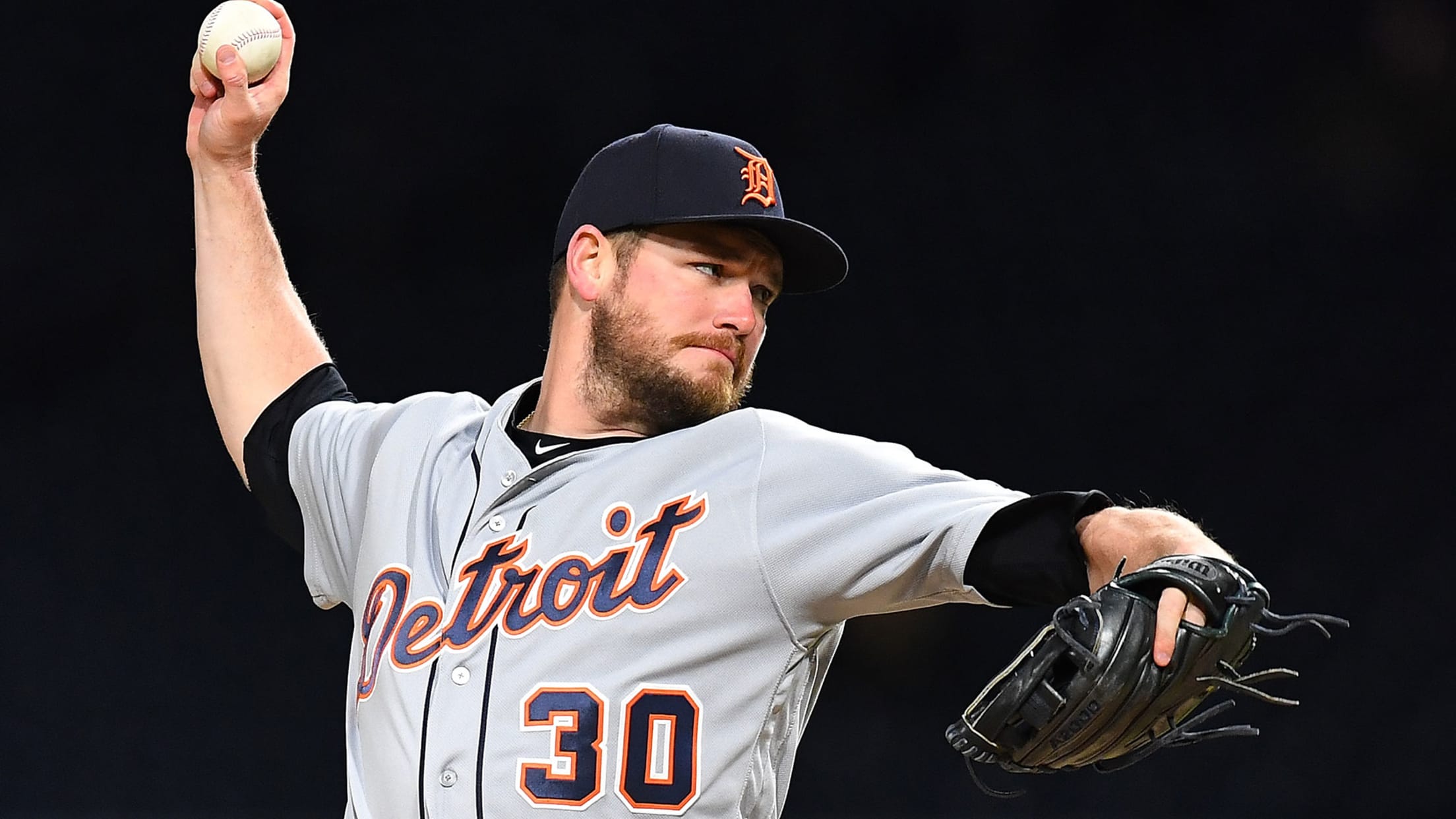 BALTIMORE -- Just four current Major League relievers entered Saturday with as many home runs allowed as Alex Wilson. None had stats as strong, otherwise, as the much-maligned Tigers right-hander. None had as many home runs as costly as those Wilson had given up, either.When Corey Dickerson's ninth-inning loft cleared
BALTIMORE -- Just four current Major League relievers entered Saturday with as many home runs allowed as Alex Wilson. None had stats as strong, otherwise, as the much-maligned Tigers right-hander. None had as many home runs as costly as those Wilson had given up, either.
When Corey Dickerson's ninth-inning loft cleared the high right-field wall in Pittsburgh on Thursday, handing the Tigers a 1-0 walk-off loss, it was another punch in the gut for Wilson. All four homers he has allowed this season have been go-ahead shots in the sixth inning or later.
Thursday capped a six-game stretch for Wilson with just two hits allowed over 4 2/3 innings, both of them homers. He has not allowed a base hit in the field of play since Yankees infielder Ronald Torreyes singled home a run against him April 13.
That, plus Wilson's ability to work multiple innings out of a bullpen that has been taxed lately, affords him some time to work through his relationship issues with the long ball. Even if he believes he's snakebit, to an extent, he'll need to find ways to get contact on the ground more often.
Dickerson's home run off Wilson on Thursday had a 37 percent hit probability, according to Statcast™. The other three homers off Wilson were relative no-doubters, each with an exit velocity over 110 mph off a fastball with Wilson behind in the count.
While Wilson's fastball is down a tick in velocity, from about 93 mph last year to 92 now, the bigger difference has been the contact, albeit with a small sample size. He's getting just a 23 percent ground-ball rate off the fastball, according to STATS, compared to 42-48 percent over the previous three seasons.
The stats show the impact the long ball has had on Wilson's approach. He has thrown more sliders than fastballs so far this season, one of several Tigers pitchers with an increased breaking-ball rate under new pitching coach Chris Bosio. Wilson threw an even split of fastballs and sliders on Thursday. He's getting similar swing-and-miss and ground-ball rates on his slider compared to past years, but just a .130 average allowed when they're put in play.
Umpires Care Auction
A Tigers autographed ball is among the items up for bid in the 10th annual UMPS CARE Charities Online Auction that runs through Monday night.
Major League umpires are offering more than 300 items, which include priceless autographed sports memorabilia, one-of-a-kind VIP experiences and upgraded ticket packages. The auction is underway at mlb.com/UmpsCare and closes at 10 p.m. ET on Monday. Some of the items up for bid include signed bats, cleats, jerseys, photos and baseballs from some of the biggest stars in baseball. There are also opportunities to watch batting practice on the field at many MLB ballparks, hotel stays with game tickets, opportunities to have lunch with an MLB umpire, suites and tickets from Minor League Baseball clubs, golf foursomes and more.
All proceeds from the auction support UMPS CARE Charities youth programs to provide Major League Baseball experiences for children awaiting adoption, Build-A-Bear Workshop experiences for hospitalized children coping with serious illnesses, college scholarships for deserving young adults who were adopted as children and financial assistance for families in need.
"Each year thanks to the support from our friends in Major League Baseball and throughout the sports world we get some fantastic items for our auction, and this year is no exception," said Gary Darling, former MLB umpire and board president for UMPS CARE Charities. "This is the biggest fundraising initiative that we have to help so many children in need, and we can't thank everyone enough for all of the support. Please tell all of your friends, bid early and bid often to help this great cause."
Quick hits
• Right-handed reliever Drew VerHagen rejoined the bullpen at Triple-A Toledo on Saturday after the Tigers designated him for assignment on Monday. VerHagen cleared waivers on Friday, the Tigers announced.
• The hard-luck injury bug has again bitten relief prospect Adam Ravenelle, who was placed on the 7-day DL at Double-A Erie with a rotator cuff strain. Tigers vice president of player development Dave Littlefield described it was a low-level injury, which the right-hander will rehab in Lakeland.