Wood's role remains unclear
Lefty competing with McCarthy for final rotation spot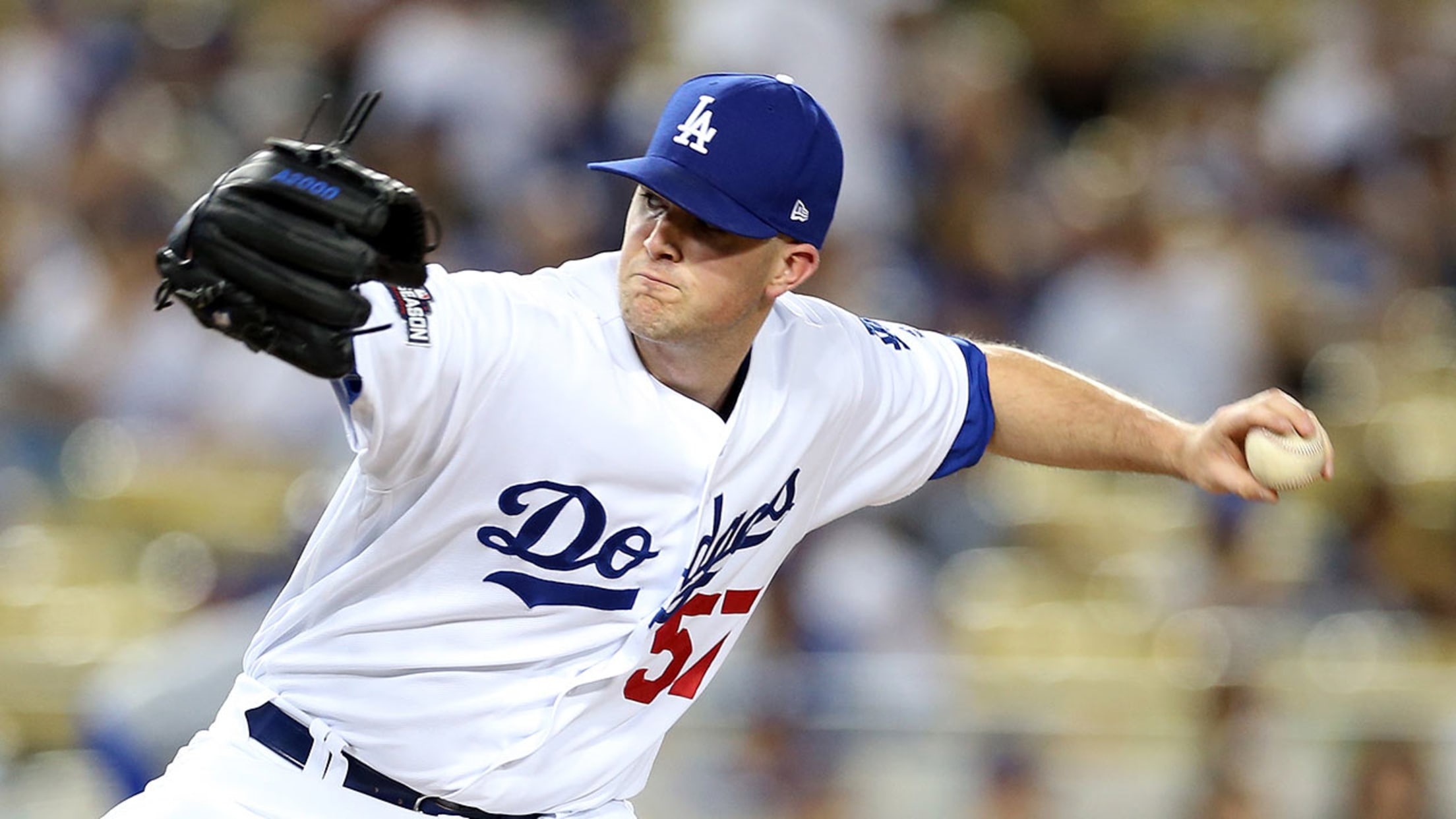 Alex Wood's spring ERA sits at 4.67 after allowing five earned runs in six innings on Tuesday. (AP)
GOODYEAR, Ariz. -- Alex Wood made his last start of the spring and, perhaps, his last start for a while.Although Dave Roberts said Wood will be on the Opening Day roster, the Dodgers manager remained noncommittal as to whether Wood or Brandon McCarthy would be the club's fifth starter."We're not
GOODYEAR, Ariz. -- Alex Wood made his last start of the spring and, perhaps, his last start for a while.
Although Dave Roberts said Wood will be on the Opening Day roster, the Dodgers manager remained noncommittal as to whether Wood or Brandon McCarthy would be the club's fifth starter.
"We're not ready to make a decision tonight, but we're pretty close," Roberts said after watching Wood allow five earned runs on 11 hits over six innings against the Reds in a 9-3 split-squad loss on Tuesday.
"There's a lot of tough decisions we're going to have to make with players at this camp," he said. "The overall philosophy is to figure what's best for our ballclub. I think Alex is at the top of the list, as far as competitors, and he knows how he can help out the club as a starter. But I think Brandon McCarthy feels the same way. It's a decision we have to make as an organization."
Tuesday's game notwithstanding, there are reasons to believe Wood goes to the bullpen. He's already pitched effectively in relief, as recently as last year when he came off midseason elbow surgery. And with three left-handers already in the rotation -- Clayton Kershaw, Rich Hill and Hyun-Jin Ryu -- the right-handed McCarthy provides better balance.
"They're going to do what they think is best for our team to win," said Wood. "If [the bullpen] is where I end up, that's where I end up. It's like beating a dead horse talking about it. We have a lot of guys that deserve to be in the rotation. It's good and bad that I had success out of the bullpen when I came up. If that's what happens, that's what happens.
"I'm sure if I don't start in the rotation, that's where I'll end up at some point. It is what it is. For me, I feel really grateful to be on such a great team. If I was anywhere else we wouldn't be having this discussion. Glass half empty, glass half full. I'm excited because this is the best team I've ever been on."
Worth noting
• Roberts said Yasiel Puig had four hits in a Minor League game on Tuesday, including a home run, as he tries to smooth out his swing.
• X-rays were negative on the right wrist of Enrique Hernandez, who was hit by a pitch in the sixth inning vs. the Reds.
• The game against the Reds also saw the Cactus League debut of Dodgers No. 5 prospect Walker Buehler, who was charged with three runs in one inning, including a two-run home run to the second batter he faced, Adam Duvall.
At that point, Chase Utley went to the mound, shook Buehler's hand while introducing himself and offered a few choice words that Buehler repeated to Bill Plunkett of the Southern California Newspaper Group:
"He just told me that was a long fly ball, that he was Chase and try to get some outs."
Ken Gurnick has covered the Dodgers for MLB.com since 2001.