Simon running out of chances in Reds' rotation
Right-hander's ERA at 10.16 after nine appearances, eight starts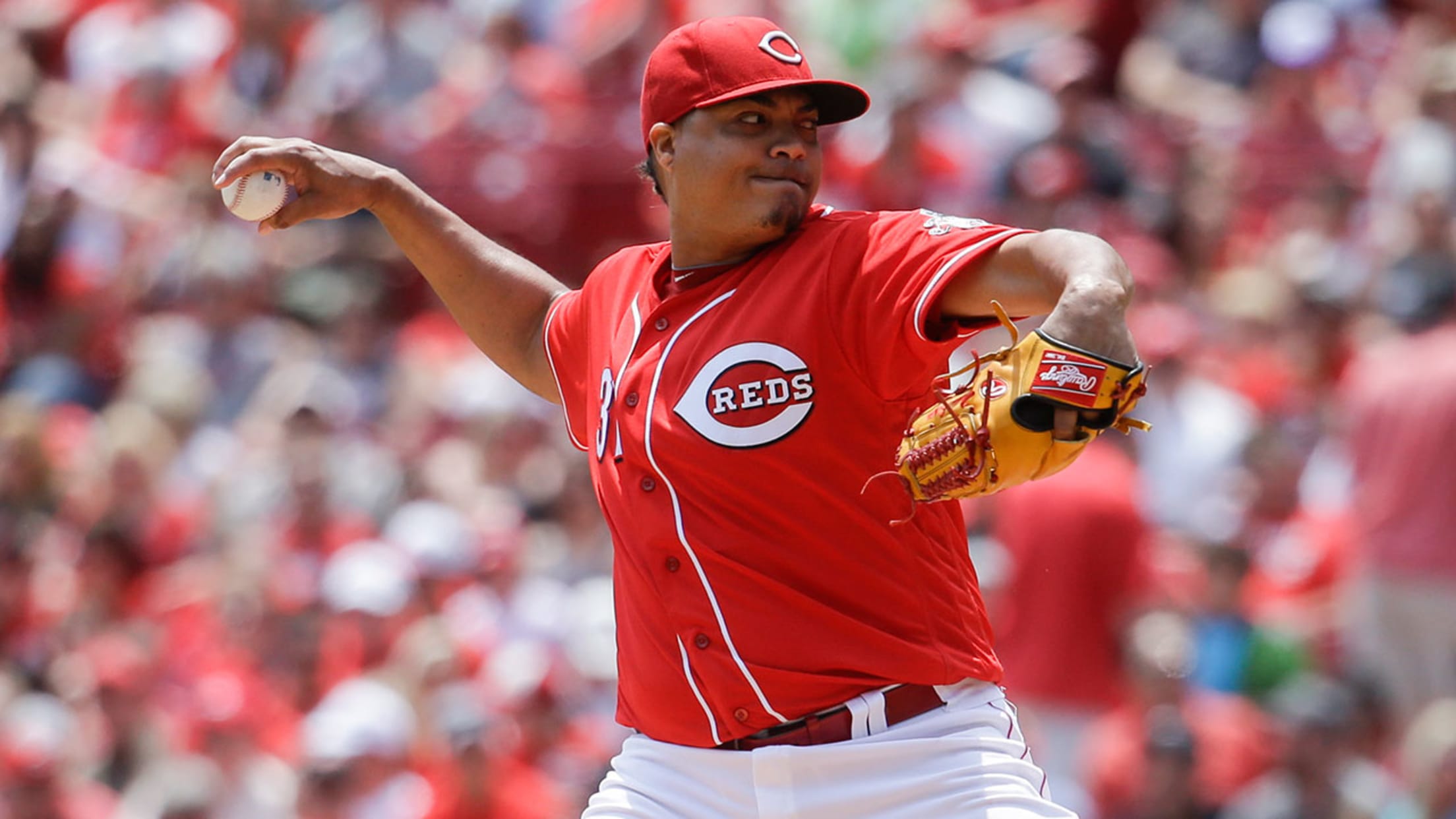 After throwing back-to-back quality starts, Reds right-hander Alfredo Simon has now allowed 15 ER in his last two starts. (AP)
CINCINNATI -- The Reds hope to have some pitchers activated from the disabled list next month, and there are certainly some prospects the organization likes at Triple-A Louisville. Add those two facts together with how Alfredo Simon is pitching this season, and he could be on borrowed time in the
CINCINNATI -- The Reds hope to have some pitchers activated from the disabled list next month, and there are certainly some prospects the organization likes at Triple-A Louisville. Add those two facts together with how Alfredo Simon is pitching this season, and he could be on borrowed time in the rotation.
In the Reds' 5-4 loss to the Mariners, their seventh in a row and 10th in the last 11 games, Simon lasted five innings and allowed five earned runs with nine hits. It dropped him to a 1-5 record with a 10.16 ERA, the highest in the Majors among pitchers with at least 35 innings.
"We would like him to pitch better," Reds manager Bryan Price said. "He started a lot of games and we need the innings as a veteran pitcher, and that will start when he starts getting the ball down. In the same respect, at some point in time, I have to see him begin to improve and give us those types of innings."
Simon was signed in Spring Training for $2 million to be a veteran presence in a young rotation that was beat up by injuries. Of his eight starts, two have gone at least six innings. In his previous outing on Tuesday against the Indians, he gave up a career-high 10 earned runs and 14 hits over 4 1/3 innings.
On Sunday, Simon had leads of 3-0 in the first inning and 4-2 through four innings. In the fifth inning, he faced eight batters. Following a sacrifice fly, he walked Nelson Cruz with one out and Kyle Seager lined a RBI hit to left-center field. After an intentional walk to Adam Lind, backup catcher Steve Clevenger hit an elevated first-pitch split-fingered fastball for a RBI single and the go-ahead run.
"The game for a veteran pitcher like him is to run with that three-run lead, and rather quickly it was 3-2," Price said. "He's going to have to get better. As you saw yesterday [when three relievers were demoted], we're not going to sit on our hands all summer and get beat up. If it's bringing up younger players and younger prospect players, I believe that will likely be a big part of our midseason, second-half type of thought process."
Jon Moscot, Anthony DeSclafani, Raisel Iglesias and Homer Bailey all could be back by midsummer. The two top pitching prospects -- Robert Stephenson and Cody Reed -- are pitching well in Triple-A. Cincinnati just called up Daniel Wright, who isn't a top prospect, but he zoomed on to the radar quickly and will start Tuesday on the road against the Dodgers for the injured Tim Adleman.
"There's nothing I love better than having to figure out who is a starter and who is a reliever and what our best team looks like," Price said. "That'll be real refreshing when we get into June and start to see the construction of our best pitching staff -- or close to it."
Batters facing Simon now have a .400 average on balls in play, .105 points above his career mark to go along with a 2.16 WHIP.
"I have to keep working at throwing the ball down," Simon said. "Sometimes baseball is really tough. Every time I go out there, I try to win a game, and right now everything is backwards. There's nothing I can do."