These are the 2018 second-half All-Star teams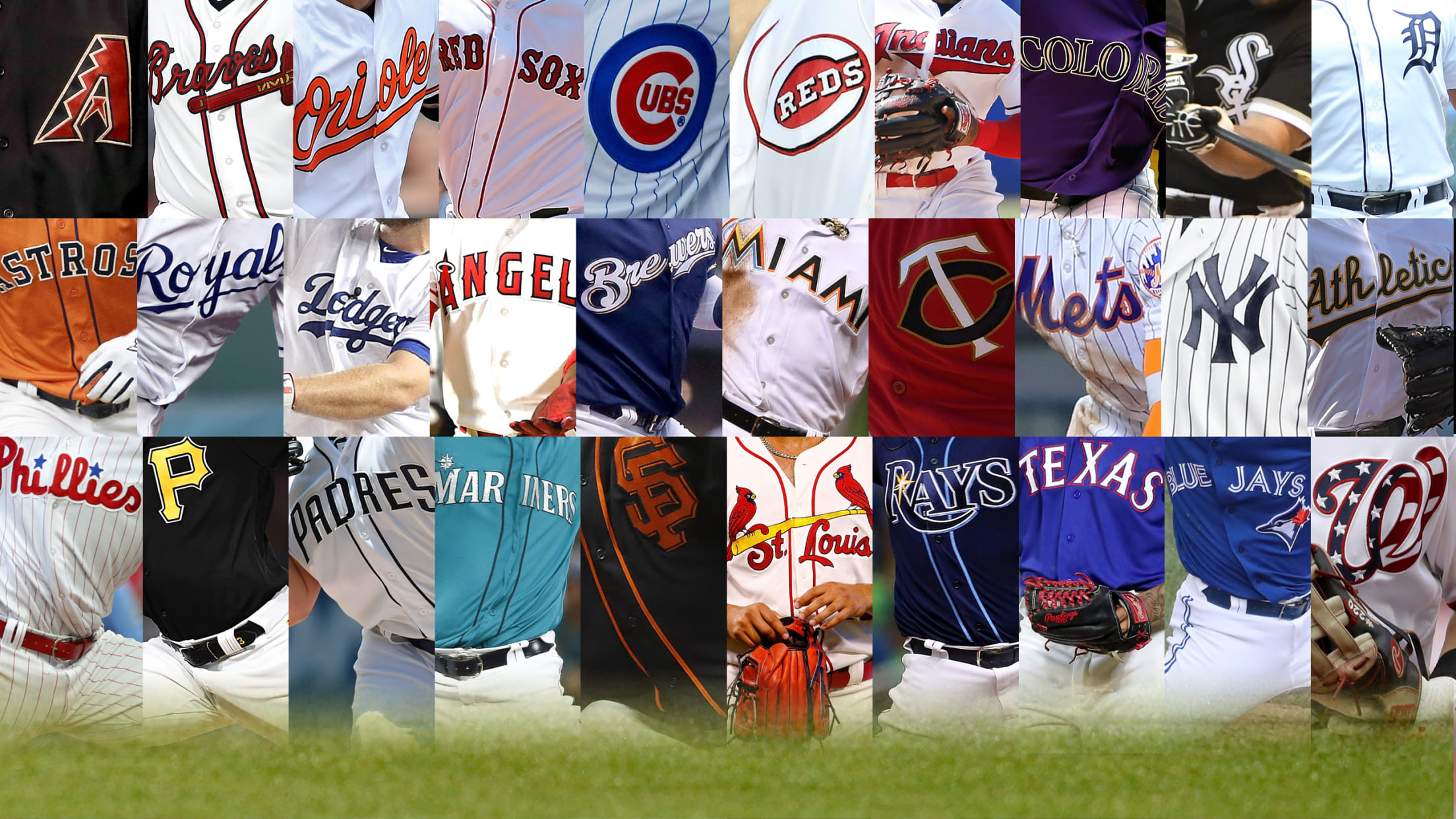 Baseball's All-Star Game is our annual opportunity to pause the hustle and bustle of the 162-game schedule and appreciate those who have defined the season, to date. But that date, of course, comes at a point in which so much of the season story is still unwritten. And even though
Baseball's All-Star Game is our annual opportunity to pause the hustle and bustle of the 162-game schedule and appreciate those who have defined the season, to date. But that date, of course, comes at a point in which so much of the season story is still unwritten. And even though the 2018 Midsummer Classic came especially late (teams had played nearly 100 games by that point), there are plenty of players whose performance since the break is worth appreciating, too.
So let's pretend there's such a thing as the Second-Half All-Star Game, in which the only numbers that matter are the ones accrued since July 19.
Here are my personal picks for the starting squads for this imaginary tilt. And note that in situations where there are multiple players in a relative "tie," I'm going to lean toward the guy who wasn't an actual All-Star this season or who had a rough first half, if only to accentuate second-half surges.
All stats are through Saturday's games.
First base
American League:Luke Voit, Yankees (.314/.385/.648, 11 HR, 2 2B, 25 RBIs)
There are first-base options with larger sample sizes than Voit's 130 plate appearances, including other guys who have taken advantage of unexpected opportunity, like the Astros' Tyler White and the Royals' Ryan O'Hearn, But Voit, acquired in a low-profile trade with the Cardinals, is the perfect example of the kind of player who rises from obscurity, puts on the pinstripes, rips a bunch of big hits and just generally makes people hate the New York Yankees.
National League:Anthony Rizzo, Cubs (.319/.424/.552, 12 HR, 10 2B, 1 3B, 34 RBIs, 2 SB)
I went into this exercise with Matt Carpenter's name penciled in at first, but his statistical surge began well before the break, and Rizzo actually has better numbers when you look strictly at the second half (Carp has slashed .260/.386/.534). Paul Goldschmidt would also qualify after rebounding from a poor start, but he recovered in time to make it as a reserve in the All-Star Game. So Rizzo is the best fit for what we're looking for on this squad. He also gets bonus points for his late July pitching appearance and his marathon 17-pitch first-inning at-bat vs. the D-backs earlier this week.
Second base
AL:Joey Wendle, Rays (.325/.384/.495, 3 HR, 20 2B, 2 3B, 27 RBIs, 8 SB)
Don't you just love it when rookies rise up to make an unexpectedly awesome impact?
NL:Jeff McNeil, Mets (.328/.382/.410, 3 HR, 10 2B, 6 3B, 18 RBIs, 5 SB)
Like I said, don't you just love it when rookies rise up to make an unexpectedly awesome impact? Wendle and McNeil are both older by rookie standards (McNeil is 26, Wendle is 28). Both had to take their lumps (Wendle struggled to get real opportunity with the A's, while McNeil was limited by injury to just 51 games in the Minors in 2016 and '17) to get here. But here they are.
Shortstop
AL:Didi Gregorius, Yankees (.280/.357/.547, 10 HR, 5 2B, 3 3B, 34 RBIs)
At this stacked position, there just wasn't enough room on the real AL All-Star roster to recognize Gregorius' absurd (and unsustainable) April. In fact, he's never been an All-Star. But Gregorius has worked around a heel injury to post the best wRC+ mark (144) of any Major League shortstop with at least 100 plate appearances in the second half, so we'll give him the love he deserves. Boston's Xander Bogaerts would be just as worthy a selection, and Kansas City's Raul Mondesi is developing into something special.
NL:Trevor Story, Rockies (.281/.326/.537, 13 HR, 13 2B, 34 RBIs, 14 SB)
Yes, Story did make the real NL squad, but as a reserve. Brandon Crawford was a perfectly valid selection for the starting nod by the fans at the time, but if we had to recast our votes today, Story would be the clear starter here. He's the first shortstop in history with 40 doubles, 30 homers and 25 steals in a season.
Third base
AL:Matt Chapman, A's (.321/.379/.616, 13 HR, 25 2B, 3 3B, 37 RBIs)
Again, we'll go with the non-All-Star wherever possible on this list, so Alex Bregman, despite vaulting himself into the AL MVP Award conversation in the second half, takes a backseat here. And even the absurd second half of Yankees rookie Miguel Andujar falls short of what Chapman continues to mean to the A's. His defense is always extraordinary, and his offensive uptick (from a first-half slash of .250/.342/.434) has been dramatic.
NL:Justin Turner, Dodgers (.376/.470/.653, 8 HR, 21 2B, 1 3B, 30 RBIs, 1 SB)
In the first half, Turner dealt with the lingering effects from the fractured wrist he sustained this spring. In the second half, once he recovered from a groin strain, he's been the red-bearded monster we expect him to be.
Outfield
AL:Michael Trout, Angels (.331/.481/.719, 13 HR, 6 2B, 1 3B, 27 RBIs, 9 SB)
Again, we'll break any perceived ties by going with non-All-Stars, but there's no tying Trout. He's simply having one of the best halves of his extraordinary career and again mounting an AL MVP Award argument in a lost Angels season.
Tommy Pham, Rays (.331/.421/.567, 7 HR, 7 2B, 5 3B, 22 RBIs, 3 SB)
Pham has rediscovered himself with the Rays after the Cardinals' decision to move him at the non-waiver Trade Deadline. All the underlying stats insisted he was the victim of bad luck in an average first half (.243 average, .722 OPS), and they were right.
Stephen Piscotty, A's (.275/.336/.546, 14 HR, 17 2B, 39 RBIs, 1 SB)
What a joy it's been to see Piscotty put it back together on the big stage after the emotional upheaval of losing his mother. He makes this list really because of the way he's surged in September, with a 1.160 OPS, seven homers and four doubles through 17 games. The Rangers' Joey Gallo, who has mixed in a better OBP to go with his usual power prowess, would also be a good fit here.
NL:Christian Yelich, Brewers (.358/.420/.724, 20 HR, 17 2B, 4 3B, 50 RBIs, 8 SB)
Though Yelich was an actual All-Star, what reasonable person could leave him off this list? He was a reserve in the Midsummer Classic, but now he might be the NL MVP Award favorite. Yelich's 20 homers since the break are one shy of his previous career high for a full season. He even kind of helped the Cleveland Browns win a game for the first time in forever.
Ronald Acuna Jr., Braves (.319/.406/.647, 19 HR, 14 2B, 4 3B, 39 RBIs, 13 SB)
Acuna is the epitome of what we're looking for on this list, as his ascension to the leadoff spot directly out of the All-Star break broke him loose and arguably put the Braves over the top in the NL East.
Juan Soto, Nationals (.287/.401/.505, 11 HR, 12 2B, 1 3B, 37 RBIs, 3 SB)
Soto's specific second-half case isn't quite as stark as Acuna's, but, again, here's an opportunity to highlight a guy whose timing just didn't align with the selection of the regular All-Star rosters, but is nonetheless one of the stars of the season. Alas, selecting him meant bumping Bryce Harper in the midst of his monster second half (after some people criticized Harper's All-Star starting selection in the midst of a frustrating first half). It's also tough to leave off the Mets' Brandon Nimmo, the Dodgers' Yasiel Puig, the D-backs' David Peralta and the Padres' Franmil Reyes, among other deserving candidates.
Catcher
AL:Salvador Perez, Royals (.249/.291/.513, 14 HR, 10 2B, 36 RBIs)
Perez, with a .653 OPS at the break, was objectively undeserving of his spot on the AL roster this year (he filled the Royals' quota), much less the starting spot he received when Wilson Ramos got hurt. So we'll give him credit for an improved second half in the power department, including a walk-off grand slam last week. Shout-out, too, to Omar Narvaez for making the most of his limited playing time with the White Sox (.858 OPS).
NL:Austin Hedges, Padres (.247/.297/.500, 10 HR, 7 2B, 2 3B, 20 RBIs, 2 SB)
Hedges' job is in jeopardy with the recent acquisition of Francisco Mejia (who has already had some big hits for the Friars), and he had a miserable, injury-plagued first half. But Hedges made some changes to his swing and stance and has had a solid second half.
Designated hitter
AL:Shohei Ohtani, Angels (.288/.370/.606, 13 HR, 10 2B, 1 3B, 33 RBIs, 7 SB)
The two-way Ohtani's elbow injury, which had him completely sidelined at the time the All-Star rosters were being put together, is one of the biggest bummers of 2018. His continued offensive explosion, even while nursing a UCL tear, is one of the biggest stunners of the season. The A's Khris Davis (who has never been an All-Star despite three straight 40-homer seasons) and the Rays' Ji-Man Choi also would have fit the bill here, and of course J.D. Martinez remains incredible.
NL:Yasiel Puig (.285/.347/.577, 11 HR, 3 2B, 1 3B, 27 RBIs, 8 SB)
You might have noticed the NL doesn't use the DH rule, but since we billed this as a "Second-Half All-Star Game roster," let's just put the aforementioned Puig here and hope we catch him on a good night.
Starting pitcher
AL:David Price, Red Sox (5-1, 2.00 ERA, 0.91 WHIP, 63 IP, 4.77 K/BB)
Even after yet another Bronx bummer earlier this week, Price is still carrying the best second-half ERA and WHIP among AL starters. He's repositioned himself on the rubber, changed his pitch patterns, adjusted his windup and shaken off a first half in which he posted a 4.42 ERA.
NL:Zack Wheeler, Mets (9-1, 1.68 ERA, 0.81 WHIP, 75 IP, 4.87 K/BB)
Were we to play the All-Star Game today, I would hope Jacob deGrom would get the starting nod for the NL (and I would hope the NL All-Stars could give him more run support than the Mets typically do). But looking strictly at post-break performance, Wheeler has the better ERA and has somehow proven that a Mets pitcher can fare well in the win-loss column. Wheeler was shut down this week because of workload concerns, but the changes he's made to shorten his delivery have paid big dividends and provided plenty of hope for his future.
Apologies to the Pirates' Trevor Williams, who has also been outstanding (1.08 ERA in 11 starts), but to date has thrown nine fewer second-half innings than Wheeler and didn't have that fun "Look who's the best pitcher on the Mets!" angle to work with.