20 questions for the American League Central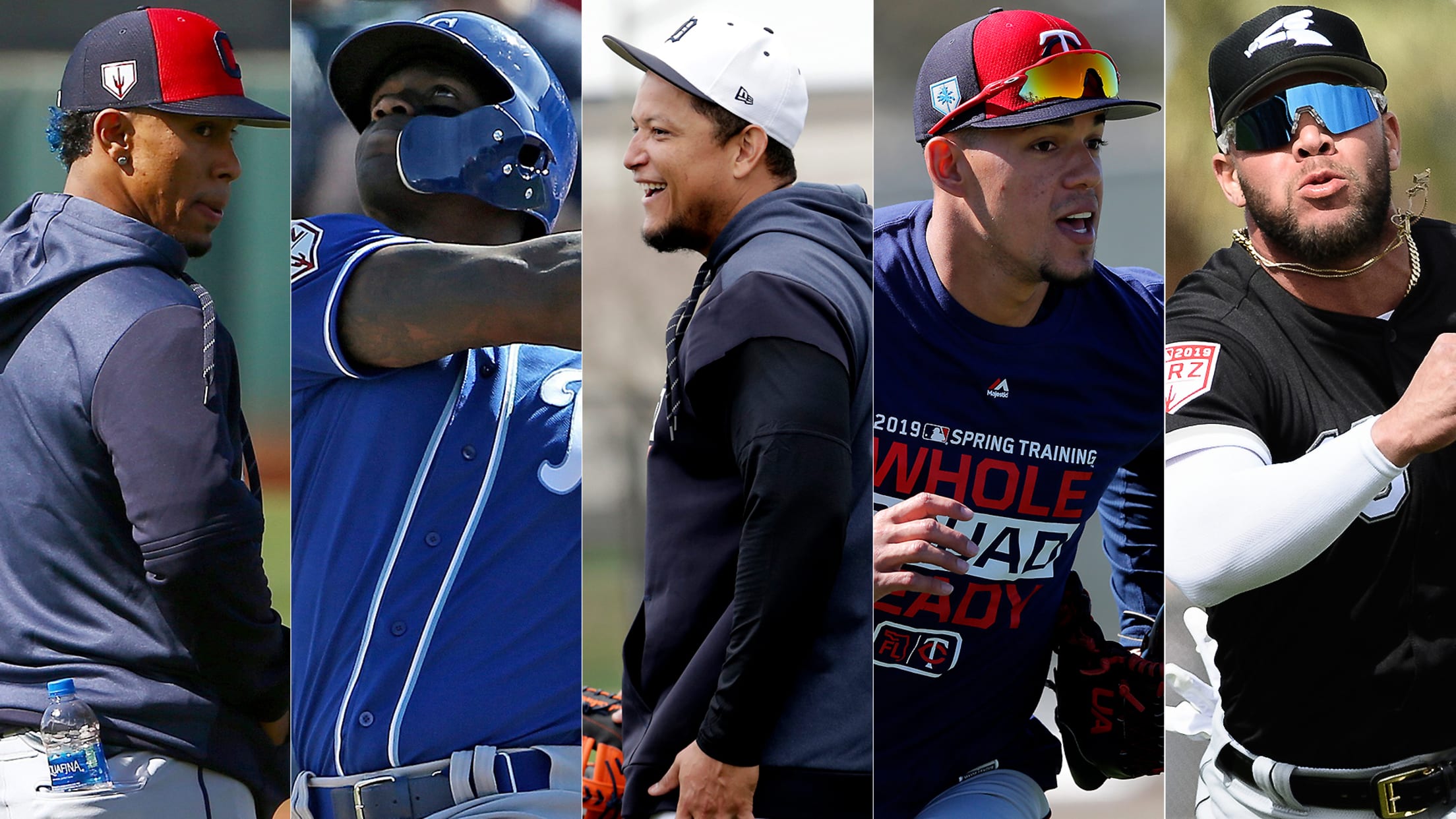 Previews so far: AL East | AL West | NL Central | NL West The clock continues to tick on the Indians and the American League Central. It has been the Indians' good fortune to have their core stars peak at almost the exact time the rest of the teams
Previews so far: AL East | AL West | NL Central | NL West
The clock continues to tick on the Indians and the American League Central. It has been the Indians' good fortune to have their core stars peak at almost the exact time the rest of the teams in the division have essentially reset their competitive clocks: The White Sox have been rebuilding for a few years now, the Twins have been tweaking and working toward their best selves, and the Tigers and Royals are just beginning reconstructions. The Indians won the AL Central by 13 games in 2018, 17 games in 2017 and eight games in 2018. They haven't had to sweat for a while. But eventually they're going to have to.
The question is whether or not it begins this season. Fangraphs' Projected Standings says no, with the Indians projected to win 92 games, the Twins 10 games back, and the White Sox, Royals and Tigers even farther behind. But the White Sox are starting to creep up, and the Twins have been impressively active this offseason. Someday, someone's going to catch the Indians in this division. For now, we'd all settle for it just be closer.
Thus, today our weekly series previewing each of baseball's divisions continues with the AL Central. These previews are extended games of 20 Questions in which we look at four pressing questions for each team heading into the season, and at the end we will make some actual predictions on the final standings, predictions that are unassailable and so obviously iron-clad correct that we're a little worried you won't even bother to watch the actual games once you read them. We are willing to assume such a risk.
Let's take a team-by-team look at the biggest questions:
Indians
1) How is this really their outfield?
We've spend this whole offseason waiting for the Indians to make even the most moderate addition to their outfield, but … nope. It's still Greg Allen, Leonys Martin and Tyler Naquin, which is wild. We understand the Indians being wary about spending, we guess, but there are multiple free agents still on the market who would be an upgrade here, from Adam Jones to Carlos Gonzalez to, sheesh, Matt Holliday. If you needed proof that the Indians aren't particularly worried about not winning the AL Central, take a look at this outfield.
2) Is this Carlos Santana the old Carlos Santana?
The Carlos Santana who played in Cleveland from 2010-17 was one of the most consistent hitters in baseball. The one in Philadelphia was … well, fine, but not that. The Indians think he's a replacement for Edwin Encarnacion, and although he's a regular lineup presence (he hasn't played fewer than 143 games since his rookie season), he's 33 years old, and that's when players like him tend to start to fade. He's looked excellent this spring, but it's a long season. Are they sure Encarnacion isn't the better hitter?
3) What's going to go down with Francisco Lindor this year?
Lindor will miss the first few weeks of the season with a strained calf, but once he returns, he'll surely once again be the borderline MVP he has been for the Indians his entire career. That's the sort of player who gets the sort of contracts that Nolan Arenado, Manny Machado and Bryce Harper just signed, and that's not the sort of contract the Indians are in the habit of giving out. So: Is this the last ride for Lindor, who has two years on his deal after this year and by all accounts looks likely to test the market? Do they push that decision to 2020? Much of Cleveland's logic will be determined by what both the team and Lindor himself do this season. Because with all these deals just signed … now we know the terms.
4) The rotation is enough, right?
The Indians' plan for winning the AL Central is essentially to let Lindor, Jose Ramirez and the non-outfield part of their lineup do damage and have their rotation take care of the rest. For now, that's not a bad plan, with Corey Kluber still around after all, complementing Carlos Carrasco, Trevor Bauer and Mike Clevinger. (And there's reason to be optimistic about Shane Bieber, too.) We'll see if the Indians fall short in the playoffs once again, but they will take their chances when they get there. For now, it's Kluber and the gang or bust. It seems as good a plan as any.
Royals
5) Who in the world are the catchers now?
There isn't much bigger of a bummer than having the team's most popular and beloved veteran player ruled out for the season right as Spring Training is getting started. But with Salvador Perez set to miss the 2019 campaign after having Tommy John surgery, that's the Royals' current reality. The catchers now are two people named Cam Gallagher and Meibrys Viloria, so … yeah, it's going to be a long year behind the plate. The good news is that maybe this reduces Perez's mileage so that they can use him in the future, when they are not as bad as they are going to be this year.
6) Do they have anything in Jorge Soler or not?
When the Royals traded Wade Davis for Soler after the Cubs won the 2016 World Series, it seemed the sort of smart move they should be making: taking a short-term step back for a potential huge leap forward. Remember, there was a time when it looked as though Soler might have more power than any of the Cubs' prospects. That hasn't exactly panned out, but Soler, for the first two months of the 2018 season anyway, finally showed some oomph, particularly with his ability to draw walks, something few other Royals can do. Soler is the only thing remotely resembling a power hitter on this roster anymore even though, at age 27, he still has never hit more than 12 homers in a season. He probably needs to double that to stick around.
7) Can they make it 1985 again by science or magic?
The Royals, whatever else happens, will be a fun MLB.TV team to check in on this year, just because of their emphasis on speed. They've got Terrance Gore and Billy Hamilton _and_, of course MLB stolen-base leader Whit Merrifield. We aren't sure how any of those hitters are going to get on base, but when they do, they will be running like crazy. It'll be a welcome switch anyway.
8) Who is part of the long-term future?
The Royals are going to struggle this year, and they know it, but it's all about building for the future. So who here now is a part of that future? We know Merrifield is: He's signed through 2022, with an option for 2023. But there's only one Royal in MLB Pipeline's Top 100 (Brady Singer), and he probably won't arrive until 2020. So who else? Players to watch are Ryan O'Hearn (age 25), Jorge Bonifacio (25), Adalberto Mondesi (23), Brad Keller (23, and maybe the best Royals pitcher last year) and … well, let's see who they call up. You're looking for "Coming Attractions" who can stick this year. There might not be many.
Tigers
9) How Miggy is Miggy?
Miguel Cabrera is an obvious first-ballot Hall of Famer, but it is worth remembering that it's going to be a while until that happens. He's still under contract for five more years (with an $8 million buyout for the sixth year!), which means Bryce Harper will only have three years left on his Phillies contract when we finally all get to vote in Miggy. So what does he have left? He only played 38 games last year, hitting .299 with three homers. (Three!) He'll be the cleanup hitter as long as he's here, probably no matter what he does. His back looks healthier this spring. You just want to see him at least vaguely resemble himself at this point.
10) What's the deal with Michael Fulmer?
Fulmer has always been billed as a power pitcher, which is why it's a little alarming, with all the health woes he has had, that he has been sitting in the low '90s all spring. He says he's not worried and the Tigers say they're not worried, but they have to be a little worried, right? The former Rookie of the Year has not been the same since his elbow issues hit in mid-2017, and although he only turns 26 next week, this is not the sort of velocity that's going to get him through the season. The Tigers have a bunch of stud pitchers coming up through the system. Fulmer at this point has to just hope he gets to join them.
11) Do they trade Nicholas Castellanos?
Castellanos seems to want to be traded, and he has a lot to offer a team at the Trade Deadline, particularly one that doesn't require him to play the field. He's a free agent after the season, so if he gets off to a hot start, the Tigers would be wise to flip him earlier rather than later. There is not much else going on with Detroit's offense, so it might get ugly after he leaves, but the Tigers are more worried about 2022 than 2019. Whatever he can get them back is gravy.
12) When do the pitchers start arriving?
The Tigers have a whopping five pitching prospects in the MLB Pipeline Top 100: Casey Mize (18), Matt Manning (53), Franklin Perez (67), Alex Faedo (79) and Beau Burrows (86). They're the future of everything the Tigers want to do, so, understandably, Tigers fans can't wait to finally see them at Comerica. (Faedo and Burrows seem the closest.) While there is zero reason to rush them, they're the primary reason for hope for Detroit fans over the next half-decade. Any glimpse of them is a glimpse of that hope.
Twins
13) Does this team have a star?
The Twins have a perfectly respectable roster, with no major holes anywhere, but there is nothing exciting about them anywhere. As Dan Szymborski pointed out, the team is "excruciatingly, unbearably, average." Average is good: Average has value! It also gets you to where Fangraphs has them: 82 wins. It's better to win more games than you lose, sure, but winning 82 games isn't going to get you in the playoffs. To make the playoffs, the Twins need upside. Who are the upside players on this team? Are we still waiting for Byron Buxton to be that person?
14) Can Nelson Cruz do this forever?
Remember when everyone made fun of Seattle for signing Nelson Cruz to a four-year, $57 million contract back in 2014? He'll be 38 when that contract expires! What fools! Well … turns out, Cruz is still raking like crazy, to the point that he's now the central figure in the Twins' lineup, signed to a one-year, $14 million deal and plopped right in the No. 4 spot. Cruz looks like the sort of guy who will just hit forever, but, you know, that's not actually how this works. Someday he will show his age. If it's this year (he turns 39 on July 1), the Twins, who need him to drive essentially their entire offense, are in big trouble.
15) Can Jose Berrios take ANOTHER step forward?
Jose Berrios has been the Twins' Great Strikeout Starter Hope for so long now that there's a temptation to overrate his improvement in 2018. He added nearly 50 innings pitched, dropped his ERA a tad, skyrocketed his strikeout rate and lowered his walk rate slightly. Yet you can still make an argument that he wasn't the best starter on his own team: That would be Kyle Gibson, who had a lower ERA and better ERA+ (and wasn't a strikeout slouch himself). Gibson is a perfectly fine pitcher, but Berrios' stuff should blow his away. The Twins' rotation is less pitch-to-contact than it used to be, but Berrios has ace stuff. Now would be the perfect season to show it.
16) What is the plan here?
The Twins appear to be the second-best team in the AL Central, and that's pretty good: Second out of five, nothing wrong with that. But they are in the scary middle ground of being better than the rebuilding teams yet not good enough to quite challenge for a postseason spot, which is precisely where you don't want to be. The disappointments of Buxton and Miguel Sano -- who were supposed to be stars, and still could be -- have lowered the ceiling on this team. (Sano is hurt again and will miss Opening Day.) The problem with being an 82-win team is that teams below you are building to be a lot more than that ... and could catch up with you soon.
White Sox
17) When is Eloy here?
Eloy Jimenez isn't just the name Cubs fans will be muttering under their breath every time they think about Jose Quintana for the next 20 years: He's the most exciting thing coming to the South Side this year, and the No. 3 prospect in all of MLB. And he will be coming, perhaps as early as April. He's one of the best power bats in the Majors and the augur for all the White Sox talent that's lining up in the Minors. If he becomes the player scouts think he might be, he could be haunting the neighbors to the north for a decade or so. We will know very soon.
18) Is this the year Yoan Moncada turns the corner?
In his first full season in the Majors, Moncada was perfectly acceptable, slashing .235/.314/.400 with solid defense, which is not bad for a 23-year-old just figuring his way around the bigs. But the problem is that Moncada was once the No. 1 prospect in baseball, the crown jewel of the Chris Sale trade, and those numbers can't help but feel underwhelming in that context. The AL-leading strikeout total (217!) is alarming, and all told, in 650 plate appearances, you expected more than 17 homers and 12 steals. There's plenty of room for growth, and plenty of talent, but the White Sox fans would love to start seeing it soon.
19) What will they get out of the rotation?
The White Sox have three fascinating arms in their rotation under age 26: Carlos Rodon and Reynaldo Lopez, who have shown what they're capable of so far, and Lucas Giolito, who, uh, hasn't. That the White Sox brought in Ivan Nova and Ervin Santana is a sign that they'd like a more stable rotation this year to help the kids take the next step forward. Michael Kopech will be back next year from Tommy John surgery, and Dylan Cease (the No. 21 prospect, per Pipeline) is coming, so if the White Sox are going to surprise this season, those two need to give plenty of innings. The White Sox would like to at least nod at relevance before really going for it with the young kids in 2020, and any chance of them doing that may rest on the rotation stabilizers.
20) Should they have been more aggressive?
Jimenez, Kopech, Cease, Luis Robert, Nick Madrigal, Dane Dunning, Blake Rutherford ... the White Sox have prospects falling from the sky. But a strong argument could be made that what they really needed to do was go the extra mile for Manny Machado so all those players could grow around him … you know, the way the Padres did with Machado. The White Sox have tons of young talent coming, but statistically speaking, not all that talent is going to turn out exactly the way they want it to. They needed some certainty moving forward. Maybe Moncada is that certainty; maybe it's Jimenez. But if the White Sox are going for it over the next half-decade, they may find themselves missing that centerpiece who is already established. The Padres got that centerpiece. The White Sox, so far, have not.
PREDICTED STANDINGS
1) Cleveland Indians: 90-72
2) Minnesota Twins: 83-79
3) Chicago White Sox: 77-85
4) Detroit Tigers: 69-93
5) Kansas City Royals: 62-100
Next week: The National League East