Here's how NL West stacks up at quarter mark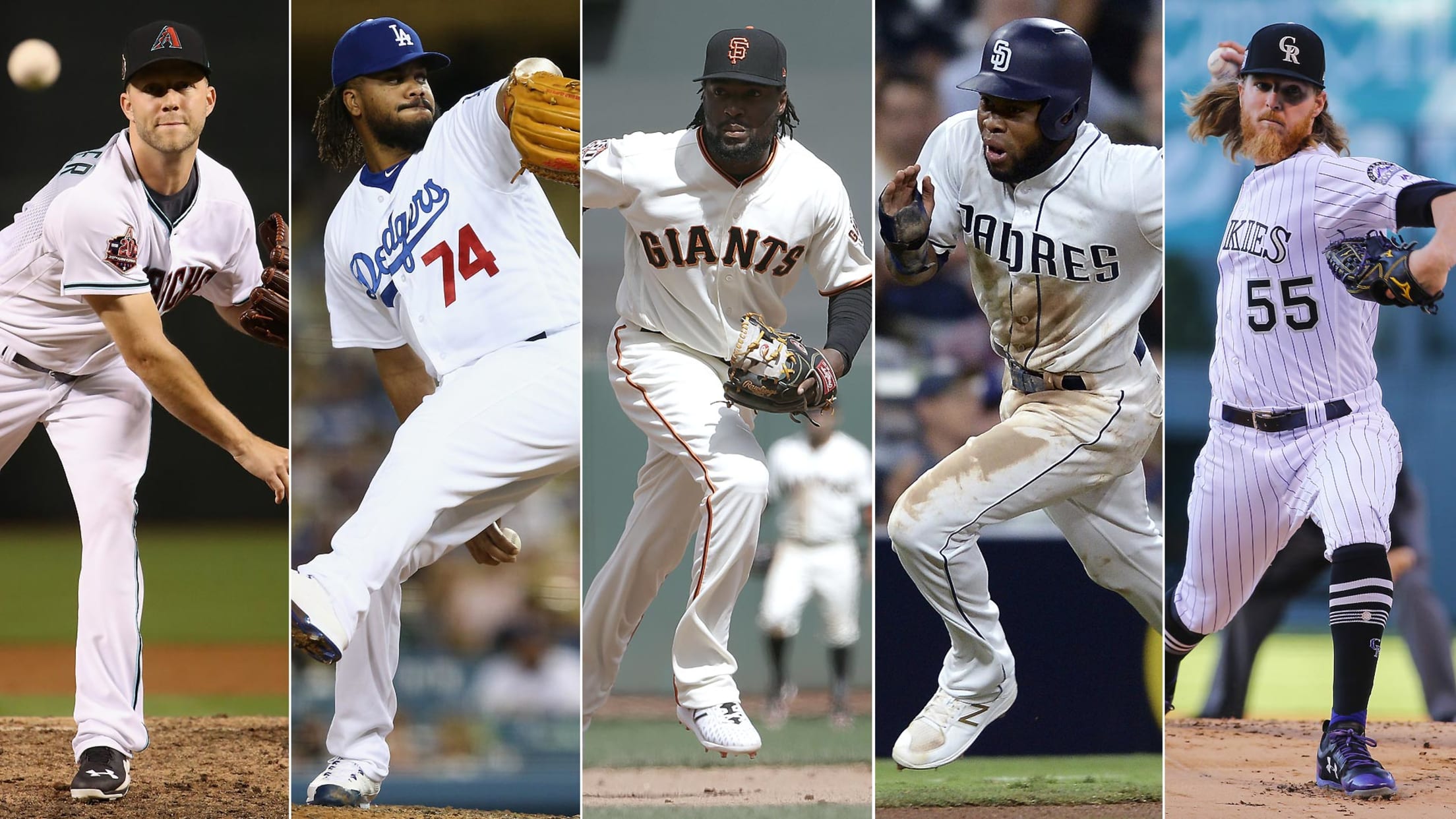 The young season no longer seems so young anymore, as Major League Baseball has reached the one-quarter mark of what's been an often surprising year.The first month and a half of the 2018 campaign has offered more than its share of twists in the National League West, a division that's
The young season no longer seems so young anymore, as Major League Baseball has reached the one-quarter mark of what's been an often surprising year.
The first month and a half of the 2018 campaign has offered more than its share of twists in the National League West, a division that's been turned upside down -- yet remains completely up for grabs.
With the opening quarter of the marathon in the books, here's a breakdown of what we've seen -- and what we might still see -- from the five clubs in the NL West.
D-backs
One thing we learned in the first quarter
The back end of the bullpen is really good. After letting closer Fernando Rodney walk, the D-backs traded for Brad Boxberger, who has blown one save so far. They've used Archie Bradley in the seventh and/or eighth innings depending on when the other team's best hitters are due up. He is following up on last year's outstanding season. Meanwhile Yoshihisa Hirano, who was signed to a two-year, $6 million deal out of Japan this offseason, is looking like a bargain.
One thing we'll be watching in the second quarter
All eyes are on first baseman Paul Goldschmidt right now. The perennial All-Star and MVP candidate has struggled through the season's first quarter. Goldschmidt has gone through tough stretches before, but never anything this prolonged. In his last 52 plate appearances, Goldschmidt has eight walks and five hits, only one for extra bases.
Key stretch: May 28-June 3
The D-backs will return home from a three-city cross-country trip to play two of the NL's rebuilding teams in the Reds and Marlins. They'll need to take advantage of those games, because the schedule gets tougher after that.
Stock watch: Up
They're no longer the unstoppable force they were during the season's first few weeks, having lost seven of eight. But they're first in the NL West, with a couple games to spare.
Dodgers
One thing we learned in the first quarter
Kenley Jansen needs a normal Spring Training. Management told him to coast after a grueling 2017 season, and he wasn't ready for the start of the year. His velocity is finally returning, but his signature cutter still hasn't regained its nasty late movement. Jansen's calming presence at the back end of games is a must for the Dodgers if they hope to mount a charge on the first-place D-backs.
One thing we'll be watching in the second quarter
Can't they just stay healthy? No one knows how long Clayton Kershaw will be out. Justin Turner is back, but it's still unclear whether he'll hit for the same power after breaking his wrist. Even Walker Buehler's emergence has been mitigated by an injured Hyun-Jin Ryu and a slumping Rich Hill.
Key stretch: June 18-20, 25-28
The Dodgers and Cubs have met in each of the past two NL Championship Series, taking one pennant apiece. They'll play seven times in an 11-day span, beginning June 18 in Chicago.
Stock watch: Down
Everything that went right last year has gone wrong this year. The Dodgers are off to their worst start since moving to Los Angeles.
Giants
One thing we learned in the first quarter
The Giants possess considerably more depth than they did a year ago -- from their bench to Triple-A Sacramento. Big league veterans Nick Hundley, Pablo Sandoval, Gregor Blanco and Kelby Tomlinson have had their share of time in the spotlight again. Meanwhile, Alen Hanson, Mac Williamson and Andrew Suarez have risen from Triple-A to contribute.
One thing we'll be watching in the second quarter
How big of an impact can left-hander Madison Bumgarner make when he returns from his fractured throwing hand? He's due back sometime in June. Bumgarner's spring results suggested he might be poised for another big-time season before he sustained the injury. When he gets back, the Giants should receive an infusion of energy from the anchor of their starting rotation and the symbol of their championship mettle.
Key stretch: June 8-17
The Giants open a 10-game road trip with three in Washington and four in Miami. (They went 1-5 against the Marlins last year.) Then comes a weekend series at Dodger Stadium, which speaks for itself.
Stock watch: Steady
Despite being without a couple of their top starting pitchers, the Giants have managed to hover around .500 for most of the season.
Padres
One thing we learned in the first quarter
The Padres might have three new pieces for their future -- three pieces they weren't exactly certain about when the season began. Left-hander Joey Lucchesi, third baseman Christian Villanueva and outfielder Franchy Cordero all rank among the Majors Leagues' best rookies. Their success comes in a somewhat small sample. But the Padres need rotation pieces, they need a long-term third baseman and their outfield of the future certainly isn't set. All three will get the chance to prove themselves further.
One thing we'll be watching in the second quarter
The Padres' outfield is crowded right now -- and that's with William Myers and Hunter Renfroe currently on the disabled list. Renfroe is due to begin a rehab assignment Thursday. His return will force the Padres into some decision-making. Cordero, Manuel Margot, Travis Jankowski and Franmil Reyes are all battling for their places. When Myers returns sometime in June, the trade speculation around one or two of those outfielders will heat up.
Key stretch: May 17-27
How about the current one? The Padres embark on a brutal 10-game road trip in which they'll play three series against three postseason hopefuls. It begins Thursday in Pittsburgh for the opener of a four-game series, then moves to Washington before the Padres finish at the slumping Dodgers.
Stock watch: Down
The Padres signed Eric Hosmer and are only half a game better than they were at this point a year ago. There's a lot of progress still to be made.
Rockies
One thing we learned in the first quarter
The Rockies' strong starting pitching and reliable relievers are enough to keep them in the thick of the NL West race. Jon Gray, Chad Bettis and Kyle Freeland have all been excellent at times. Relievers Adam Ottavino and Wade Davis have been just as good at the back end. The Rockies are 19-4 when scoring first and 19-1 when leading after seven, backing the assertion that pitching carries this club.
One thing we'll be watching in the second quarter
The corner outfield should begin to settle. David Dahl is being given every chance to establish himself, while Gerardo Parra and Carlos Gonzalez are still searching for their footing. The Rockies could use a pair of run-producers in the corners, and Raimel Tapia, who has played well at Triple-A Albuquerque, is bucking for his shot.
Key stretch: May 17-23
No time like the present. The Rockies are 16-9 on the road this season, as they embark on a crucial stretch within the division. They'll travel to San Francisco for four games and Los Angeles for three over the next week.
Stock watch: Steady
The Rockies' offense has quite a few holes to fill, but their pitching staff has more than made up for it, and Colorado hasn't been below .500 since April 11.