McCutchen gives back with 'Project Pittsburgh'
PITTSBURGH -- Andrew McCutchen was sitting near the middle of a basketball court at the Kingsley Center last Thursday morning, talking to a room full of third-, fourth- and fifth-graders from nearby Lincoln Elementary School in the Larimer neighborhood of Pittsburgh. He was there to tell his story, to encourage
PITTSBURGH -- Andrew McCutchen was sitting near the middle of a basketball court at the Kingsley Center last Thursday morning, talking to a room full of third-, fourth- and fifth-graders from nearby Lincoln Elementary School in the Larimer neighborhood of Pittsburgh. He was there to tell his story, to encourage the students to work hard and never give up on their dreams.
He told the children the story about how, when he was 12 years old living in Fort Meade, Fla., he was hoping to attend a baseball camp in San Juan, Puerto Rico. The cost of travel was simply too much for his family to afford, but people in his community -- from business owners to the family's church -- chipped in to raise the necessary money. With their help, McCutchen made it to the Roberto Clemente Camp after all.
On the surface, McCutchen was giving the students an idea of how he became a successful Major League Baseball star -- with a lot of hard work and plenty of help along the way. And in a way, he was also explaining why he was sitting there in front of them in that gym, nearing the end of a week-long charitable blitz all around Pittsburgh.
"I'm giving because there were times I needed it for myself. My family needed the help," McCutchen said. "We had a lot of help. If it wasn't for the help, there's no telling where we would be.
"For me, it only feels right to do the same thing: Help others who can't help themselves and do it any way, shape or form that I can."
McCutchen has displayed that giving spirit throughout his career, one of the reasons he won MLB's Roberto Clemente Award in 2015. But there was one more question from Howard Slaughter, the president and CEO of Habitat for Humanity of Greater Pittsburgh, as he sat next to McCutchen: Why here?
McCutchen didn't miss a beat.
"'Cause I love Pittsburgh," he said.
'Project Pittsburgh'
McCutchen spent a full week, from Nov. 16 through Saturday, taking part in a series of charitable events around the city he still calls home. It was all part of "Project Pittsburgh," a volunteer initiative created by McCutchen and his wife, Maria, to assist and promote nonprofit organizations in the area.
"Cutch Charity Week" was a busy one and, as McCutchen put it, a "hands-on" undertaking.
McCutchen helped high schoolers pick out clothes for job interviews during Senior Development Day at the South Hills Village Mall Macy's store, served meals with the Light of Life Rescue Mission in the North Side, visited patients at UPMC Children's Hospital of Pittsburgh, read with kids at Carnegie Library, packaged supplies for the Homeless Children's Education Fund, spoke to students at the Kingsley Center, swung a hammer alongside Habitat for Humanity volunteers while remodeling a house in Larimer, delivered food with 412 Food Rescue and hosted a free baseball clinic for inner-city children.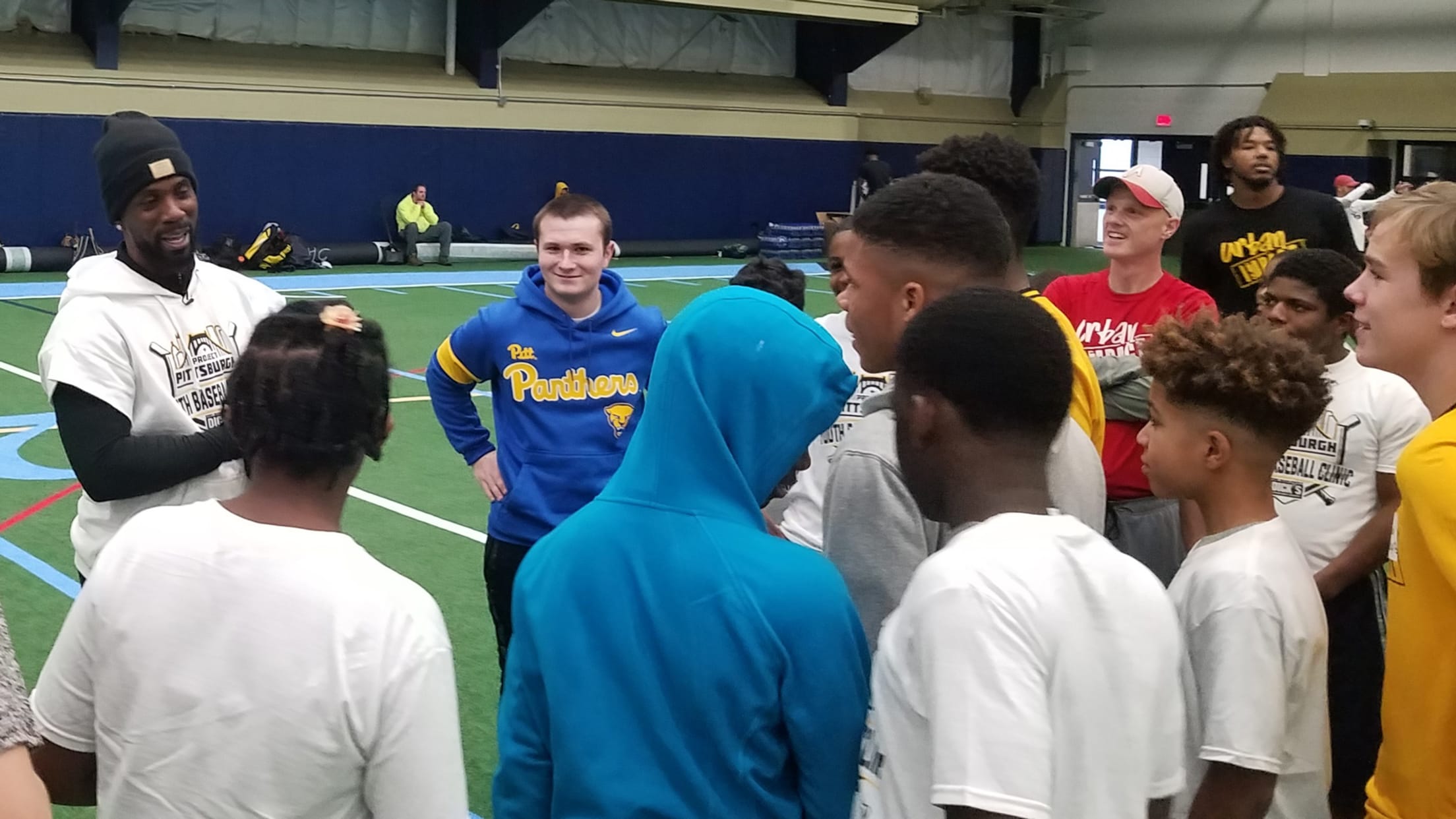 "We're hoping that it sheds a little bit of light on these organizations, what they're about and what they're doing," McCutchen said. "Hopefully this continues, so whoever sees it can find ways to be able to give as well."
McCutchen said he and Maria wanted to do something like this for a while, but it wasn't so easy to organize over the last few years. They welcomed their first son, Steel, in November 2017. Then, suddenly, Pittsburgh was no longer McCutchen's professional home. First came the January 2018 trade that sent McCutchen from the Pirates to the Giants, then another trade to the Yankees, then his first foray into free agency and then, finally, a three-year contract with the Phillies.
The McCutchens are expecting their second child, another boy, later this winter. But they decided the time was right to turn their brainstorming sessions into action. And they wanted to give back here in Pittsburgh, where they met, started their family and still reside in one of the city's northern suburbs.
"We were ready. We were ready to get started, to work within the community," McCutchen said. "No better place than where we live, being in Pittsburgh, to be able to give back to this city. … I haven't been in the community, especially in Pittsburgh, the last few years. So just the hunger to want to do it and want to be a part of something like this, it's something I really wanted to do."
McCutchen could have just written a bunch of checks to charities, called it a day and spent the week at home with his son and pregnant wife. He did far more than that during "Cutch Charity Week."
"Andrew's support and help, just coming in and spending some time with us, it shows that he cares and that he's committed," Slaughter said. "Not everyone would be willing to come and roll up their sleeves and hammer nails and put up drywall and siding and things of that nature for somebody that they don't know, for someone they may never know. That kind of work is sustaining, meaning that what we do today is going to benefit somebody for the next 40 or 50 years. That kind of impact is rare."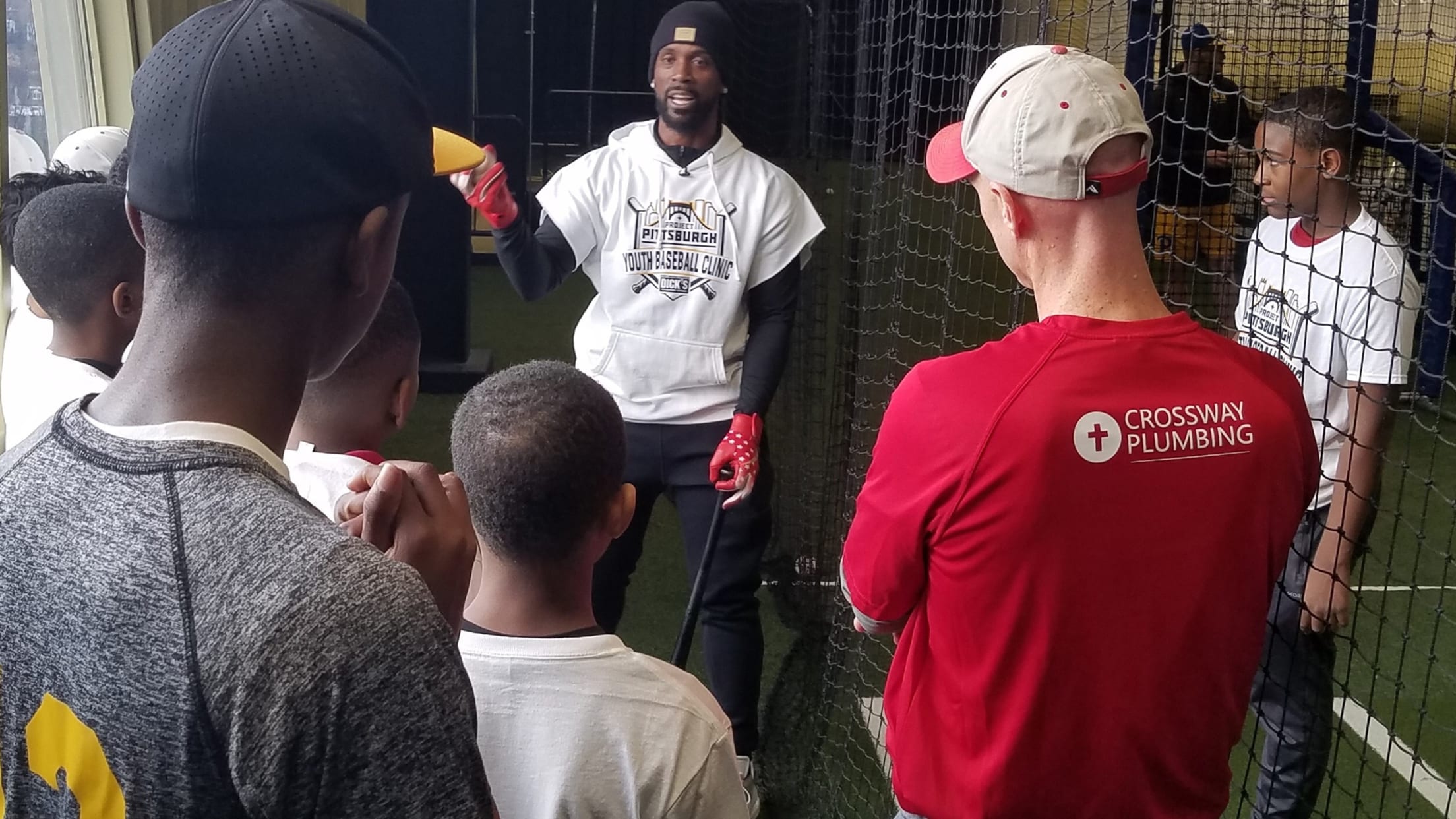 McCutchen said it was important to see the programs in action and called it "eye-opening" to be a part of their daily work. He also set out to make "Project Pittsburgh" more of a grassroots movement than a photo opportunity, demonstrating just how many different ways people can get involved and help others within their community.
"I felt this was something I needed. There's a lot of organizations that need a lot of help," McCutchen said. "On top of that, it's shedding light on all of these different organizations that you can work with -- not just me and not just another athlete or celebrity, but the average person. … There's all of these programs, all of these places where you can help, you can lend a helping hand, you can volunteer, you can donate. Just showing others that if you don't necessarily know what you want to do, there are a lot of outlets where you can find something to do."
Local connection
Sometimes, it's hard to remember that McCutchen has worn three uniforms since he last donned his No. 22 jersey with the Pirates, because he was so inextricably linked to Pittsburgh from 2009-17. He was the face of the franchise, the National League's Most Valuable Player and one of the Majors' most recognizable stars when the Pirates snapped their 20-year streak and returned to the postseason in 2013.
Sometimes it's hard to remember, though, simply because McCutchen is still so popular around here.
"People who aren't from here, they wouldn't realize it until they're actually here. This city is unique," McCutchen said. "They love their sports. They love their athletes. They love their celebrities. They don't just treat you like an athlete. They treat you like a human being, like a person. It's a very family-oriented place. It's a big city, but it has a small-town feel to it. That's the thing I love about it."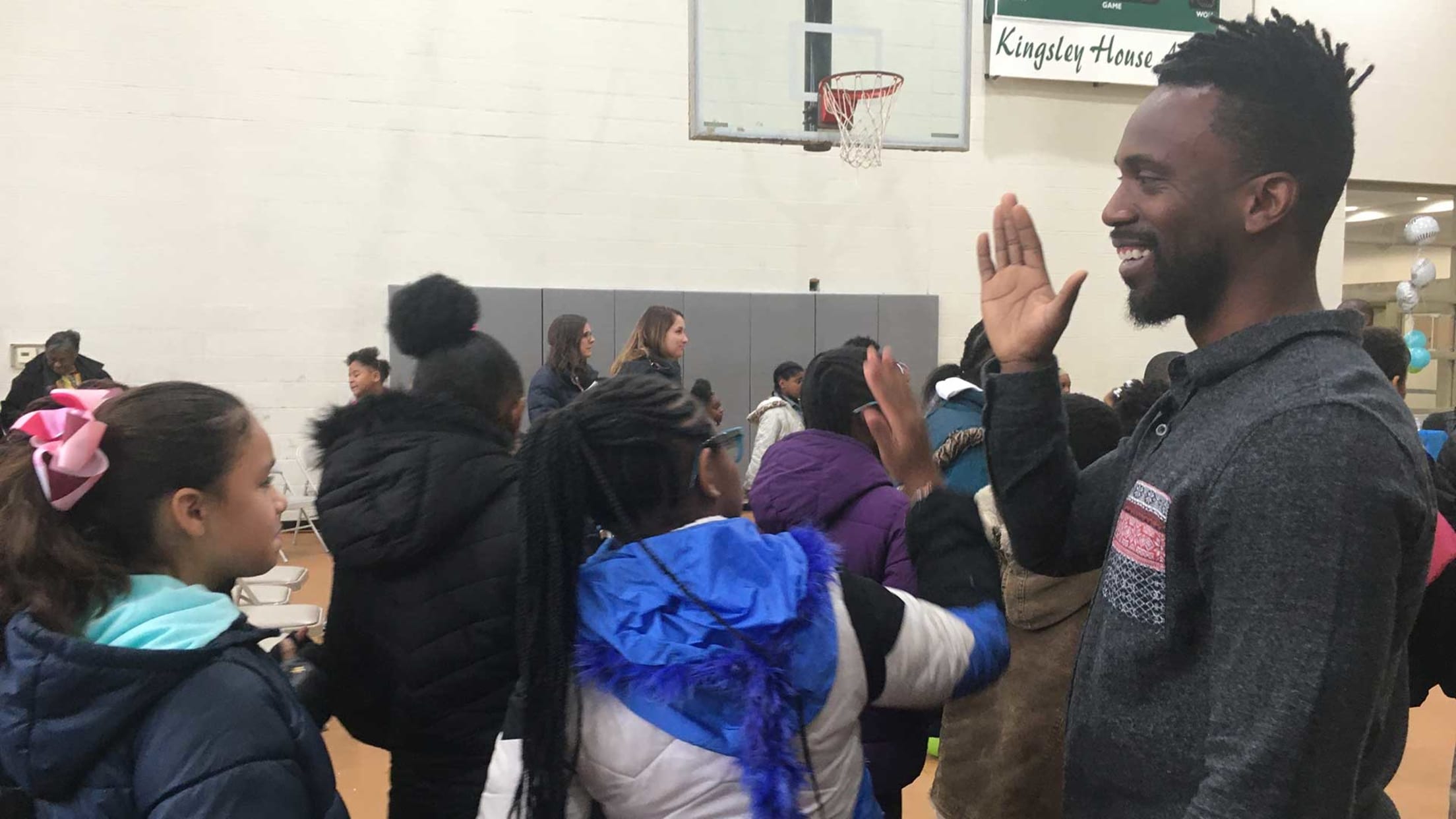 When he visited the Habitat for Humanity home in Larimer, McCutchen found himself signing a block of wood, promising to autograph one volunteer's hammer and talking on FaceTime with other volunteers' family members. At a lunch with sponsors, he told a story about his first walk-off home run that left adults in the room as rapt as the kids were in the Kingsley Center gym -- and that was a remarkably attentive group of elementary school students.
"For the kids today to see an athlete who lives in Pittsburgh, loves this community, comes back and spends time with the kids, they engage," Slaughter said. "Those things will make a difference for those kids for the rest of their lives. They'll remember today that they heard Andrew said, 'You've got to work hard.' They'll remember Andrew saying not to give up. They'll remember Andrew saying, 'Yeah, I struck out over 100 times, but I hit a lot of home runs and made a lot of plays.'
"Those are the realistic kinds of things that we want to send a message to the kids about. We want them to know, no, it's not always going to be easy, but you can overcome those obstacles if you keep working hard. That's the kind of message Andrew can convey to kids, and they'll remember that."
Matt Davis, the manager of baseball and program development for the faith-based Urban Impact Foundation, came away from Saturday's clinic with a similar impression. McCutchen provided free instruction for boys and girls who play baseball with Urban Impact, the Josh Gibson Foundation, the RBI (Reviving Baseball in Inner Cities) Pittsburgh Program and the Boys & Girls Club. The camp was divided up into eight stations run by McCutchen, local college players and coaches.
"When we were calling kids and telling them about this, his name is still, 'Whoa! Yeah, let's go! I'm interested and I want to hang out with Andrew McCutchen,'" Davis said. "He's still a big deal here, and I think this city still really loves him. For him to come back is really exciting. … There's not a ton of African-Americans playing the game of baseball right now. It's really cool for them to see that and see him as a role model. 'Hey, I can achieve that if I work hard.'
"He does such an awesome job with the kids, interacting with them and building relationships. It doesn't take more than a smile, saying hi and, man, he's in. He's not just a celebrity baseball player; he's really down-to-earth and does a great job talking to kids and getting to know them."
The initial response to "Project Pittsburgh," McCutchen said, was everything they had hoped for. They called for volunteers to sign up for each stop, and every volunteer position was filled. When those opportunities were taken, McCutchen said, people asked for another way they could give back.
"It's been overwhelming and humbling at the same time," McCutchen said. "This city and the people here, they're amazing and they're doing amazing things around the city just trying to make it a better place."