Arizona home to special memories for Green
San Diego manager came up with, coached for D-backs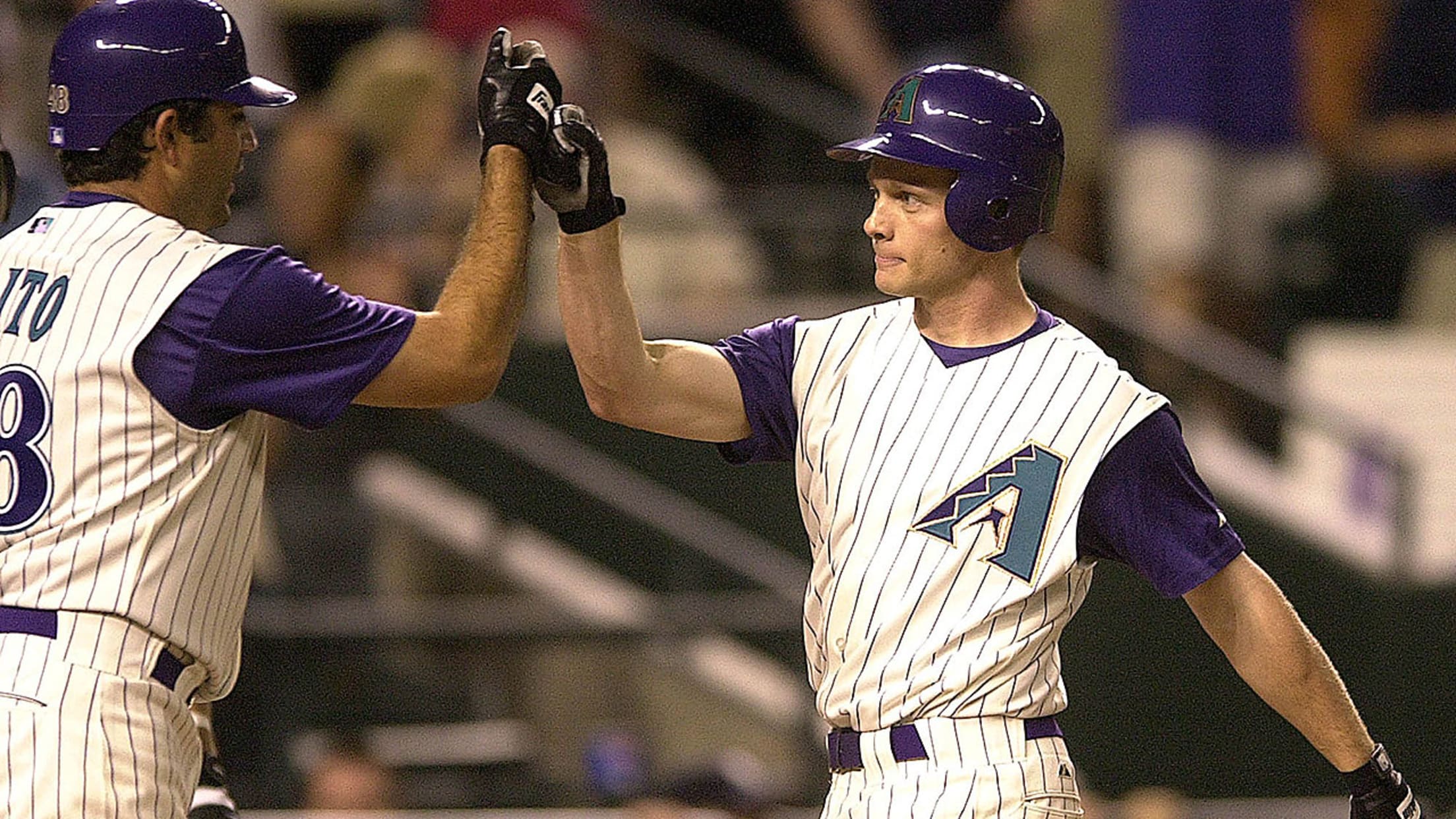 Andy Green is greeted at the plate after homering for his first Major League hit on June 15, 2004. (AP)
PHOENIX -- If Andy Green's first trip to Chase Field as a manager is anything like his first trip here as a player, it should be a successful weekend for the Padres.Green -- who spent seven seasons as an infielder in the D-backs organization and four seasons as a coach
PHOENIX -- If Andy Green's first trip to Chase Field as a manager is anything like his first trip here as a player, it should be a successful weekend for the Padres.
Green -- who spent seven seasons as an infielder in the D-backs organization and four seasons as a coach and Minor League manager -- made his big league debut in Toronto on June 12, 2004. But he didn't record his first hit until three days later, in his first at-bat at Chase Field.
Facing Yankees right-hander Jose Contreras, Green launched a two-run fifth-inning dinger into the left-field seats.
"It's always a special moment, your first hit," Green said. "You spend your whole life dreaming about that moment and then it comes as a home run against the Yankees. You don't forget about those moments."
Said hitting coach Alan Zinter, Green's teammate at the time: "There was a big hoopla because the Yankees were in town against the Diamondbacks. He hit one against Contreras, and he got all of it. He had some power you wouldn't expect."
Green would hit one more Major League homer, and he'd finish with a batting average of precisely .200 -- which he makes light of often.
But there were plenty of lessons Green learned from his time in Arizona -- and in Zinter's eyes, he saw a manager in the making.
"You could see that he could be whatever he wanted to be in baseball," Zinter said. "I didn't know at the time that he wanted to manage, but as a player you could see that he had all those qualities. ... He's always been a very smart, very observant ballplayer, always a step ahead of everybody. So he's just taken that to the next level."
When school let out Friday evening, Green's family headed out to Phoenix to meet him and catch up with some old friends.
Green also said he was looking forward to seeing the D-backs coaching staff and noted that it was a bit weird to be sitting in the first-base dugout for a change.
"This is where big league baseball started for me," Green said. "Obviously as a kid you grow up, you go to parks, but for me, when you're playing for the first time, this was home. So it's always got a special place in my heart and always will.
"But once the game starts, it's all about winning a baseball game."