Draft pick Williams thrilled to sign with Halos
First-rounder Thaiss also among players to agree to deals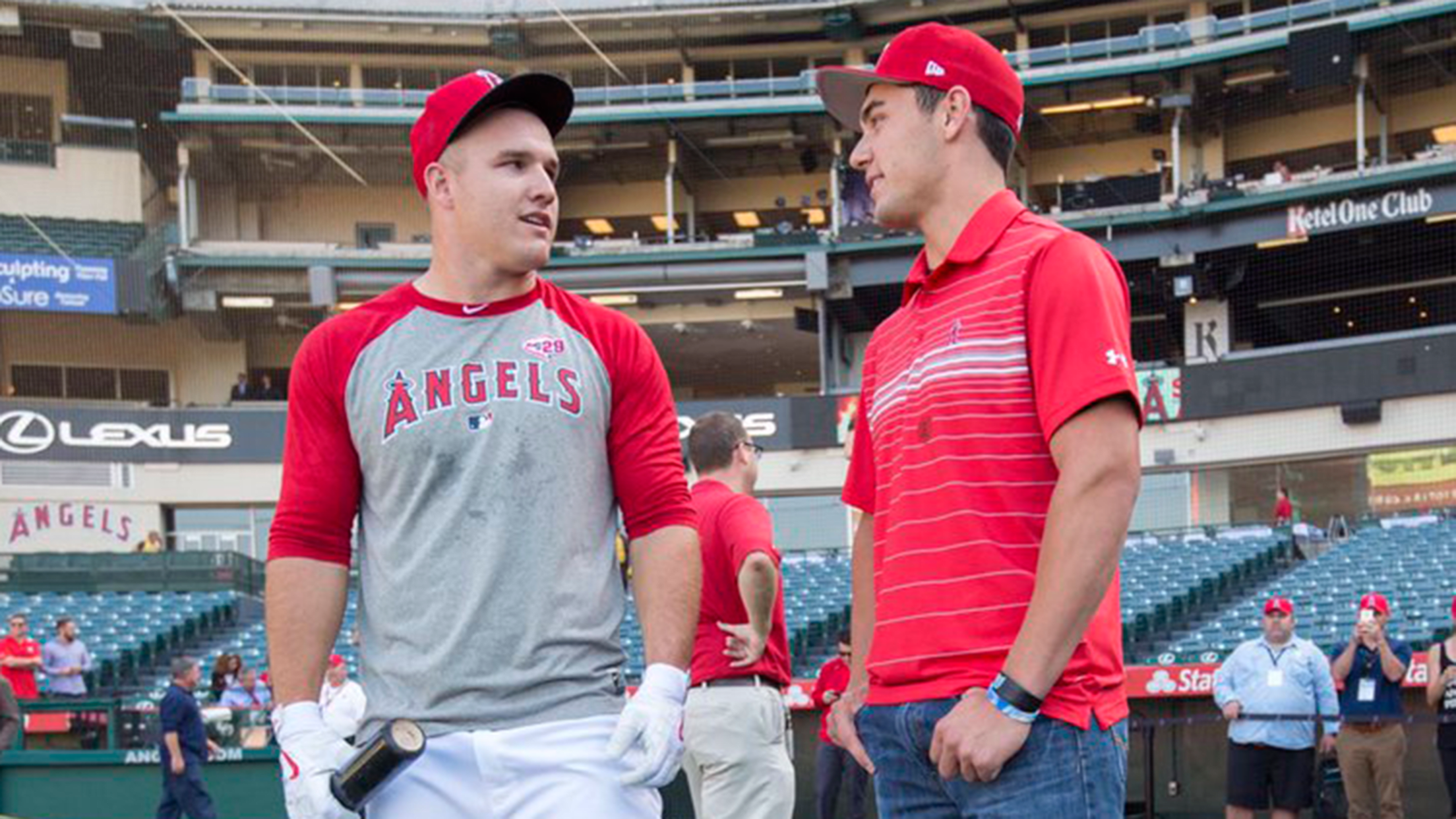 Nolan Williams chats with Mike Trout before Tuesday night's game at Angel Stadium. (@Angels)
ANAHEIM -- Nolan Williams and Cole Duensing are two of the best high-school players in the state of Kansas, and they just so happen to live 25 minutes apart. The two have been friends since they were about 10 years old. And on Friday, Williams invited Duensing over to his
ANAHEIM -- Nolan Williams and Cole Duensing are two of the best high-school players in the state of Kansas, and they just so happen to live 25 minutes apart. The two have been friends since they were about 10 years old. And on Friday, Williams invited Duensing over to his house to watch Day 2 of the Draft.
Williams, a shortstop, went in the third round to the Angels, then he watched Duensing, a right-handed pitcher, get drafted in the sixth round, also by the Angels.
"It's unbelievable," Williams said. "I'm surprised it's not a bigger story."
Williams, who goes by the nickname, Nonie, was at Angel Stadium on Tuesday to sign his first professional contract. He received $950,000, nearly $330,000 greater than the slot value for the 96th overall pick.
Present meets future.#Angels 3rd round draft pick, Nonie Williams, took in some #HalosBP this afternoon. pic.twitter.com/OlZSirqOmv

— Los Angeles Angels (@Angels) June 15, 2016
The Angels also signed their first-round pick, University of Virginia catcher Matt Thaiss, for $2.15 million, slightly lower than the $2,660,800 recommended for the 16th overall pick. Also agreeing to terms were fifth-round shortstop Connor Justus ($250,000), seventh-round second baseman Jordan Zimmerman ($175,000), eighth-round center fielder Troy Montgomery ($150,000) and 15th-round pitcher Mike Kaelin ($100,000).
The Angels also announced that ninth-round catcher Michael Barash, 10th-round pitcher Andrew Vinson, 11th-round center fielder Brennon Lund, 12th-round pitcher Bo Tucker, 14th-round outfielder Francisco Del Valle, 24th-round catcher Brennan Morgan, 29th-round pitcher Blake Smith and 36th-round shortstop Jose Rojas had also agreed to terms, but signing bonuses were not released.
Williams, 23 days away from his 18th birthday, was home-schooled. He took one class at Turner High School, just up the street from his Kansas City, Kan., home, so he could play for their baseball team. And after previously being eligible for the 2017 Draft, he reclassified for the '16 version so he could join a professional team sooner.
The #Angels sign 1st Round pick, Matt Thaiss, and 3rd Round pick, Nonie Williams. Welcome to the family, boys! pic.twitter.com/vNh9uHu5Ki

— Los Angeles Angels (@Angels) June 15, 2016
Williams grew up a Derek Jeter fan and adopted Mike Trout as his favorite player after the Yankees' captain retired.
He says the Angels have been his favorite team over the last two years, so he quickly set aside his commitment to Louisiana State University when the Angels picked him in the Draft.
"I kind of fell in love with that," Williams said, "so it turned into an easy decision."
Williams, listed at 6-foot-2, 195 pounds, didn't start switch-hitting until last spring, when he tried batting left-handed in a blowout game and hit a homer and a double. He played the outfield for the first time in a recent showcase and may end up there eventually.
"But I love it out there," Williams said. "Running the ball down and gunning guys out, that's something I can do. I'd like to do that. I'd love to stay at short, but wherever they can use me in the lineup I'd love to play."
The Angels got Williams for his bat and his athleticism, not necessarily for his defense.
His best trait?
"My speed never takes a day off," said Williams, who expects his good friend, Duensing, to sign shortly. "I can always put pressure on the pitcher and look for an extra bag."