Friday's top 10 Arizona Fall League performers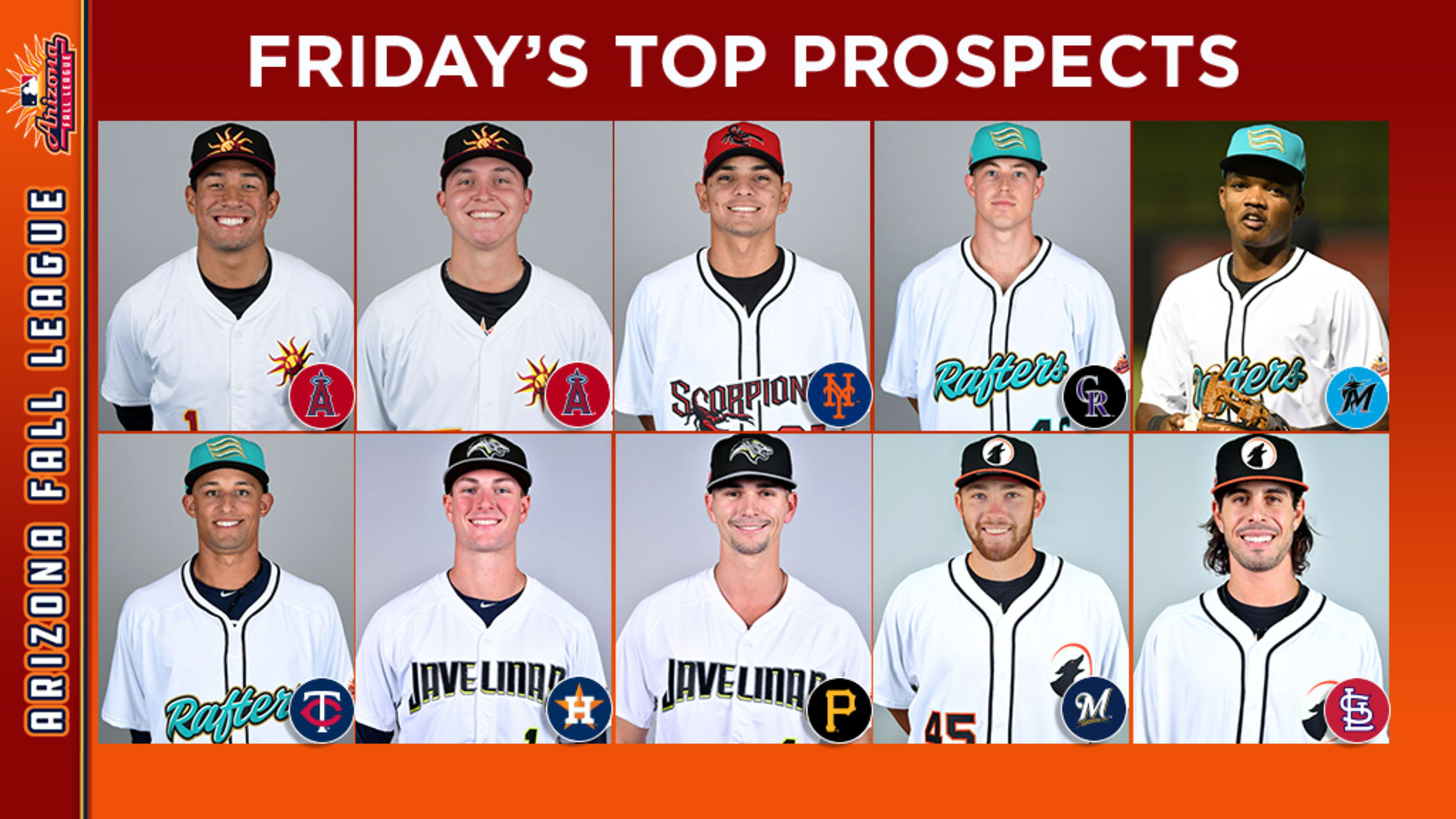 Here are the top 10 performers from Friday, Oct. 25 in the Arizona Fall League. • AFL scoreboard | Rosters | Video
AL East
BAL, BOS, NYY, TB, TOR
AL Central
CLE, CWS, DET, KC, MIN
AL West
HOU, LAA, OAK, SEA, TEX
NL East
ATL, MIA, NYM, PHI, WSH
NL Central
CHC, CIN, MIL, PIT, STL
NL West
ARI, COL, LAD, SD, SF
Team-by-team AFL results
Here are the top 10 performers from Friday, Oct. 25 in the Arizona Fall League.
• AFL scoreboard | Rosters | Video
Jahmai Jones, 2B, Angels No. 6; Aaron Hernandez, RHP
Jones left Arizona with a bang, blasting his second homer -- a three-run go-ahead drive -- in the fourth inning, the only runs scored in the game by either side. Hernandez didn't have quite his no-hit stuff like his last outing, yet he still turned out a scoreless start in Mesa's 2019 finale to end his campaign on a high note. The 22-year-old righty, who threw five hitless innings on Sunday, struck out a season-best six batters while allowing five hits and a walk in four scoreless innings. The stellar performance moved Hernandez's fall ERA to 3.38 over six outings.
#Angels' Jahmai Jones broke a scoreless tie in Mesa's favor, blasting a three-run 🚀 in the fourth inning for his second @MLBazFallLeague homer.

Gameday: https://t.co/qP2zymv6GB pic.twitter.com/MDbf47MpHd

— MLB Pipeline (@MLBPipeline) October 25, 2019
Andres Gimenez, SS, Mets No. 3 (MLB No. 92)
After a two-hit day, Gimenez finished as the batting title champion with a .371 average. His double for Scottsdale also raised his OPS to .999, the best among qualified players. The Mets shortstop was able to clinch the title with a hot streak, going 7-for-12 with a double and a homer. More>>
That's another base hit for Scottsdale shortstop Andres Gimenez (Mets), who upped his batting average to .371 and appears to have secured the @MLBazFallLeague batting title with the double. @MLBPipeline @AnthonyDiComo pic.twitter.com/2sGJOuXN4b

— Jesse Sanchez (@JesseSanchezMLB) October 25, 2019
Brian Serven, C, Rockies
Batting ninth for the Rafters, Serven hit a leadoff triple off Forrest Whitley in the third inning and scored the Rafters' second run of the game on a Jose Devers single. In the fourth, the Rockies catching prospect tagged Whitley for a two-run homer to left-center field that plated Bret Boswell, who had reached via a two-out walk. Serven's homer was his second in the Fall League and had an exit velocity of 104.6 mph. He scored two runs in the contest, finishing 2-for-3.
Jose Devers, 2B, Marlins No. 10
Devers put Salt River on the board in the first inning as he hit a one-out double off of Forrest Whitley before stealing third base and scoring on catcher Logan Driscoll's throwing error. The 19-year-old infielder came through again against Whitley in the third, this time tagging the Astros right-hander for an RBI single, then picked up another stolen base en route to another run in the following frame. Devers finished the game 2-for-4, improving his average to .262.
Royce Lewis, SS, Twins No. 1 (MLB No. 9)
The Twins' top prospect recorded the hardest-hit ball in Salt River's win over Peoria -- an RBI single in the fifth inning that had an exit velocity of 104.9 mph. He finished 1-for-3, and he carries a .353 average into Saturday's championship game against Surprise.
Forrest Whitley, RHP, Astros No. 1 (MLB No. 16)
Whitley pitched to mixed results in his final Fall League start, allowing four runs (three earned) on six hits in four innings for Peoria. The Astros' top prospect struck out three batters but struggled with his control in the outing, as he issued three walks and threw just 45 of 81 pitches for strikes. Whitley was scored upon in three of the four frames, as Salt River got him for one run (unearned) in the first, one in the third and two in the fourth, when Whitley issued a two-out walk followed by a two-run homer to Brian Serven, the Rafters' nine-hole hitter. He ran his fastball up to 96 mph in the outing, and he also generated a swinging strike with two of the six curveballs he threw.
After dominating at the outset of this year's Fall League -- 0.63 ERA, 20/2 K/BB in 14 1/3 innings (three starts) -- Whitley recorded a 5.91 ERA with 12/7 K/BB across his final three turns and 10 2/3 frames. Altogether, the 22-year-old right-hander compiled a 2.88 ERA and 32/7 K/BB in 25 innings for the Javelinas.
Jared Oliva, OF, Pirates No. 11
Oliva hit a two-out single (104.7 mph exit velocity) in the third inning and promptly swiped second base for his AFL-leading 11th stolen base before finishing 1-for-3. With the performance, the Pirates' No. 11 prospect tied a bow on a standout campaign that saw him slash .312/.413/.473 with 29 hits, 18 runs scored and 10 RBIs across 26 games.
David Fry, C, Brewers
Fry picked up two hits (2-for-4) to finish the Fall League season with an even .300 average. Fry got the scoring started for Glendale with an RBI single in the first inning and later added another double in the fifth.
#Brewers prospect David Fry puts Glendale on the board with this RBI double in the first inning. pic.twitter.com/TjkpVxlhUn

— William Boor (@wboor) October 25, 2019
Kramer Robertson, 2B, Cardinals
Robertson reached in each of his three trips to the plate. The 25-year-old, who finished 2-for-2 and hit .269 in Arizona, singled twice, drew a walk and also scored a run.