What to expect from Astros' Alvarez in bigs
The Astros pulled off what could prove to be one of the most one-sided trades of all time on July 31, 2016. They sent Josh Fields to the Dodgers in exchange for a player who had just signed out of Cuba and had yet to make his pro debut. Fields
The Astros pulled off what could prove to be one of the most one-sided trades of all time on July 31, 2016. They sent Josh Fields to the Dodgers in exchange for a player who had just signed out of Cuba and had yet to make his pro debut.
Fields provided quality relief for Los Angeles for the next 2 1/2 seasons, but in the most important appearance of his career, he gave up two runs without recording an out in the 10th inning of Game 2 of the 2017 World Series. The Astros would win that contest in the 11th inning, their first Fall Classic victory en route to their first championship.
Meanwhile, the prospect whom Houston acquired in exchange for Fields has turned into one of the best in baseball. Outfielder Yordan Alvarez will make his big league debut for the Astros today after getting summoned from Triple-A Round Rock.
Alvarez, 21, ranks 23rd on MLB Pipeline's Top 100 Prospects list. He's having a spectacular year in Triple-A, where offensive numbers as a whole have exploded after the International and Pacific Coast leagues switched to using MLB baseballs this year. He's batting .343/.443/.742 in 56 games, leading the Minors in homers (23), extra-base hits (39), total bases (158), runs (50) and RBIs (71) while also topping the PCL in walks (38).
With Jose Altuve, Carlos Correa, Aledmys Diaz and George Springer all on the injured list, Alvarez has the opportunity to get regular at-bats as long as he produces at the plate. He's expected to get the bulk of his action at DH while also seeing time in left field.
Signed for $2 million as part of the Dodgers' record $166.9 million spending spree (counting bonuses, big league guarantees and penalty tax) during the 2015-16 international signing period, Alvarez has raked throughout most of his pro career. In 250 games in the Minors, he has batted .311/.395/.561 with 56 home runs despite consistently being one of the youngest regulars in his league.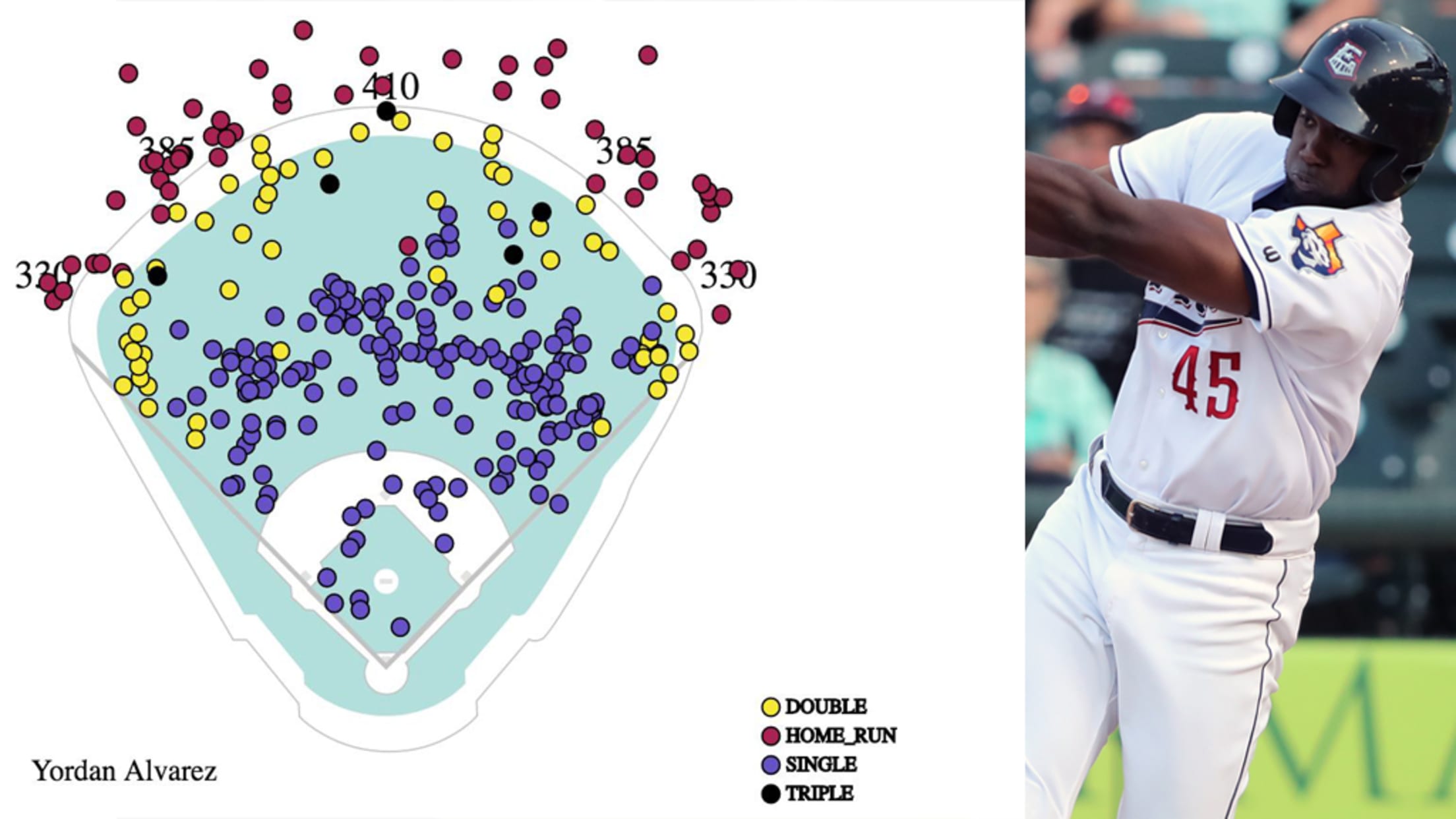 Alvarez has a relatively compact stroke for a 6-foot-5, 225-pounder, which allows him to make consistent hard contact. He has a mature approach at the plate, using the whole field and managing the strike zone well. He understands that his combination of bat speed, strength, leverage and loft in his left-handed swing create plenty of power and he lets it come naturally rather than swinging for the fences.
Though he's a decent athlete for his size, Alvarez is going to create most of his value with his bat. He has fringy speed (and may lose a step as he continues to mature physically) and arm strength, so he's limited to left field and first base. Houston believes he's a better defender in left field, though most scouts from other teams project him as a future first baseman.
The Astros already have one of MLB's best offenses, even if it is ravaged by injuries at the moment. With his ability to hit for power and average, Alvarez is capable of fitting right in. If he gets 300 at-bats in the big leagues this season, he could hit .270/.340/.500 with 15 homers.