Friday's best: Barreto fuels Nashville victory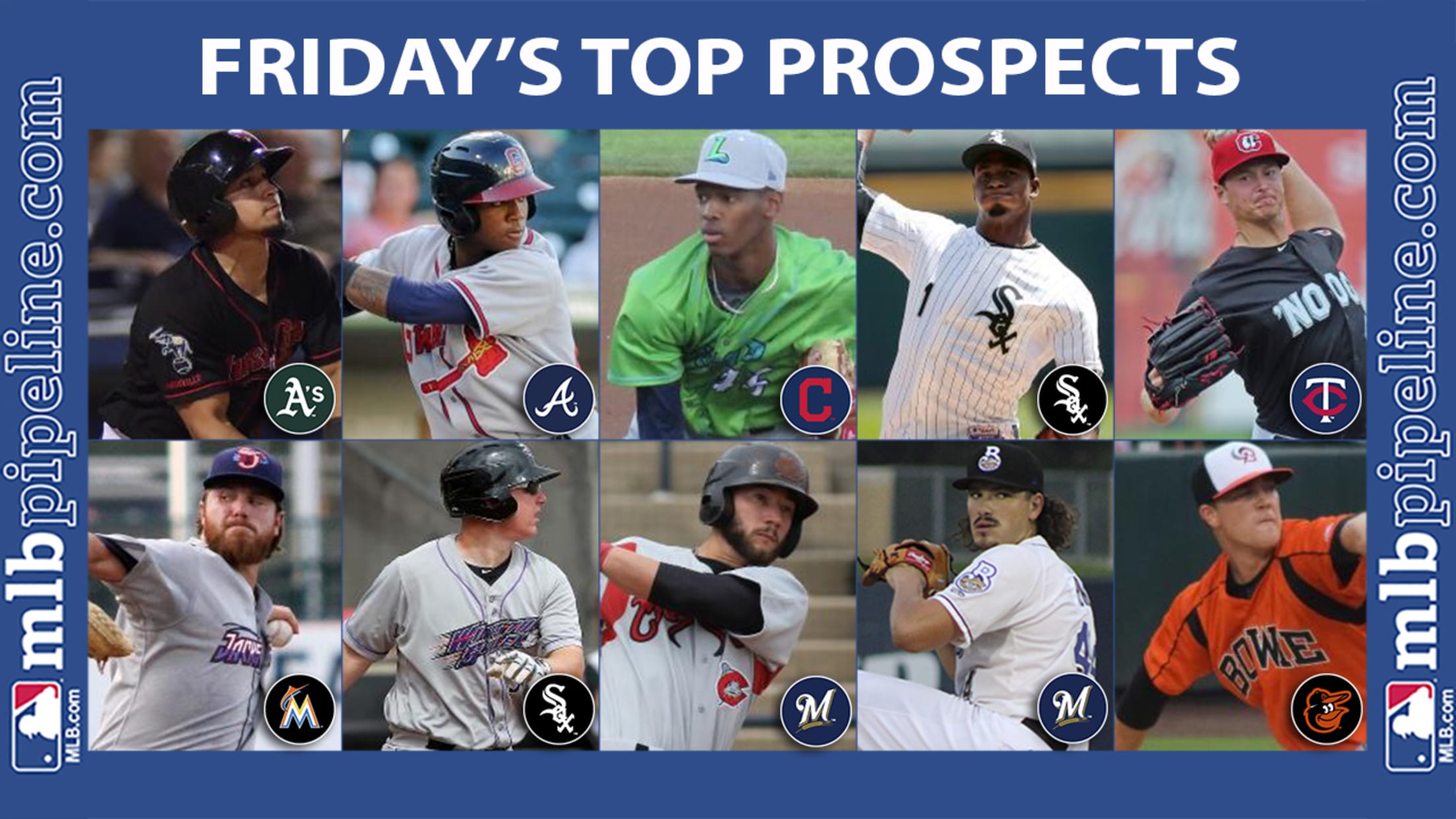 Franklin Barreto's hot streak continued on Friday as the Athletics' top prospect led Triple-A Nashville to a 6-5 win over Round Rock in 11 innings.Barreto, the No. 37 overall prospect, had a monster game for the Sounds as he went 4-for-5 with three RBIs and a trio of runs scored.Not
Franklin Barreto's hot streak continued on Friday as the Athletics' top prospect led Triple-A Nashville to a 6-5 win over Round Rock in 11 innings.
Barreto, the No. 37 overall prospect, had a monster game for the Sounds as he went 4-for-5 with three RBIs and a trio of runs scored.
Not only did the 21-year-old put up big numbers, but they came in big spots as well. Barreto got the Sounds' offense off to a fast start as he drove in the first two runs of the game with a homer, his 15th, in the first inning. After Round Rock had taken a lead, Barreto came up big in the seventh and tied the game with an RBI single.
MILB Video - Title: Barreto powers one out - Url: http://www.milb.com/r/video?content_id=1772887783
In the 11th, Barreto worked a walk, reaching base for the fifth time, and came around to score the game-winning run when Joey Wendle (Oakland's No. 24 prospect) drove him home with a walk-off single.
The big game is just the latest performance in what has been an impressive few days for Barreto. The shortstop has multiple hits in four straight games -- including three or more hits in each of his past three contests. Barreto is 12-for-19 (.632) during that stretch and has boosted his averaged from .274 to .289 in the process.
Other top prospect performances from Friday's action:
• No. 8 overall prospect Ronald Acuna extended his hitting streak to 13 and then to 14 as he collected hits in both halves of Triple-A Gwinnett's doubleheader. The Braves' No. 1 prospect, who was a combined 4-for-8 over the two games, is hitting .358 through 43 games at the Triple-A level.
MILB Video - Title: Acuna plates two - Url: http://www.milb.com/r/video?content_id=1772206683
• No. 24 overall prospect Triston McKenzie (Indians' No. 2) piled up the strikeouts as he threw 61 of his 78 pitches for strikes in a dominant outing for Class A Advanced Lynchburg. McKenzie fanned 11, his fifth double-digit strikeout performance of the season, as he gave up one run on one hit across six innings. The 20-year-old got off to a fast start as he retired the first nine he faced and also notched a pair of strikeouts in each of the first five innings.
• No. 26 overall prospect Luis Robert (White Sox No. 4) drove in a career-high four runs for the DSL White Sox in a win over the Padres. Robert hit a three-run homer in the second and added an RBI single in the fourth in his 2-for-5 effort.
• No. 72 overall prospect Stephen Gonsalves (Twins No. 3) rebounded from his worst start of the season with a strong outing for Triple-A Rochester. After giving up six runs in just three innings in his last start, Gonsalves got back on track with six innings of one-run ball. The lefty gave up seven hits but walked just one and struck out six.
• Marlins No. 4 prospect Dillon Peters spun another gem and led Double-A Jacksonville vs. a win over Birmingham. Peters extended his scoreless streak to 13 innings as he threw 6 2/3 scoreless frames, giving up just four hits. The 24-year-old walked two, struck out seven and has given up just one earned run over his past three starts.
• Tigers No. 5 prospect Christin Stewart hit his Eastern League-leading 28th homer in Double-A Erie's win over Akron. Stewart, who has hit three homers in his past six games, put the SeaWolves on the board with a solo homer in the fifth and then drove in the go-ahead run via a sacrifice fly in the eighth.
MILB Video - Title: Stewart goes deep - Url: http://www.milb.com/r/video?content_id=1771645383
• Nationals No. 5 prospect Seth Romero bounced back from a couple of rough starts with four scoreless frames for Class A Short Season Auburn. Romero, the Nationals' first-round pick from the 2017 Draft, threw 41 of his 62 pitches for strikes, yielded four hits, walked none and struck out four.
• White Sox No. 9 prospect Zack Collins hit his 19th homer of the season in a perfect day at the plate for Double-A Birmingham. Collins hit a solo homer in the second and later added a double on his way to a 3-for-3 night.
• Brewers No. 10 prospect Lucas Erceg put together his third straight multi-hit game as he went 3-for-5 for Class A Advanced Carolina. Not only did Erceg collect a trio of hits, but each of those hits -- singles in the third and seventh and a double in the fifth -- drove in runs as Erceg finished with four RBIs.
MILB Video - Title: Watch: Erceg knocks in two runs - Url: http://www.milb.com/r/video?content_id=1773290383
• Reds No. 19 prospect Rookie Davis matched his career high with eight solid innings as he led Triple-A Louisville to a win over Toledo. Davis, 24, gave up four hits and one unearned run while striking out six on 110 pitches (78 strikes).
MILB Video - Title: Watch: Davis retires 13th straight - Url: http://www.milb.com/r/video?content_id=1773294483
• Brewers No. 21 prospect Cody Ponce spun a gem in his debut with Double-A Biloxi. After posting a 3.45 ERA in 22 starts with Class A Advanced Carolina, Ponce's Double-A career began with 6 1/3 scoreless frames. The right-hander struck out three, walked two and surrendered a pair of hits.
MILB Video - Title: Ponce gets through the sixth - Url: http://www.milb.com/r/video?content_id=1772329183
• Cardinals No. 23 prospect Jonathan Machado extended his hitting streak to 13 games with a perfect day at the plate for the GCL Cardinals. Machado, 18, went 3-for-3 with a double and three RBIs as the Cardinals fell to the Astros.
• Orioles No. 29 prospect David Hess led Double-A Bowie to a win over Altoona with his fifth straight quality start. Hess gave up just one hit as he threw a career-high eight scoreless innings. The 24-year-old walked one and struck out five.
MILB Video - Title: Hess finishes a gem - Url: http://www.milb.com/r/video?content_id=1773043283
"One thing I was able to do well tonight was get the first guy out in every inning," Hess told MiLB.com. "When you're able to do that and let your defense work behind you, a lot of good things happen."