Bader among top prospect performers Saturday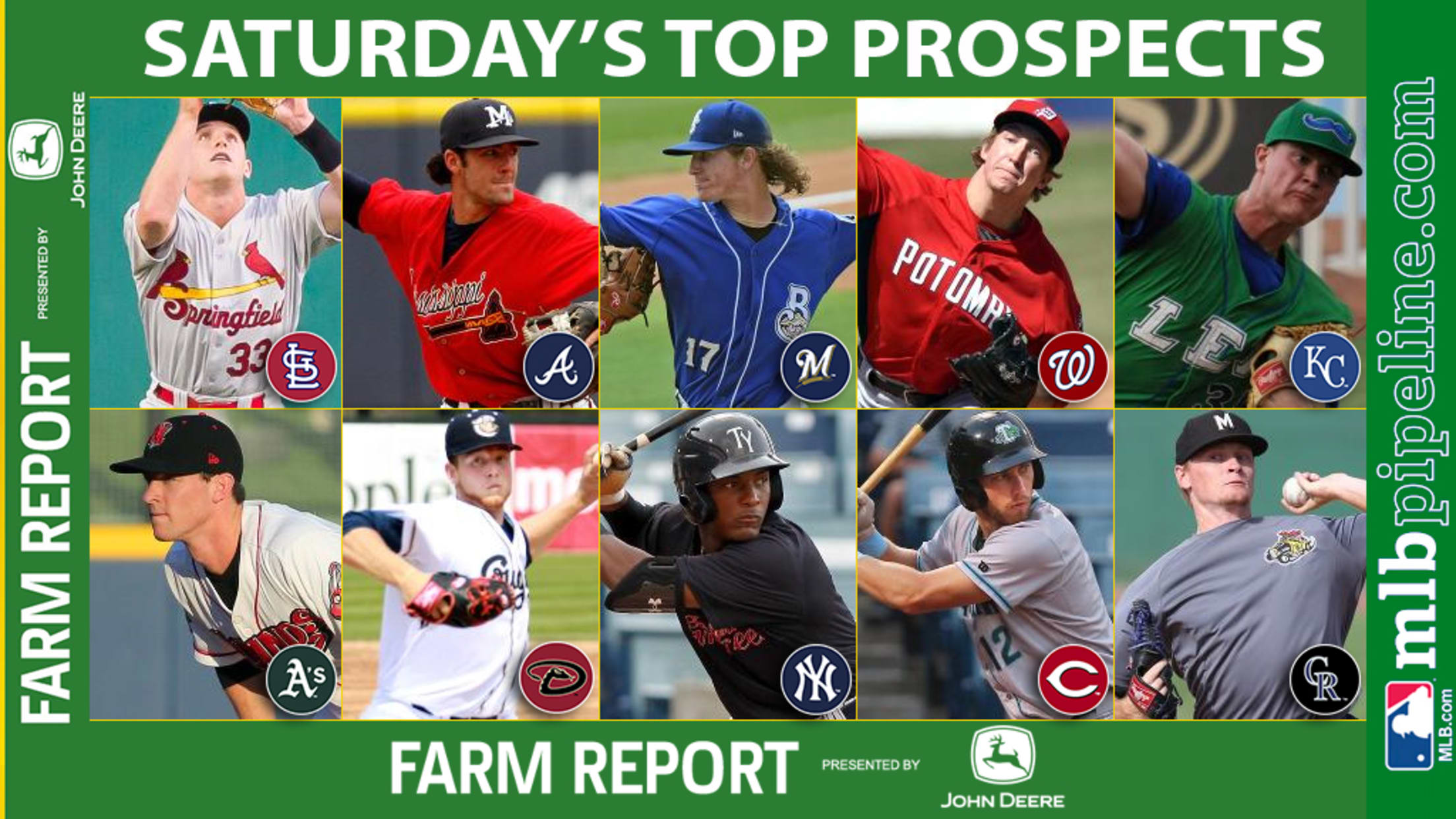 Cleveland Indians' Francisco Lindor bats during an exhibition baseball game in Goodyear, Ariz., Tuesday, March 4, 2014. (AP Photo/Paul Sancya) (Paul Sancya/AP)
For a player who bypassed the Class A-Advanced level, Harrison Bader hasn't had any problems adjusting to the advanced competition in Double-A.On Saturday, the Cardinals' No. 10 prospect connected on his third home run in as many games to help fuel Springfield's four-run eighth inning and eventual come-from-behind win against
For a player who bypassed the Class A-Advanced level, Harrison Bader hasn't had any problems adjusting to the advanced competition in Double-A.
On Saturday, the Cardinals' No. 10 prospect connected on his third home run in as many games to help fuel Springfield's four-run eighth inning and eventual come-from-behind win against Frisco. He finished 2-for-5 at the plate and also tallied a double to go along with his 11th home run in 46 games this season.
MILB Video - Title: Bader's homer - Url: http://www.milb.com/r/video?content_id=749557383
Bader, 21, has been one of the better hitters in the Texas League, ranking first in hits (61), home runs, and fifth in OPS (.947). His .333 average is also tied for third.
Bader didn't show much power during his first two years at the University of Florida, hitting just four home runs in 102 games. But that changed in a big way in his junior campaign, when he, after tweaking his swing and adjusting his approach during the offseason, went deep 17 times in 67 games for the Gators. Bader's breakthrough performance caught the attention of the Cardinals, who drafted him in the third round last June.
Bader's power surge continued last summer in his first taste of pro ball when he homered 11 times in 61 games across two levels, including nine long balls in 54 games for Class A Peoria. And with 11 more home runs this season, the 6-foot, 195-pound outfielder has now left the yard 22 times in 107 pro games.
The rest of the best performances from top prospects Saturday
• No. 6 overall prospect Dansby Swanson (Braves' No. 1) collected multiple hits for the 16th time in 48 games this season with his 2-for-4 showing in Double-A Mississippi's win against Jacksonville. One of those two knocks was a solo home run, his fifth of the season and fourth in 27 games since moving up to Double-A, and he's now hit safely in 13 of his last 14 games for the Mississippi Braves. Overall, the 2015 No. 1 overall Draft pick is hitting .310/.403/.497 with a 40-percent extra-base hit rate (23 of 58), 10 steals and a 27/28 walk-to-strikeout rate on the season.
MILB Video - Title: Swanson homers to left - Url: http://www.milb.com/r/video?content_id=749280683
• No. 56 overall prospect Josh Hader's (Brewers' No. 4) streak of 19 1/3 scoreless innings came to an end when he allowed a solo home run -- his first long ball allowed in 51 innings -- to Mitch Haniger in the sixth inning of Double-A Biloxi's eventual walk-off win against Mobile. But that was the only blemish on the day for the 22-year-old southpaw, who allowed four hits and one walk while striking out six in 5 1/3 innings. Hader is yet to give up more than one earned run in any of his 10 starts this season, and he currently paces the Southern League in ERA (0.88) and strikeouts (65).
• No. 76 overall prospect Erick Fedde (Nationals' No. 4) fanned five hitters over six innings in his second straight scoreless start for Class A-Advanced Potomac, who defeated Winston-Salem. After a shaky start to his season, the 23-year-old righty has permitted just seven hits and one walk over his last 11 innings.
"I'm starting to settle in at this level these past few outings," Fedde told MiLB.com. "I feel like I'm learning how to pitch at a higher level now. I'm understanding that a 94 mph pitch up in the zone is going to get hit and I can't get away with that stuff anymore."
• Coming off of his first scoreless start of 2016 for Class A Lexington, Royals' No. 6 prospect Scott Blewett fired a season-high seven scoreless innings in a win against Hagerstown. The 2014 second-rounder scattered four hits and struck out five without issuing a walk -- his first walk-less outing of the year -- as he threw 53 of his 82 pitches for strikes. Blewett, 20, has lowered his season ERA to 4.09 from 5.35 over his last two starts.
• A's No. 13 prospect Joey Wendle did damage out of the eight-hole in Triple-A Nashville's win against Salt Lake, going 3-for-5 with a season-high five RBIs. The 26-year-old second baseman connected on his fifth home run of the season and also hit a triple, but he couldn't pick up a double in his final two at-bats to complete the cycle. In his past three games, Wendle has gone 9-for-14 with five runs and eight RBIs.
MILB Video - Title: Wendle's grand slam - Url: http://www.milb.com/r/video?content_id=18601616
• D-backs No. 14 prospect Cody Reed dominated once again Saturday as he struck out eight batters -- his second straight start with eight punchouts -- over a season-high 7 1/3 innings to lead Class A Kane County past Beloit. The 19-year-old southpaw has been exceptional in his full-season debut, pitching to a 1.82 ERA and a 0.88 WHIP in 39 2/3 innings (seven starts). Even more impressive, however, is his 55/3 strikeout-to-walk ratio in that span.
• Yankees No. 15 prospect Miguel Andujar led Class A-Advanced Tampa's offense in their win against Brevard County as he went 3-for-5 with two home runs and five RBIs. With nine home runs in 44 games this season, the 21-year-old third baseman has already surpassed his total from 2015, when he hit eight over 130 games with Tampa. Andujar also is leading the Florida State League with 37 RBIs and ranks second in home runs.
• Reds No. 19 prospect Taylor Sparks hit a pair of home runs and drove in a season-high four runs to pace Class A Advanced Daytona in a win against Dunedin. He also tallied a double and scored twice in in what his first three-hit game of the season, ultimately finishing 3-for-5 at the plate. The 2014 second-rounder is struggling this year in his second tour of the Florida State League, hitting .194/.250/.300 with four homers in 48 games.
"Basically, my whole approach was staying on the fastball," Sparks told MiLB.com. "I was making sure that I was on time [with it]. I was just trying to be aggressive and not throw away any at-bats and making sure I got to the pitches they left over the plate. I was making sure I was hitting the mistakes. It turned out well."
• In the same game that Harrison went deep for Double-A Springfield, Rangers No. 22 prospect Ronald Guzman hit a pair of solo home runs for Frisco. The 21-year-old first baseman has been solid this season in his introduction to the Double-A level, hitting .333/.398/.525 overall, and his raw power has begun to emerge in the form of 18 extra-base hits including five home runs in 44 games.
• Rockies No. 24 prospect Sam Howard pitched Class A-Advanced Modesto past San Jose as he struck out 10 hitters over eight scoreless innings in what was his longest start of 2016. It was the 23-year-old left-hander's second 10-strikeout performance in four starts the Nuts, and he's piled up 36 strikeouts in 28 in that span.
• Tigers No. 26 prospect Myles Jay turned in his best start of 2016 for Double-A Erie with a season-high eight innings in a win against Richmond. The 24-year-old righty, whom Detroit acquired from the Rangers along with Bobby Wilson for Bryan Holaday in late March, allowed one run on four hits and one walk in the outing, striking out four.