These are baseball's top 10 rotations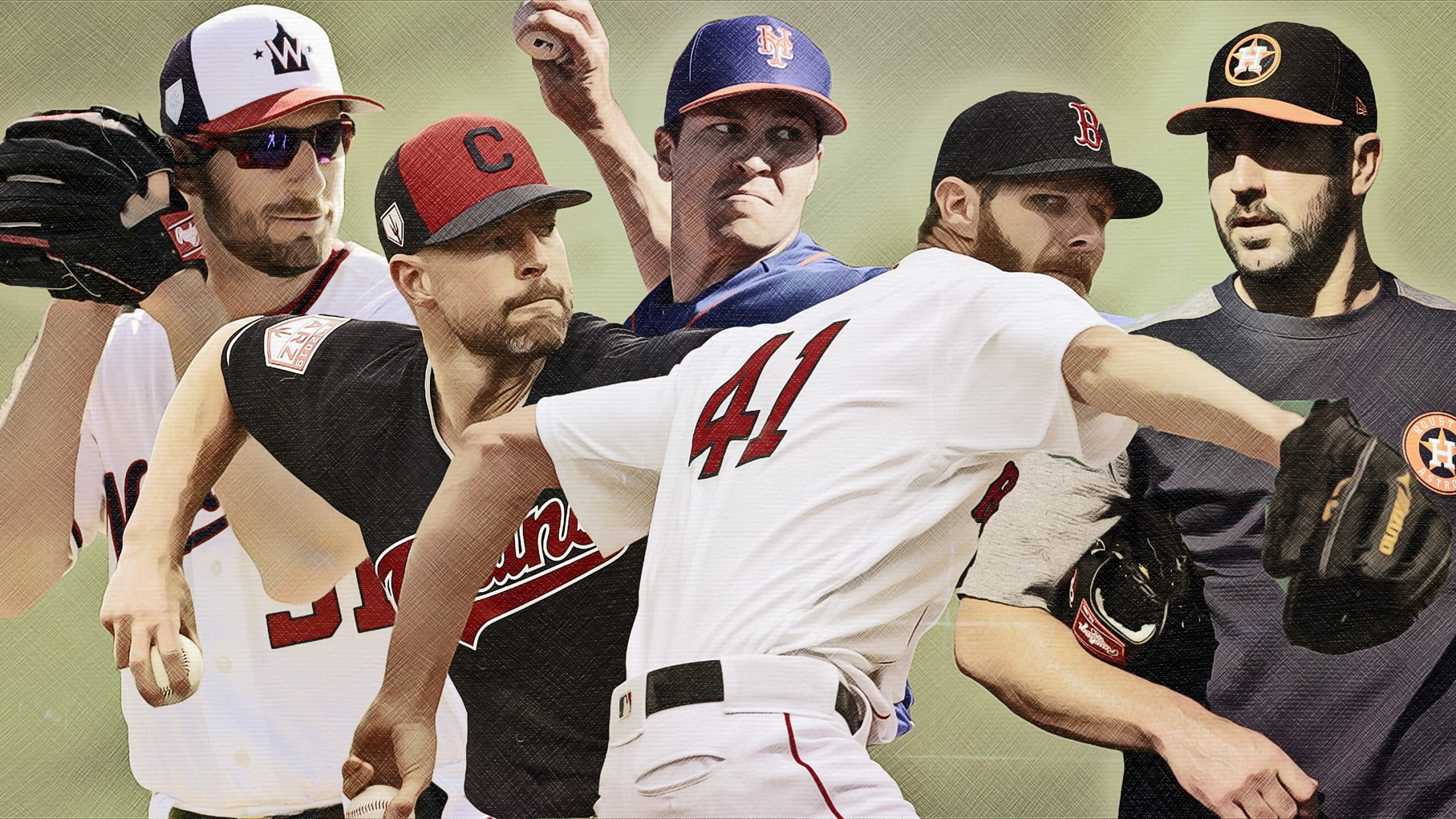 We're getting primed for the fast-approaching awesomeness of Opening Day by concocting arbitrary lists that cause arguments and prompt hate tweets directed at yours truly. It's a tradition unlike any other! We began Monday with the Top 10 bullpens for 2019, continue today with the Top 10 rotations and will
We're getting primed for the fast-approaching awesomeness of Opening Day by concocting arbitrary lists that cause arguments and prompt hate tweets directed at yours truly. It's a tradition unlike any other!
We began Monday with the Top 10 bullpens for 2019, continue today with the Top 10 rotations and will wrap up Wednesday with the Top 10 lineups.
In case you haven't noticed, baseball is changing. Starters don't go as deep into games, rotations are ever-changing, and now, in a trend that will likely only increase in 2019, we've got relievers serving as opening acts in the first inning. So the aura of the great rotation is either more profound than ever or less meaningful than ever, depending on your particular perspective. All we know is that these 10 rotations look pretty good.
1. Indians
The cash-strapped Tribe front office toyed with the idea of breaking up the rotation via trade to augment other areas of the roster. But bringing back adequate value for Corey Kluber or Trevor Bauer, either of whom is capable of winning the American League Cy Young Award this season, proved as difficult in reality as it looks on paper. So the Indians roll into a season with a unit that not only has proven commodities but a ton of potential.
Kluber and the recently extended Carlos Carrasco are coming off a five-year stretch in which they rank fourth and 13th, respectively, in ERA. As far as the potential is concerned, Bauer's scientific shaping of his slider last season helped him cut his ERA basically in half, and a new changeup could foster further improvement. Mike Clevinger broke out in 2018 with a 200-inning effort and improved strike-throwing confidence. Sophomore fifth starter Shane Bieber was already on a bunch of breakout lists even before he unveiled a new changeup this spring that looks as though it could enhance his repertoire.
2. Nationals
When Bryce Harper turned down gobs of money from the Nats, they pivoted and applied a good chunk of it to a rotation that already had Max Scherzer and Stephen Strasburg at the forefront. For all we know, they might have gotten the better end of the deal. Because while Patrick Corbin has an up-and-down career track record, the 29-year-old lefty is coming off a season in which he adapted to the modern mantra of throwing your best pitch (in his case, the slider) more frequently, achieving a 15.6-percent swinging-strike rate. He and Scherzer both ranked in the top five in baseball last year in strikeout-minus-walk rate. Anibal Sanchez could be another solid pickup coming off a surprisingly resurgent season with the Braves (his 143 ERA+ was his best since 2014).
The key to this group (and we've definitely said this before) will be the health of Strasburg and Scherzer's continued ability to fight off regression after all those innings he's logged over the years.
3. Astros
This group lost a ton of its 2018 innings (500, to be exact) with the injury to Lance McCullers Jr., the free-agent departure of Charlie Morton and the (presumed… maybe… someday…) free-agent departure of Dallas Keuchel. Yet it still rates as one of the best in the game.
We've seen enough to know better than to prescribe the ordinary effects of Father Time on a 36-year-old Justin Verlander, who had ample argument for his second Cy Young Award last season. Gerrit Cole might be ready to vie for a Cy Young of his own after implementing repertoire changes that compelled a 140 ERA+ in 200 1/3 innings in his first season in Houston. And while Collin McHugh's move back to the rotation and Wade Miley's arrival could help the Astros account for what they lost over the winter, the real sources of intrigue are Josh James and Forrest Whitley, either of whom has Rookie of the Year-type potential if enough opportunity arises.
4. Red Sox
No rational analysis of this group is complete without the mention of the potential hangover effect that can arise for clubs that go on a long October run, and that factor might be particularly pronounced here, given that Chris Sale dealt with a second-half shoulder issue and two-time Tommy John recipient Nathan Eovaldi pitched deep into the year (and deep into the night in Game 3 of the World Series) after missing all of 2017.
But with that bit of due diligence out of the way, there's not much not to like here. If Sale stays healthy, there's little reason to believe he won't contend for a Cy Young Award, because that is what he has done literally every season of his career as a starter. David Price matured into a more cutter- -- and changeup- -- heavy repertoire and has removed the playoff monkey to show for it. Rick Porcello is good for 200 or so quality innings, on average. Eovaldi unlocked something spectacular last year, and 25-year-old Eduardo Rodriguez might be ready to do the same in 2019.
5. Mets
This was the one aspect of this team that Brodie Van Wagenen didn't touch in his first offseason at the helm, and it's hard to blame him, because everybody in baseball has salivated over the potential of this Mets staff at one time or another in the last few years.
But Jacob deGrom, coming off his historic (and historically luckless) 2018, is the only member of this group to turn that potential into reality. Noah Syndergaard has shown he can be one of the best pitchers in the game (he was exactly that in '16 in which he ranked third in MLB in ERA+), but he's made just 32 starts over the last two seasons due to shoulder, lat and forearm issues. Zack Wheeler had a 1.68 ERA in his final 11 starts of '18, but can he do something similar over a full season in his walk year? Steven Matz took a step forward with his first 30-start season last year, but can he take another step forward by combining the workload with output that rates above the league average?
So the Mets have great potential and a great many questions. But obviously deGrom and Syndergaard can be a special one-two punch.
6. Dodgers
The 2019 season will begin without Clayton Kershaw starting for the Dodgers, and it's weird how not weird that is. Don't get me wrong. We'd obviously love Kershaw to be out there. But considering the various medical maladies that have limited his workload the last three years, the Dodgers are better off focusing on getting 150-170 good innings out of Kershaw and having him ready for September/October than they are pushing for the nominal value associated with Opening Day.
And this rotation is plenty deep to handle the current absence of both Kershaw and Rich Hill, with veterans Hyun-Jin Ryu, Ross Stripling and Kenta Maeda in the mix, young Julio Urias getting the fifth spot to start the season, and, perhaps most importantly, Walker Buehler coming off a transcendent rookie season. Kershaw's innings limitations have not had nearly the crippling effect you would have envisioned for the Dodgers just a few years ago, and there is little reason to believe they don't have the depth to absorb whatever the 2019 season will hand them.
7. Pirates
Get your spot on the Jameson Taillon bandwagon before it fills up, because his combination of whiffs and weak contact -- as well as the 2.61 ERA he posted in his last 21 starts of 2018 -- sure appears to have him on the cusp of stardom. Meanwhile, Trevor Williams put up a 1.38 ERA in the second half. And though it didn't make Pirates fans feel much better about the Cole trade, Joe Musgrove showed a lot of promise as a strike-thrower (4.7-percent walk rate) with an improving slider last season.
Oh, and the Pirates have Chris Archer. He's guilty of having more name value than tangible value the last three years, but, because he gets strikeouts and limits walks, he will continue to lead us to wonder if he can reach back for more. The Pirates' top prospect Mitch Keller (No. 19 overall per MLB Pipeline) is not far off. This is an underrated rotation.
8. Rays
The Rays' depth chart, as I write this, runs three deep at starter: Blake Snell, Morton and Tyler Glasnow. Hey, that's still a huge improvement on last July 31, when Snell was hurt and Archer was traded and the depth chart was totally blank.
Can you reasonably rank the Rays' starting five in the top 10 if there aren't even five guys? Sure! Snell is the reigning AL Cy Young Award winner, Morton (with the necessary caveats about his age and the shoulder issue that dogged him late last year) is a stud, and Glasnow looks like a better-late-than-never breakout candidate after the change of scenery from Pittsburgh to Tampa Bay netted positive results last year. The looming midseason returns of Jose De Leon and Brent Honeywell Jr. (the Rays' No. 2 prospect) from Tommy John surgery bodes well for the depth. And say what you will about "The Opener" strategy; the bottom line is that it works.
9. Cubs
It's hard to love that the Cubs rotation has so much relying on a pair of 35-year-old arms in Cole Hamels and Jon Lester and a Yu Darvish bounceback. But recent blister issues aside, Darvish had a really encouraging camp ("I don't want [to hear] 'Boo!' anymore; I want 'Yu!'" might have been my favorite quote of the spring), and the wheels haven't fallen off Lester and Hamels yet. Kyle Hendricks and Jose Quintana should comfortably be better than league average (though "The Jose Quintana Trade" is quickly becoming "The Eloy Jimenez Trade," which isn't good for the Cubbies). Mike Montgomery is a valuable swingman. It's a solid, if potentially fading, Cubs staff.
10. Cardinals
Handing out the last golden ticket is always hard. FanGraphs has the Yankees projected to have the second-highest starting pitching WAR (yes, even with Luis Severino out to start the season). The Rockies posted the second-best rotation ERA in franchise history last year and probably deserve extra credit for what they have accomplished in Coors. The Phillies have Aaron Nola and Jake Arrieta, and Nick Pivetta looks like he's about to break out. The Braves had the fourth-best rotation ERA in baseball last year and an impressive stash of young arms (but also several injury issues at the start of the year).
Carlos Martinez's spring shoulder issues take some of the shine off the Cardinals' outlook, but they still belong here, with Miles Mikolas having made a transcendent return to the States and Jack Flaherty looking like an ace in the making. Michael Wacha had a good thing going last year before an oblique injury. And while Adam Wainwright is holding on for dear life at this point, the Cards have interesting depth in Dakota Hudson, Austin Gomber, Daniel Ponce de Leon and John Gant, along with the possibility that Alex Reyes moves from the bullpen to the rotation at some point this season.