Beede nearly unhittable, leads top prospect performers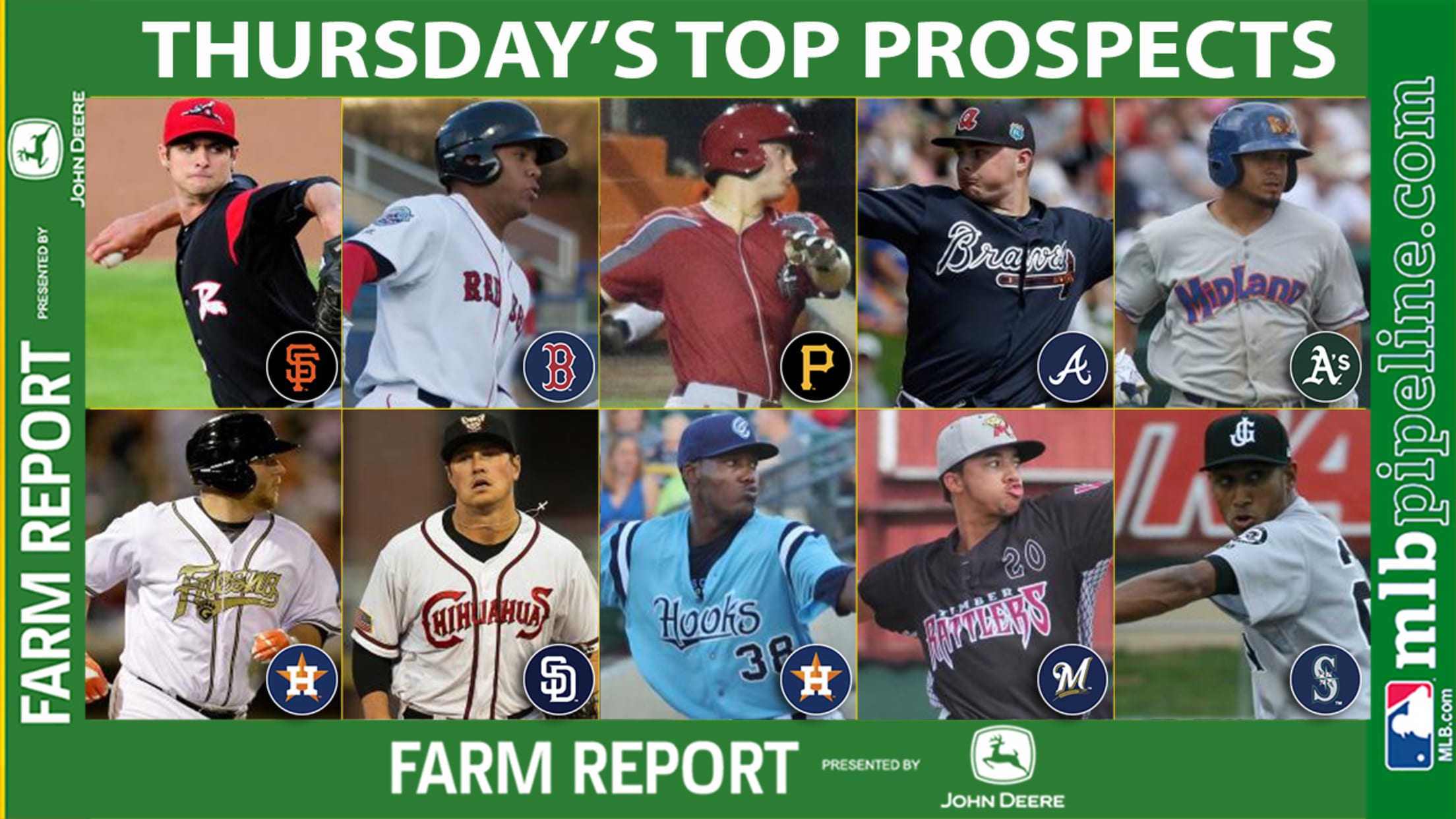 (Paul Sancya/AP)
Tyler Beede was at his best Thursday as the right-hander fired a career-high eight scoreless innings of one-hit ball for Double-A Richmond, which shut out Bowie, 3-0.Beede, the Giants' No. 2 prospect, was dominant from the outset and carried a no-hit bid into the sixth inning before he yielded a
Tyler Beede was at his best Thursday as the right-hander fired a career-high eight scoreless innings of one-hit ball for Double-A Richmond, which shut out Bowie, 3-0.
Beede, the Giants' No. 2 prospect, was dominant from the outset and carried a no-hit bid into the sixth inning before he yielded a two-out double to Henry Urrutia on the ninth pitch of the at-bat. He walked one and fanned two while throwing 49 of his 73 pitches for strikes. Beede recorded seven outs on the ground and another seven via fly balls.
"I think the combination of Bowie being really aggressive early in counts and me just throwing quality pitches down in the zone allowed me to get some soft contact," Beede told MiLB.com. "At the same time, even if I was making some mistakes, our defense played incredible. The defense being on their toes all game made it nice and quick on the mound."
Selected by San Francisco with the No. 14 overall pick in the 2014 Draft, Beede has long possessed no-hit-caliber stuff, but has struggled to harness it dating back to his days at Vanderbilt. But the 23-year-old right-hander has made noticeable gains as a strike-thrower in his first Double A campaign, posting a career-best walk rate of 2.1 per nine innings across 59 frames, and it has in turn enabled him to consistently work deeper into games. In his past three starts for the Flying Squirrels, Beede has logged 22 innings.
"I think, last year, it was the combination of me being mechanically inconsistent and being tired," he said. "This year, for me, repeating my mechanics a little bit more allows me to repeat my release point. At the same time, I'm not trying to think about walking less guys, but just thinking about throwing quality pitches in the zone."
Overall, Beede owns a 3.05 ERA in 10 starts.
MILB Video - Title: Beede records a K - Url: http://www.milb.com/r/video?content_id=768494783
The rest of the best performances from top prospects Thursday
• No. 5 overall prospect Yoan Moncada was a doubles machine in Class-A Advanced Salem's doubleheader sweep of Myrtle Beach as he combined to go 4-for-7 with four two-baggers and six RBIs. The Red Sox's No. 1 prospect went 2-for-4 with two doubles and five RBIs in game one and then hit two more-two baggers in the night cap, finishing 2-for-3, with two runs scored and an RBI.
• No. 16 overall prospect Austin Meadows tripled for a second straight day -- his fifth triple of the season -- and scored a pair of runs in Double A Altoona's win against Akron. The Pirates' No. 2 prospect has hit safely in 11 straight games for the Curve, during which he raised his average to .289 from .192.
MILB Video - Title: Meadows lines a triple - Url: http://www.milb.com/r/video?content_id=766668183
• No. 17 overall prospect Sean Newcomb (Braves' No. 2) picked up his third win and matched his season high with six innings of one-run ball as he paced Double-A Mississippi in a win over Biloxi. The 22-year-old left-hander allowed just two hits and three walks while striking out seven, with 52 of his 87 pitches going for strikes.
• No. 19 overall prospect Franklin Barreto's bat was the difference in Double-A Midland's 5-3 win over Springfield as the A's No. 1 prospect blasted his fifth home run, doubled and drove in three runs in a 3-for-4 performance. The 20-year-old shortstop has hit in five straight for the RockHounds, and he has six RBIs in that span.
MILB Video - Title: Barreto smashes a homer - Url: http://www.milb.com/r/video?content_id=768585083
• No. 35 overall prospect A.J. Reed connected on his seventh home run and first since May 4 to power Triple-A Fresno past Albuquerque. The homer, a two-run shot in the first inning, extended the Astros' No. 2 prospect's hitting streak to six games, and he's now hit safely in 10 of 11 contests since being activated from the disabled list on May 22.
MILB Video - Title: Watch: Reed goes yard - Url: http://www.milb.com/r/video?content_id=770550883
• Speaking of hitting streaks, No. 86 overall prospect Hunter Renfroe extended his to eight games by going 3-for-4 with three doubles and two runs scored in Triple-A El Paso's win over Sacramento. The Padres' No. 3 prospect has put up big numbers thus far for the Chihuahuas, hitting .325/.347/.617 with 12 home runs, 19 doubles and 39 RBIs in 50 games.
MILB Video - Title: Renfroe's third double - Url: http://www.milb.com/r/video?content_id=769102483
• In Double-A Corpus Christi's win over Arkansas, Astros' No. 7 prospect David Paulino dominated as he struck out seven over five scoreless innings of one-hit ball. The 22-year-old righty has been electric in his first Double-A campaign, registering a 2.03 ERA and a 44/8 strikeout-to-walk ratio in 40 innings.
MILB Video - Title: Watch: Paulino strikes out batter - Url: http://www.milb.com/r/video?content_id=769189483
• Brewers' No. 9 prospect Devin Williams was sharp in his first scoreless outing of the year for Class A Wisconsin as he set season bests with six innings and six strikeouts. The 2013 second-rounder scattered four hits and walked two in the start, which was just his fifth of the season.
• Mariners' No. 2 prospect Edwin Diaz struck out a pair in two scoreless innings out of Double-A Jackson's bullpen in their win against Tennessee. Since he was officially moved to the bullpen in early May, the 22-year-old righty has allowed just three hits and two walks over 11 2/3 scoreless innings, while his power fastball-slider pairing has helped him pile up 16 strikeouts in that span.
• Austin Brice turned in his fifth scoreless start of 2016 in Double-A Jacksonville's loss to Montgomery. The Marlins' No. 22 prospect scattered seven hits over 6 2/3 innings, walking two and striking out seven. In his second tour of the Southern League, the 23-year-old righty has a 2.02 ERA, 1.06 WHIP and 51/19 strikeout-to-walk ratio in 62 1/3 innings (11 starts).
• In his best start of the season, Mets' No. 27 prospect Chris Flexen fired seven scoreless innings of one-hit ball for Class-A Advanced St. Lucie in a win against Fort Myers. The 21-year-old righty threw 61 of his 92 pitches for strikes, striking out three without issuing a walk. Flexen has thrown 13 1/3 scoreless frames across his last two starts, each of which has seen him allow exactly one hit.
"I just tried to do the same thing I did last time," Flexen told MiLB.com. "Being aggressive and letting the defense work -- it was just good to go back-to-back and locate all my pitches for strikes. I think my stuff was a little more consistent today."
• Andrew Stevenson was unstoppable on the basepaths Thursday as the Nationals' No. 8 prospect stole four bases in Class-A Advanced Potomac's doubleheader sweep of Frederick. The 2015 second-rounder went 3-for-4 with a walk and three steals in game one before swiping his 20th bag of the season in the nightcap. In his first full pro season, Stevenson, 22, is hitting .325/.377/.442 through 48 games.
• Phillies' No. 22 prospect Dylan Cozens paced Double-A Reading's offense in a win over Portland, going 4-for-4 with four runs scored and two doubles out of the cleanup spot. The 22-year-old outfielder is having a breakout campaign for the Fightin Phils, hitting .284/.357/.582 with 14 homers, 18 doubles and 10 steals in 52 games. He's also scored 42 runs and plated another 44.
• Make that back-to-back two-homer games for Daniel Palka. After going 2-for-3 with a pair of homers on Wednesday, the Twins' No. 28 prospect hit key solo home runs in the sixth and eighth innings Thursday to help Double A Chattanooga defeat Birmingham, 4-2. The 24-year-old outfielder has hit a Southern League-leading 11 homers in 40 games this season.