Behind the scenes at extended spring training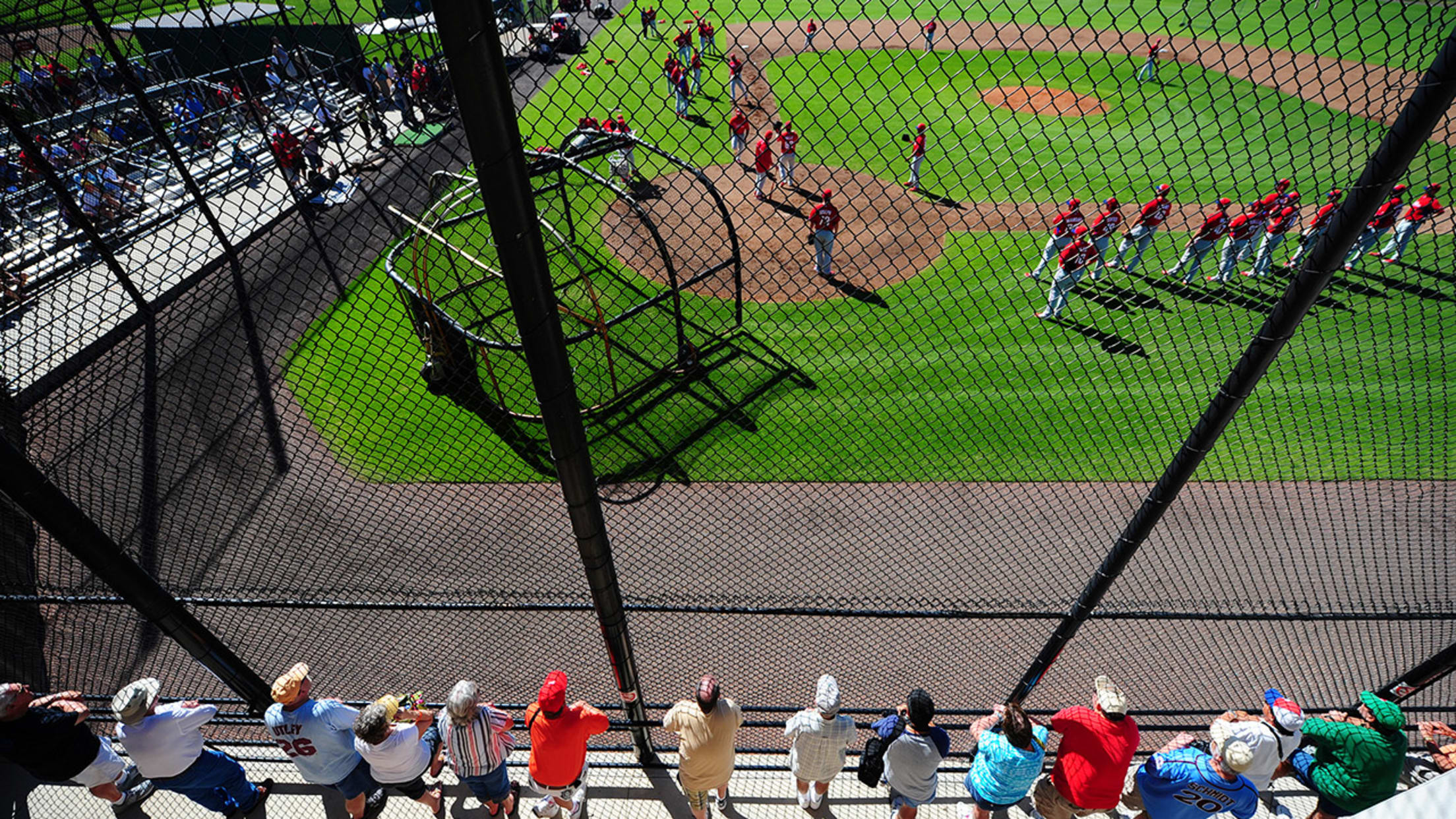 (Extended spring training is one of many behind the scenes stories that appear in my just-released book, The Fightin' Phillies). Once the seasons started for the Phillies and their top four affiliates (Lehigh Valley, Reading, Clearwater and Lakewood) a year ago, there was still baseball going on at the Carpenter
(Extended spring training is one of many behind the scenes stories that appear in my just-released book, The Fightin' Phillies).
Once the seasons started for the Phillies and their top four affiliates (Lehigh Valley, Reading, Clearwater and Lakewood) a year ago, there was still baseball going on at the Carpenter Complex in Clearwater. It is called extended spring training.
Prospects not advanced enough for the four affiliates continued working on their skills. In addition, 22 young and inexperienced players from the Dominican Republic and Venezuela were brought aboard. By the middle of April in 2015, the number totaled 53. The players were divided into two teams, #5 and #6. More players will report to the Complex once the Phillies begin signing players selected in the annual summer draft in early June.
• Phillies alumni
The Williamsport staff of Pat Borders (manager), Les Lancaster (pitching coach) and Eddie Dennis (hitting coach) was in charge of one team. The Gulf Coast League staff, Roly deArmas (manager), Brian Sweeney (pitching) and Rafael DeLima (hitting) had the other team. They were joined from time to time by Doug Mansolino (field coordinator), Mike Compton (senior advisor, player development), Carlos Arroyo (roving pitching instructor) and other roving instructors.
A fluctuating number of players worked out six days a week. Sundays were off. Why a fluctuating number? One player returned home to Mexico to play. Some returned to the Dominican Republic, others to Venezuela. On occasion, a player was sent to Lakewood or Clearwater to fill in for an injured player and then returned. A few were told they no longer are members of the Phillies organization. Bluntly, "You've been released."
Players were housed in a motel on Route 19 not far from the Complex. They walked to and from the hotel. Some rode bikes they purchased. A few had cars. Breakfast and lunch was served at the Complex and dinner at Lenny's, a famous restaurant that serves breakfast and lunch only to the public. Borders, Lancaster and Dennis stayed at the hotel. Curfew was 11 p.m. The staff did room checks. By feeding the players, the Phillies were sure that players were eating balanced, nutritious meals, rather than fast food. They were schooled on proper diet, getting their rest and drinking plenty of water during the hot days. Players had to sign in at dinner, a way for the staff to check.
The camp roster included seven players from the states. The rest were from Venezuela, Dominican Republic, Puerto Rico, Panama and Colombia. The youngest was a 16-year-old infielder from Panama, Jonathan Arauz. Two 23-year-olds were the senior citizens, so to speak, right-handed pitchers Manaure Martinez and Nathan Thornhill. The smallest was middle infielder Jose Antequera, a 19-year-old from Venezuela. He was listed at 5-foot-3, 148 pounds.
Daily Schedule
Players were expected to be on time for extra work at 8 a.m. An hour later stretching, batting practice, infield fundamentals, pitchers' fielding practice (PFP). With so many players in camp, doubleheaders were scheduled six days a week. Games were 1 p.m. except for Saturdays, 10 a.m. Games were played against three other organizations with similar programs, Yankees (Tampa), Blue Jays (Dunedin) and Pirates (Bradenton). Home games and road games alternated daily. Two young, inexperienced minor league umpires worked the games.
For early workouts, players were required to wear a red t-shirt, blue shorts, red stirrups and spikes, but only red in color. They switched to gray t-shirts (name on back) for other drills. Gray pants and red mesh jerseys with their name and number on the back were the game uniform. Caps, red with a blue bill.
The instructional staff usually arrived around 5 a.m. and departed 12 hours later. "We need to finalize plans for the day, review yesterday," explained deArmas. "Today, I had to chew out a player who was late for his early work."
Ten of the Latin players had no previous pro experience. Many had never been away from home or flown before. "The staff serves as dads. We're here to help them adjust, help them if they have problems, like girlfriend problems or whatever," added deArmas. "With young players like these guys, all of us on the staff need patience…..a lot of patience."
The staff, including athletic trainers and conditioning coaches, are the unsung heroes of the organization. Long hours of working away from any limelight. Their results may not be known for years as extended is a long way from the major leagues.
Game Day
On a day when the Blue Jays brought two squads to Carpenter Complex, one game was played on the Richie Ashburn Field on the south side of the clubhouse and the other on the Robin Roberts Field located on the other side. "We use these fields because they are wired with four cameras, center field, home, first and third," he explained. "Video is part of their instruction. By next year, all four fields will be equipped with video cameras, which is huge."
Players not playing this day were dressed in blue shorts and their red game jersey. One manned the radar gun. Another charted pitches. Another served as a bat boy while others were assigned to retrieve foul balls.
"We don't keep stats of the games. We do file a report to baseball administration about each game and how the players did. Mainly, we're here for instruction. We'll have base runners break on pitches in the dirt, no matter the game situation. If they are thrown out, that's OK. We'll bunt for base hits. It's a matter of repetition, repetition, repetition. We're also getting them acclimated to pro ball. We want to have fun playing games but laughing on the bus after a loss is a no-no."
Following his game, deArmas gathered all his players by third base. "Just a review of things we did right, emphasizing the positives but also letting them know of the mistakes." Borders did the same after his game.
Learning English
With so many Latin players, the Phillies conducted twice-a-week English lessons, utilizing a bilingual Clearwater teacher. Mansolino went one step further during the minor league camp and it spilled over to the extended program. Young Latino players roomed with English-speaking players or older Spanish players who had mastered the English language.
"Being in the states is such a cultural change for the kids. We want to help them learn the English lessons for their personal lives and also as a player. Kids who learn English quicker will advance quicker with their baseball skills. Chooch (Carlos Ruiz) is a perfect example," said Mansolino. "Once he learned the language, he took off as a player. There's so much talk in a dugout during a game…. 'that slider had bite', 'we can run on this guy', 'look how deep the left fielder is playing', 'as a base runner you got to see that.' If you don't understand the language, your progress will be slower."
"Without a doubt, Doug is right," added deArmas. "Players who aren't interested in learning the language will fall behind and not make it."
Extended, Not Eternal
The program doesn't last all summer. During the summer draft, the Phillies selected 40 players from the high school and college levels and at every position. Ages 18 to 24.
The final extended game was June 12. Some youngsters remained there as members of the Gulf Coast League that began play on June 22. Others were assigned to the Williamsport Crosscutters in the New York-Penn League, a season that started June 19. The GCL season ended August 29. Williamsport and the Phillies four other minor league clubs, September 7.
Signed players from this draft reported to Clearwater and the start of a mini-camp on June 15, the same day the Crosscutters flew to Philadelphia for a bus ride to Williamsport. 2015 signees who were assigned to Williamsport, flew there on June 20. The others continued mini-camp until the GCL opener. All new players underwent a complete physical either in Philadelphia or Clearwater before they could put on a uniform.
Once the Williamsport club left Clearwater, deArmas spoke to his squad. "I told them, this is the toughest level in pro ball. Six days a week we're going to work off your asses, play games at 1 o'clock in the afternoon in Florida, you will be homesick, it will be hot, the stands will be empty. I don't want to hear any complaints about the heat. It's the same for everybody. Get your rest, eat properly and drink a lot of water. Otherwise you won't be able to perform, be evaluated and make it to the next level."
The players are young and lack polish. They need to learn how to play the game, how to overcome failure, how to keep grinding it out. They are doing something they haven't done in their athletic lives, playing games six days a week. They will get tired physically and mentally but need to perform the next day. Only a few will reach the big leagues. It's a long grind, a steep ladder to climb. Among the graduates are Ruiz, Freddy Galvis, Cesar Hernandez, Odubel Herrera, Luis Garcia, Jeanmar Gomez and Placido Polanco, who spent two years in the Cardinals extended spring training.
Come late March of 2016, the process will start over again. More new faces with dreams of finding a place in the major leagues.
Larry Shenk is the vice president of Alumni Relations for the Phillies.