Marlins' Top 5 lefty starters: Frisaro's take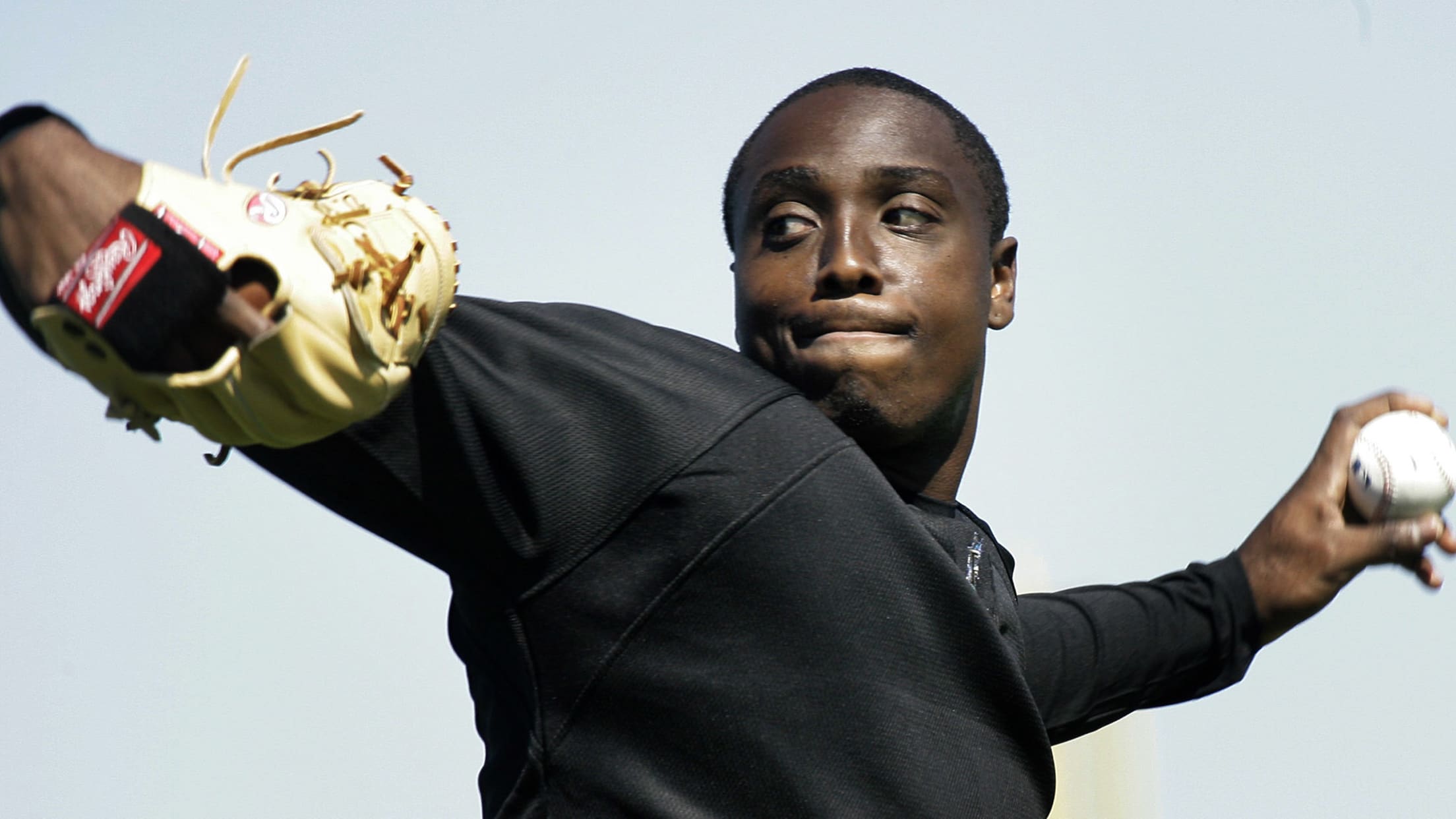 No one loves a good debate quite like baseball fans, and with that in mind, we asked each of our beat reporters to rank the top five players by position in the history of their franchise, based on their career while playing for that club. These rankings are for fun
No one loves a good debate quite like baseball fans, and with that in mind, we asked each of our beat reporters to rank the top five players by position in the history of their franchise, based on their career while playing for that club. These rankings are for fun and debate purposes only … if you don't agree with the order, participate in the Twitter poll to vote for your favorite at this position.
We are going around the horn putting together our all-time #Marlins team. This week we address left-handed starting pitchers. Since Dontrelle Willis is the runaway choice, we ask who should rank behind D-Train. Here are the four finalists:

— Joe Frisaro (@JoeFrisaro) June 1, 2020
Here is Joe Frisaro's ranking of the top five left-handed starters in Marlins history. Next week: relievers.
• Marlins' Top 5: C | 1B | 2B | 3B | SS | LF | CF | RF | Bench | RHP
1. Dontrelle Willis (2003-07)
Key facts: 2003 National League Rookie of the Year Award winner, 22-game winner in '05
For a five-year span, D-Train Mania swept across South Florida every time Willis took the mound. One of the most popular players in franchise history, Willis is the overwhelming choice to be the Marlins' top left-handed starter. With his high leg kick, big smile and passion for playing, Willis was an instant sensation from the time he was promoted from Double-A at the age of 21 in May 2003. Willis sparked the '03 Marlins, going 14-6 with a 3.30 ERA in 27 starts, and his enthusiasm was contagious on a championship club.
"I always tell him, 'Man, if you would have grown up in the social media age, you would have been unbelievable now,'" former Marlins outfielder Juan Pierre said. "He would have been probably twice as big."
Willis was the 2003 NL Rookie of the Year Award winner, as well as an All-Star.
"He had that energy and spark," Pierre said. "When he was pitching or not pitching, he was on the bench, rooting for his teammates."
In '05, Willis recorded the best pitching performance in club history, going 22-10 with a 2.63 ERA. Along with being an All-Star, D-Train paced the Majors in wins, complete games (seven) and shutouts (five). His 236 1/3 innings were one shy of Kevin Browns (237 1/3) for the most in a season by a Marlins pitcher.
Also a threat at the plate, Willis hit .286/.348/.508 with two homers, two doubles and three triples in 2007.
2. Al Leiter (1996-97, 2005)
Key facts: Threw first no-hitter in Marlins history and was an All-Star in 1996
Leiter had two stints with the Marlins, although his return to South Florida in 2005 was for just a half-season. But in 1996-97, Leiter was a big part of the franchise's maturation from expansion club to contender. On May 11, 1996, Leiter became the first Marlin to throw a no-hitter, making history in an 11-0 win over the Rockies. Leiter was an All-Star that season, and he logged the final out of the NL's victory in the Midsummer Classic.
The Marlins signed Leiter as a free agent before the '96 season, and the left-hander went 16-12 with a 2.93 ERA while throwing 215 1/3 innings.
In 1997, Leiter posted an 11-9 record with a 4.34 ERA in 151 1/3 innings and 27 starts. Leiter started Game 7 of the '97 World Series, giving up two runs in six innings against the Indians. The Marlins, of course, celebrated a 3-2 walk-off win in 11 innings.
Leiter rejoined the Marlins as a free agent in 2005, but he struggled in 17 games (16 starts). He was 3-7 with a 6.64 ERA and was traded to the Yankees in midseason.
3. Mark Redman (2003)
Key fact: Tied for the team high in wins with 14 in his lone season with the Marlins
Prior to the start of Spring Training in 2003, the Marlins shopped for starting pitching. Among their targets was right-hander Bartolo Colon, then with the Montreal Expos. Although they didn't get Colon, the Marlins ended up finding a trade match with the Tigers for Redman, then a 29-year-old. In his lone season with the Marlins, Redman was a big part of the 2003 championship team. As the veteran on the staff, he went 14-9 with a 3.59 ERA while tossing 190 2/3 innings. His 14 wins were tied with Willis and Brad Penny for the most on the team. In the playoffs, Redman struggled with a 6.50 ERA in four starts. Even though the lefty didn't make much of an impact in the postseason, he was a big part of the regular season. Remember, that year A.J. Burnett dealt with elbow issues and made just four starts, and Josh Beckett was on the injured list for more than a month. Redman helped pick up the slack for a mainly young rotation. After that season, Redman was one of seven players who were arbitration-eligible, and he ended up being traded to the A's.
4. Scott Olsen (2005-08)
Key fact: Had three straight seasons making at least 30 starts, reaching 201 2/3 innings in 2008
A sixth-round pick in 2002, the same Draft in which the Marlins took right-hander Josh Johnson in the fourth round, Olsen showed plenty of promise early in his career. But the left-hander never lived up to his full potential. As a rookie in 2006, Olsen went 12-10 with a 4.04 ERA in 31 starts. He was ninth in the NL Rookie of the Year Award voting. His teammate, shortstop Hanley Ramirez, won the award that year. From 2006-08, Olsen made at least 30 starts in each season, reaching 33 in '07 and '08. His rookie season ended up being his best, as he logged 180 2/3 innings. In '08, he went 8-11 with a 4.20 ERA and tossed a career-best 201 2/3 innings. Olsen was traded to the Nationals after the '08 season, and his last year in the Majors was 2010.
5. Mark Buehrle (2012)
Key fact: NL Gold Glove Award winner in 2012
Expectations were high for the Marlins in '12, the first year the organization played at Marlins Park. Buehrle was a key offseason free-agent pickup, and on an underachieving team, the veteran left-hander came as advertised. In his lone season with the Marlins, Buehrle finished 13-13 with a 3.74 ERA in 31 starts. He logged 202 1/3 innings, extending his personal streak to 12 straight years with at least 200 innings. That streak continued for two more seasons, reaching 14, after he was traded to Toronto. While he was with the Marlins, Buehrle became the only pitcher in franchise history to win the NL Gold Glove Award. The veteran lefty didn't commit an error all season, and his Defensive Runs Saved (DRS) was 12, tops in the Majors for his position.
Honorable mention
Chris Hammond was a big part of the rotation in the infant years of the organization, pitching from 1993-96, and he returned and pitched sparingly in '98. In his tenure with the Marlins, Hammond was 29-32 with a 4.52 ERA. His best season came in '93, when he went 11-12 with a 4.66 ERA in 32 starts. … Caleb Smith, when healthy, has shown flashes of being dominant. In his third season with the Marlins, Smith went 10-11 with a 4.52 ERA and a 9.9 K/9 rate in 2019.