Marlins' Top 5 RH starters: Frisaro's take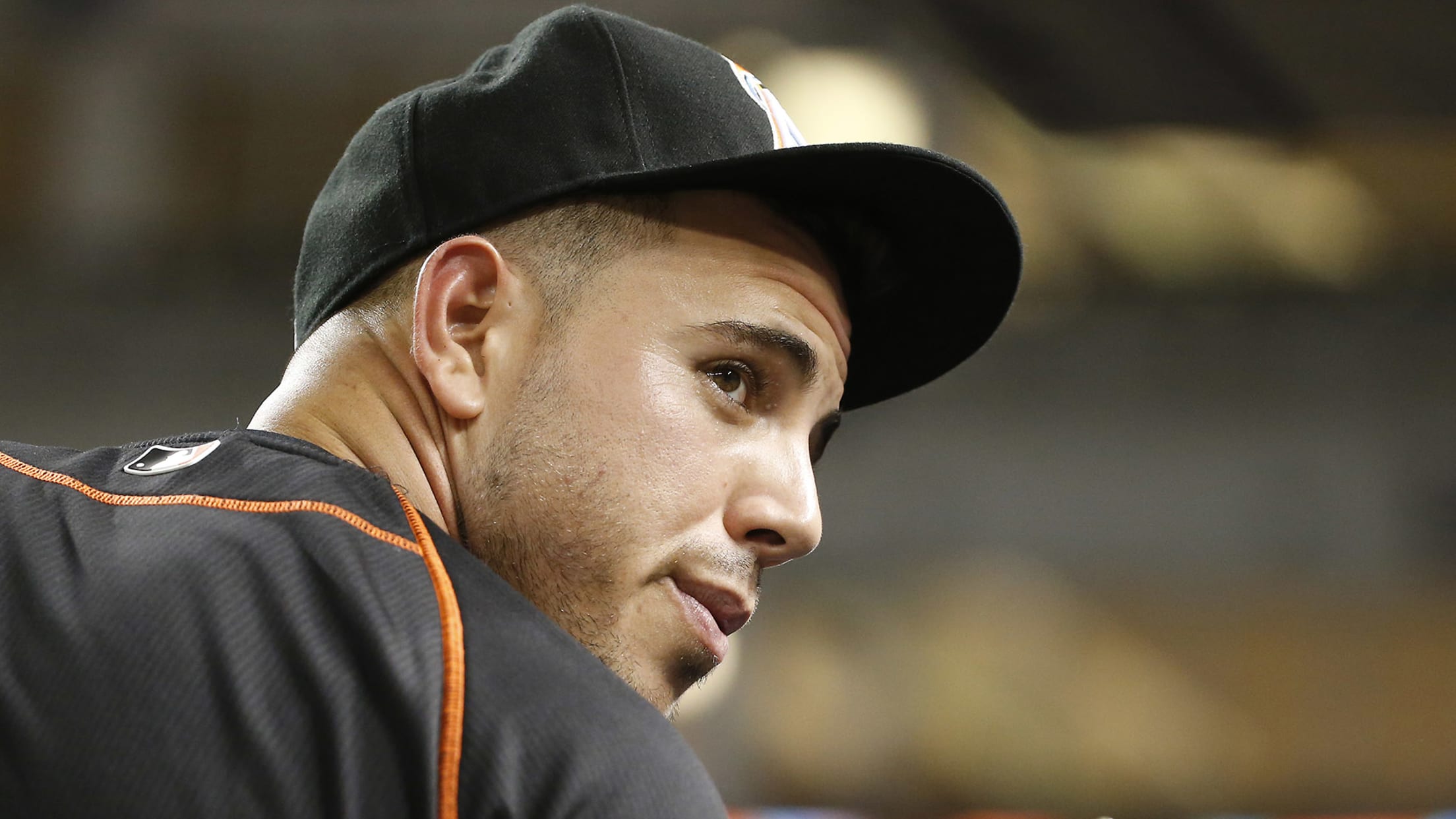 No one loves a good debate quite like baseball fans, and with that in mind, we asked each of our beat reporters to rank the top five players by position in the history of their franchise, based on their career while playing for that club. These rankings are for fun
No one loves a good debate quite like baseball fans, and with that in mind, we asked each of our beat reporters to rank the top five players by position in the history of their franchise, based on their career while playing for that club. These rankings are for fun and debate purposes only … if you don't agree with the order, participate in the Twitter poll to vote for your favorite at this position.
We are going around the horn putting together our all-time #Marlins team. This week we address right-handed starting pitchers. Here are four finalists. I'll give my list in an article that runs on Tuesday. Who is your choice?

— Joe Frisaro (@JoeFrisaro) May 25, 2020
Here is Joe Frisaro's ranking of the top five right-handed starters in Marlins history. Next week: left-handed starters.
• Marlins' Top 5: C | 1B | 2B | 3B | SS | LF | CF | RF | Bench
1. José Fernández (2013-16)
Key fact: 2013 National League Rookie of the Year Award winner and two-time All-Star
What might have been will forever underlie the legacy of Fernández, who was killed at age 24 in a boating accident on Sept. 25, 2016. The tragedy occurred a week after the hard-throwing right-hander made his final big league start, which he said was his greatest MLB performance ever. He struck out 12 in eight innings -- his longest career outing -- in a 1-0 win over the Nationals on Sept. 20.
Born in Cuba, Fernández became an instant sensation in South Florida, and he captured the attention of MLB. His pitching arsenal was electric, and he performed with great emotion and energy. In four seasons, he posted a 38-17 record with a 2.58 ERA. In '13, he won the NL Rookie of the Year Award, going 12-6 with a 2.19 ERA on a 100-loss team. He was an All-Star that season.
And in 2016, Fernández was dominant, with a 16-8 record and a 2.86 ERA. He set a franchise season strikeout record with 253.
At Marlins Park, he was nearly unbeatable. He went 29-2 with a 1.49 ERA in 42 career starts at home.
"There was just joy with him when he played," Marlins manager Don Mattingly said at the time of Fernández's death. "When he pitched, I think that's what the guys would say, too. As mad as he would make you with some of the stuff he'd do, you'd see that little kid you see when you watch kids play Little League or something like that. That's the joy that José played with and the passion he felt about playing."
2. Josh Johnson (2005-12)
Key fact: An All-Star in 2009 and '10, Johnson's 2.30 ERA in '10 was the best among NL qualified starters
A strong case could be made that based entirely on his seven seasons with the Marlins, Johnson is the best starting pitcher in the organization's history. His FanGraphs WAR of 21.5 is the highest of any starter. Johnson has the distinction of throwing the first pitch in a regular-season game at Marlins Park in 2012. The 6-foot-7 right-hander was the Opening Day starter that season.
Johnson is also one of the best Draft picks in franchise history, proving to be a steal in the fourth round in 2002 as a high school standout from Jenks High School in Oklahoma.
Injuries, unfortunately, hindered his career. He made just four starts in '07 and underwent Tommy John surgery that season, missing the first half of '08.
Johnson was at his best in '09, when he was 15-5 with a 3.23 ERA in 209 innings. In January 2010, the right-hander signed a four-year, $39 million contract, and he backed it up by being an All-Star that year and leading the NL with a 2.30 ERA.
At the All-Star Game that year, Johnson spoke about how unpredictable baseball could be. It proved to be true about his career.
"You might not have another good pitching year, you just never know," he said during a media session. "That's why you go out there and you play against the best for that reason. You go out there and everybody wants to win, and that's the only reason I go out there, to help my team win games. Whenever you win games, I think it takes care of a lot of things."
Johnson had an injury-plagued 2011, and he never regained his All-Star form. In '12, he was 8-14 with a 3.81 ERA, and he was traded to the Blue Jays after that season. Johnson made 16 starts for Toronto in '13, and he never pitched again in the big leagues after that season. He ended up having three Tommy John surgeries and officially retired in January 2017.
3. Kevin Brown (1996-97)
Key fact: No-hit the Giants at Candlestick Park on June 10, 1997, and led the Majors in ERA (1.89) in '96
During his two-year tenure with the Marlins, Brown was simply masterful. His FanGraphs WAR was 13.2, broken down to 6.7 in '96 and 6.5 in '97.
In terms of swing-and-miss stuff, Brown wasn't necessarily overpowering. He had just a 7.0 K/9 rate in his two seasons, but he didn't allow hitters much of anything. His WHIP was 1.06 in his two seasons in South Florida.
In '96, Brown was 17-11 and posted a franchise-record 1.89 ERA. He finished second to Atlanta's John Smoltz in the NL Cy Young Award race. Brown logged 233 innings that season. The right-hander followed that up with a 16-8 record and a 2.69 ERA in 237 1/3 innings in '97, and he was the ace of that World Series title team. On June 10 of that season, Brown no-hit the Giants at Candlestick Park.
"If there was ever a no-hitter where a guy had practically 100 percent unhittable stuff, that was today," Marlins manager Jim Leyland said after that game. "A totally dominating no-hitter. It was not a fluke. No question about it."
4. Josh Beckett (2001-05)
Key fact: World Series Most Valuable Player in 2003
The second overall pick in the 1999 MLB Draft, Beckett's legacy with the Marlins is defined by how he performed in the 2003 playoffs. Then 23 years old, Beckett blossomed into one of the toughest postseason pitchers of his generation. To Marlins fans, he will always be remembered for shutting out the Yankees, 2-0, in Game 6 of the World Series. Manager Jack McKeon went with Beckett on three days' rest, and the rest is history.
"Nothing bothered him," McKeon told MLB.com recently. "He was a competitor. … And he grew. That year, I think that was a growing period for him. And, boy, he was tough at the end."
In parts of five seasons with the Marlins, Beckett's tenure was disrupted by nine injury-list stints, including six that were blister related. In '03, he was out from May 9-July 1. In the NL Championship Series against the Cubs, Beckett threw four innings of relief in Game 7, just three days after he tossed a two-hit shutout in Game 5.
5. Ricky Nolasco (2006-2013)
Key fact: Franchise leader in wins, strikeouts and innings pitched and holds club's single-game strikeout record with 16
There wasn't anything really flashy about Nolasco during his days with the Marlins. What the organization repeatedly got from him was consistency. Nolasco showed durability in parts of eight seasons with the team. Longevity led to him being the Marlins' all-time leader in victories (81), strikeouts (1,001), innings pitched (1,225 2/3) and games started (197). Nolasco also holds the club single-game record for strikeouts with 16, at Atlanta on Sept. 30, 2009. In that game, he had a stretch of striking out nine straight batters. Six times Nolasco won at least 10 games, and his best season was '08, when he went 15-8 with a 3.52 ERA in 212 1/3 innings.
Honorable mention
Alex Fernández had an injury-plagued tenure with the Marlins from 1997-2000. But in the Marlins' World Series title season, the right-hander was 17-12 with a 3.59 ERA. … Brad Penny won two games in the 2003 World Series, and he enjoyed his best season with the Marlins that year, going 14-10 with a 4.13 ERA in 196 1/3 innings. … A.J. Burnett tossed five shutouts in '02. On May 12, 2001, he tossed one of the most perplexing no-hitters ever, striking out seven but walking nine against the Padres in San Diego.