Injuries & Roster Moves: Cooper takes BP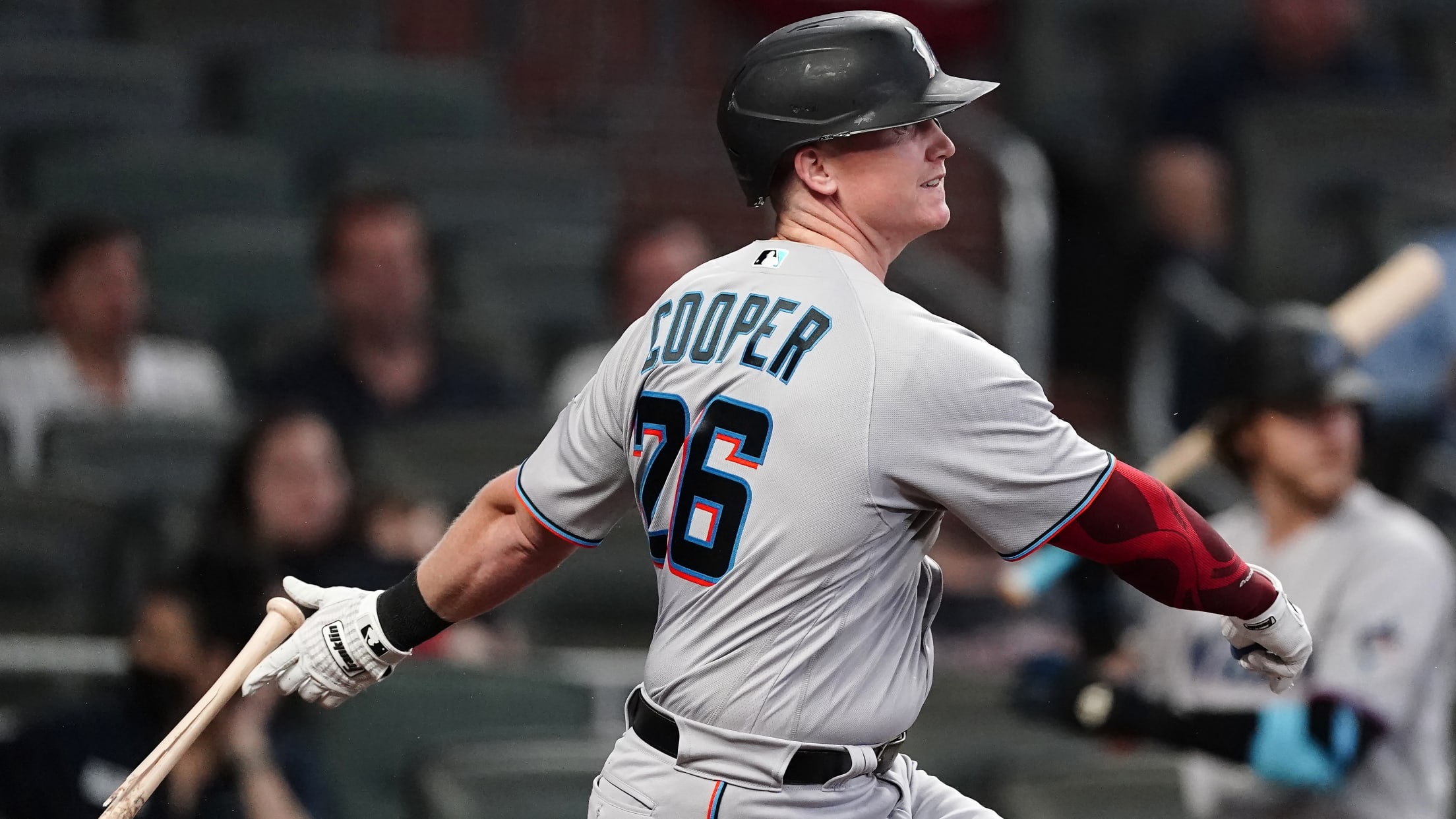 Keep track of the Marlins' recent transactions and injury updates throughout the season.
After Marlins lose Poteet, options are limited
Right-hander exits with MCL sprain as Marlins fall to Pirates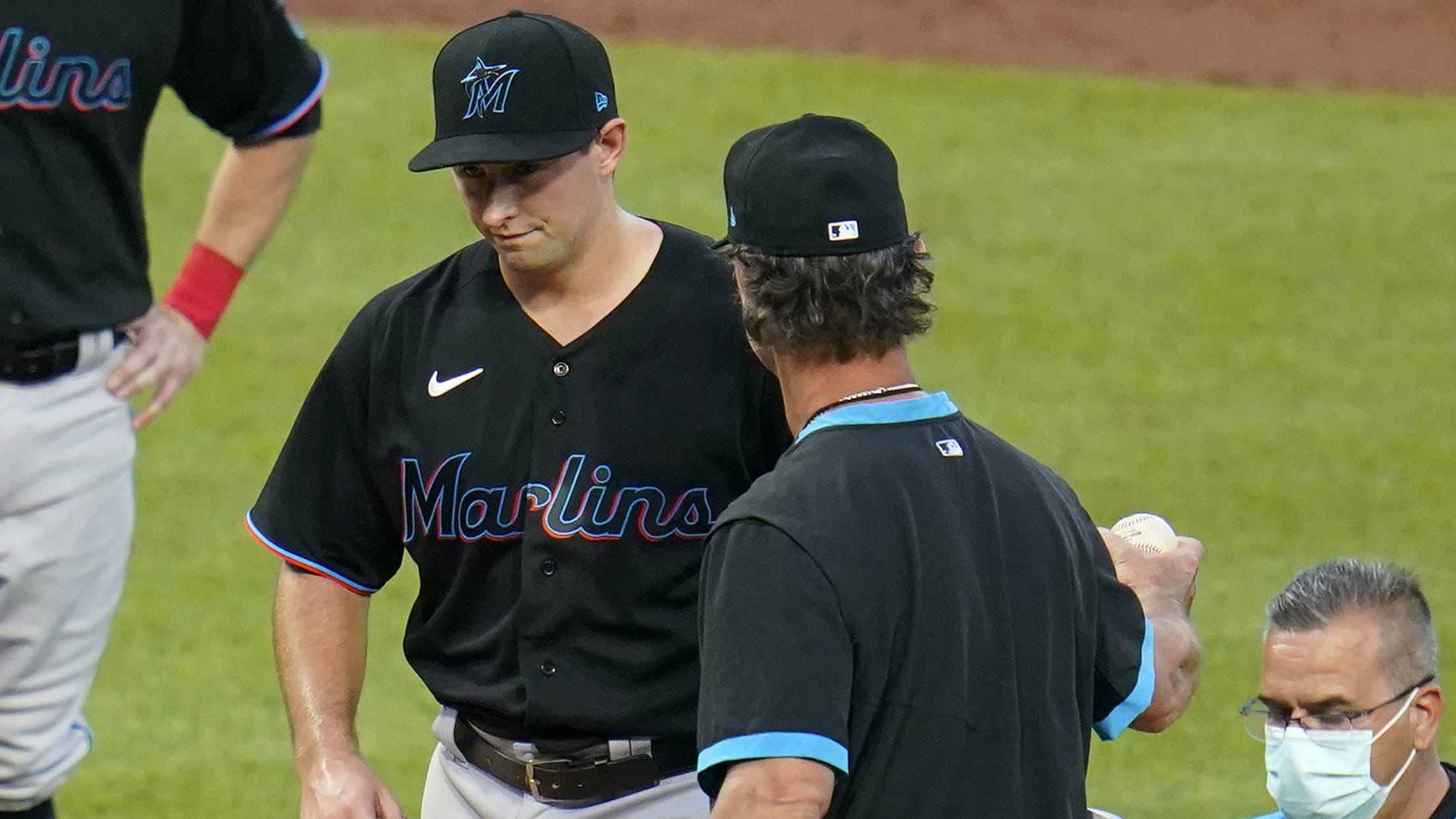 PITTSBURGH -- During the Marlins' last road trip, they bought into the "staying afloat" mantra with the promise of imminent reinforcements. On May 27 in the ensuing homestand finale, Miami did that and more with the chance to reach .500 -- only to lose the left side of its infield
Hernandez (right quad) exits in loss to Bucs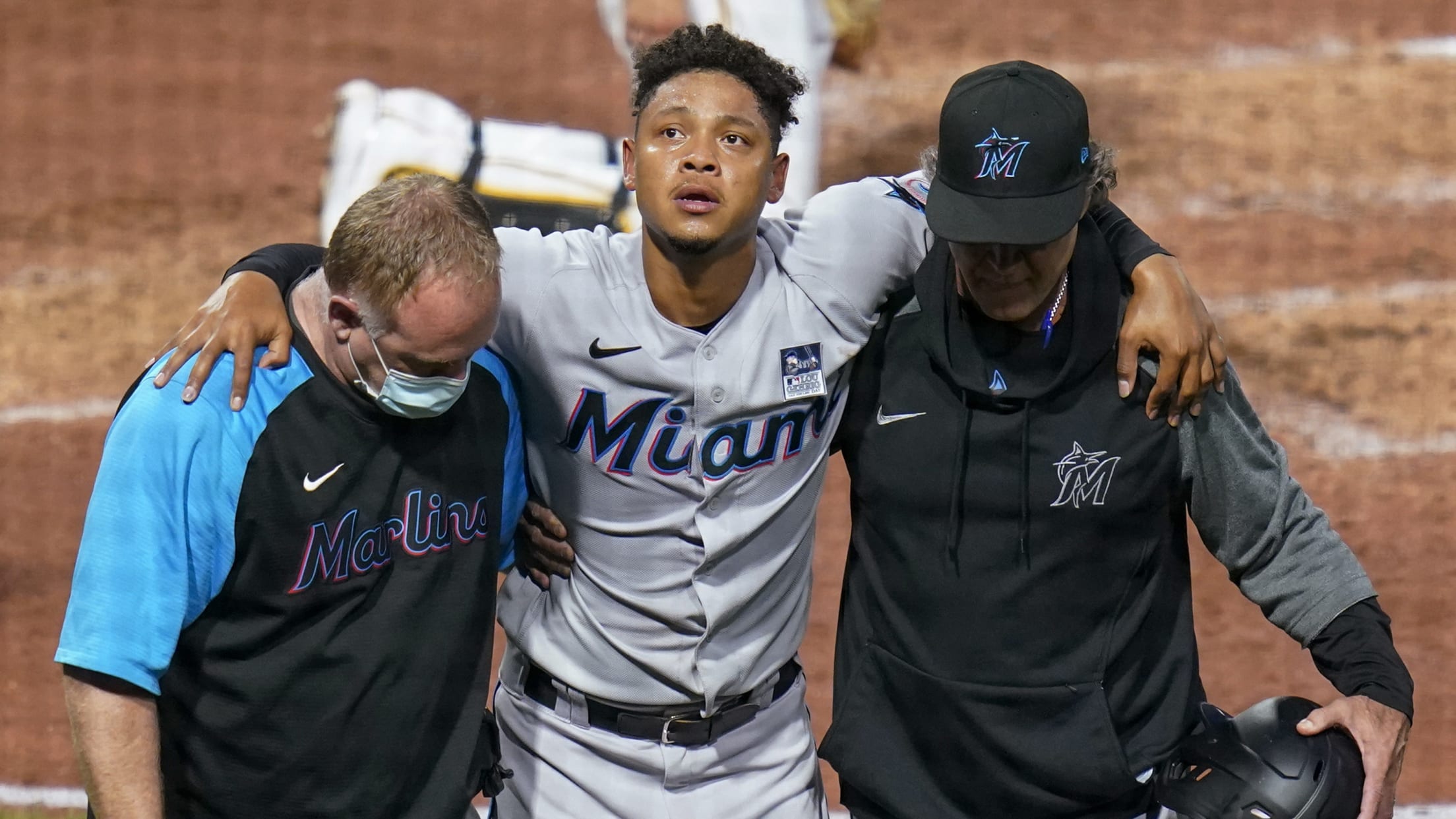 PITTSBURGH -- Not only were the Marlins unable to snap a season-long skid, but they also lost right-hander Elieser Hernandez to a right quad strain in a 5-3 defeat to the Pirates on Thursday night at PNC Park. Miami dropped its sixth in a row after setup man Dylan Floro
With Rojas on IL, Marlins have options at SS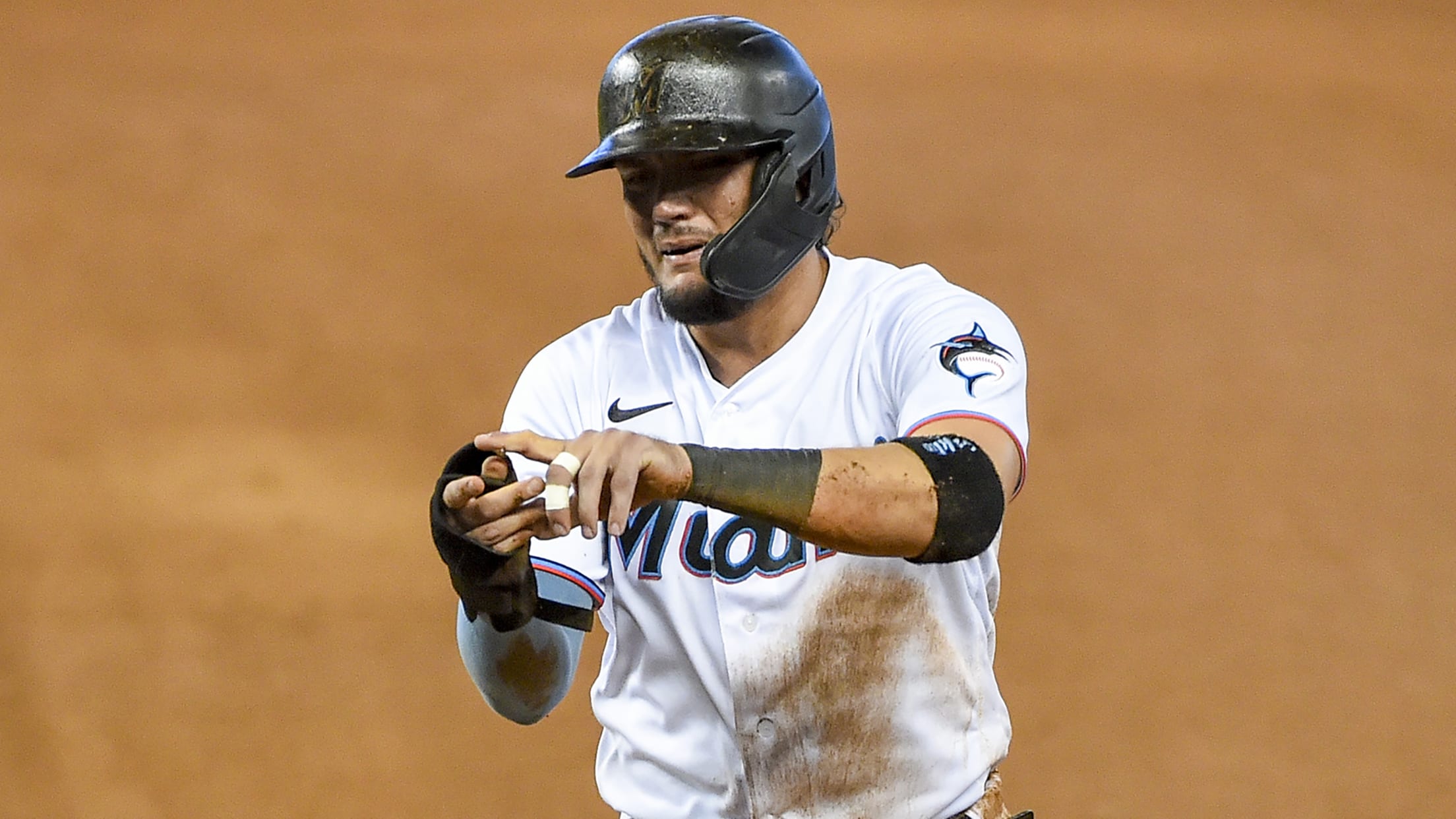 While the Marlins await the severity of Miguel Rojas' left index finger dislocation and monitor Jazz Chisholm Jr.'s right ankle, they could internally fill the shortstop position in multiple ways. Rojas, who injured himself sliding head-first back to the first-base bag while getting picked off in the eighth inning of
Rojas dislocates finger on slide vs. Phillies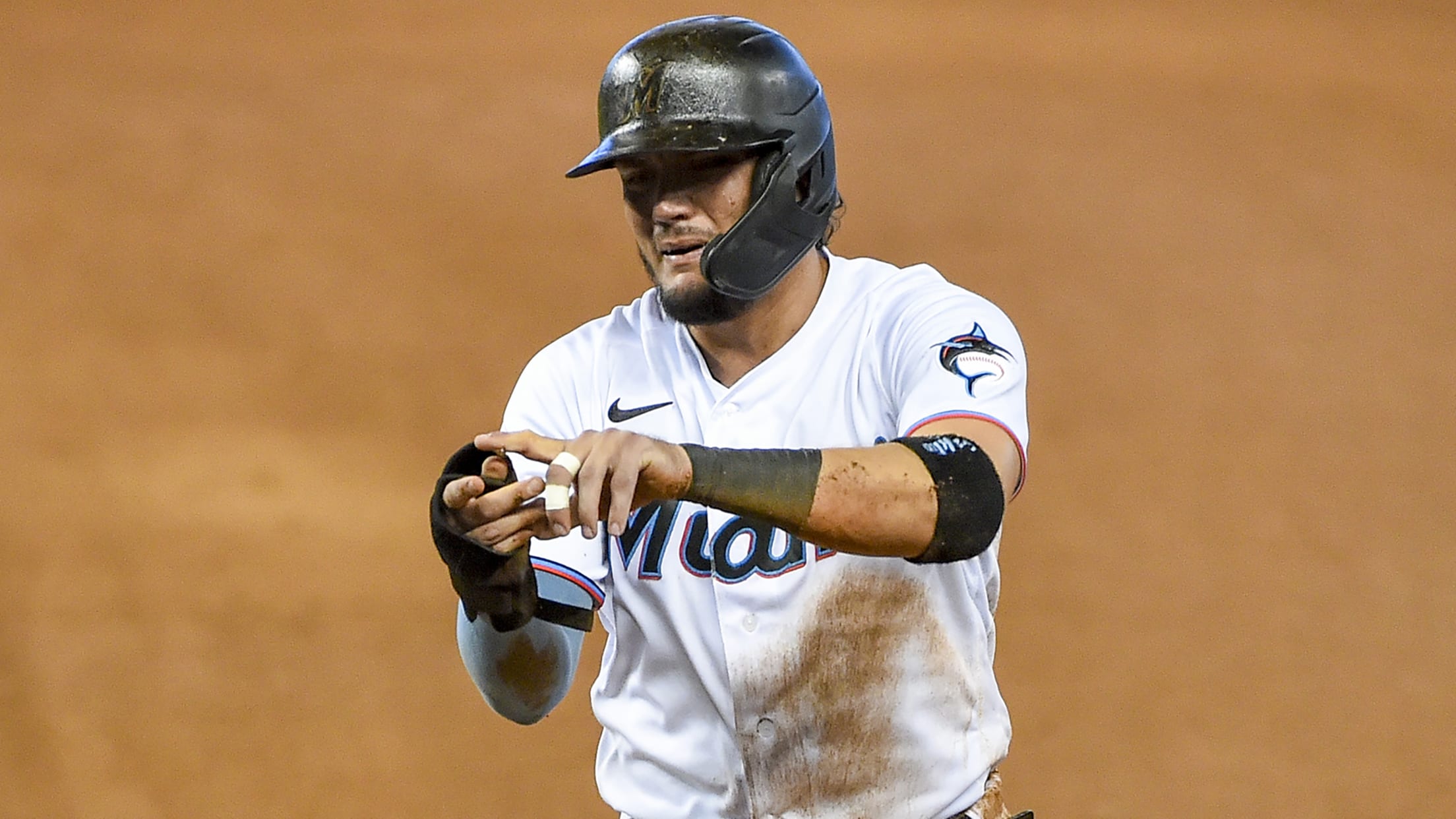 The Marlins could be getting one key bat back this weekend, but it appears they may have lost another. Shortstop Miguel Rojas dislocated his left pointer finger as he slid head-first back to the first-base bag while getting picked off in the eighth inning of Thursday's 3-2 loss to the
Anderson to 10-day IL; Jazz sprains ankle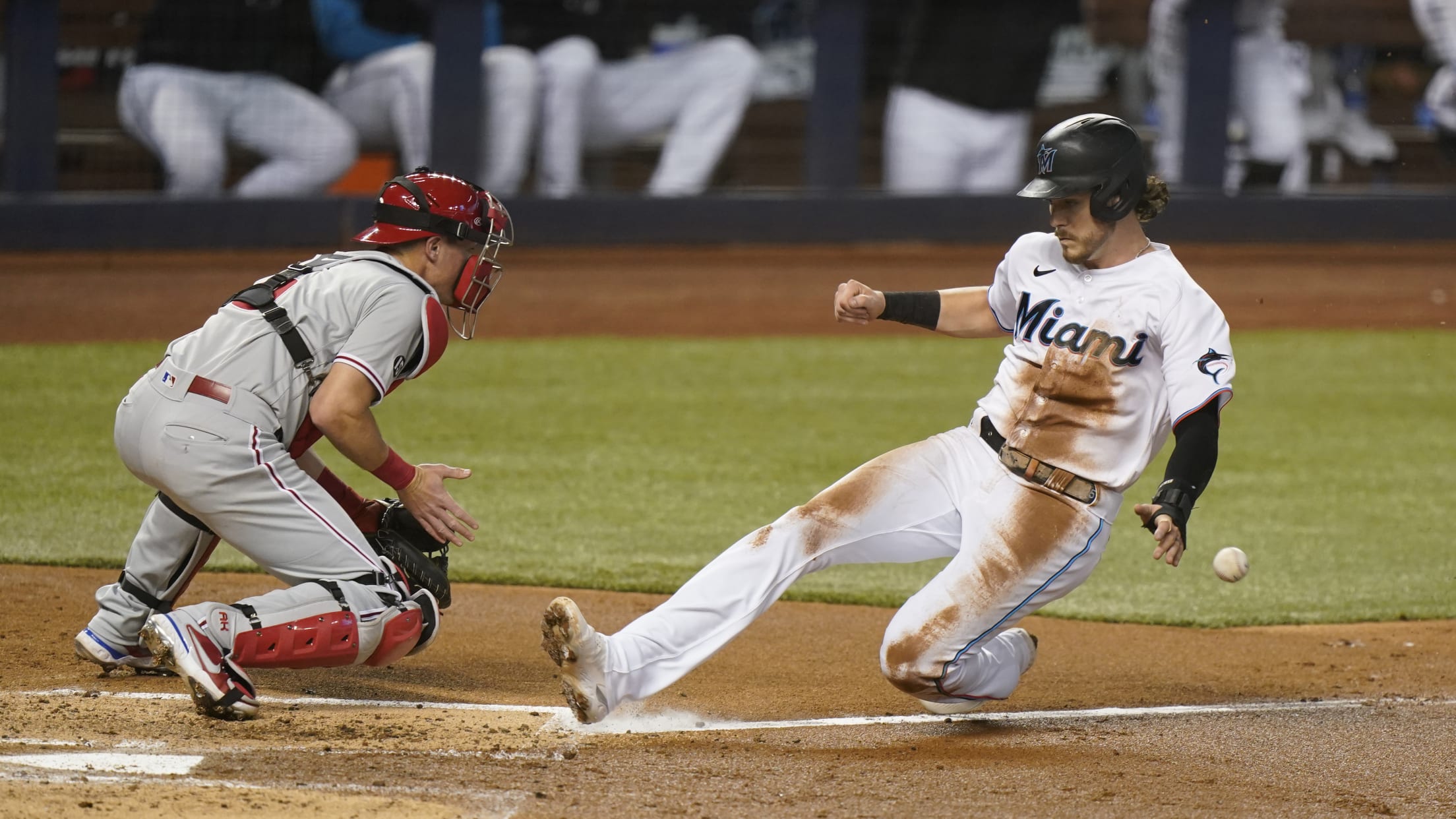 MIAMI -- For the second time this season, the Marlins will need to find ways to replace third baseman Brian Anderson, who landed on the injured list with left shoulder subluxation prior to Tuesday's 2-0 loss to the Phillies at loanDepot park. General manager Kim Ng said Anderson will miss
'We battle': Marlins wrestle injuries, Phils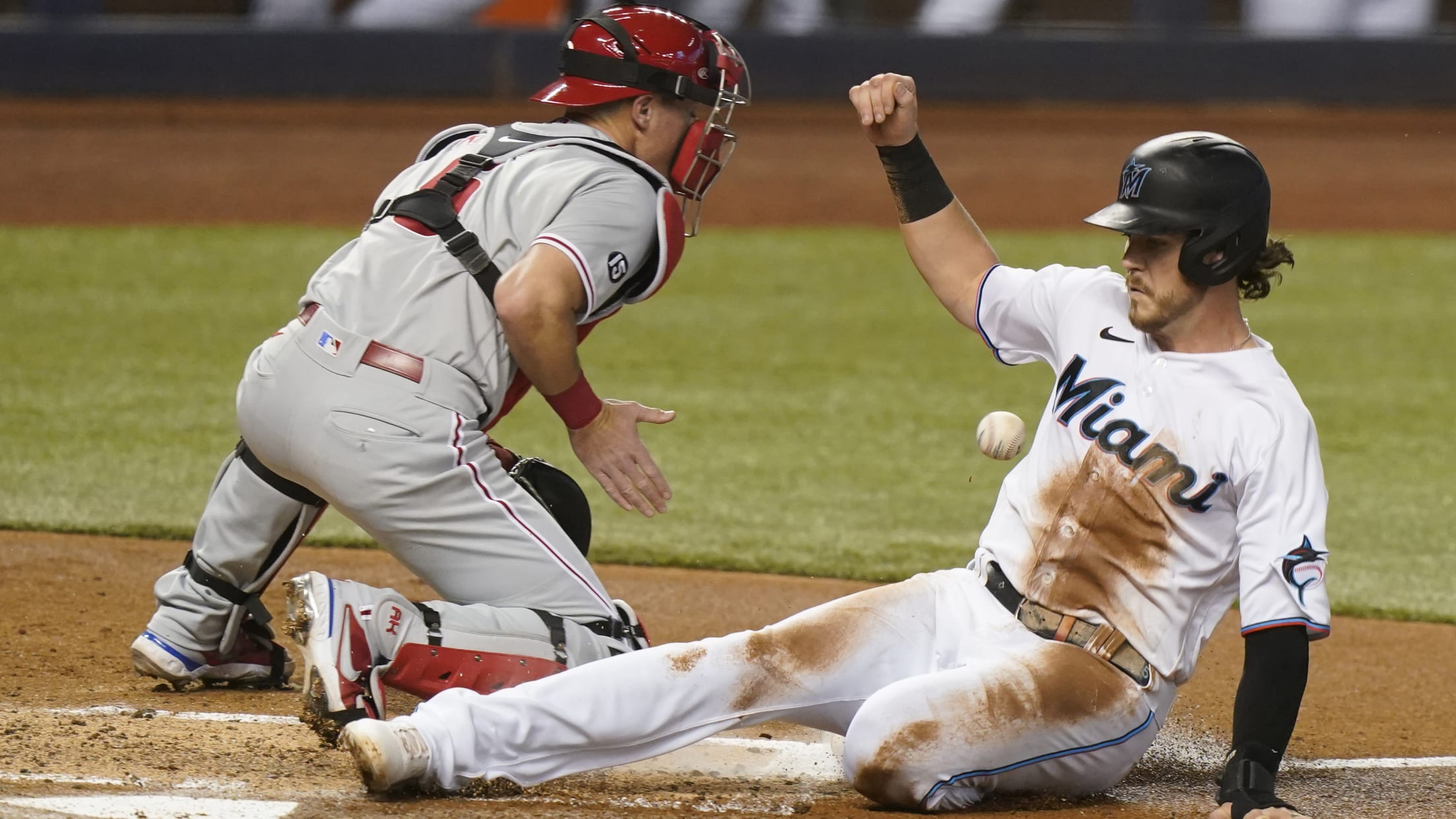 MIAMI -- Though the Marlins opened their four-game series with a 9-6 win over the Phillies on Monday night at loanDepot park, it might have come at a cost, as third baseman Brian Anderson exited with left shoulder soreness and shortstop Miguel Rojas left after being hit by a pitch.
Isan Díaz up; Chisholm goes on IL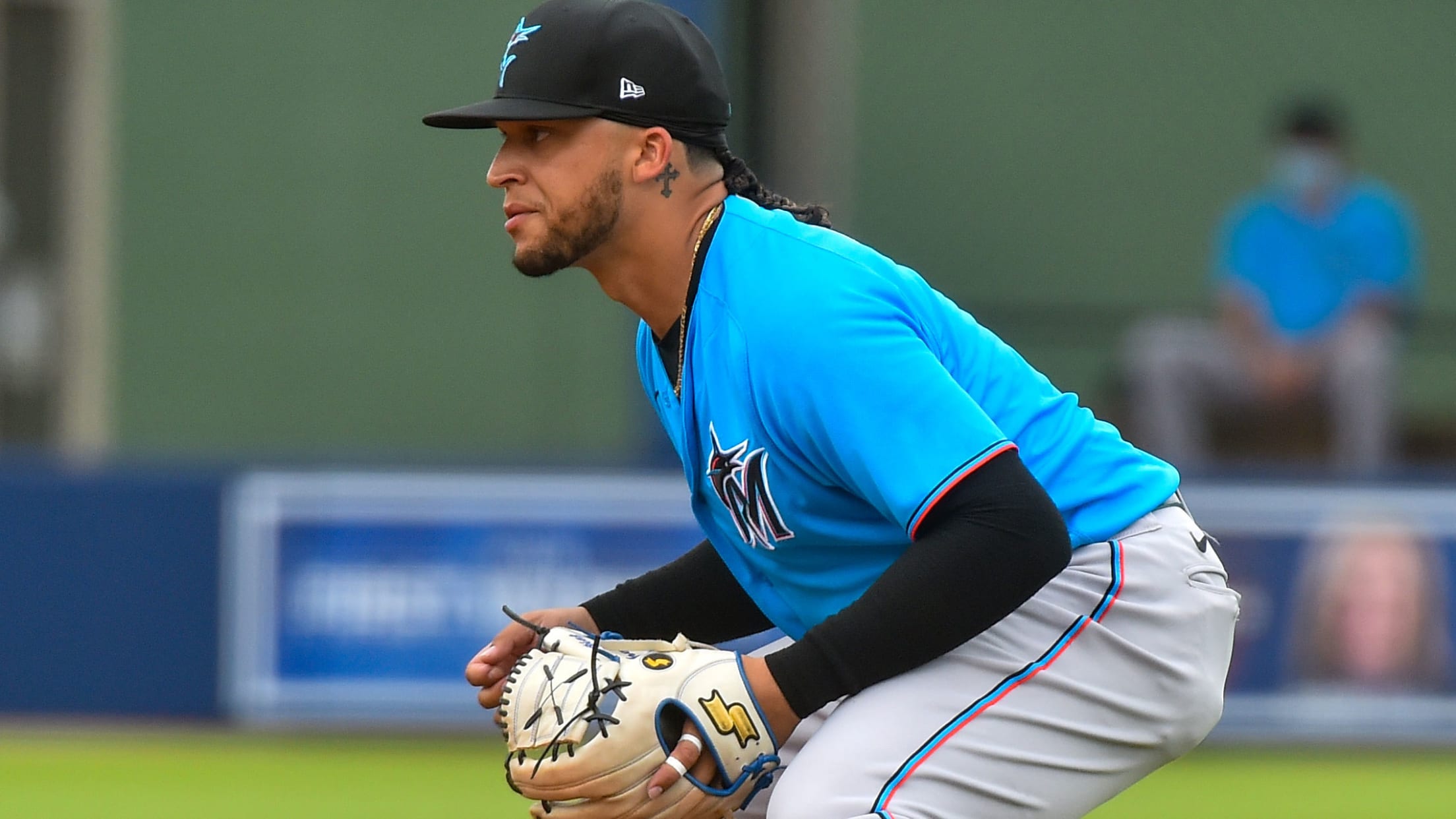 When the Marlins announced rookie Jazz Chisholm Jr. as their second baseman ahead of the 2021 season, the organization told Isan Díaz to continue getting better, stay positive and be patient. After all, something could happen for him to receive the call back to the Majors. The Marlins on Wednesday
Marlins add prospect Devers; Anderson to IL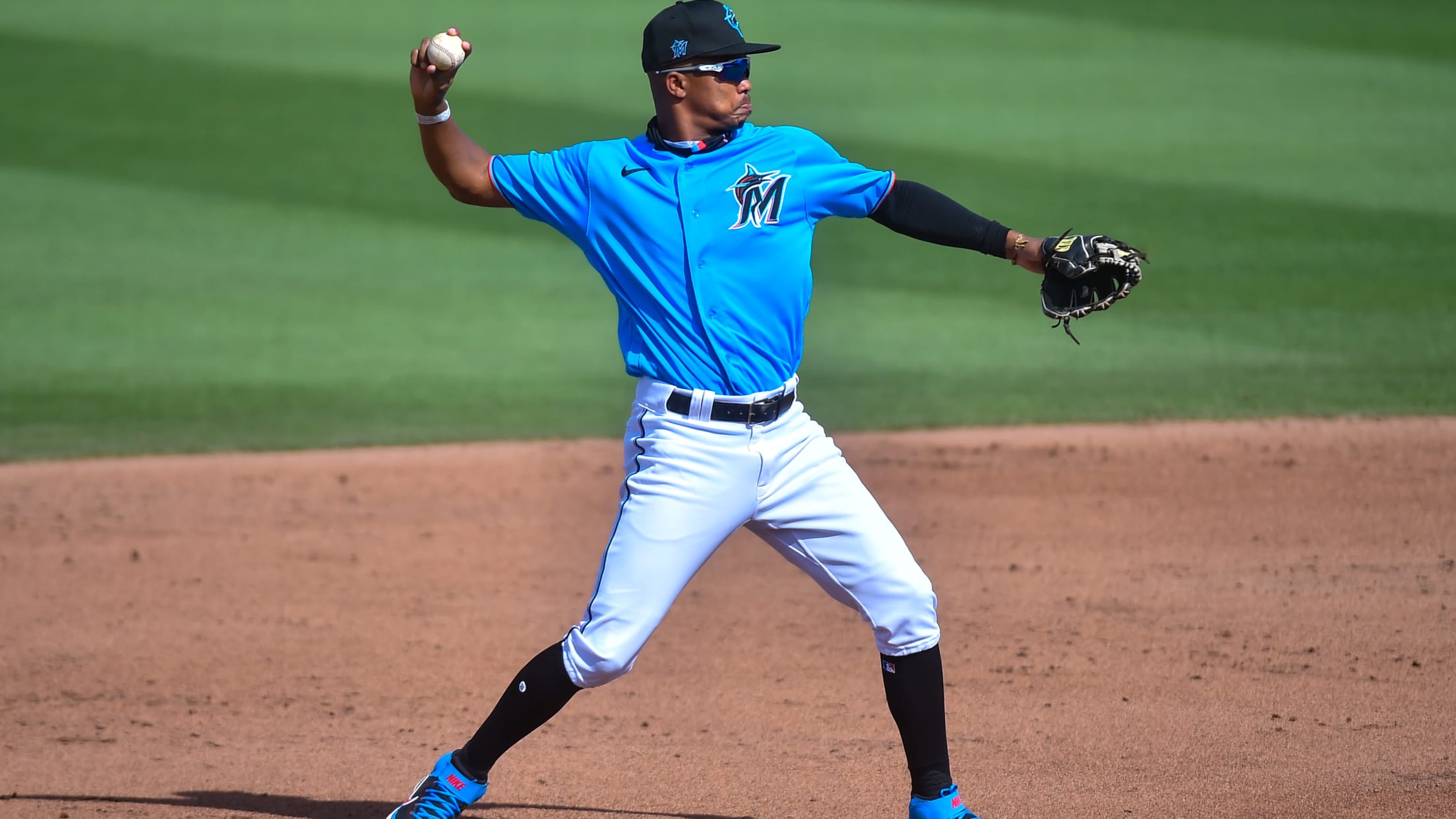 The Marlins on Thursday placed third baseman Brian Anderson on the injured list with a left oblique strain and recalled infielder José Devers (No. 8 prospect) from the alternate training site for his first call to The Show. The 21-year-old Devers, who was on the taxi squad for the 2020
Alfaro (hamstring) goes on IL; León selected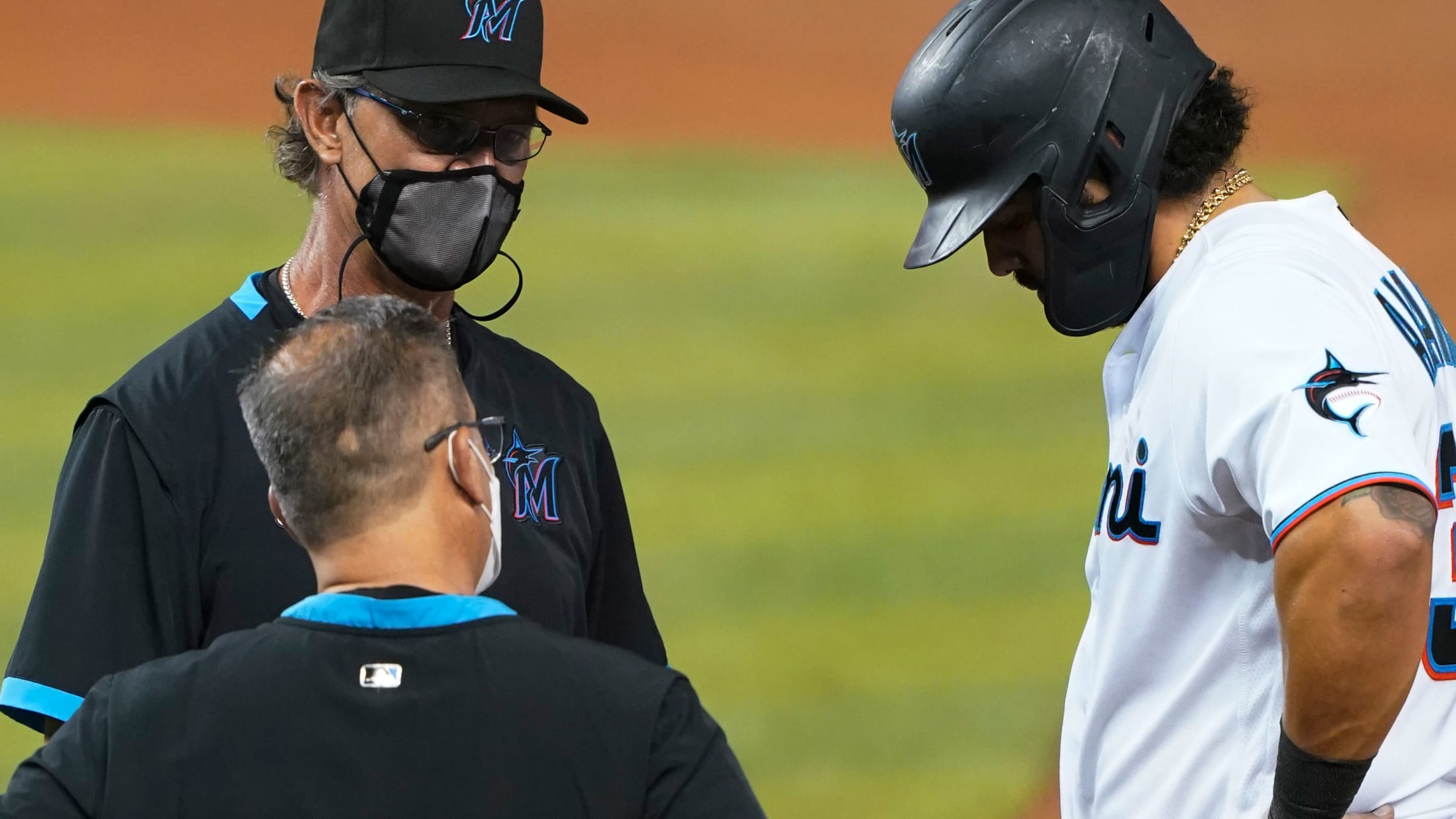 MIAMI -- The Marlins placed catcher Jorge Alfaro on the 10-day injured list and selected the contract of Sandy León prior to Wednesday's 3-0 victory over the Orioles at loanDepot park. León made quite the first impression, going 2-for-3 with a heads-up baserunning play in the decisive three-run fifth and
Amidst injuries, loss tests Marlins' depth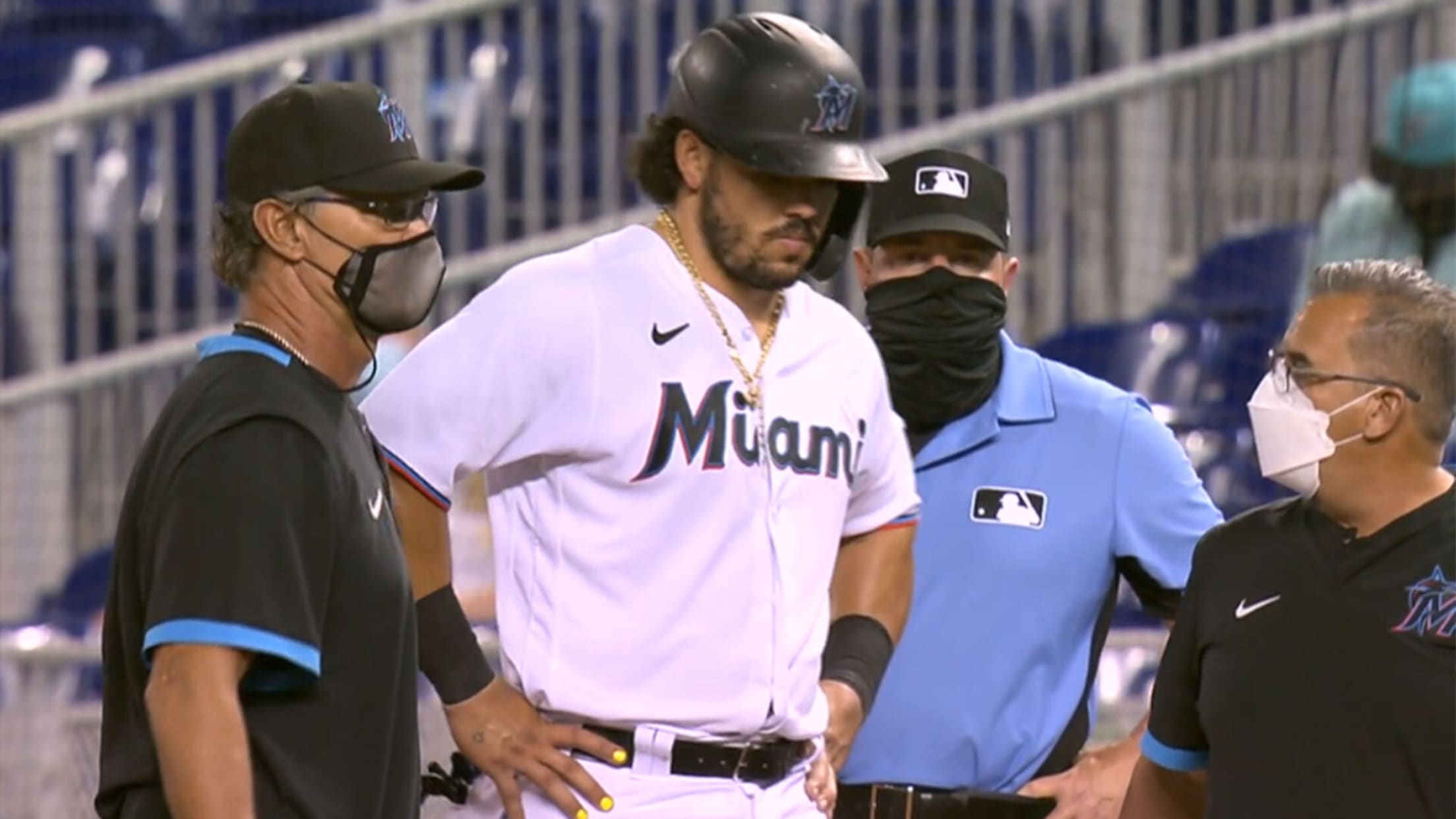 MIAMI -- Playing with a short bench became exacerbated when a Marlins starting position player exited with an injury for the second straight game. This time, it was catcher Jorge Alfaro, who experienced left hamstring soreness after running out a grounder in the fourth inning of Tuesday night's 7-5 loss
Marte to miss time with left rib fracture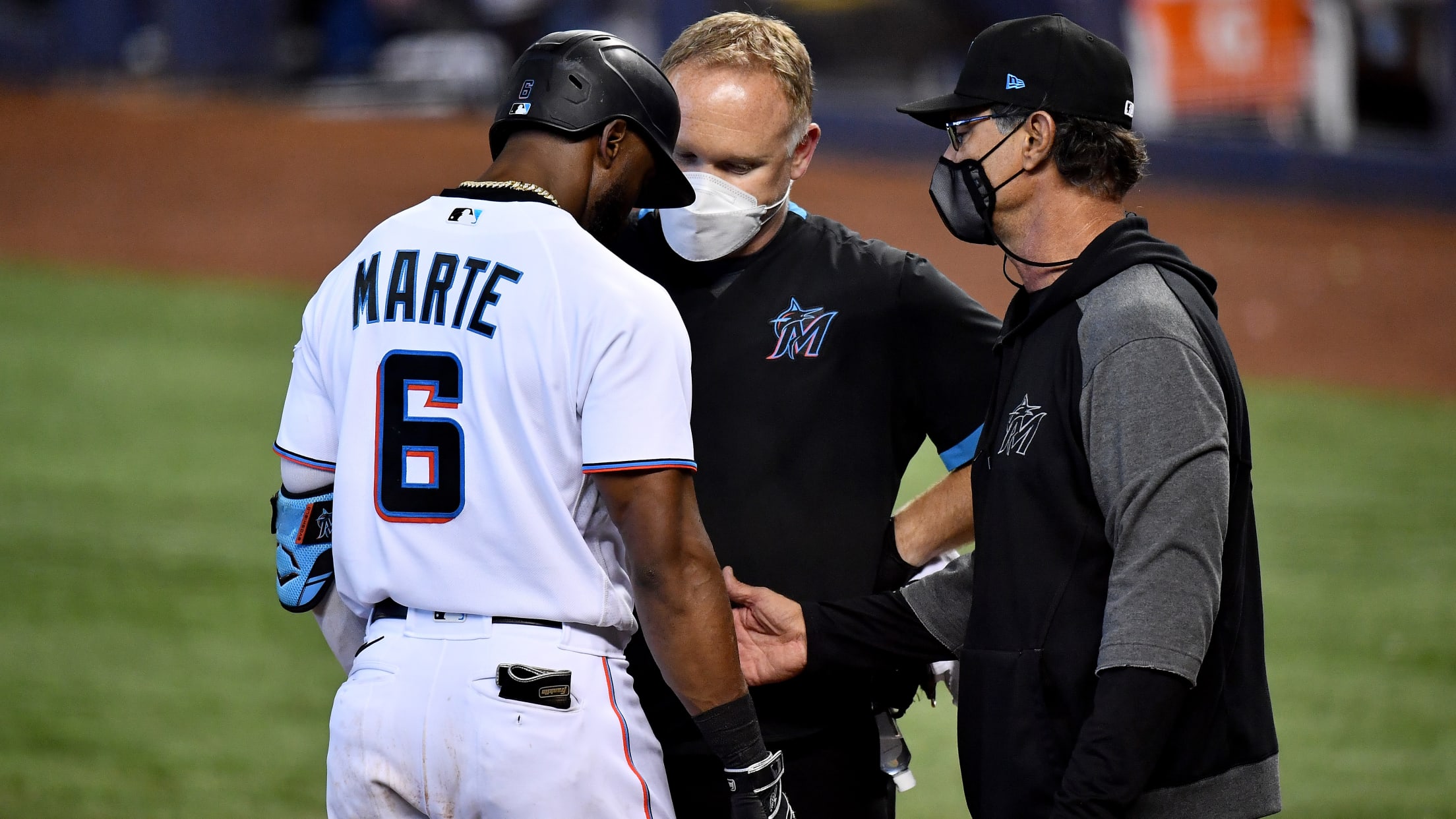 MIAMI -- An MRI revealed that Marlins center fielder Starling Marte sustained a non-displaced fracture in his 12th rib (left side), the club announced on Monday afternoon. He will refrain from activity for five to seven days before being re-evaluated, which will better help determine a timeframe for his return.
Notes: Updates on pitchers; trailblazers meet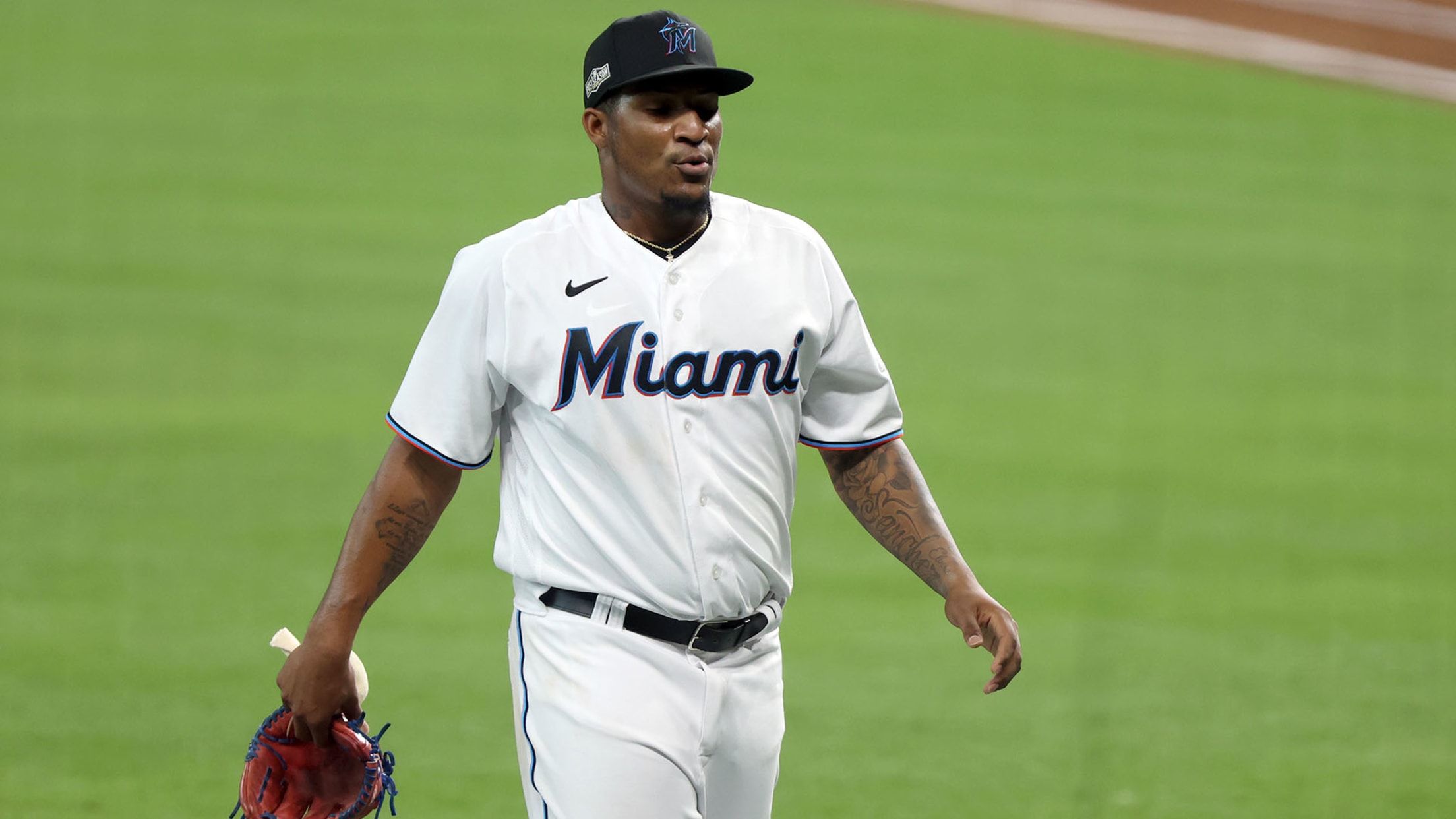 MIAMI -- A quartet of Marlins right-handers, including a pair of MLB Pipeline's Top 100 prospects, continue to progress without issue in their throwing programs. Sixto Sánchez (No. 13 overall), who was projected to make the Opening Day starting rotation before a late start to spring due to visa issues
Elieser Hernandez goes on 10-day IL (biceps)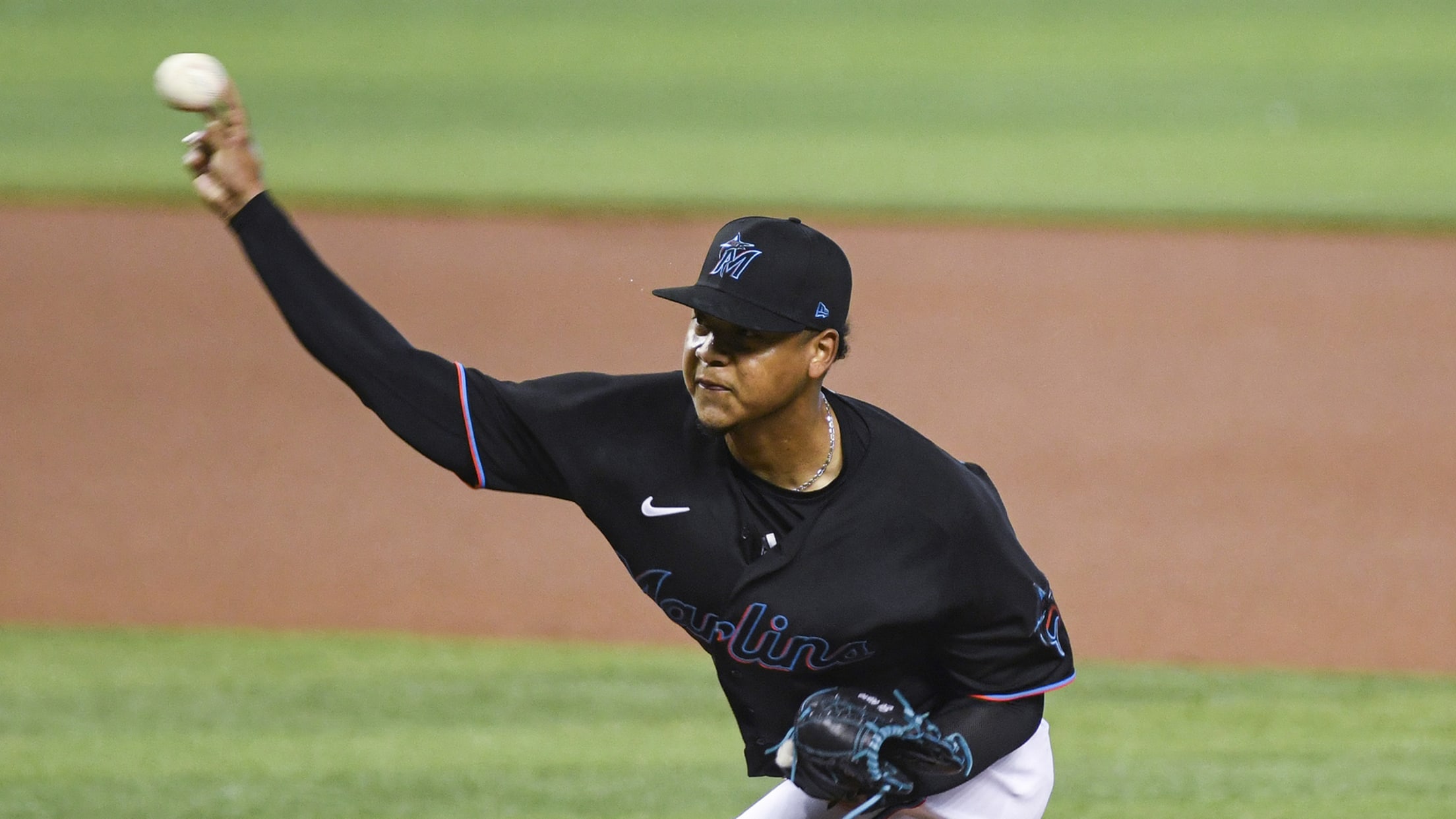 MIAMI -- The Marlins on Monday placed right-hander Elieser Hernandez on the 10-day injured list with right biceps inflammation. Hernandez, who exited his season debut after 34 pitches on Saturday, was scheduled to see a doctor before deciding the next course of action. First baseman/outfielder Garrett Cooper also landed on
Hernandez's injury might test Marlins' depth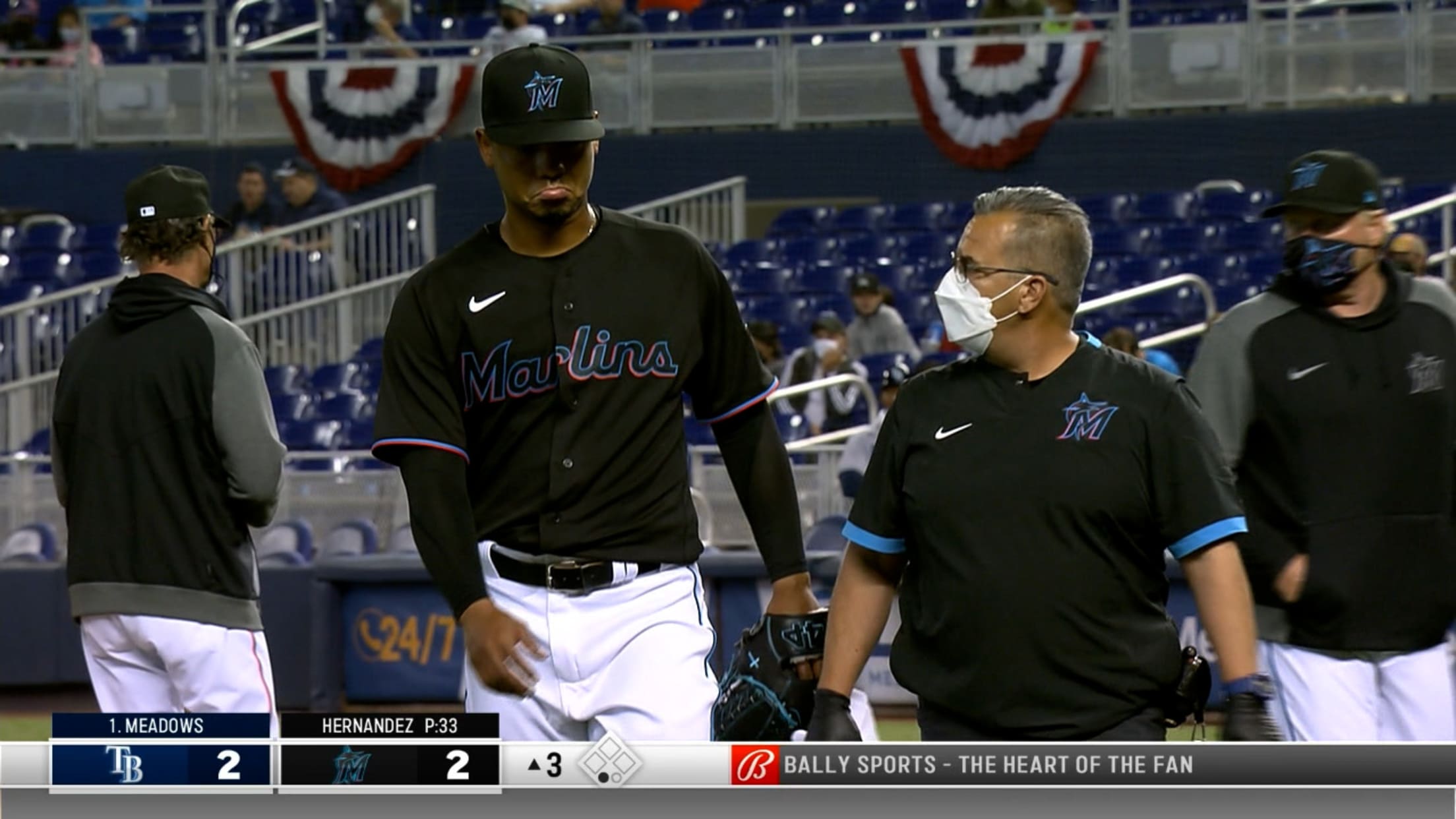 MIAMI -- Entering 2021, the Marlins knew their young starting staff would be in for a challenge with the return of a 162-game season. Since breaking camp relatively healthy at the beginning of the week, two Marlins pitchers have sustained injuries, testing the club's depth early. Right-hander Elieser Hernandez exited
Notes: Update on Dickerson; Curtiss returns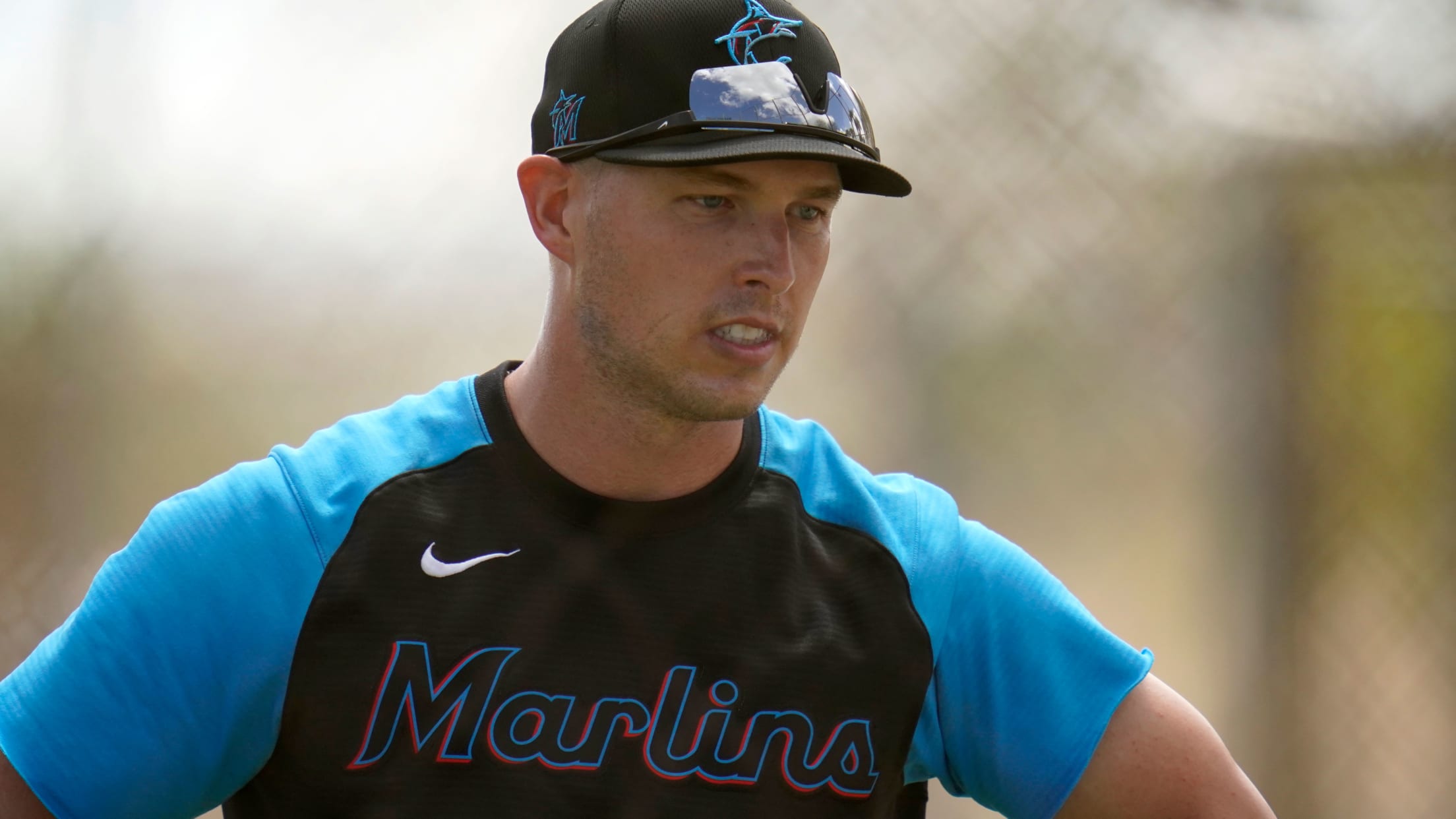 JUPITER, Fla. -- Marlins left fielder Corey Dickerson was out of Thursday night's Grapefruit League lineup with a sore left shoulder. According to manager Don Mattingly, Dickerson should be ready to return on Friday. Adam Duvall took his place in left, with Garrett Cooper starting in right. The discomfort stems
3 top prospects among latest Marlins cuts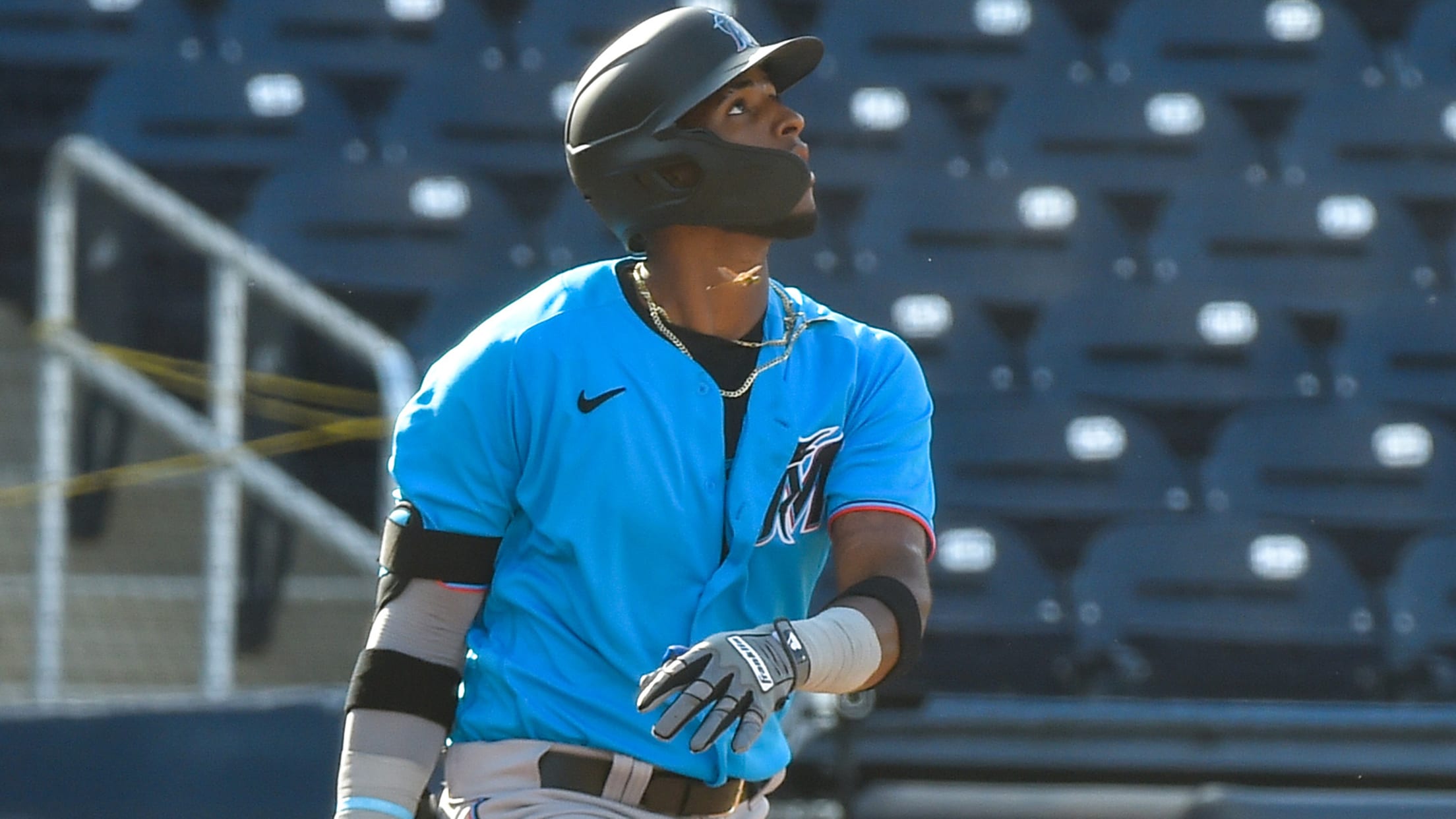 JUPITER, Fla. -- In their third round of cuts this spring, the Marlins on Monday optioned first-base prospect Lewin Díaz (No. 6) and outfielder Monte Harrison (No. 16) to Triple-A Jacksonville and right-hander Jordan Holloway (No. 24) to Double-A Pensacola. The club also reassigned lefty Jake Fishman, righty Zach Thompson,
Prospect Cabrera sidelined with arm injury
The Marlins on Friday morning announced that Edward Cabrera has been diagnosed with an inflamed nerve in his right biceps. MLB Pipeline's No. 68 overall prospect did report to Jupiter, Fla., for Spring Training, but he is not participating in throwing activities at this time. Marlins manager Don Mattingly said
Marlins not ruling out Marte's return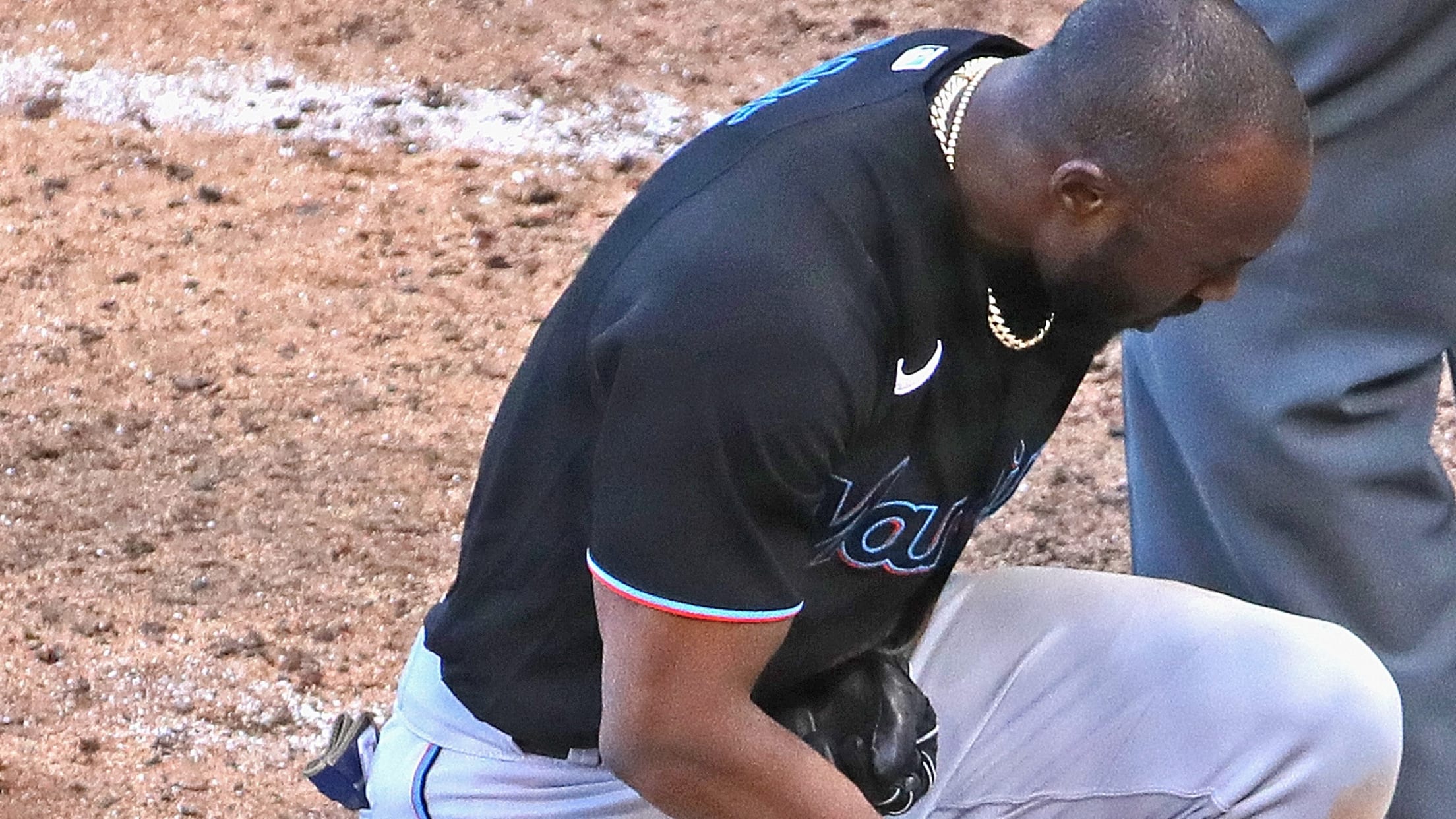 The Marlins are holding out hope Starling Marte could be back in the starting lineup soon. Before Thursday's National League Wild Card Series Game 2 was postponed due to rain, Marte was not in the lineup against the Cubs.
Marte day to day with pinkie fracture (source)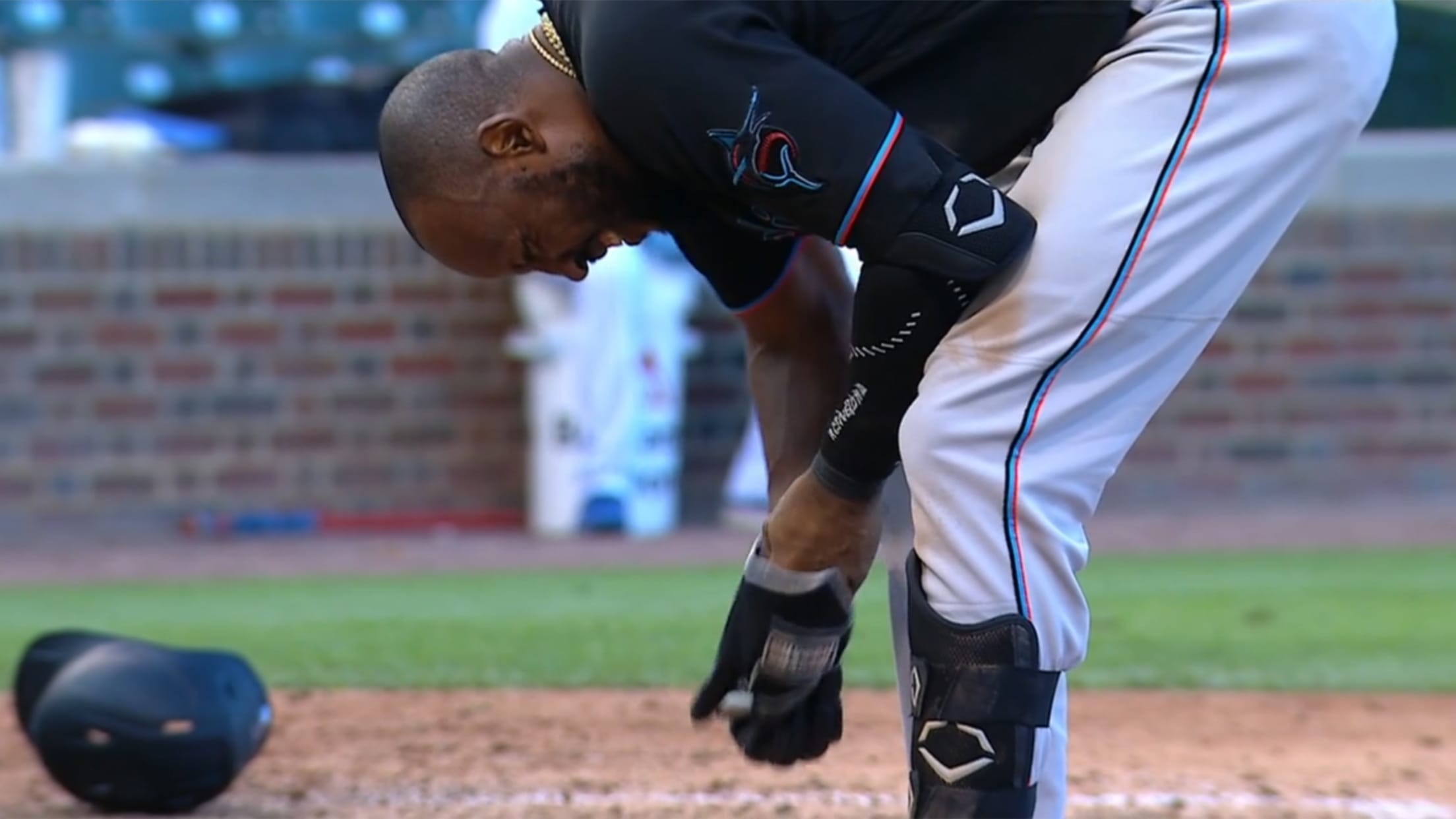 Marlins center fielder Starling Marte was hit by pitches nine times during the regular season, including four since being acquired from the D-backs at the Aug. 31 Trade Deadline. Marte was struck again by a pitch on Wednesday afternoon in the Marlins' 5-1 victory over the Cubs in the National
Ureña hit by line drive, fractures forearm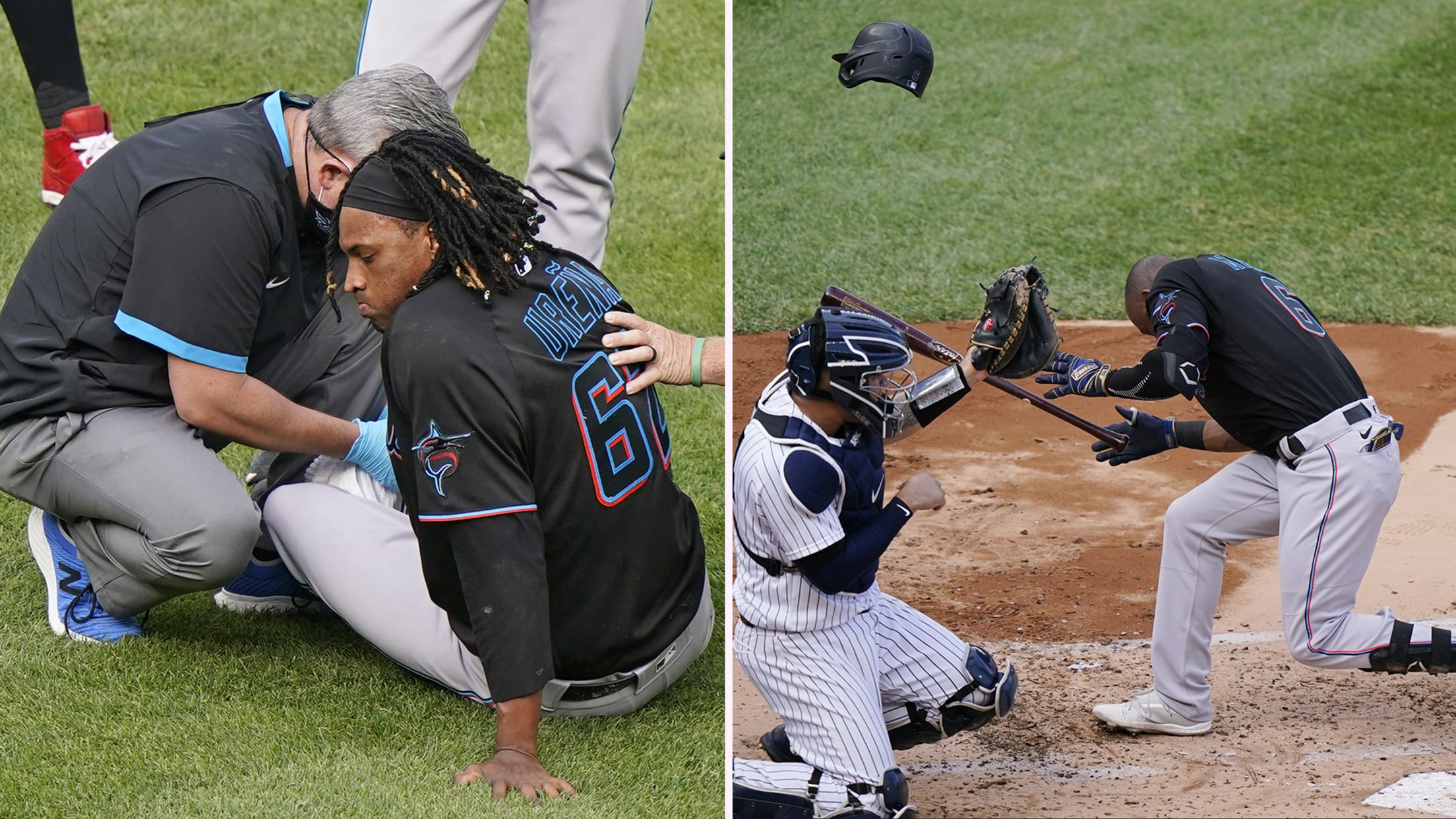 The Marlins were hit by a pair of injuries on Sunday in their 5-0 regular-season finale win over the Yankees at Yankee Stadium. One of the setbacks will impact their postseason roster. Right-hander José Ureña was struck in the right forearm by a comeback line drive in the third inning,
Alfaro homers twice, takes hit behind plate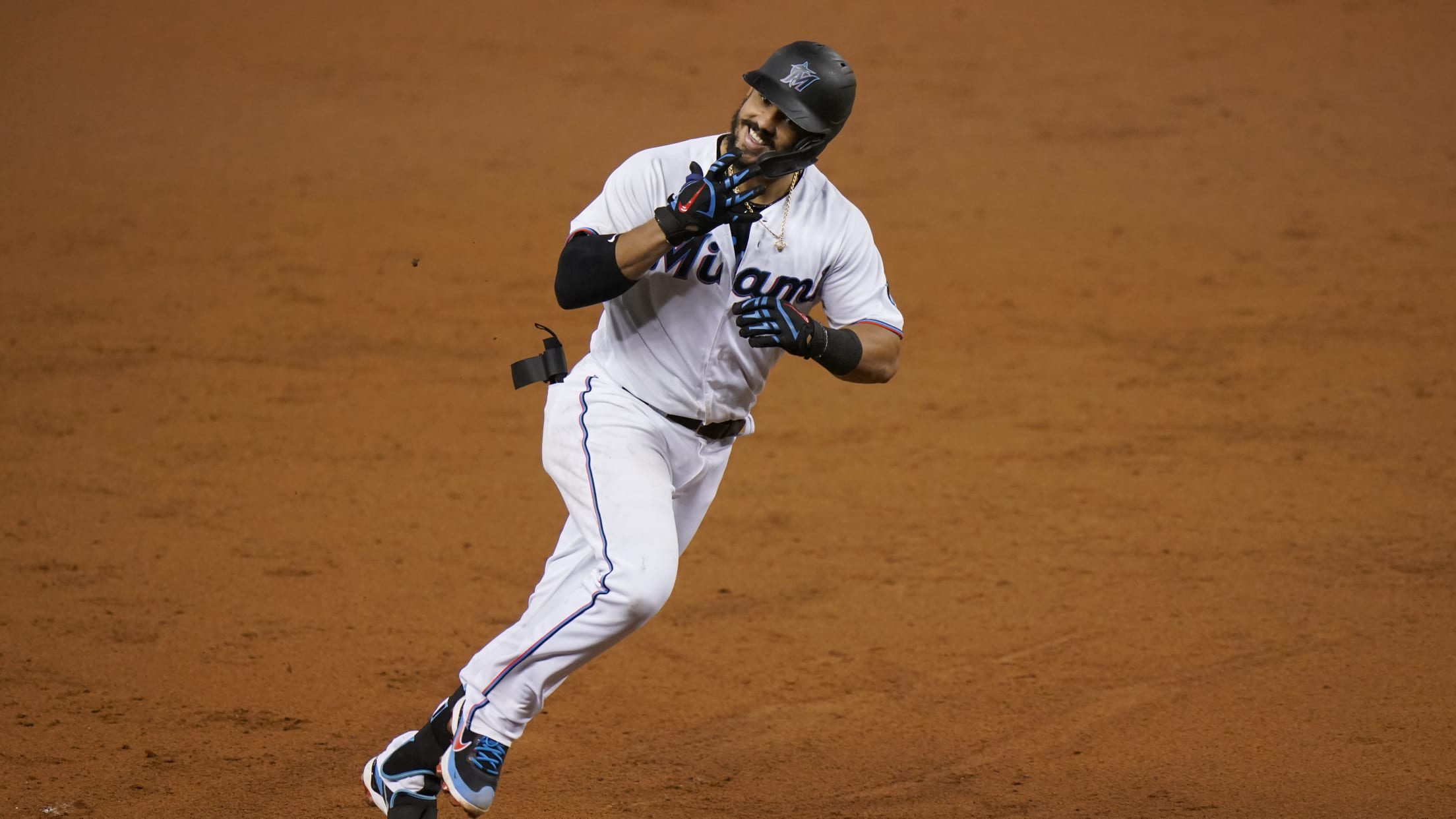 Jorge Alfaro belted a pair of two-run home runs on Wednesday night, but the 27-year-old catcher also was shaken up by a foul ball off his face mask in the Marlins' 8-4 victory over the Red Sox at Marlins Park. Alfaro and the Marlins received a scare, but the medical
2B Díaz (left groin strain) done for season
Veteran utility player Rodríguez reinstated from injured list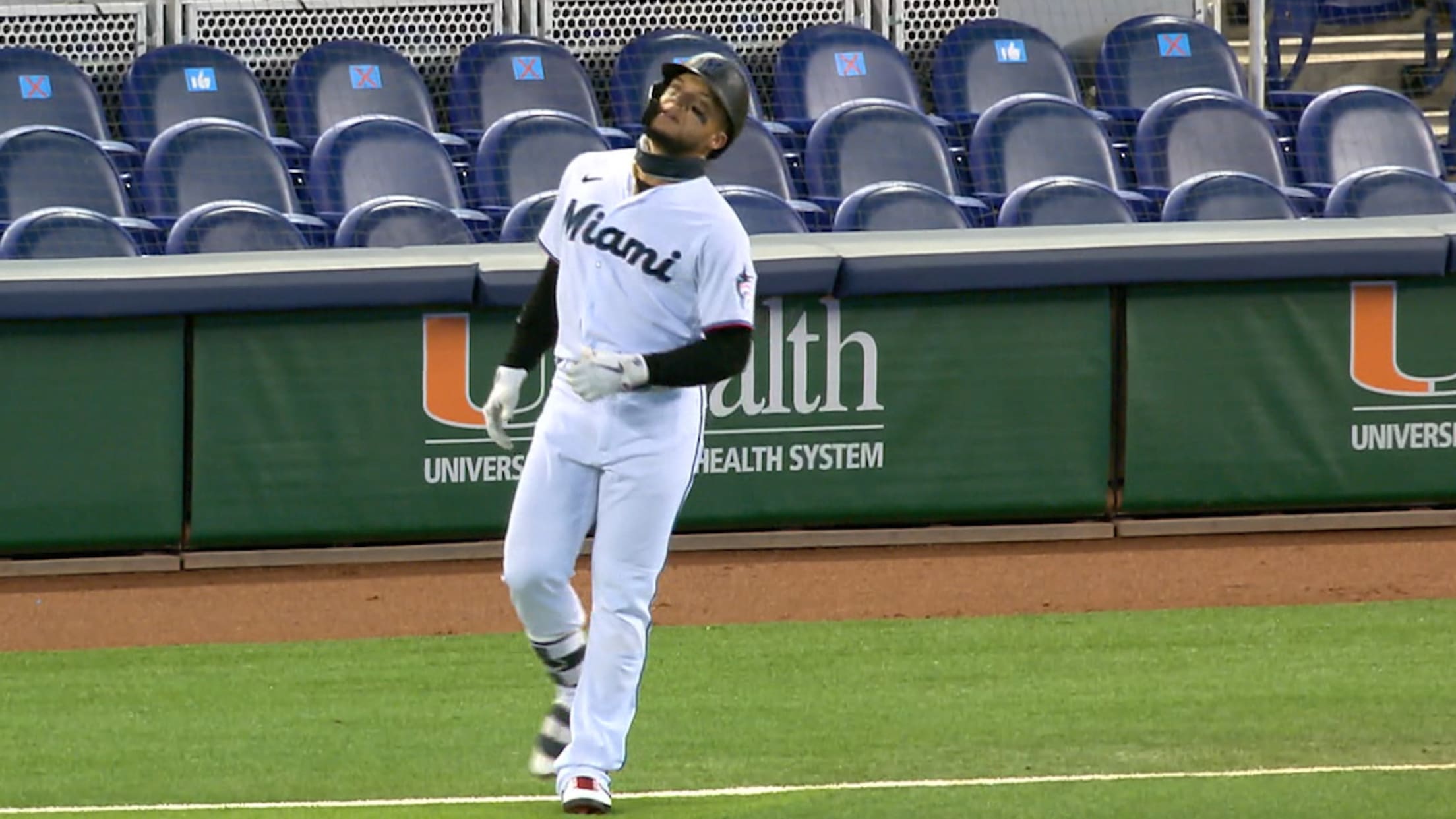 A disappointing 2020 season has come to an end for Marlins second baseman Isan Díaz. The club on Tuesday placed Díaz on the 60-day injured list with a left groin strain, and he was replaced on the roster by veteran utility player Sean Rodríguez, who was reinstated from the injured
Ramirez to IL tests right-handed OF depth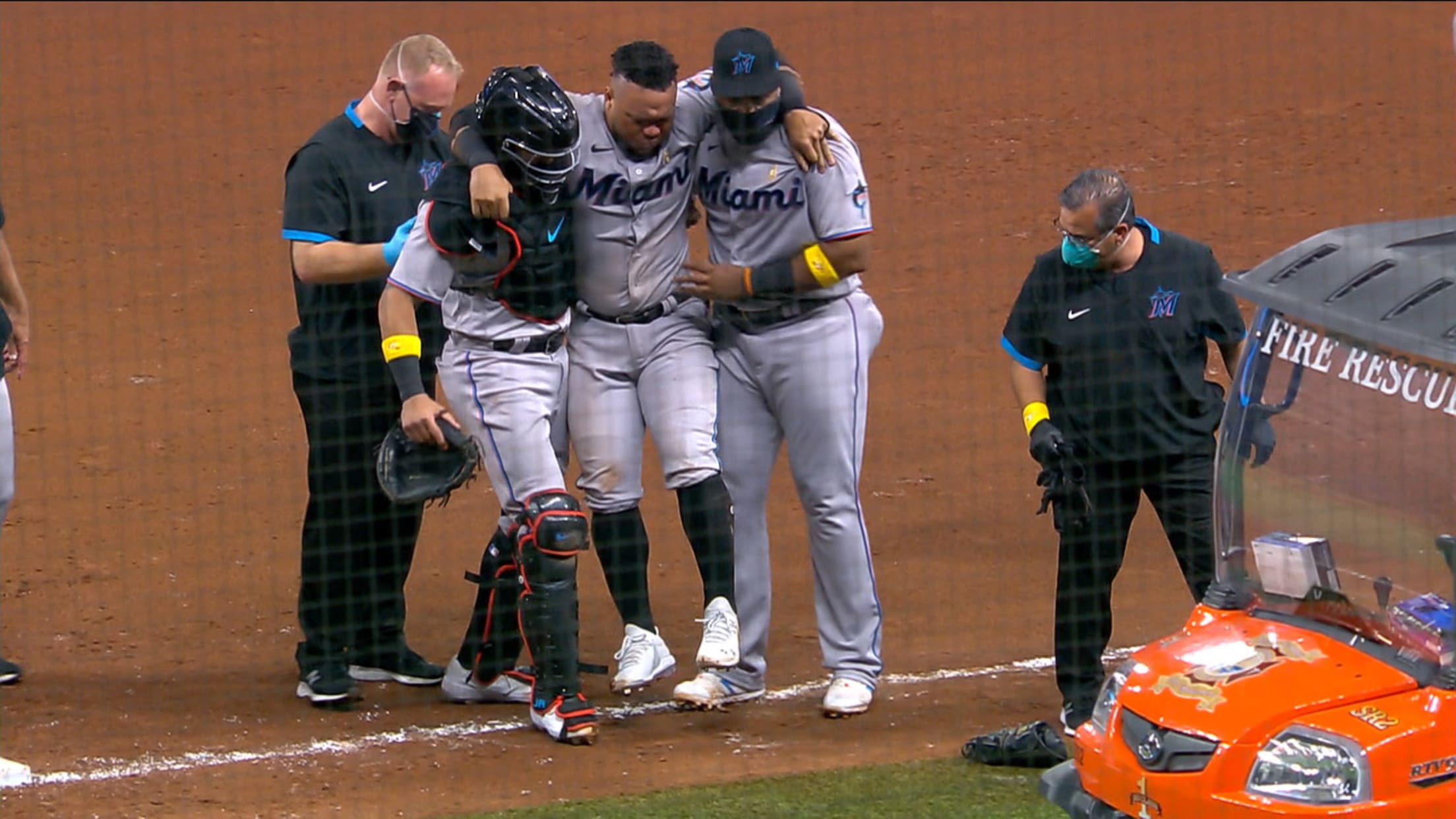 Despite 127 roster moves and counting since Opening Day, the Marlins are still well positioned in the postseason race. The latest transactions came on Sunday, with outfielder Harold Ramirez going on the 10-day injured list with a left hamstring strain and infielder Eddy Alvarez being reinstated from the alternate training
E. Hernandez (lat) to IL tests Miami's depth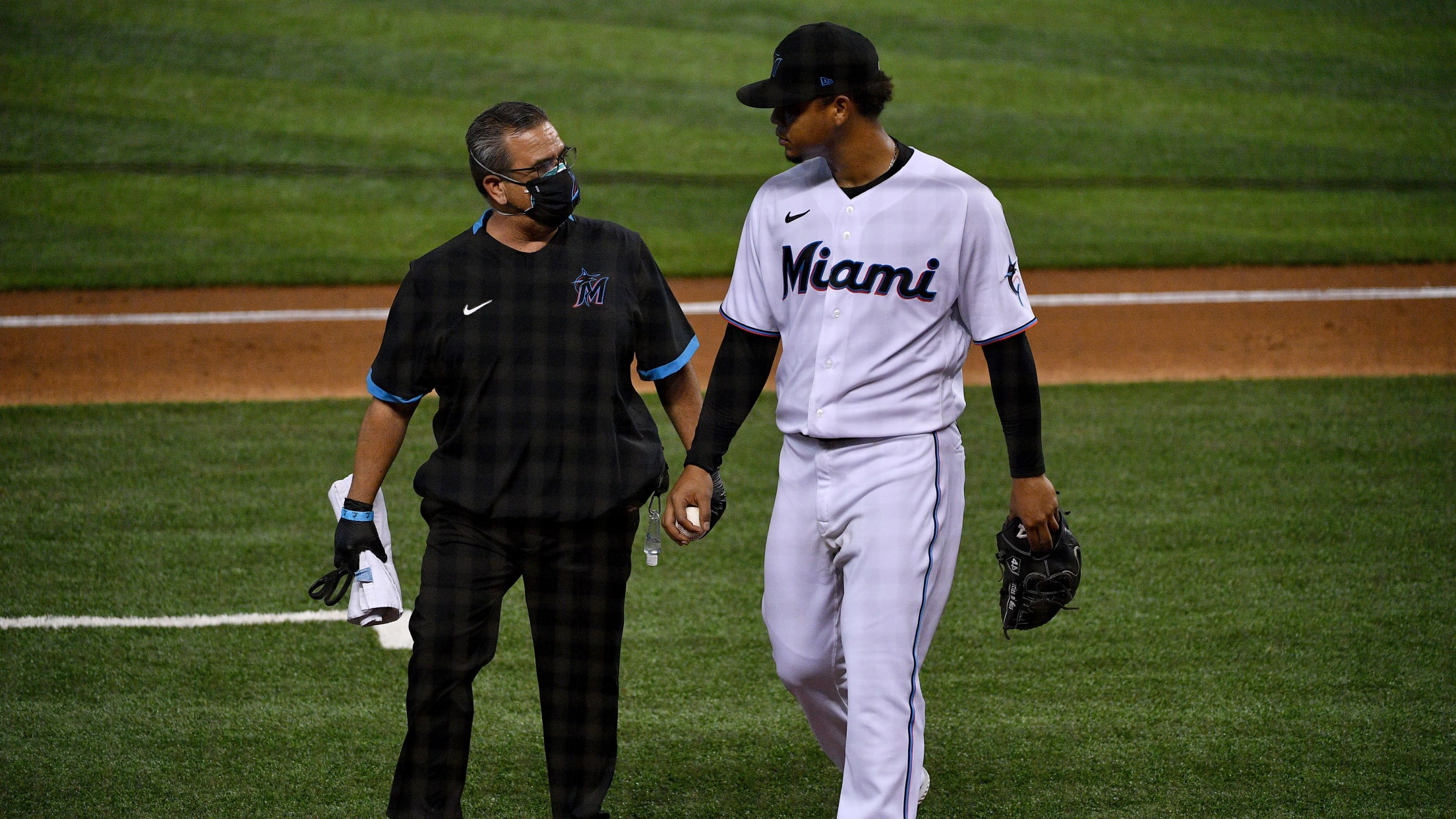 Having rotation depth enabled the Marlins to acquire outfielder Starling Marte from the D-backs for left-hander Caleb Smith and prospect Humberto Mejía. As circumstances would have it, Miami's rotation depth was tested when starter Elieser Hernandez sustained a strained right lat. The Marlins placed Hernandez on the 10-day injured list