Best pure hitting 2020 Draft prospects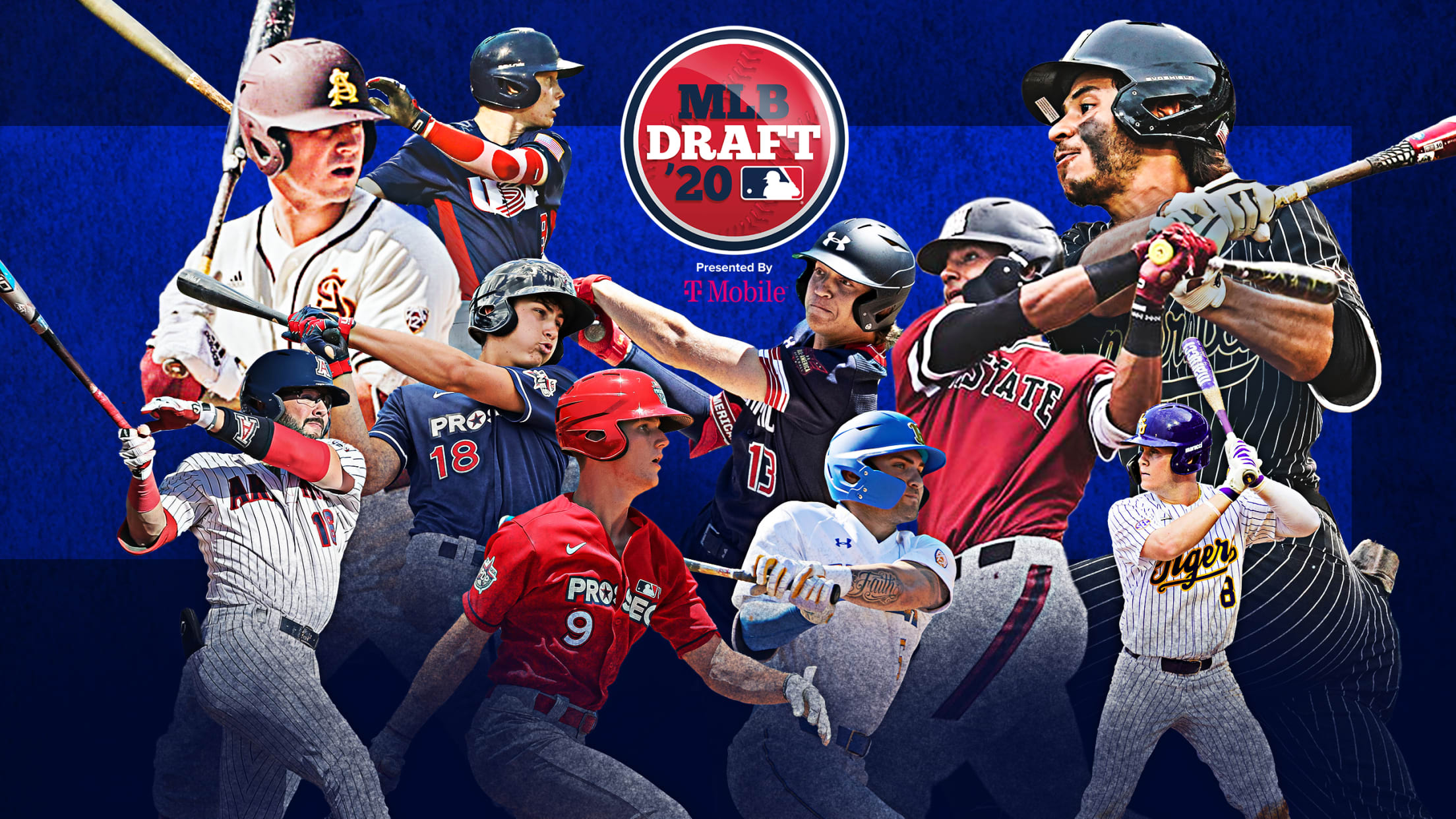 With the 2020 MLB Draft a little more than a week away, MLB Pipeline is continuing to break down this year's class through various lenses. Recently, we've looked at things like the best all-time Draft pick from each state, the best hometown pick for all 30 teams and the top
With the 2020 MLB Draft a little more than a week away, MLB Pipeline is continuing to break down this year's class through various lenses. Recently, we've looked at things like the best all-time Draft pick from each state, the best hometown pick for all 30 teams and the top 2020 prospect from each state.
Today, we're highlighting some of the 2020 Draft's top players based on pure hitting ability -- guys who flat-out rake and are expected to do so in the professional ranks.
The five-round Draft will begin on Wednesday, June 10, at 7 p.m. ET, with both MLB Network and ESPN producing live coverage -- the first time more than one network will provide live primetime coverage of the event. The first night of coverage will span the first 37 picks, encompassing the first round and Competitive Balance Round A.
Coverage continues Thursday, June 11, on MLB Network and ESPN2 at 5 p.m. ET, and it will pick up with the start of the second round (pick No. 38) and run through the end of the fifth and final round. There will be a total of 160 picks in the 2020 Draft. The Draft usually runs 40 rounds but was shortened this year in response to the coronavirus pandemic.
Go to MLB.com/Draft to see the Top 200 Prospects list, mock drafts, the complete order of selection and more. And follow @MLBDraft on Twitter to see what Draft hopefuls, clubs and experts are saying.
Austin Martin, 3B/OF, Vanderbilt (No. 2 on the Top 200)
Martin is viewed as the best pure hitter in the 2020 class with good reason. In three years with the Commodores, he compiled a .376/.479/.521 slash line with 175 hits in 118 games. He led all NCAA Division I hitters in runs (87) and paced the Southeastern Conference in both batting (.392) and OBP (.486) as a sophomore in 2019, batting .410/.503/.619 overall. He was off to a similarly torrid start in 2020 (.377/.507/.660 in 16 games) before the college season was cancelled. And while Martin's future defensive home is still up for debate, scouts agree that he has the requisite athleticism and tools needed to play just about anywhere on the diamond.
Spencer Torkelson, 1B, Arizona State (No. 1)
The top-ranked player in the 2020 Draft class and one of the most accomplished college hitters in recent memory, Torkelson possesses a unique combination of hitting ability, power and patience that separates him from the field and could enable him to jump on the fast track to the Major Leagues. While the 6-foot-1, 220-pound first baseman showed plenty of power with the Sun Devils, hitting 48 homers in 112 games, it's his pure hitting ability and sound approach that leads scouts to believe the power will translate in the pro ranks. He batted .340/.598/.780 during his abbreviated junior campaign to finish his ASU career with a .337/.443/.723 line.
Nick Gonzales, SS/2B, New Mexico State (No. 5)
The Vail, Ariz., product possesses as much natural hitting ability as any player in his class. After walking on at New Mexico State, Gonzales slashed .347/.425/.596 as a true freshman and then batted .432/.532/.773 with 16 homers as a sophomore to claim the NCAA batting title. He built upon that success in the prestigious Cape Cod League, where he garnered MVP honors after batting .351/.451/.630 with seven homers. He was crushing the ball once again at the outset of his junior year, producing a robust .448/.610/1.155 line with 12 homers through his first 16 games. Where he'll play defensively at the next level is a concern for some scouts, though all tend to agree that the 5-foot-10, 190-pound infielder is going to hit.
Robert Hassell, OF, Independence HS (Thompson's Station, Tenn.) (No. 16)
Viewed by scouts as the best prep hitter in his class, Hassell, a two-time Tennessee Gatorade Player of the Year, has raked at every stage of his young career. The 18-year-old Vanderbilt commit batted .423 with 14 homers and 22 steals from the leadoff spot as a junior and encored with a .514/.548/.866 showing for the 18U USA National Team last September at the WBSC 18U World Cup in South Korea. A 6-foot-2, 195-pound outfielder, Hassell combines excellent hand-eye coordination with a gorgeous left-handed stroke to barrel balls with ease, hitting line drives to all fields and flashing plenty of projectable raw power.
Zac Veen, OF, Spruce Creek HS (Port Orange, Fla.) (No. 7)
The top-ranked high school player in the 2020 Draft, Veen, a Florida recruit, has a loose and lofty left-handed swing that has impressed scouts. While his spread-out stance creates some swing-and-miss issues that will need to be cleaned up, it also enables him to use his 6-foot-4 frame to leverage the ball to all fields. As a result, scouts view Veen as someone who will hit for both average and power in power, reminding some of Cody Bellinger and Kyle Tucker.
Garrett Mitchell, OF, UCLA (No. 6)
Mitchell, a 6-foot-3, 204-pound outfielder, has long exhibited a deep collection of loud tools, including well-above-average speed and solid defense in center field, but it's the development of his bat during his Bruins career that has the junior outfielder poised to become a top pick in June. He broke out offensively as a sophomore, slashing .349/.418/.566 with 32 extra-base hits over 62 games, and owned a .355/.425/.484 line through his first 62 at-bats this spring.
Tyler Soderstrom, C, Turlock (Calif.) HS (No. 19)
The son of Steve Soderstrom, who pitched one season in the Majors after he was taken by the Giants with the sixth overall pick in the 1993 Draft, the 2020 Draft prospect played in only five games for the Bulldogs this spring but still garnered honors as California's Gatorade Player of the Year. He posted a .450 average and a 1.340 OPS with four home runs as a junior, and hit .364 for the 18U USA National Team last summer at the WBSC 18U World Cup in South Korea. The UCLA recruit is a polished left-handed hitter, one with an advanced approach and a swing that produces loud contact, though he'll need to refine his defense in order to remain behind the plate.
Pete Crow-Armstrong, OF, Harvard-Westlake School (Los Angeles) (No. 20)
A UCLA recruit with strong track record of hitting well against high-end competition on the big stage, Crow-Armstrong is a veteran of USA Baseball's 12U, 15U and 18U National Teams. He was a two-time member of the latter and batted .364 with four doubles and three triples at the WBSC 18U World Cup in South Korea. The sweet-swinging left-handed-hitting outfielder is more hit over power right now, though his penchant for making hard contact on top of his remaining physical development points to more power in his future.
Austin Wells, C, Arizona (No. 27)
A physically strong player at 6-foot-2 and 220 pounds, Wells has plenty of bat speed and controls the bat head well to make loud contact and generate power to all fields from the left side of the plate. He batted .353/.462/.552 with five home runs and started all 56 games en route to Pac-12 Conference Freshman of the Year honors in his first season with the Wildcats. He improved his stock over the summer in the Cape Cod League, hitting .308/.389/.526 with seven home runs, and he had compiled a .375/.527/.589 line with two homers in 15 games this spring as a redshirt sophomore.
Daniel Cabrera, OF, LSU (No. 38)
Originally selected by the Padres in the 26th round of the 2017 Draft, Cabrera is a well-rounded left-handed hitter who projects for both average and power at the next level. He's been a consistent producer for LSU since he arrived on campus, posting a .300/.382/.520 batting line with 20 homers and 104 RBIs in three SEC seasons, and he also fared well in two Cape Cod League campaigns, batting .270/.348/.373 over 37 games.