9 rookie hitters who made big impressions
The 2020 season came and went in a flash, but plenty of rookies still took the opportunity to leave their mark. Now that some weeks have passed by for us to digest and reflect, let's look back at the freshmen who left the deepest impressions. With the assistance of Statcast's
The 2020 season came and went in a flash, but plenty of rookies still took the opportunity to leave their mark. Now that some weeks have passed by for us to digest and reflect, let's look back at the freshmen who left the deepest impressions.
With the assistance of Statcast's tracking technology, here are nine rookie position players that stood out -- either with the bat or the glove -- by showing skills beyond the "baseball card" statistics that hint at even better things to come.
Kyle Lewis, CF, Mariners
Key stat: 14.0% walk rate
Lewis flashed big power in his September debut last year, but the question entering his full rookie season was if he could give himself enough chances to wallop balls consistently. So while there was still a ton of swing-and-miss in Lewis' game in 2020 (29% strikeout rate), perhaps the most positive development was his willingness to take the free base.
Lewis' 10% increase in walk rate (up from just 4% in '19) marked the second-biggest year-to-year gain by any player, and part of that stemmed from his improved ability to lay off pitches (8% drop in chase rate) that amounted in total to a 71-point boost in his on-base percentage. Lewis' slugging came back to Earth a bit after his scintillating '19 cup of coffee, but his enhanced discipline negated those losses to make him the American League's worthy Rookie of the Year.
Luis Robert, CF, White Sox
Key stat: +7 Outs Above Average
Robert's 115.8 mph exit velocity on his first big league hit grabbed our attention on Opening Day, but it was actually the glovework of "La Pantera" that made the most lasting impression from Year 1. Robert seemed to glide across outfields with a 29.1 feet per second average sprint speed (one of the 25 fastest averages in baseball) and reach balls that most outfielders would have needed to dive for with relative ease. Robert's instincts and range helped him record 7 Outs Above Average (OAA, Statcast's showcase defensive metric) and tie for 2020's best rated outfielder alongside two stalwarts in Cody Bellinger and Jackie Bradley Jr.
Robert's September swoon showed that his bat needs time to stabilize, but he's already proven to be elite on the other side.
Jake Cronenworth, 2B, Padres
Key stat: .324 expected BA
Cronenworth shot to the top of Statcast's hitting metric leaderboards in August and really never left. The former pitcher struck the ball with authority (42.7% hard-hit rate) and he launched it in the air (37.8% sweet-spot rate, or percentage of balls hit in the most productive launch-angle ranges between eight and 32 degrees). On top of all that, Cronenworth finished within the top 10% of hitters in whiff-per-swing rate.
All of that means that when Cronenworth's bat left his shoulder, he made the most of it: only eight qualified hitters had a higher rate of hard contact per swing (Cronenworth was sandwiched between Mookie Betts and Eloy Jiménez), and that efficiency meant he should have finished with an even better slash line than he did. Based on that quality of contact and his low strikeout total, Cronenworth's expected batting average (xBA) rested at .324, sixth best in the Majors and one spot above MLB batting champion DJ LeMahieu.
Randy Arozarena, OF, Rays
Key stat: 1.062 SLG vs. fastballs (regular season+postseason combined)
Crushing fastballs isn't the only ingredient needed for big-league success, but even the most prepared pitchers need to pump in a heater every now and then -- and Arozarena was ready for it, seemingly every single time. The star of the 2020 postseason seemingly came from out of nowhere, but perhaps we should have been more prepared after Arozarena homered seven times in just 76 regular-season plate appearances and slugged .895 against four-seamers, sinkers and cutters.
Obviously those rates only went up in the postseason, when Arozarena's freakishly quick hands seemed built for the parade of hard-throwing relievers that hitters see in October. Arozarena finished 2020 with an incredible 1.280 combined slugging percentage against pitches 95 mph or faster in the regular season and postseason -- more than 200 points clear of second-place Pete Alonso.
6+ weeks after the World Series, it's still incredible to look back at Randy Arozarena's 🗲 quick hands.

Arozarena slugged *1.280* against pitches 95+ or faster in 2020 (see those hits below). 2nd place was Pete Alonso -- way back at "only" 1.059. pic.twitter.com/qSD8xD6vR0

— Matt Kelly (@mattkellyMLB) December 19, 2020
Alec Bohm, 3B, Phillies
Key stat: +14 swing/take runs
Bohm's batting eye was probably even more encouraging -- and sustainable -- than his average (.338 average, best among full-time third basemen) or his "clutch gene" (.452 average with runners in scoring position, third-best by any rookie in the Expansion Era, per the Elias Sports Bureau). Statcast's swing/take run value leaderboard, developed by MLB.com senior data architect Tom Tango, breaks down hitters' decision making and damage done in four different areas of the strike zone: its heart, the "shadow" around the edges, the chase area outside the boundaries and waste pitches that should never be swung at. Bohm was average or better in all four areas, and his +14 overall run total tied him for 20th-best in MLB with LeMahieu on a leaderboard topped by this year's MVP finalist roll call: Freddie Freeman, Marcell Ozuna, José Ramírez, Juan Soto and José Abreu.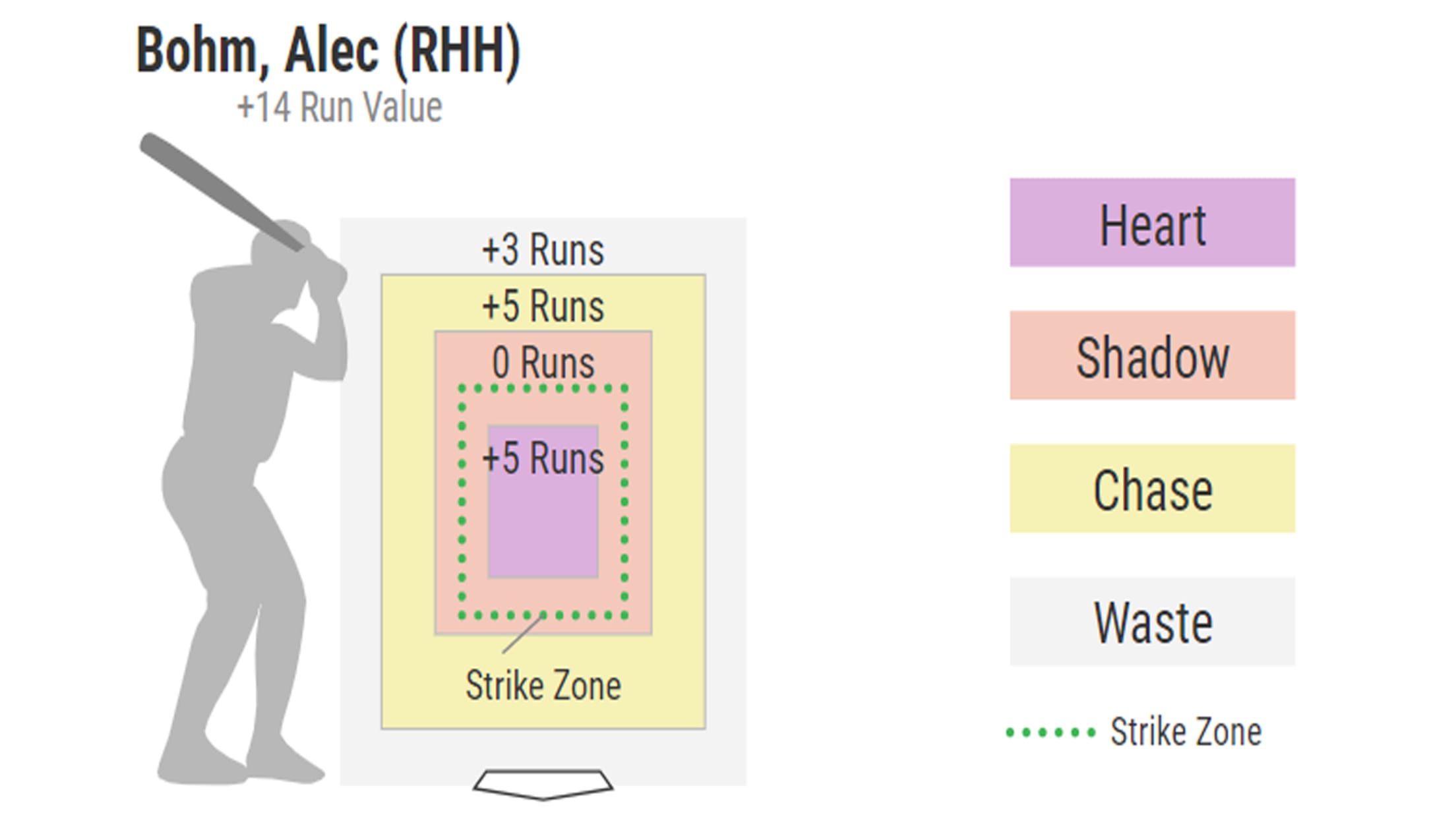 Ke'Bryan Hayes, 3B, Pirates
Key stat: 55.4% hard-hit rate + 18.1% whiff-per-swing rate
Hayes didn't break into the Majors until Sept. 1, and if you overlooked his first 95 plate appearances for the last-place Pirates, MLB.com's Sarah Langs has you covered here. Hayes' sky-high hard-hit rate likely would have stabilized downward with time, but it was his ability to swing that hard without missing all that much that looked special. As Langs notes, Hayes' combination of that hard-hit rate and his microscopic whiff rate would have placed him among the Freddie Freemans and Mike Trouts of the world, if he had kept it up across a full season.
Sean Murphy, C, Athletics
Key stat: 97.1 mph average exit velocity on FB/LD
There were a few metrics we could have highlighted for Murphy (including his elite 17% walk rate), but what stands out the most is the way the ball jumps off his bat. Murphy's average exit velocity on fly balls and line drives tied Abreu and Christian Yelich for the 13th highest among 275 hitters with 75 or more batted balls this year, and his overall hard-hit rate and average exit velocity metrics also fell within the top 10% of hitters. Paired with that on-base ability, Murphy appears to be quickly morphing into one of the sport's best offensive catchers.
Edwin Ríos, 3B/1B, Dodgers
Key stat: 39% hard-hit fly ball+line drive rate
Striking the ball hard (or with a 95-plus mph exit velocity, by Statcast terms) and in the air is every hitter's goal, and while Ríos is still battling for playing time on the Dodgers' loaded roster, he's shown a knack for doing just that. The Puerto Rican slugger notched a hard-hit air ball on nearly four out of every 10 balls he put in play this year, a rate that put him in really impressive company.
Highest hard-hit fly ball+line drive rates, 2020
Min. 50 total batted balls (351 hitters)
1) Ronald Acuña Jr. (ATL): 44.0%
2) Matt Chapman (OAK): 41.6%
3) Fernando Tatis Jr. (SD): 40.2%
4) Corey Seager (LAD): 40.1%
5) Miguel Sanó (MIN): 39.6%
6) Mike Trout (LAA): 39.5%
7-T) Ríos (LAD): 39.0%
7-T) Freddie Freeman (ATL): 39.0%
9) Will Smith (LAD): 38.7%
10) Brandon Belt (SF): 38.1%
That's why Ríos slugged .645 and homered about once every 10 at-bats in 2020, and he was just as efficient at this in his first cup of coffee last year (42.3% hard-hit FB+LD rate), too. Of course, the Dodgers might be the team that least needs an extra slugger like that on their roster (it's good to be the Dodgers).
Bobby Dalbec, 1B, Red Sox
Key stat: 22.0% barrel rate
Dalbec is far from a finished product (as his 42% strikeout rate and .199 xBA showed), but one thing he can clearly do is square up the ball. Barrels are Statcast's metric to measure elite power, recording balls with ideal exit velocities and ideal launch angles (hard-hit and in the air) that are most likely to go for extra bases. Dalbec clubbed one of those barrels on nine of the 41 total balls he put in play this year, a rate that would have challenged Miguel Sanó at the top of the leaderboard across a larger sample. The all-or-nothing profile fit MLB's No. 100's prospect's scouting report to a 'T', but if Dalbec can meet bat with ball just a little more, his power will clearly play in the bigs.