Tale of the fantasy tape: Rangers vs. Astros
Which American League West rival has superior assets?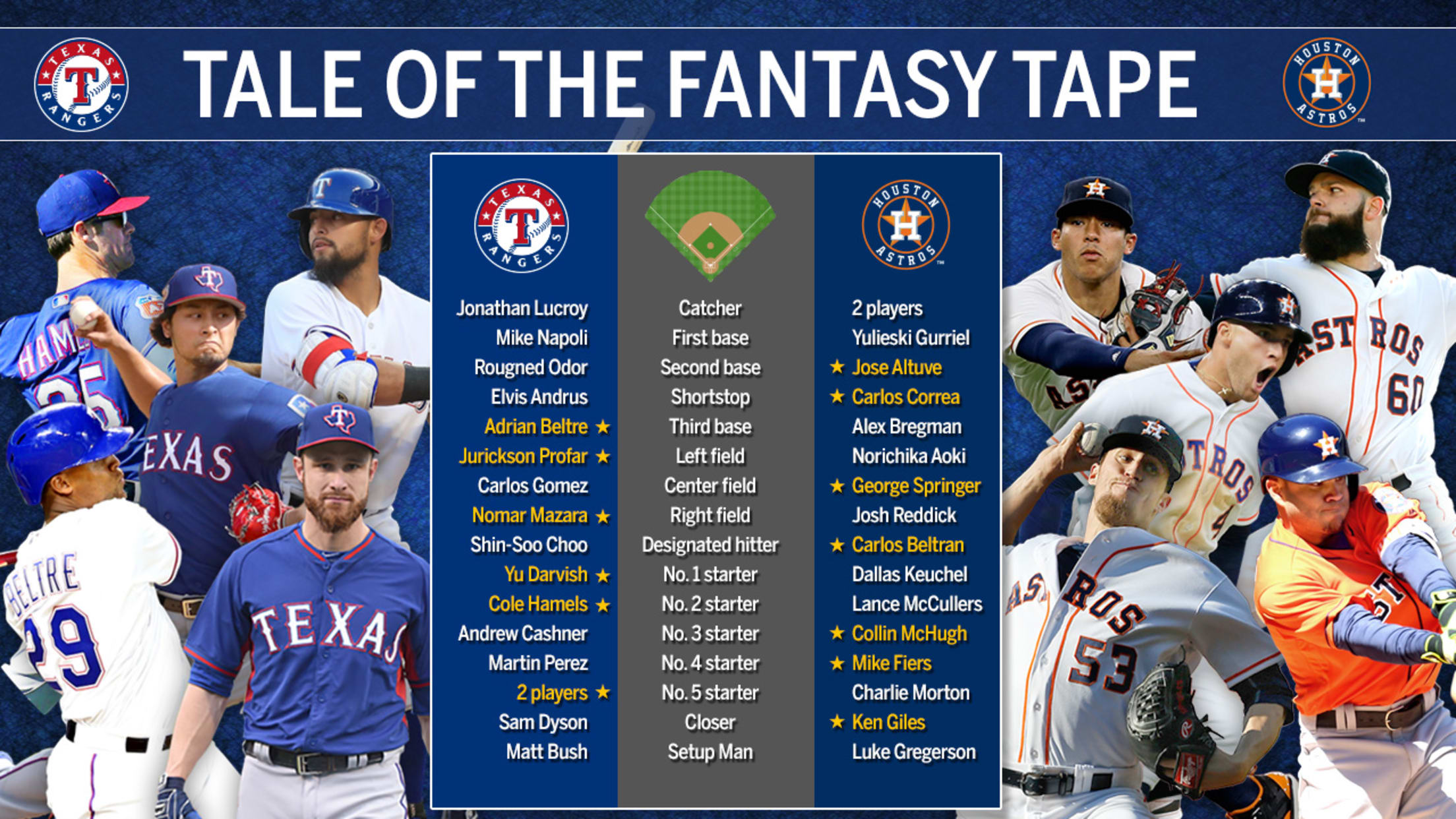 The Rangers and the Astros could be set to wage a Texas-sized battle for American League West supremacy in 2017.Though the Rangers have won the past two division crowns, the Astros are arguably the fastest-rising organization in baseball. Before these rivals settle their competition on the field, we can get
The Rangers and the Astros could be set to wage a Texas-sized battle for American League West supremacy in 2017.
Though the Rangers have won the past two division crowns, the Astros are arguably the fastest-rising organization in baseball. Before these rivals settle their competition on the field, we can get a head start on assessing them by comparing the fantasy value of their key players for the upcoming campaign.
• 2017 Fantasy Player Preview: Rangers | Astros | Full rankings
Catcher: Capable of producing a high batting average and more than 20 home runs, Jonathan Lucroy is a top 3 catcher for '17 drafts. But this position is nonetheless a draw, as Houston is the only team in baseball to boast two backstops -- Brian McCann and Evan Gattis -- who deserve starting spots in one-catcher formats.
Winner: Push
First base: At first glance, Mike Napoli (34 homers, 101 RBIs in '16) holds a sizable advantage over Yulieski Gurriel. But after adjusting to life in the United States last year, Gurriel could be ready to show fantasy owners the skills that led to a .335/.417/.580 slash line -- including a .500/.589/.874 showing over 49 games in the Cuban National Series in '15 -- during his 15-year international career.
Winner: Push
Second base: Although he is among the top 5 fantasy assets at his position after hitting 33 homers as a 22-year-old in '16, Rougned Odor cannot match the fantasy value of Jose Altuve. A five-category stud, Altuve should be tabbed before the midpoint of the first round in all drafts.
Winner: Astros
Shortstop: Still just 22 years old, Carlos Correa has already solidified his status as a perennial early-round option. The emerging superstar should be a five-category asset whose value greatly exceeds that of speedster Elvis Andrus (.302 average, 24 steals in '16).
Winner: Astros
Third base: One of the top young talents in baseball, Alex Bregman could make a major mixed-league impact by swatting more than 25 homers in his first full season. But Bregman will need to turn his vast potential into production before his name is called ahead of veteran superstar Adrian Beltre (.300 average, 32 homers, 104 RBIs in '16) in fantasy drafts.
Winner: Rangers
Left field: Once the consensus top prospect in baseball, 24-year-old Jurickson Profar could impact mixed leagues by winning a wide-open Spring Training competition for the Rangers' left field job. Profar is a more desirable '17 draft option than light-hitting veteran Norichika Aoki (four homers, seven steals in '16).
Winner: Rangers
Center field: Fantasy owners will face a tough decision with Carlos Gomez, who reversed a lengthy downward trend by posting a .905 OPS across 33 games with the Rangers. Due to his extreme volatility, Gomez ranks well behind George Springer on '17 draft lists. With the potential to produce roughly 30 home runs, 80 RBIs, 100 runs scored and 15 steals, Springer should be selected in the initial rounds of all drafts.
Winner: Astros
Right field: Although he struggled down the stretch, Nomar Mazara showed terrific long-term potential by hitting 20 home runs in his rookie season. Mazara should be a more productive asset in '17 than Josh Reddick, who struggled to hit for power and was unable to quell his longstanding struggles vs. lefties (.366 OPS vs. LHP in '16) last season.
Winner: Rangers
Designated hitter: Coming off a resurgent '16 season (.295 average, 29 homers), Carlos Beltran warrants a mid-round pick in '17 drafts. The Astros grab the edge here, as likely Rangers DH Shin-Soo Choo made four disabled-list stints and played just 48 games in '16.
Winner: Astros
No. 1 starter:Dallas Keuchel owns a Cy Young Award from '15, but his fantasy stock is down after he struggled during a '16 season (4.55 ERA) plagued by a persistent shoulder ailment. While Keuchel is a reasonable bounceback candidate, owners should prefer the services of Yu Darvish heading into '17. With a lifetime 3.29 ERA, 1.18 WHIP and 11.3 K/9 rate, the Rangers righty is on the fringes of the top 10 among fantasy starters.
Winner: Rangers
No. 2 starter: Although Lance McCullers has the swing-and-miss stuff (lifetime 10.2 K/9 rate) to make a major fantasy impact, he is best used at the back end of mixed-league rotations until he proves he can stay off the disabled list and consistently throw strikes (career 3.8 BB/9 rate). McCullers is not ready to match the reliable excellence of Cole Hamels, who has posted a 3.25 ERA, a 1.16 WHIP and an 8.5 K/9 rate during a span of nine straight years with at least 30 starts.
Winner: Rangers
No. 3 starter: Although he battled inconsistency in '16, Collin McHugh has logged a respectable 3.71 ERA and 1.25 WHIP across 90 career starts with the Astros. Meanwhile, Andrew Cashner has posted a 4.72 ERA and a 1.48 WHIP since the outset of '15. No longer able to benefit from a pitcher-friendly home park, Cashner may struggle to rebound in '17.
Winner: Astros
No. 4 starter: After having some excellent stretches with the Brewers, Mike Fiers struggled to produce helpful ratios (4.48 ERA, 1.36 WHIP) as his K/9 rate cratered (7.2 in '16, 9.1 from '11-15) during his first full season in the AL. Still, Fiers is the preferred option when matched up against Martin Perez. Lacking impressive strikeout skills (lifetime 5.4 K/9 rate) and sharp control (career 3.1 BB/9 rate), the southpaw cannot be expected to help mixed-league teams in '17.
Winner: Astros
No. 5 starter: At the outset of the season, both clubs will likely fill their final rotation spot with low-upside veterans (Charlie Morton, A.J. Griffin) who should stay on waivers in mixed leagues. But the Rangers get the edge at this spot based on the looming return of Tyson Ross, who missed most of '16 with a shoulder injury before undergoing surgery to alleviate thoracic outlet syndrome last October. With an impressive 3.07 ERA and 9.2 K/9 rate from '13-15, the right-hander should be stashed in most leagues.
Winner: Rangers
Closer:Sam Dyson should be regarded as a borderline second-tier fantasy closer after producing a 2.43 ERA with 38 saves last season. But wise owners will note Dyson's underwhelming 7.0 K/9 rate last year and give the advantage to Ken Giles, who has the swing-and-miss skills (14 K/9 rate in '16) to rank among the top-tier options at his position.
Winner: Astros
Setup Men: Both clubs should be among the best in the AL during the seventh and eighth innings. Matt Bush and Jeremy Jeffress of the Rangers and Luke Gregerson and Will Harris of the Astros all deserve consideration as late-round AL-only selections.
Winner: Push
Final verdict: With a 7-6 victory (including three ties) in this tightly contested fantasy faceoff, the Astros seemingly have a chance to prevent a Rangers three-peat as division champions in '17.
Fred Zinkie is the lead fantasy baseball writer for MLB.com. Follow him on Twitter at @FredZinkieMLB.