16 of the biggest free-agent splashes
Teams that landed more than one star in the same offseason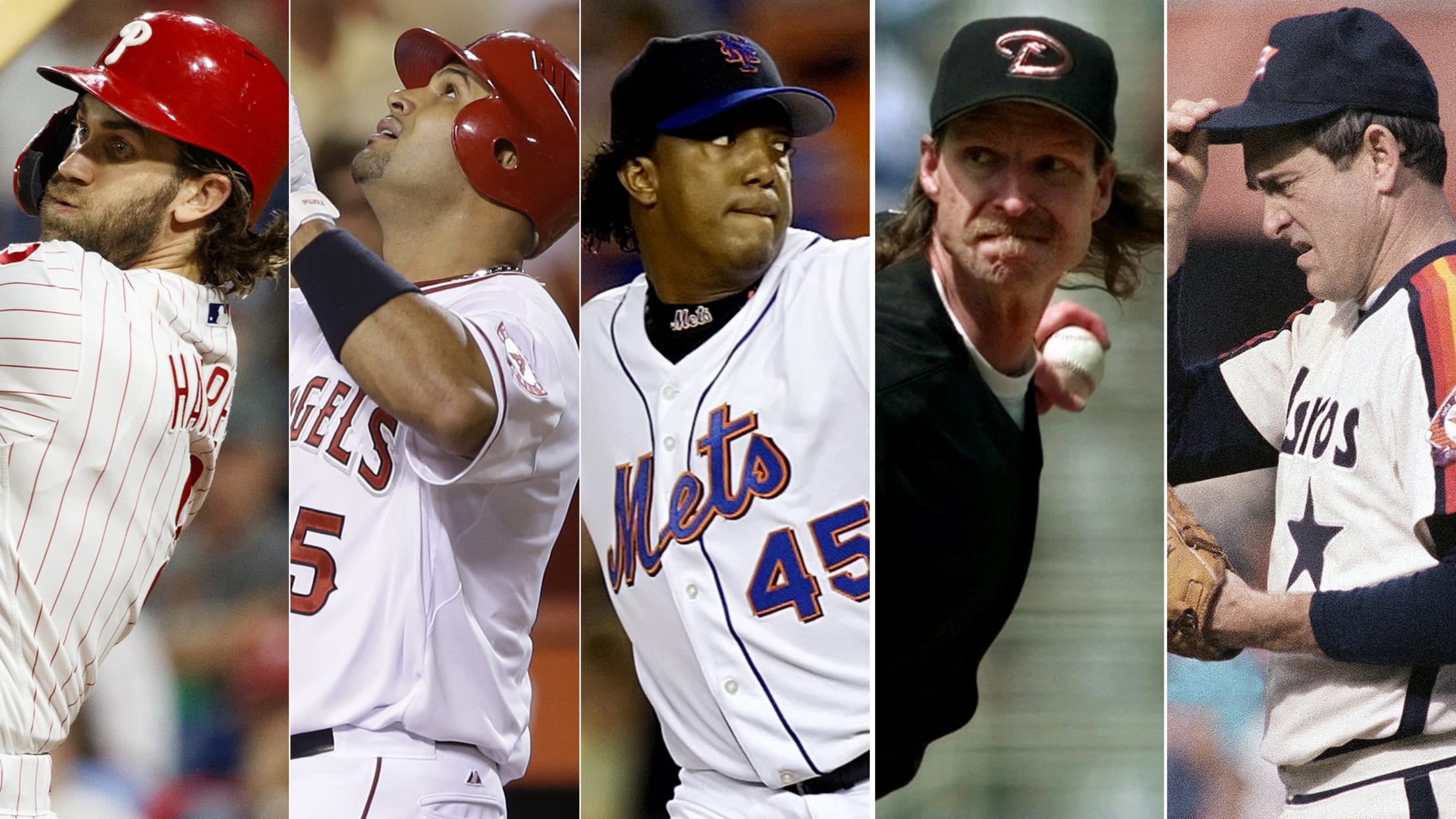 Someone is going to make a big splash in free agency this offseason. But who ... and how big? Last winter it was the White Sox, who inked former Cy Young Award winner Dallas Keuchel, All-Star catcher Yasmani Grandal and veteran slugger Edwin Encarnación to add to a group of
Someone is going to make a big splash in free agency this offseason. But who ... and how big?
Last winter it was the White Sox, who inked former Cy Young Award winner Dallas Keuchel, All-Star catcher Yasmani Grandal and veteran slugger Edwin Encarnación to add to a group of very talented young players coming up through the farm system. With a new crop of free agents available for 2021, maybe another team steps up and adds more than one star to its roster.
Here's a look back at teams that have done it before -- signed multiple marquee free agents in the same offseason -- starting with the most recent. These are 16 of MLB's biggest free-agent splashes.
2019-20 White Sox: Dallas Keuchel, Yasmani Grandal and Edwin Encarnación
Keuchel: 3 years, $55.5 million
Grandal: 4 years, $73 million
Encarnación: 1 year, $12 million
The White Sox knew last offseason that they were an up-and-coming club with a plethora of young stars on the horizon. So they went big on the free-agent market, hoping to complement their young players with established stars. Keuchel was coming off a solid 2019 campaign for the Braves, in which he debuted midseason after not finding a contract offer to his liking the prior offseason. The former AL Cy Young Award winner had a tremendous debut season for the White Sox -- he posted a 1.99 ERA over 11 starts and allowed the fewest home runs per nine innings (0.3) in baseball, exactly what Chicago had in mind when signing him.
Grandal bet on himself and signed a one-year deal with the Brewers for the 2019 season after turning down a four-year offer from the Mets. It paid off, with the catcher posting an .848 OPS with a career-high 28 home runs for Milwaukee. The White Sox swooped in and signed Grandal to a $73 million contract over four years, a substantially larger deal than he turned down with New York the prior offseason. He missed some time due to injury in 2020, hitting .230/.351/.422 with eight homers.
Encarnación entered the 2020 season with the most home runs of any player since 2012, with 297, making him a great veteran fit for Chicago at Guaranteed Rate Field. Well, in theory, anyway -- he struggled to a .157/.250/.377 line with 10 homers in 44 games in 2020.
2018-19 Philies: Bryce Harper, Andrew McCutchen, David Robertson
Harper: 13 years, $330 million
McCutchen: 3 years, $50 million
Robertson: 2 years, $23 million
Harper's arrival in Philadelphia was probably one of the most hyped debuts ever. His first year with the Phillies had its ups and downs, and didn't produce a postseason appearance. But in the end, Harper did put up star-level numbers -- 35 home runs, 114 RBIs, 15 stolen bases, an .882 OPS. But the Phillies faithful are hoping for even more from their franchise cornerstone: MVP-level numbers and deep playoff runs.
Maybe things would have been different in 2019 if McCutchen and Robertson didn't get hurt. The former NL MVP McCutchen only played 59 games before tearing his left ACL, posting an .834 OPS and hitting 10 homers in those 59 games. Robertson was shut down and needed Tommy John surgery after pitching just seven games, the first time in a decade that the reliever didn't reach 60 appearances.
2014-15 Red Sox: Hanley Ramirez, Pablo Sandoval
Sandoval: 5 years, $95 million
Ramirez: 4 years, $88 million
Sandoval was an expensive mistake for the Red Sox. He was a big part of the Giants' World Series runs in 2012 and '14 and was coming off a stellar Fall Classic, but everything went downhill fast in Boston. Sandoval struggled in 2015, missed nearly all of '16 due to left shoulder surgery, struggled again in '17 and was finally released. The Red Sox still owed him nearly $50 million at the time. Sandoval ended up returning to the Giants and actually had an unexpected resurgence in 2019.
Ramirez gave the Red Sox one strong season in 2016, when he hit .286 with 30 home runs and 111 RBIs. He was also excellent in the postseason the next year, hitting .571 with a 1.314 OPS in the 2017 ALDS against the Astros. But after his struggles at the plate early in 2018, he, too, was designated for assignment and then released. The Indians picked Hanley up for the start of 2019, and he hit a couple of homers, but that stint lasted only 16 games and he hasn't found a new MLB home since.
2013-14 Yankees: Jacoby Ellsbury, Brian McCann, Masahiro Tanaka
Tanaka: 7 years, $155 million
Ellsbury: 7 years, $153 million
McCann: 5 years, $85 million
The Yankees entered the 2013-14 offseason having just missed the playoffs for only the second time in the Wild Card era. The rival Red Sox had just won the World Series. So the Bronx Bombers went out and made three huge free-agent signings. They poached Ellsbury from the Sox, coaxed McCann away from Atlanta and came away with the prize of the offseason when Tanaka jumped to the big leagues from Japan.
That troika didn't translate to a postseason berth in 2014, but the Yankees made the playoffs in four of the next five years, with Tanaka being especially strong in the postseason. Aside from Tanaka, though, the Yankees' return to contention was much more a product of their new wave of young talent than their big-spending free agency in the winter of 2013. Ellsbury's contract turned out to be an albatross. Plagued by injuries and poor performance, Ellsbury was released by the Yankees with a year and $26 million remaining on his deal.
2011-12 Angels: Albert Pujols, C.J. Wilson
Pujols: 10 years, $240 million
Wilson: 5 years, $77.5 million
With a new GM in Jerry Dipoto entering the 2011-12 offseason, the Halos went all-in and pulled off a stunning pair of signings. In a whirlwind 48 hours at the end of the Winter Meetings, the Angels landed Pujols with one of the largest free-agent contracts in MLB history (only exceeded, at the time, by A-Rod's two deals with the Yankees), then got the left-hander Wilson.
In the nine seasons since, the Angels have made the playoffs only once (in 2014), even with Mike Trout. Pujols has over 1,000 hits and 200 homers since he came to Anaheim, with two 30-homer seasons, a 40-homer season and several big milestones reached, but he's not the same player he was in St. Louis. Pujols' decline in his late 30s, coupled with the size of the salary the Angels will be paying until 2021, has made his contract the source of a lot of criticism.
2011-12 Marlins: José Reyes, Mark Buehrle, Heath Bell
Reyes: 6 years, $106 million
Buehrle: 4 years, $58 million
Bell: 3 years, $27 million
The other surprise big spenders in the 2011-12 offseason? The Marlins, who snapped up Reyes, Buehrle and Bell in an attempt to build a contender in the NL East. They made sure they got their guys -- a shortstop/leadoff man, a rotation anchor and a closer -- committing nearly $200 million to the three players.
Things didn't go according to plan. The Marlins won just 69 games to finish last in the East for a second straight season, with a worse record than the previous year. And then they broke it all up. Just a year after their signings -- and despite assurances to Reyes and Buehrle that they wouldn't be traded -- the Marlins traded both to the Blue Jays in a 12-player blockbuster.
2008-09 Yankees: CC Sabathia, Mark Teixeira, A.J. Burnett
Teixeira: 8 years, $180 million
Sabathia: 7 years, $161 million
Burnett: 5 years, $82.5 million
Unlike the Yankees' trio of free-agent signings in 2013, the three signings they made following the 2008 season paid off immediately. Teixeira, Sabathia and Burnett didn't come cheap, but that $400 million-plus produced a World Series title in 2009 -- the Yankees' 27th championship, and first since 2000. And Sabathia went on to pitch over a decade in pinstripes, retiring after the 2019 season as a potential Hall of Famer and one of the more beloved Yankees in recent history.
CC was a workhorse in that first World Series-winning season in New York, going 19-8 with a 3.37 ERA over 230 innings. He made five straight quality starts in the postseason, with a 1.98 ERA overall, and was the ALCS MVP. Teixeira hit .292 with an AL-leading 39 homers and 122 RBIs to finish as runner-up for AL MVP, and he hit a couple of big home runs in the playoffs. Burnett wasn't on the superstar level, but he was solid in the rotation and pitched well in some playoff games, including winning Game 2 of the World Series against the Phillies.
2004-05 Mets: Carlos Beltrán, Pedro Martínez
Beltrán: 7 years, $119 million
Martínez: 4 years, $53 million
The Mets' rise to contention started here. Following a 2004 season that saw David Wright and José Reyes together in the lineup for the first time, the Mets went out and got a key pair of veterans to complement their young core.
In 2005, New York's turnaround began, as they improved from 71-91 to 83-79. A year later, they were a powerhouse. Beltrán helped lead the 2006 Mets to the NL's best record, hitting 41 home runs, winning a Gold Glove Award in center field and finishing fourth in the NL MVP voting. The Mets won the NL East and were a game away from the World Series before falling to the Cardinals in Game 7 of the NLCS.
2003-04 Angels: Bartolo Colón, Vladimir Guerrero
Guerrero: 5 years, $70 million
Colón: 4 years, $51 million
Guerrero is probably the best free-agent signing in Angels history. After eight seasons in Montreal, the 29-year-old slugger came to Southern California and the AL and proceeded to win MVP in his first season with the Angels. Guerrero hit 39 home runs and drove in 126 runs. In his first five seasons in Anaheim, he averaged 32 homers and 113 RBIs, and he was a four-time All-Star. He even entered the Hall of Fame as an Angel.
The Colón signing paid off, too. He won 18 games in 2004 and then followed it up with a brilliant 2005 -- he went 21-8 with a 3.48 ERA over 222 2/3 innings and won the AL Cy Young Award. The Angels made the playoffs in both of those seasons. Right shoulder issues limited Colón for the rest of his Angels tenure, but he made his mark.
2000-01 Rockies: Mike Hampton, Denny Neagle
Hampton: 8 years, $121 million
Neagle: 5 years, $51 million
Hampton and Neagle were disastrous signings. Hampton's behemoth deal was the largest in MLB history at the time. But after an excellent run with the Mets, the left-hander lasted just two seasons in Colorado. He posted a 5.41 ERA in 2001 (despite making the All-Star team after a solid first half) and a 6.15 ERA in '02 before the Rockies unloaded him to the Marlins in a trade.
Neagle wasn't as expensive, but his contract worked out just as poorly. From 2001-03, he had ERAs of 5.38, 5.26 and 7.90, respectively. He missed all of 2004 due to elbow surgery. And after legal trouble, the Rockies terminated the remainder of his contract. He didn't pitch in the Majors again.
1998-99 D-backs: Randy Johnson, Steve Finley
Johnson: 4 years, $53 million
Finley: 4 years, $21.5 million
Johnson might be the best free-agent signing in MLB history. The D-backs signed the Big Unit to a four-year deal -- and he won the NL Cy Young Award in all of those four seasons. Over the four years covered by that initial deal, Johnson went 81-27 with a 2.48 ERA and 1,417 strikeouts in 1,030 innings. Oh, and he led the D-backs to the 2001 World Series title in one of the most thrilling Fall Classics ever played. Johnson shared World Series MVP honors with co-ace Curt Schilling after beating the Yankees in Game 2 and Game 6 as a starter and picking up the win in relief in Game 7 on zero days' rest.
Finley was also a quality signing. The rangy center fielder won Gold Glove Awards in both of his first two seasons in Arizona and earned an All-Star nod in 2000. He also performed well offensively, with an .851 OPS in his six seasons with the D-backs, including two 20-homer seasons and two 30-homer seasons.
1996-97 Marlins: Moises Alou, Bobby Bonilla, Alex Fernandez
Fernandez: 5 years, $35 million
Alou: 5 years, $25 million
Bonilla: 4 years, $23.3 million
The Marlins shocked the baseball world when they won the 1997 World Series in just their fifth year of existence, after four straight losing seasons. A slate of key free-agent signings helped them do it. Fernandez went 17-12 with a 3.59 ERA over 220 2/3 innings in 1997, before a shoulder injury kept him out of the World Series. Alou hit .292/.373/.493 with 23 home runs and 115 RBIs, and he also hit three homers and had a 1.101 OPS against the Indians in the Fall Classic. And Bonilla hit .297/.378/.468 with 17 homers and 96 RBIs, and hit a big home run in the seventh inning of Game 7 of the World Series. Both Alou and Bonilla were traded in the teardown that followed the Marlins' championship, but they made their one year in Florida count.
1979-80 Astros: Nolan Ryan, Joe Morgan
Ryan: 4 years, $4.5 million
Morgan: Details not available
The pair of future Hall of Famers came to an Astros team that had never made the postseason in 18 seasons of existence. In Ryan and Morgan's first year with the club, they won the NL West before falling to the Phillies in extra innings in a winner-take-all Game 5 of the NLCS.
Morgan, who had played his first nine seasons in Houston before he went to the Reds, only spent one year with the Astros in his return. But he was still an effective player at age 36, with a .367 on-base percentage, 11 home runs and 24 stolen bases. Ryan's contract made him MLB's first million-dollar man, and he was one of the best signings the Astros ever made. Ryan led the Houston rotation for close to a decade, including playoff appearances in 1980, '81 and '86, two All-Star selections, two ERA titles and two strikeout titles.
1976-77 Angels: Bobby Grich, Don Baylor
1976-77 Padres: Gene Tenace, Rollie Fingers
1976-77 Yankees: Reggie Jackson, Don Gullett
The first year of MLB free agency saw a number of stars jump from one team to another, and the Angels, Padres and Yankees all made big splashes by landing more than one.
The Angels got Grich to leave Baltimore and Baylor to leave Oakland, and both players flourished with their new team. Grich was a three-time All-Star in a decade with the Angels, and Baylor was the 1979 AL MVP.
The Padres got a three-time World Series champion backstop in Tenace and a future Hall of Fame closer in Fingers, who both left the A's for San Diego. Tenace was an on-base machine in his four seasons with the Padres, posting an on-base percentage of .403 and leading the Majors with 125 walks in his first year with the team. Fingers excelled in four seasons in the Padres bullpen, leading the Majors in saves back-to-back years in 1977 (35) and '78 (37).
Gullett jumped from the Reds to the Yankees after having just won back-to-back World Series -- the second of which came against the Bronx Bombers. But the real prize was Jackson. Mr. October was born in 1977, when Jackson's World Series heroics against the Dodgers made him an instant postseason legend. He helped lead New York to a second straight title in '78.