Tigers activate Hardy; call up Soto
Detroit's No. 26 prospect optioned to Double-A after serving as 26th man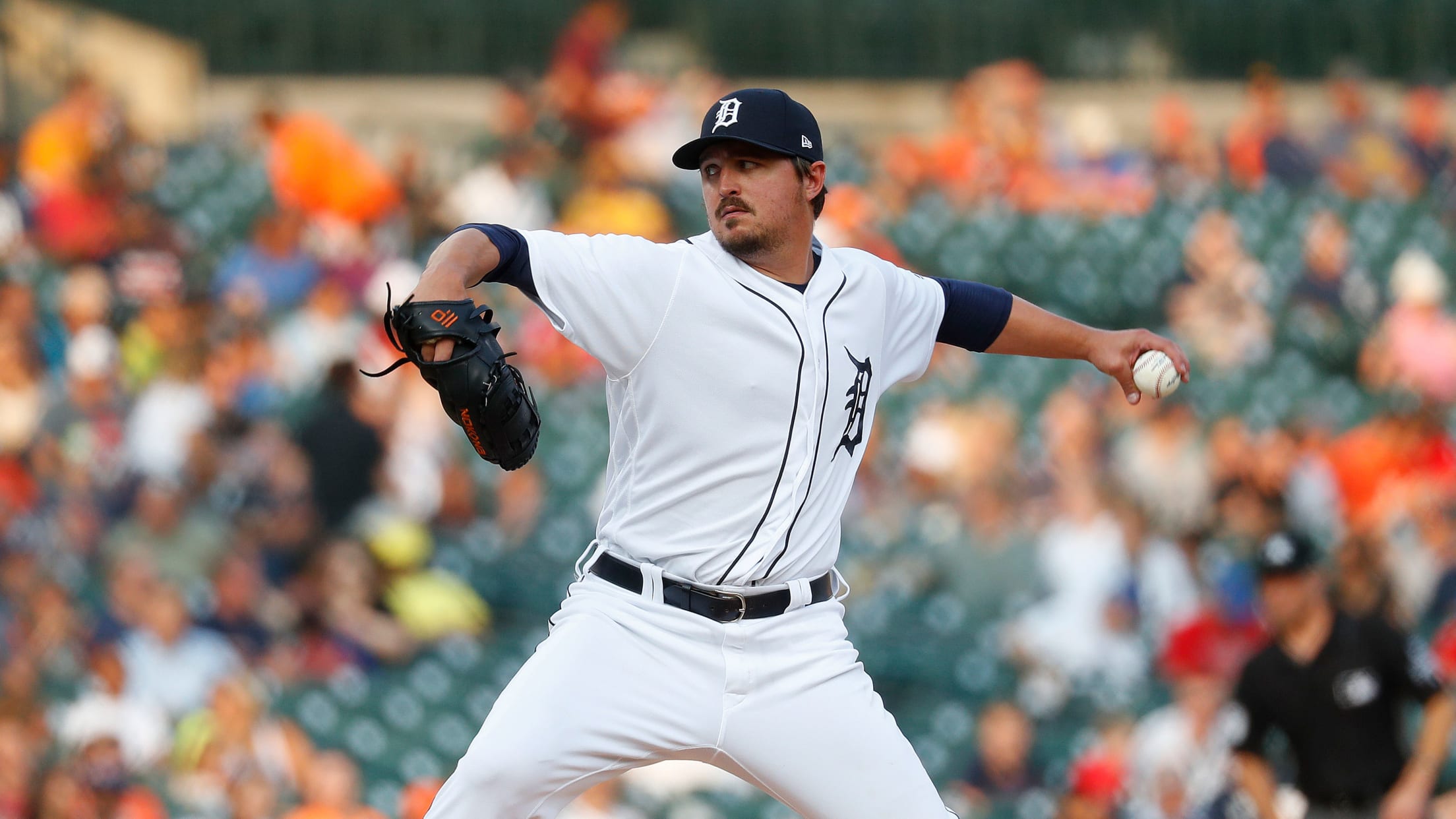 MINNEAPOLIS -- Blaine Hardy has returned to the Detroit Tigers' active roster, but the left-handed reliever is still working his way back from a left forearm strain. Hardy said before Saturday's doubleheader in Minnesota that he has tendinitis in his flexor tendon. He was activated from the injured list and
MINNEAPOLIS -- Blaine Hardy has returned to the Detroit Tigers' active roster, but the left-handed reliever is still working his way back from a left forearm strain.
Hardy said before Saturday's doubleheader in Minnesota that he has tendinitis in his flexor tendon. He was activated from the injured list and came on to get the final out of the sixth inning, and the first two outs of the seventh without allowing a baserunner in the 5-3 win in Game 1. Detroit had optioned Eduardo Jimenez to Triple-A Toledo after Friday's 6-0 loss to the Twins.
"It's still a work in progress," Hardy said. "I still need to build my strength up. But it's to the point where I feel I can pitch and help the team."
The Tigers also recalled left-hander Gregory Soto from Double-A Erie to serve as the team's 26th man for the doubleheader. Soto started the second game and surrendered seven runs and nine hits in four innings in Detroit's 8-3 loss. He was optioned back to Double-A after the game.
After Saturday's appearance, Hardy has a 5.54 ERA in nine games this season. He had been sidelined since April 23.
"It's not out," Hardy said. "I have a feeling it's something I'm going to have to learn to pitch through. It's just at a point now where it's not affecting my pitching."
Hardy said he's trying not to "worry" about the potential need for eventual surgery.
"It's not something you want to think about every time you feel something," he said. "If that's the route this ends up going, then that's where it goes. But I don't think, from what everybody's telling me, that is the route this is going. We are just going to strengthen everything around it and hope that takes the strain off it and it gets better."
Goodrum sore, but available
A day after sustaining a right patellar contusion, Niko Goodrum said he was sore, but batted leadoff for Detroit's nightcap against the Twins. He went 1-for 3 with a walk.
Goodrum was injured when he jumped high for an errant throw from pitcher Tyson Ross. Goodrum collided with runner Marwin Gonzalez at first base, with Goodrum's knee hitting Gonzalez in the head. Both players left the game. Gonzalez sustained a facial contusion.
"That was my first thought was trying to get the ball, and I saw I couldn't get it and I was just trying to get out of his way as I saw him running," Goodrum said. "I thought maybe I could lift my leg to try to let him pass through or try to avoid some contact, and it didn't work out."
Goodrum has played in 33 of Detroit's 35 games entering play Saturday and is tied for the team lead with three home runs. He's hitting .221 with 11 RBIs, good for fourth on the team.
VerHagen clears waivers
Shortly before the start of Saturday's doubleheader, the Tigers announced that right-handed pitcher Drew VerHagen had cleared waivers and was outrighted to Toledo.