Honourary Bat Girl a Hamilton native
MacDonald, a breast cancer survivor, honoured on Mother's Day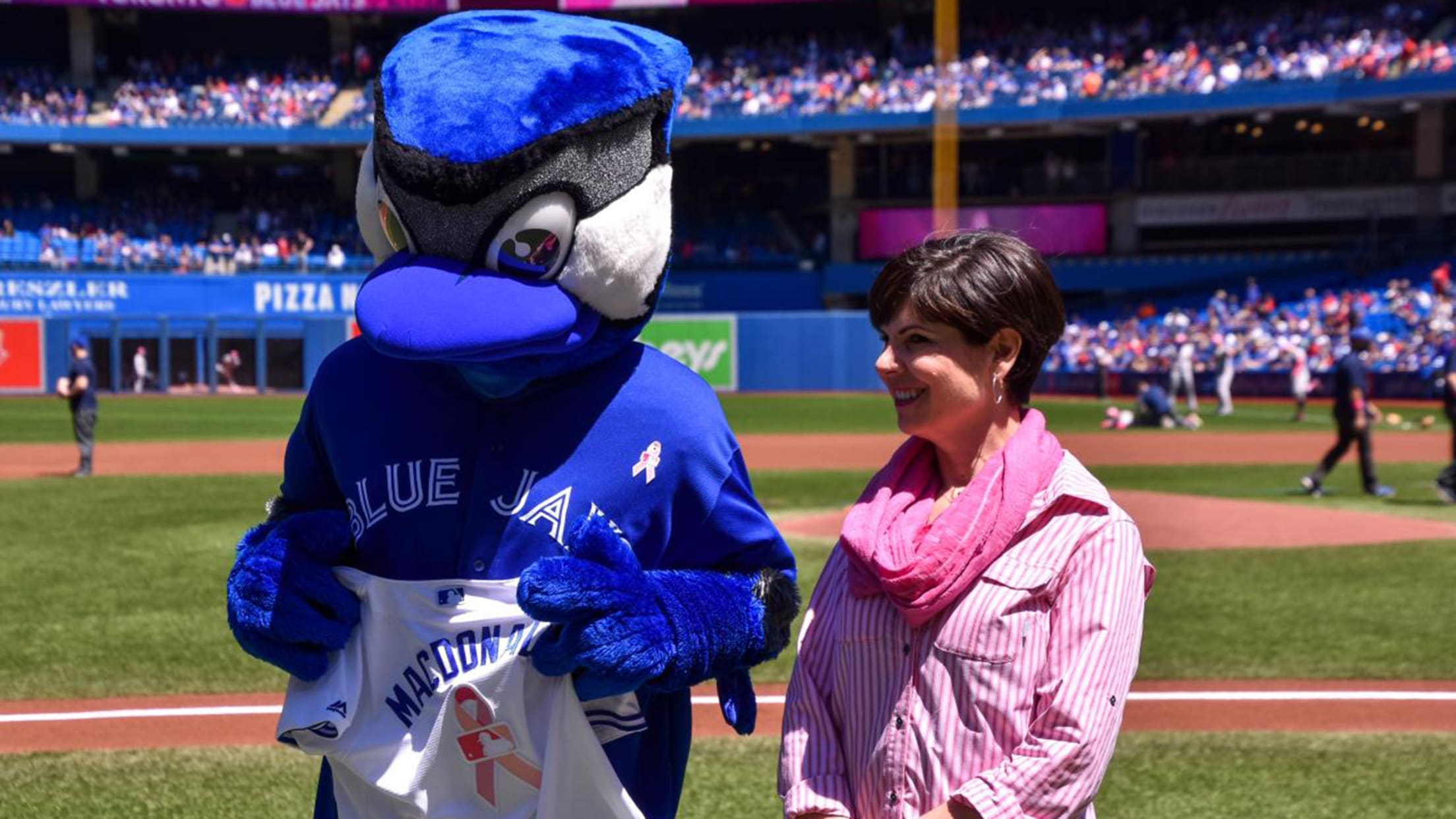 TORONTO -- Kim MacDonald has spent the past two decades living in the public eye, but the award-winning broadcaster for The Weather Network had never bared her soul quite like she has over the past 18 months.MacDonald was diagnosed with breast cancer in December 2016, but instead of shying away
TORONTO -- Kim MacDonald has spent the past two decades living in the public eye, but the award-winning broadcaster for The Weather Network had never bared her soul quite like she has over the past 18 months.
MacDonald was diagnosed with breast cancer in December 2016, but instead of shying away from the spotlight during a life-altering moment, she decided to use her platform to spread awareness and understanding for a cause that affects far too many women.
The native of Hamilton started a blog to document every step of her journey. She participated in a weekly radio segment called "Kim Has Cancer," where no questions were off-limits, and she shaved her head live on Facebook. It wasn't easy -- it was never supposed to be -- but MacDonald's hope was that her experience would help others cope with their own battles.
"First, because I was public, I didn't want to just disappear and not let people know what happened," MacDonald said. "As soon as I made an announcement, I said, 'You know, I have cancer, I'm going to kick its butt and I'll be back as soon as I can. I tweeted that out, and the response back was incredible.
We've got all the bases covered this #MothersDay

From Toronto, it's time to PLAY BALL! ⚾️ pic.twitter.com/mJdbTQGNYJ

— Toronto Blue Jays (@BlueJays) May 13, 2018
"I didn't know I was going public, but I decided to shave my head live on Facebook, and this was early days, within weeks of being diagnosed. When I did that, I saw what kind of response that got, and not only people being positive towards me. ... 'You're going to do well.' It was the people who came to me and said, 'I have to lose my hair' and 'You shaving me your head has given me the courage. I'm going to do it, I'm going to do it tomorrow.'"
MacDonald's treatment involved multiple rounds of chemotherapy, a bilateral mastectomy, 25 rounds of radiation and 18 Herceptin infusions. After surgery, MacDonald was informed she had gone into remission, but this is far from the end of her journey. She is now a spokesperson for the Breast Cancer Society of Canada, and she was honored by the Blue Jays prior to Sunday afternoon's game against the Red Sox at Rogers Centre.
• Shop for Blue Jays Mother's Day gear
Prior to first pitch, MacDonald was on the field posing for a picture with right-hander Aaron Sanchez. It provided a surreal moment for the longtime Blue Jays fan, who shared a personal message that Sanchez had for her: "He walked up to me and said, 'You are a hero and a warrior,' right before he hugged me. I did everything not to burst into tears. Then he hugged me and gave me the flowers. It was lovely, it was amazing."
Sanchez's message brought out MacDonald's emotions, and the same thing could be said for the thousands of people who have been impacted by her story. The emphasis of her work is providing support and understanding for women who are going through similar situations, but it doesn't stop there. One headline on her blog reads: "Your friend has been diagnosed with cancer. Now what? 10 simple tips."
"Everybody knows somebody who has cancer," MacDonald said. "I had a close friend who didn't speak to me for weeks and weeks and weeks. I didn't know what happened to her. She's like 'I just couldn't do it.' Once, she came over and chatted with me and saw what it was like. She was like, 'OK, I knew I just needed to get over this.' It was her thing, not mine.
"I was OK with it. I said, 'Everyone is going to deal with it the way they need to deal with it.' That was interesting to me, but I gave advice, if you have a friend or loved one who has cancer, these are things you can do. Simple things people did for me. That's the only way I learned. You don't know what to say? That's OK. Ask them how they're feeling. That's all you have to do."
• 2018 Honorary Bat Girls
MacDonald was honored as part of Major League Baseball's annual "Going To Bat Against Cancer" initiative, which is traditionally commemorated each Mother's Day. All players in MLB wore newly designed caps highlighted by a pink crown and team-color brim. All uniforms featured a pink ribbon on the left chest, and a matching pair of pink socks was optional for every player.
Several Blue Jays -- including Josh Donaldson, Yangervis Solarte and Anthony Alford -- used pink bats during the series finale against Boston. Louisville Slugger, the Official Bat of MLB, will donate proceeds from the sale of their pink bats -- which will be stamped with the MLB breast cancer awareness logo -- to Susan G. Komen and Stand Up To Cancer.
This was the second Mother's Day game in a row that MacDonald was able to attend. Last year, she made the trip in from Hamilton shortly after undergoing surgery.
"I just wanted to come, it was 10 days after my surgery, and I thought, 'You know what? Let's do this,'" MacDonald said. "I knew it was for breast cancer, and that gave me some extra motivation. I was with my daughters. When I was asked to attend this year, it was just mind-blowing. I couldn't believe it. I'm like, 'What happened in a year? Look at this.' I was overwhelmed by it all last year, because I just had surgery. A year later, I'm the Honorary Bat Girl, and I couldn't be more thrilled."