Sparkman could be Toronto's next Rule 5 success
Blue Jays hoping strong track record continues with right-hander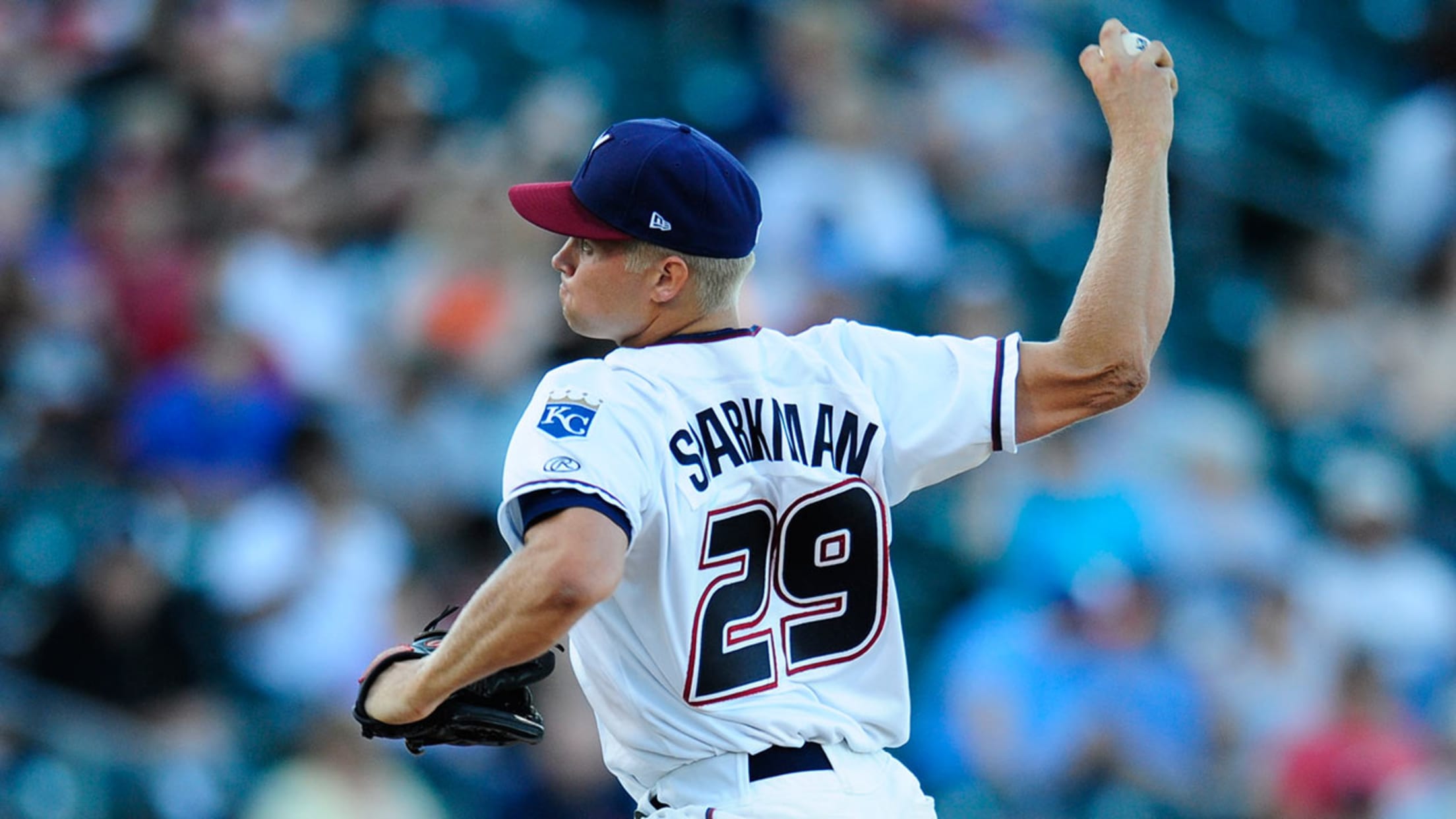 Toronto selected Glen Sparkman from San Francisco's system in the Rule 5 Draft in December. (John Owen)
DUNEDIN, Fla. -- Around the Blue Jays, the lore of the Rule 5 Draft is handed down from generation to generation.How George Bell was plucked from the Phillies in 1980 and went on to become the American League's Most Valuable Player in '87. How Willie Upshaw, taken from the Yankees'
DUNEDIN, Fla. -- Around the Blue Jays, the lore of the Rule 5 Draft is handed down from generation to generation.
How George Bell was plucked from the Phillies in 1980 and went on to become the American League's Most Valuable Player in '87. How Willie Upshaw, taken from the Yankees' organization, became the first Blue Jay to drive in 100 runs and the first baseman for the franchise's first division winner in '85. How Kelly Gruber and Manny Lee formed the left side of the infield for Toronto's first World Series championship in '92.
Right-hander Joe Biagini became the most recent success story last year, posting a 3.06 ERA and striking out 8.2 per nine innings in 60 relief appearances, even though he'd never pitched above Double-A in the Giants' organization.
• Spring Training:Info | Tickets | Schedule
That's why Glenn Sparkman just might be getting just a little more attention than your average Rule 5 pick this spring. The 24-year-old right-hander was selected from the Royals last December even though he, too, had never pitched above Double-A.
Sparkman's career was derailed by Tommy John surgery in 2015. But the Blue Jays are sure to give him a good, long look. After all, they have to keep him on the Major League roster all year or get him through waivers and then offer him back to the Royals if they want to send him down.
Coming off the surgery, Sparkman had a 5.22 ERA at four different Minor League levels in 2016. Before being hurt, though, he appeared to be on a fast track, leading the Class A Carolina League with a 1.56 ERA in '14.
"I think my command is what's going to help me," Sparkman said before Thursday's workout. "If I don't go out there and be consistent and hit my spots, that won't win me the job for sure. There are a lot of good pitchers here battling for those two, three spots that are open."
Biagini has already shared his experiences with the new guy. He has stressed that Sparkman finds himself in a win-win-win situation.
"If you go out and give up home runs or whatever, at least you have your team to go back to. And your status is kind of elevated because they know, hey, another team saw something in this guy," Biagini said. "So even if you end up back with your original team, it's still a good thing for your career.
"Then, you also have an opportunity to perform for all the other teams in the league because you have to pass through waivers before you go back. So there are 28 other teams sitting there watching you saying, 'This guy could be out there dangling.' So that's a good opportunity."
The third possibility, of course, is that he makes the team and spends the rest of the season in the big leagues.
And, yes, Biagini has already told Sparkman about George Bell.
"The Blue Jays have that history," he said. ""That's the guy I heard about. That's who they told me about all last year. And that's what I'm sure he's hearing every day right now."
Paul Hagen is a reporter for MLB.com.