Blue Jays outline Dunedin renovations proposal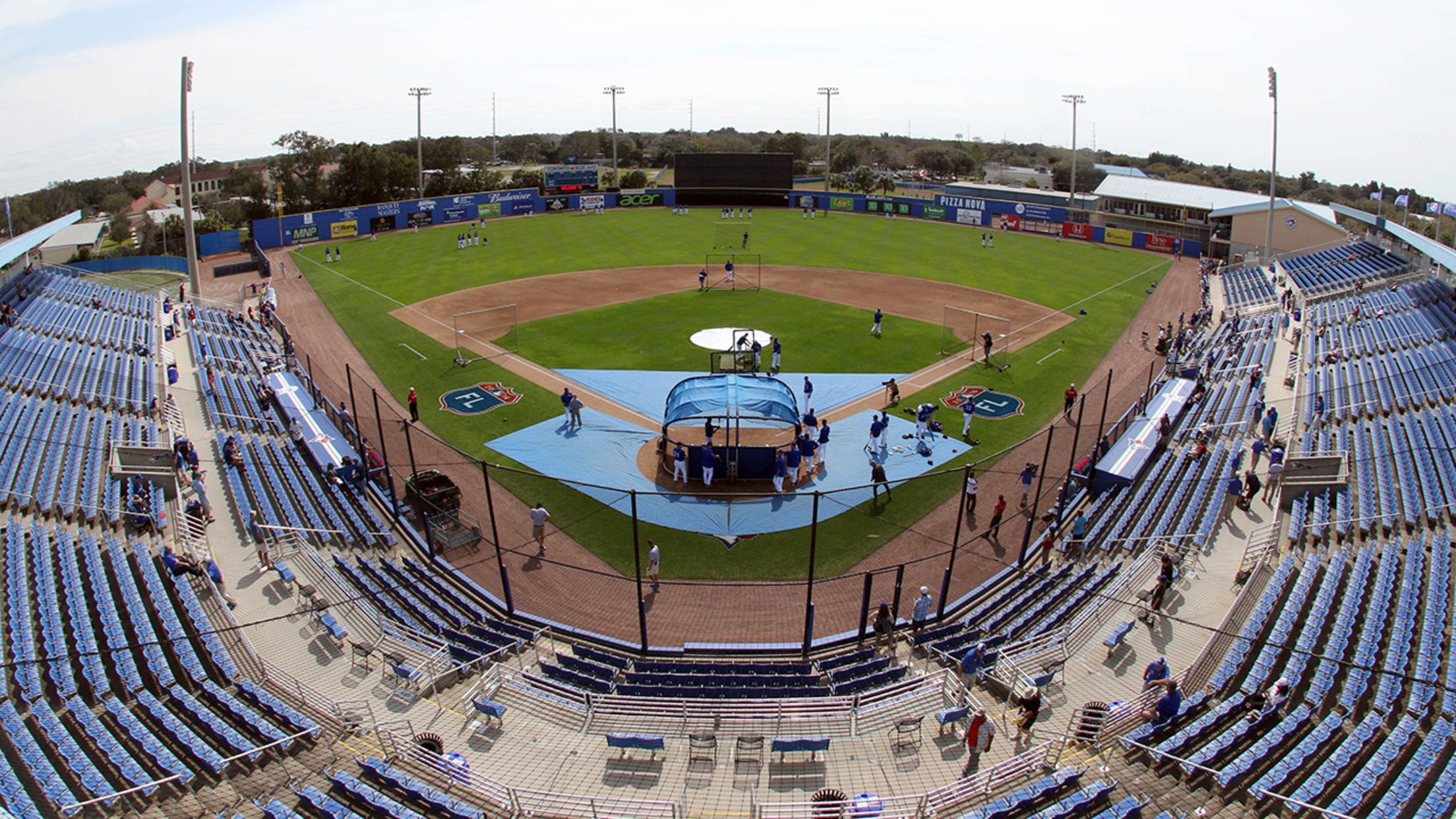 The Blue Jays have proposed renovations to their current facilities in Dunedin, Fla. (Getty)
TORONTO -- The Blue Jays have taken the first step in making sure that the city of Dunedin, Fla., will remain their Spring Training home for at least another 25 years.Toronto president Mark Shapiro and a contingent of Blue Jays officials attended a city council meeting in Dunedin on Monday
TORONTO -- The Blue Jays have taken the first step in making sure that the city of Dunedin, Fla., will remain their Spring Training home for at least another 25 years.
Toronto president Mark Shapiro and a contingent of Blue Jays officials attended a city council meeting in Dunedin on Monday night to outline the club's proposed agreement.
The proposal includes renovations of the Florida Auto Exchange Stadium and the club's Minor League complex, which is approximately a 10-minute drive from the ballpark. According to the Tampa Bay Times, the deal is worth $81 million, with Toronto contributing approximately $15.7 million of that amount.
"It was a first step in us engaging the community, it was the first step in us communicating some specificity to the program, and I think a very important first step in a collaborative effort with our city in an extension of our lease and a renovation of our current renovation for Spring Training," Shapiro said during a conference call on Tuesday afternoon.
"It afforded us the opportunity to talk about what's most important to us in a Spring Training facility moving forward, and really that is to get rid of the -- 'Spring Training facility.' That is a misnomer. And to build a year-round, 365-day-a-year rehabilitation and training facility where a lot of our players and staff can live and train year-round, and provide a potential competitive advantage."
Toronto has called Dunedin its spring home since 1977. The city receives most of its attention during Spring Training, but as Shapiro referenced, the facilities are used all year long. The Blue Jays send their injured players there for rehab, and it consistently is the baseball home to various Minor Leaguers throughout the year.
The Blue Jays did explore a possible exit from Dunedin a few years ago when then president Paul Beeston engaged in dialogue about a shared facility with the Astros. Houston ended up going in another direction and instead partnered with the Nationals, while Toronto renewed talks with the county to stay in Dunedin.
Toronto initially hoped to find an area of land on which the club would be able to house its stadium and Minor League complex as one big unit. A piece of land that size does not appear possible, and instead the current proposal is to overhaul both facilities but keep them in their current locations.
There will not be a definitive timetable for the new facilities until the current proposal goes through the approval process at various levels of government. The current expectation is that the work be done by no later than spring of 2019.
"I think it's important that we all continue to work with a sense of urgency and understanding that there's an opportunity cost to each day that passes without us moving into a new facility," Shapiro said. "There's a competitive and cultural opportunity to be gained the day we can move in.
"I think if we operate with the understanding that the sooner the better on our part and our stakeholders', things will continue to move forward methodically, and that's the key. Obviously you can sit here and with complete clarity know that we won't be in a new facility in 2017. There will be some point next year we'll have to get started or know that it's not '18 again. Certainly before '19 would be my hope."