Blue Jays' Players' Weekend nicknames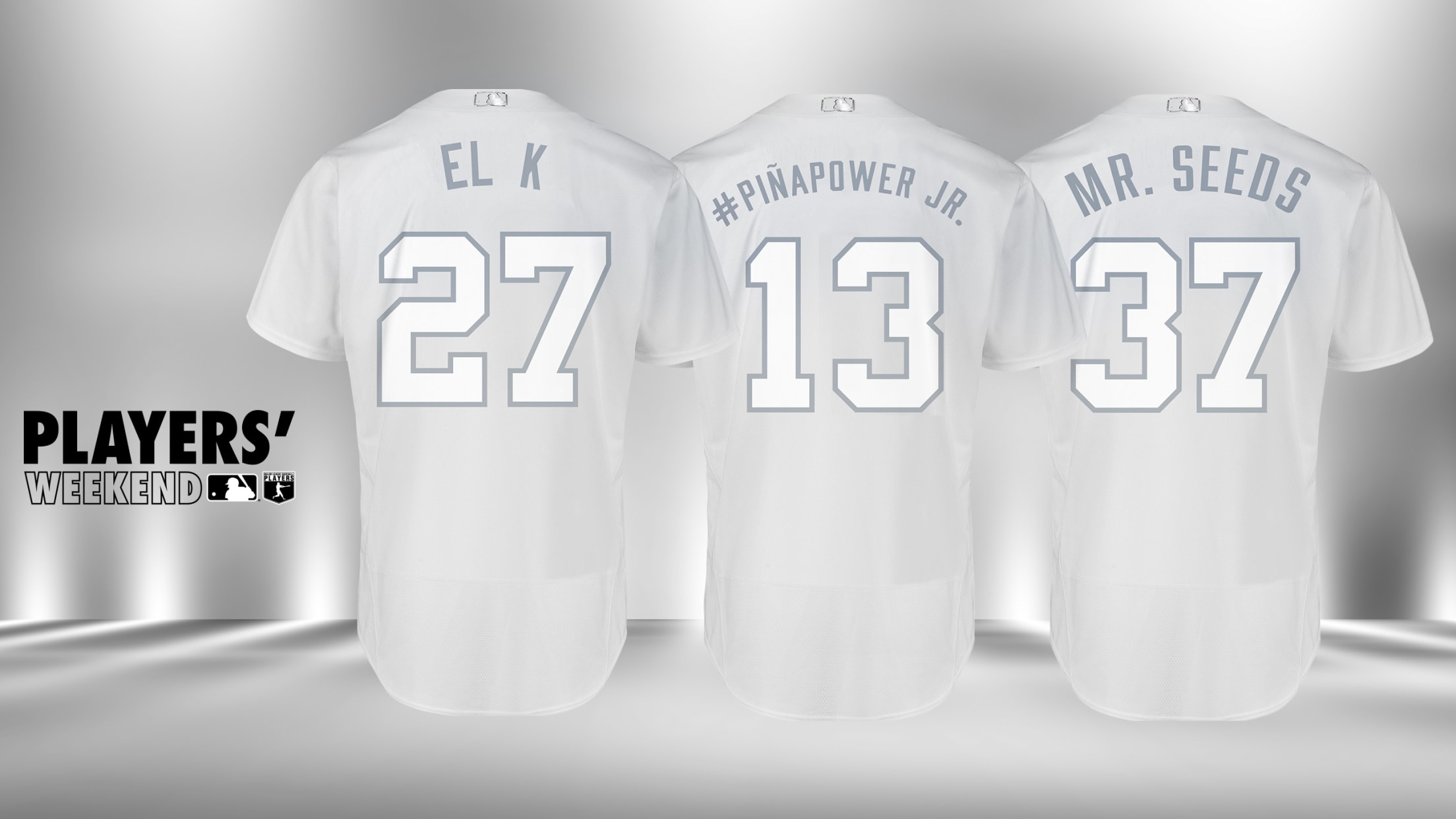 TORONTO -- For the third consecutive season, players from around Major League Baseball have an opportunity to show their passion and personalty throughout Players' Weekend, which takes place Aug. 23-25. • Every team's Players' Weekend nicknames The Blue Jays will be in Seattle for Players' Weekend, which is the club's
TORONTO -- For the third consecutive season, players from around Major League Baseball have an opportunity to show their passion and personalty throughout Players' Weekend, which takes place Aug. 23-25.
• Every team's Players' Weekend nicknames
The Blue Jays will be in Seattle for Players' Weekend, which is the club's home away from home as waves of west-coast Canadian fans make the annual trip down to T-Mobile Park. With a roster that's seemingly getting younger by the day and brimming with new personalities, it will be an opportunity for Blue Jays fans to get to know the next generation of players.
Here is a look at the nicknames that the Blue Jays players will be wearing on their jerseys for Players' Weekend.
Bo Bichette: "BO"
Cavan Biggio: "BIGGY"
Buddy Boshers: "BUDDY"
Brandon Drury: "B DRU"
Derek Fisher: "FISHER"
Wilmer Font: "FONKY"
Sam Gaviglio: "SAMMY G"
Ken Giles: "100 MILES GILES"
Giles' nickname is a nod to his hard fastball, which has helped make him one of the most effective closers in baseball this season with a 1.85 ERA and 64 strikeouts over 39 innings.
Zack Godley: "GODLEY"
Randal Grichuk: "GRICH"
Lourdes Gurriel Jr.: "#PIÑAPOWER JR."
Piña, meaning pineapple in Spanish, alludes to Gurriel's famous hairstyle, which adds a good 8 to 10 inches to his height when it's standing straight up. Earlier this season, the Blue Jays gave away a #PiñaPower bobblehead, which featured Gurriel, hair and all, holding a pineapple.
Vladimir Guerrero Jr.: "EL K"
When Guerrero was a baby, he kept making the sound "ka," which is the the Spanish pronunciation of the letter "K." One of his uncles quickly coined the nickname "El K", and it's stuck ever since for the 20-year-old third baseman.
"I never thought I would [have 'El K'] on a big league jersey," Guerrero. "But I always wanted it on a shirt that eventually I was going to make for myself."
• Shop for Players' Weekend gear
Teoscar Hernández: "MR. SEEDS"
Few players on the Blue Jays enjoy a home run as much as Hernandez, even when they're not his own. Hernandez has become known for his "seed showers" after home runs, as he follows the home run hitter through the dugout dumping bags of seeds — sometimes multiple bags — over their heads.
Danny Jansen: "JANO"
Derek Law: "LAWDOG"
Tim Mayza: "MAYZ"
Reese McGuire: "PIECES"
Thomas Pannone: "LIL' G"
Pannone's grandfather on his father's side was nicknamed G-Man. Pannone isn't sure where that original nickname came from, but he's using Players' Weekend to break out his own version.
"I asked my family during Spring Training what they [thought] I should do and they said 'Lil' G,' just to do it for my grandfather," Pannone said.
Neil Ramírez: "RAMMER"
Sean Reid-Foley: "SRF"
Justin Shafer: "SHAF"
Justin Smoak: "MOAKEY"
You'll often hear Smoak called "Smoakey" around the clubhouse, but his Latin teammates go with the shortened "Moakey", which Smoak has chosen for Players' Weekend.
Rowdy Tellez: "BIG ROWDY"
Trent Thornton: "BUTTERS"
Jacob Waguespack: "WAGUESPACK"