Wolcott was Mariners' unsung playoff hero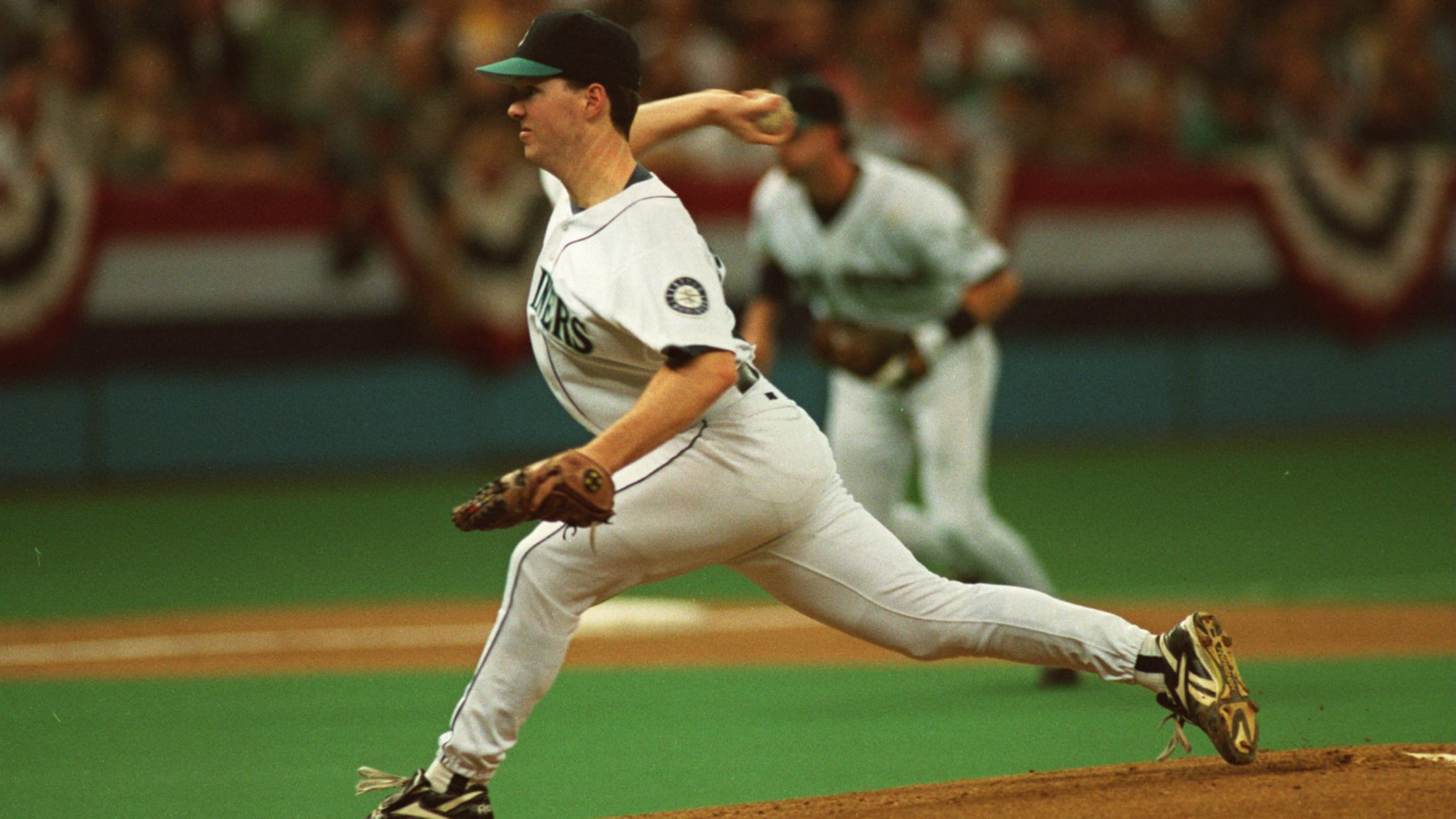 10 OCT 1995: SEATTLE PITCHER BOB WOLCOTT DELIVERS A PITCH IN THE SECOND INNING OF THE MARINERS GAME VERSUS CLEVELAND INDIANS IN GAME ONE OF THE AMERICAN LEAGUE CHAMPIONSHIP SERIES AT THE KINGDOME IN SEATTLE, WASHINGTON. SEATTLE WON THE GAME 3-2. Mandato (Stephen Dunn)
SEATTLE -- It's been 23 years since the phone rang in Bob Wolcott's apartment in Federal Way, Wash., with then-Mariners pitching coach Bobby Cuellar calling to let him know he needed to get ready to pitch the next day.This wasn't your normal heads-up. The Mariners had just beaten the Yankees
SEATTLE -- It's been 23 years since the phone rang in Bob Wolcott's apartment in Federal Way, Wash., with then-Mariners pitching coach Bobby Cuellar calling to let him know he needed to get ready to pitch the next day.
This wasn't your normal heads-up. The Mariners had just beaten the Yankees in a dramatic five-game American League Division Series in 1995, needing Randy Johnson to pitch out of the bullpen in the deciding game after using every available arm to advance to the AL Championship Series against the Indians.
Wolcott, a 22-year-old rookie, hadn't even been on the playoff roster for the Yankees series. He hadn't pitched in 10 days, in fact, and was at that moment building a fly rod with his parents, who'd come up from Oregon to visit.
"I wasn't entirely surprised because of how the series before had gone," Wolcott recalled recently from Newberg, Ore., where he now owns an engineering company that manufactures parts for aerospace, medical and other businesses. "I hadn't been on the playoff roster, but I knew it was a possibility. They'd kind of hinted after the previous game that it might be happening.
"So I just took the phone call, told my parents, 'It looks like I'm pitching tomorrow,' and went back to building the fly rod."
• Each team's most unlikely postseason heroes
That low-key approach proved advantageous for the young right-hander, who wound up turning in one of the most unexpected playoff performances imaginable.
Wolcott had made his Major League debut in mid-August and wound up going 3-2 with a 4.42 ERA in seven games, including six starts, down the stretch to play a part in helping Seattle put together a magical late-season run to its first playoff appearance in franchise history.
But manager Lou Piniella and general manager Woody Woodward shocked the baseball world when they decided to hand Game 1 of the ALCS to the raw rookie after Chris Bosio and Andy Benes both started two games against the Yankees and Johnson -- who'd got Seattle into the playoffs by beating the Angels in a one-game tiebreaker -- won Game 3 and then came out of the bullpen when Game 5 went extra innings.
Veteran Tim Belcher was the other regular starter that year, but he'd been needed in relief in Games 2 and 4 of the Yankees series, which included a 15-inning battle in Game 2.
Wolcott, who'd never pitched more than six innings during the regular season, wound up beating the Indians by allowing just two runs in seven innings in a 3-2 win. But it didn't come easy.
In the first inning, with a capacity Kingdome crowd holding its breath, Wolcott walked the first three batters to load the bases while throwing just a single strike. And that's where Wolcott's even-keeled temperament kicked in.
"I just knew if I managed to get out of it, it's a whole new game," he said. "The challenge was, I hadn't been on the playoff roster, so I hadn't really done much in two weeks. They were focused on the guys on the roster, so I hadn't even done much in the way of bullpens.
"So part of the first three walks was nerves and part was rustiness. I wasn't missing by a ton. I wasn't missing my 3 feet. I was trying to be a little too perfect and missing by 2 inches."
Out of the dugout strolled Piniella, who told the rookie to breathe and just pitch. Easier said than done with the heart of the Indians' potent order coming to the plate, but Wolcott struck out AL home run champ Albert Belle, got veteran Eddie Murray to pop out to third and then watched in wonder as second baseman Joey Cora made a diving stop to rob Jim Thome of what figured to be a two-run single.
"Lou gave me the breather I needed," Wolcott said. "I was getting swept up in a tornado, not being able to throw a strike. It was great to get that pause and regroup. Then I got through it and the game is still 0-0. It was spectacular. It could have been an epic fail, but it wasn't. The second inning was a whole new game. I'd gotten through the worst, and it was a new game."
Though the Mariners wound up losing that series, 4-2, Wolcott's feat stands as a reminder for athletes that sometimes it's just a matter of being in the right place at the right time and then stepping up and taking advantage of the opportunity when it comes.
Wolcott allowed eight hits and walked five in the game, but dug in and gave the Mariners far more than expected in not only allowing the rest of the pitching staff to regroup, but winning the game.
"I feel really fortunate," Wolcott said. "That's not the best game I pitched by any means, but it was the biggest game by a lot. It was great. I feel really fortune to have been given the opportunity and have come through."
Wolcott never pitched in another playoff game in his life. He played parts of four more seasons in the big leagues, two with Seattle before being taken by the D-backs in the 1997 expansion draft and then traded to the Red Sox a year later. He wound up with a career record of 16-21 with a 5.86 ERA in 66 games (58 starts) before going to Japan for a year and eventually retiring after surgery on his arm.
Wolcott wound up back at school pursuing a mechanical engineering degree at Oregon State, but started up his own machine shop after an internship during his senior year with Intel opened the door to a contractor business that flourished so well he never did finish his final classes.
Chalk it up as another life lesson for a guy who has found ways to beat the odds and surprise people on more than one occasion. So while Wolcott doesn't spend a lot of time looking back now at that surprising ALCS victory, he does relish what it means.
"It's a big part of who I am and who I've become," he said. "I learned a lot from baseball that shaped me as a person and how I approach life. Going through the Minor Leagues, you see struggles and challenges of battling through that and finding a way to the Majors.
"You see what kind of perseverance it takes and how to overcome and just what it takes to succeed at the highest level. When you're a kid and your teacher tells you that you could be president someday, nobody believes it. But when you can achieve something like that and reach the Majors, you really do believe. That helps me in my current profession, knowing if you put your mind to it and try, you really can achieve anything."