Cox keeping close eye on resilient Braves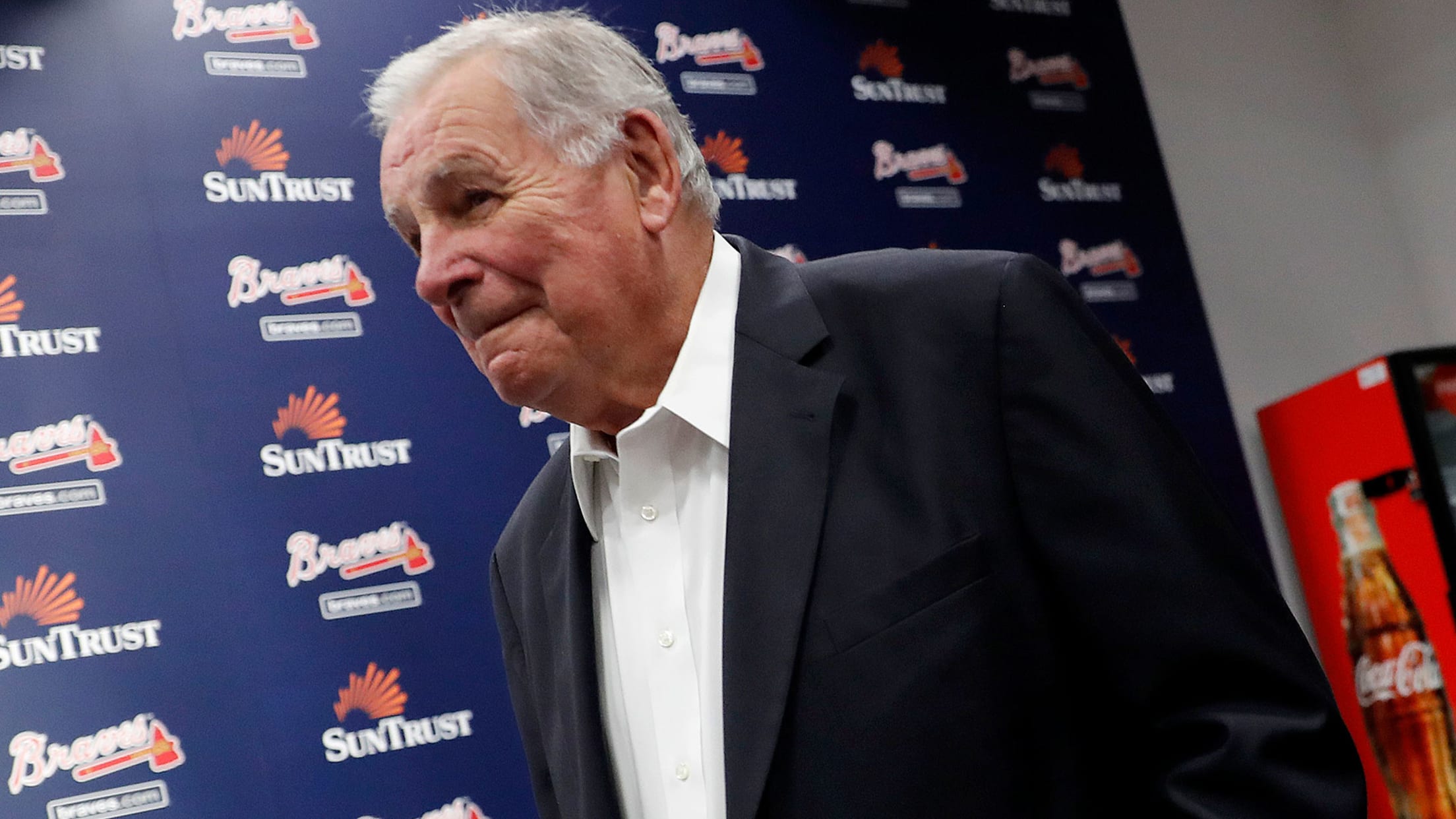 SAN FRANCISCO -- There are two things Braves manager Brian Snitker has learned to count on this season.One is that his team is a combination of resilience, unpredictability and fortitude. The other is that he'll get a text from former Atlanta manager Bobby Cox after the game underscoring just how
SAN FRANCISCO -- There are two things Braves manager Brian Snitker has learned to count on this season.
One is that his team is a combination of resilience, unpredictability and fortitude. The other is that he'll get a text from former Atlanta manager Bobby Cox after the game underscoring just how much the Hall of Fame skipper likes what he sees in this team.
Cox, who last managed the team in 2010, is still an Eastern time zone guy, but he's willing to put in the late hours to watch the Braves as Atlanta tries to close out what would be the club's first National League East title since 2013.
"I get texts from him every night about that subject [resilience]," Snitker said before the Braves opened a three-game series vs. the Giants on Monday night at AT&T Park. "And obviously he's staying up, because I'm getting them right after the games. We talk a lot about that. He's as amazed by it as everybody else.
"The last couple of nights, I've gotten them right away. I think he loves the heart and the grit and what these guys are all about. He respects that. He's a baseball guy, what they are doing and how they go about it."
• With three weeks left in what is Snitker's second full season on the job, he and general manager Alex Anthopoulos are trying to get their roster into playoff shape.
Right-handed reliever Arodys Vizcaino will throw a side session before Tuesday's game, meaning the one-time closer should be ready to rejoin the bullpen this weekend.
"With Viz, he hasn't thrown or pitched in four days," Snitker said. "He'll be ready to go Friday. That can be really big for us. I mean, it will take awhile, but we're going to try and keep him as regular as we can and get him built back up. He says he feels really good. I think it's a huge bullet for us."
The plan is to have Vizcaino up to close to full strength by the last week of September.
• The Braves also recalled infielder Rio Ruiz from Triple-A Gwinnett for Monday's game. He can play first or third. He's only appeared in three games this year, but had 150 at-bats last year, going .193/.283/.307 with four homers.
"Having Rio here gives us more flexibility," Snitker said. "He's another bat off the bench and he's an infield option."
John Hickey is a contributor to MLB.com based in the Bay Area.