Price throws sim game, feels 'ready to go'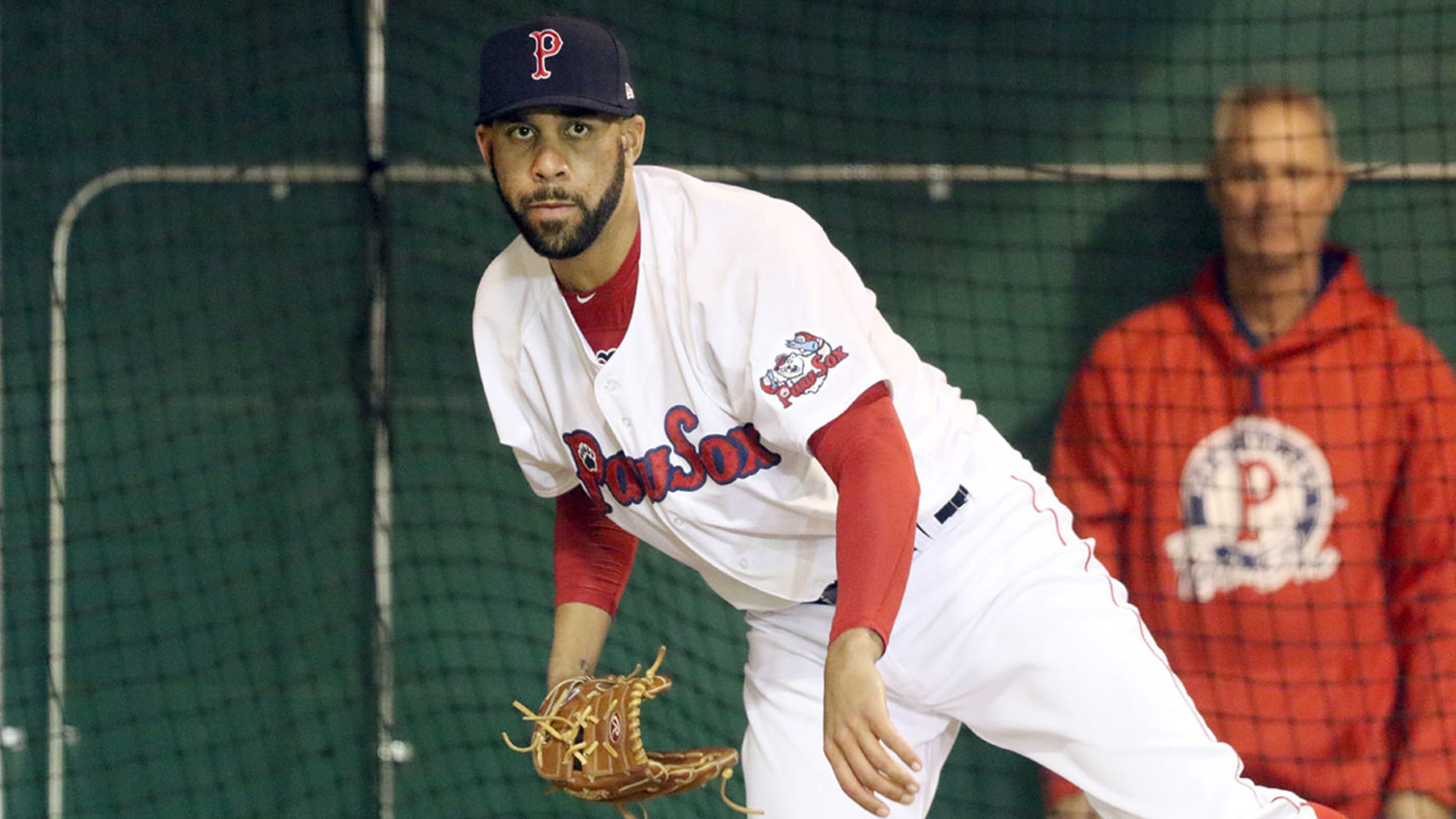 David Price threw five innings and 75 pitches in a sim game at Triple-A Pawtucket on Sunday. (Louriann Mardo-Zayat)
PAWTUCKET, R.I. -- David Price was unable to make his scheduled rehab start Sunday at Triple-A Pawtucket due to rain, but the left-hander threw a simulated game at McCoy Stadium, and said he "felt good" and had "no complaints" about his elbow.Price threw five innings and 75 pitches in an
PAWTUCKET, R.I. -- David Price was unable to make his scheduled rehab start Sunday at Triple-A Pawtucket due to rain, but the left-hander threw a simulated game at McCoy Stadium, and said he "felt good" and had "no complaints" about his elbow.
Price threw five innings and 75 pitches in an indoor batting cage to Blake Swihart and Aneury Tavarez, taking 6-8 minutes between innings to replicate the feel of an actual game.
"I used everything," Price said. "I threw all of my pitches to both sides of the plate. I did it really well today."
Price, who suffered a left elbow strain in early March, is slated to start with Pawtucket at Buffalo on Friday.
"Looking to get between 85 and 90 [pitches] at that point, and then we'll reevaluate the following Friday, and wouldn't rule out his return to us if everything goes according to plan," Red Sox manager John Farrell said.
When asked whether he expects to return to the Majors following this Friday start, Price said he doesn't "make the rules," but the general consensus was that his return could come sooner rather than later.
Price knew going in that he wanted to pitch Sunday whether or not the team played. His goal was to keep pitching every five days and to get work in however he could.
David Price: "I feel like I'm ready to go." Video from Pawtucket, where he threw 5 innings/75 pitches in a sim game: pic.twitter.com/VD9DPdOrbB

— Trevor Hass (@TrevorHass) May 14, 2017
Early in the day, with the tarp on the field, it seemed possible the game would happen. Instead, it was called off a couple of hours prior to the scheduled 1:35 p.m. ET start, which meant a simulated game for Price.
The session felt like a real game, according to Price. He checked runners at first and second bases, with Triple-A manager Kevin Boles behind him calling balls and strikes. Swihart hit an imaginary double off of the Green Monster, but that was one blip during an overall smooth showing.
"He treated it like it was a game," Boles said. "There's no doubt about that."
Boles said Price's fastball, cutter to a right-hander and breaking ball looked sharp. He noted Price's pitches were largely in the zone and deemed the outing "pretty impressive."
"It's about the quality of the strikes," Boles said. "With the history he has, with what he's done, he knows when he's throwing the ball well."
Price said he won't rush the rehab process just to get back to the Red Sox, but acknowledged he's getting closer by the day. Price said he knows patience is the best approach, but for now he's just happy to be pitching to hitters again.
The next step is Friday's start, and Price is eager to get back on the mound. He said the timing of the injury and not being able to pitch at the start of the season has been the toughest part of the process.
"If I didn't feel confident in my abilities to go out there and pitch well, I wouldn't do it," Price said. "I wouldn't put myself at risk, and I wouldn't put the team at risk. We've taken a good amount of time since it happened. I feel like I'm ready to go."
Trevor Hass is a contributor to MLB.com based in Pawtucket, R.I.