Hand gets save in revamped Padres bullpen
Green says individual roles will evolve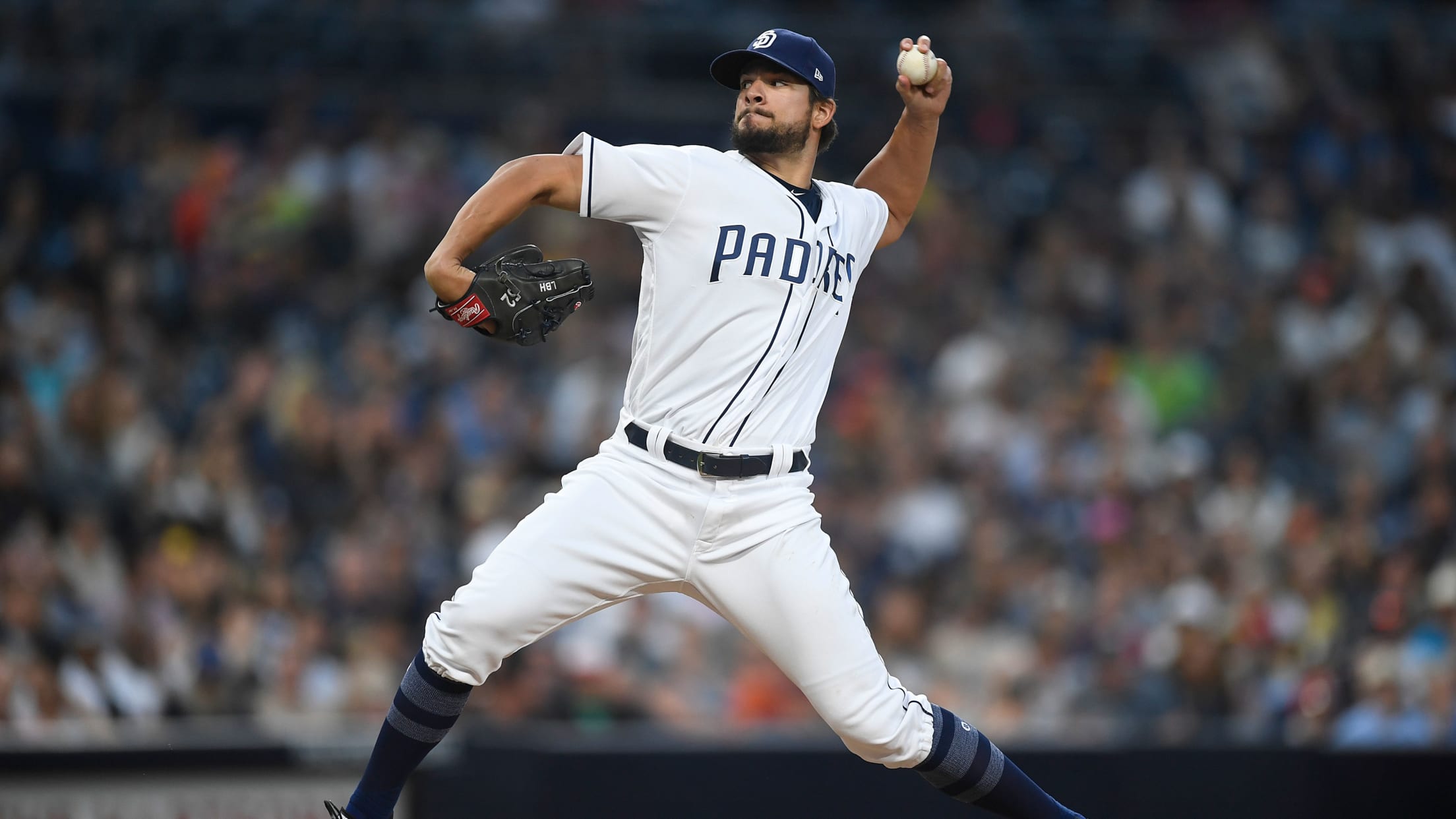 Bill Center, longtime sportswriter for U-T San Diego, is an employee of the Padres.Brad Hand pitched a perfect ninth inning Wednesday night to get a save during the Padres' first save opportunity since closer Brandon Maurer was traded to Kansas City on Monday.Hand's role at the back of the Padres'
Bill Center, longtime sportswriter for U-T San Diego, is an employee of the Padres.
Brad Hand pitched a perfect ninth inning Wednesday night to get a save during the Padres' first save opportunity since closer Brandon Maurer was traded to Kansas City on Monday.
Hand's role at the back of the Padres' bullpen seems to be the one certainty with Padres relievers these days -- although his name continues to draw interest from most title contenders as the Trade Deadline approaches.
But the loss of Maurer and Ryan Buchter Monday has caused considerable shuffling in the Padres' bullpen.
During his pregame media session Wednesday, Padres manager Andy Green noted that pitching coach Darren Balsley has discussed the changing roles with members of the bullpen.
"We're not built at this point in time where you can put down an ironclad, seventh-inning, eighth-inning, ninth-inning guy," said Green.
"At this point in time, I'd say Brad Hand is pitching from the seventh inning on. Phil Maton and Kirby Yates will pitch anywhere from the sixth to the ninth," said Green
"It will settle. It always does. At this point in time though, we'll read the situation and have guys ready," said Green. "Up to now, Yates and Maton being ready to pitch in the fifth and sixth because you had Buchter and Maurer at the back end, along with Hand."
"It hasn't drastically changed for them, just opened up chances to pitch in higher-leverage situations," said Green. "Tuesday where we lined up, Brad was going to close but I was also willing to bring Brad in the seventh inning and pitch through the eighth if the situation called for it. We were looking to stretch four guys through five innings. When we got behind, we went a different route."
On Wednesday, with the Padres holding the lead, Hand pitched the ninth in a save situation. Yates pitched the eighth after Craig Stammen went 1 1/3 innings.
Noteworthy:
The Padres aren't the only people taking notice of their young players.
"They've got some talented young players over there," Mets manager Terry Collins said Wednesday night after Padres rookies Manuel Margot, Allen Cordoba, Luis Torrens and Hunter Renfroe all played a role in the Padres' 6-3 win. "They make three diving catches in the outfield and the shortstop (Cordoba) makes a great play. Certainly defense was a huge part of what made them successful tonight. And the big swings."
Right-hander Jhoulys Chacin
Chacin, who like already moved right-hander Trevor Cahill, has been the subject of trade rumors, ran his record to 10-7 Wednesday night, although he wasn't as sharp as he has been previously at Petco Park. He allowed two runs on four hits and three walks with five strikeouts in 5 1/3 innings. Chacin, who entered the game with the lowest home earned run average in the National League, is now 6-2 in 11 starts at Petco Park with a 2.18 ERA. The Padres have won the last five games started by Chacin and are 12-9 in games he has started this season.
In addition to making a great diving catch Wednesday and running a long distance for another catch, Margot was 2-for-4 with a triple and a two-run homer. Since returning from paternity leave, Margot has hit in four straight games, going 8-for-17 to raise his batting average from .259 to .272.
Rule 5 rookie Torrens had three RBIs in the first 92 at-bats of his Major League career before he hit his bases-loaded triple Wednesday night.