After cancer, Wieck thrilled to be back on mound
Left-hander could join Padres' bullpen in-season; Naylor, Guerra are latest camp cuts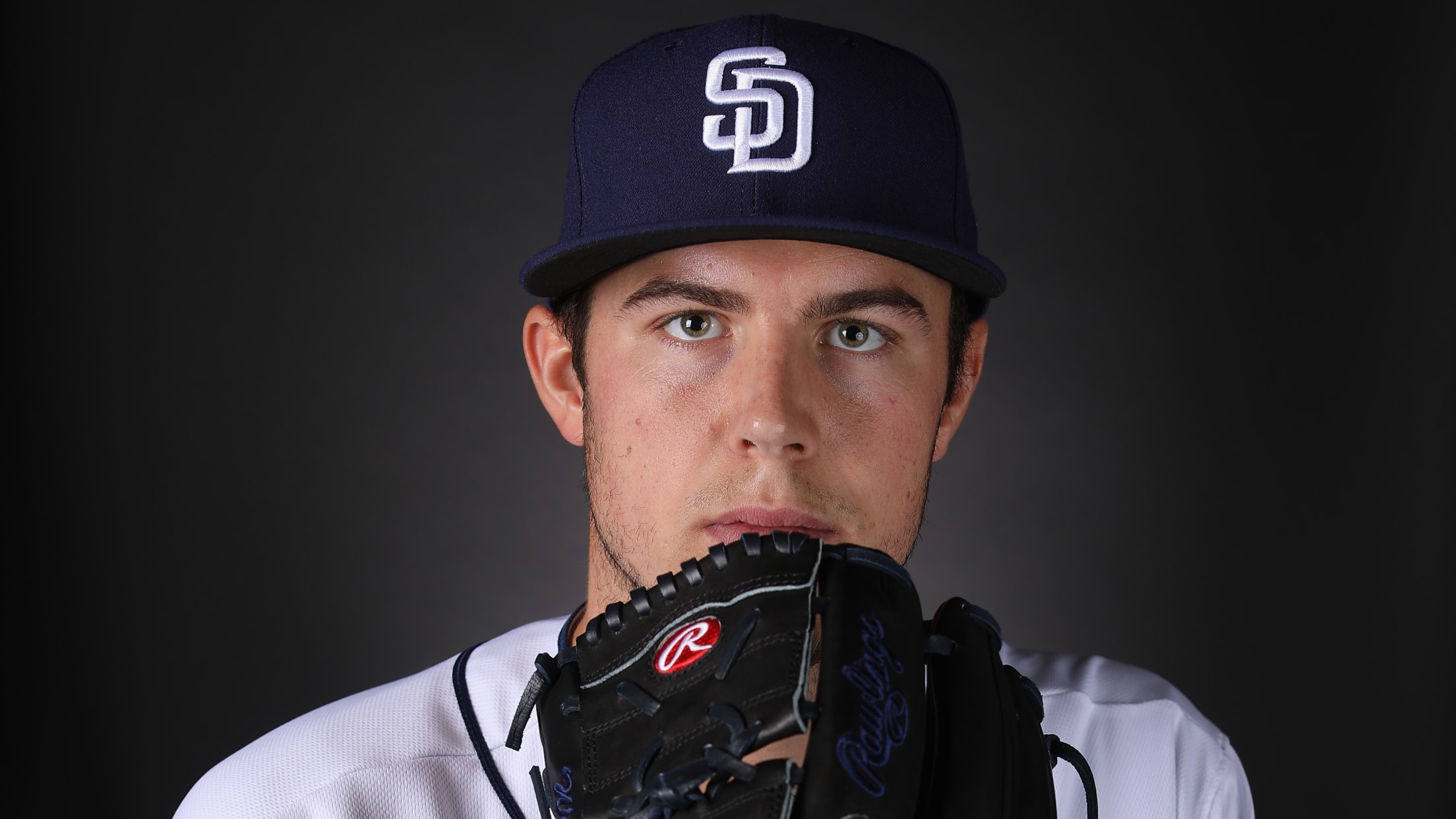 PEORIA, Ariz. -- In early January, Brad Wieck arrived in San Diego for a series of routine offseason workouts. The 27-year-old left-hander had his eye on a spot in the Padres' bullpen and possibly some high-leverage innings. Those goals quickly went on the backburner. While in San Diego, Wieck was
PEORIA, Ariz. -- In early January, Brad Wieck arrived in San Diego for a series of routine offseason workouts. The 27-year-old left-hander had his eye on a spot in the Padres' bullpen and possibly some high-leverage innings.
Those goals quickly went on the backburner. While in San Diego, Wieck was diagnosed with testicular cancer. He underwent successful surgery shortly thereafter, and he's been given a clean bill of health. Recovery was suddenly the most important objective.
So Wieck watched all spring as his friends and fellow pitchers progressed toward the season. As a precaution, he was placed on a slow track while the club monitored his health.
Finally, after a couple months that felt like years to him, Wieck got back on the mound Friday night. He pitched an inning in the Padres' 6-5 Cactus League loss to the Rockies.
"It was pretty scary," Wieck said. "For a minute, I thought I might have it all taken away from me. It just felt so good to be back out there and competing with these guys."
Wieck allowed a run when Trevor Story's bloop single landed in front of Franchy Cordero in center field. Otherwise, he was excellent. He surrendered two hits, but he struck out the side and showcased the kind of swing-and-miss stuff he showed off during his brief big league stint last September.
Of course, Wieck's Cactus League numbers aren't quite as important as the fact that he's pitching in the first place.
"The highlight of the day," manager Andy Green said of Wieck. "That says a lot about how hard he's worked. It's great for him; he's had some good reports about his health. For all of us, it's thrilling to see him on the mound."
Wieck pitched seven innings for the Padres last season, allowing just three hits while striking out 10. In a bullpen that's short on left-handers, he could be a valuable presence.
Wieck is still destined to begin the season on the injured list as he builds up to full strength. But he could join the club as soon as mid-April.
"It was hard to take it slowly a little bit," Wieck said. "But to get out there, feel like 100 percent, and go do that, it's just incredible. ... Arm strength, body strength feels good right now. Obviously there's still some work that needs to be done. Honestly, right now, I feel pretty good with where I'm at -- considering where I was mid-January."
Naylor, Guerra sent down
The Padres trimmed their spring roster to 44 players on Friday, optioning shortstop Javy Guerra and reassigning outfielder Josh Naylor to Minors camp. Excluding the eight guys currently expected to start the season on the injured list, the Padres have 36 healthy players in camp. They'll have 11 more cuts to make before Opening Day.
Naylor put forth a solid spring at the plate, hitting .268 with two homers and an .806 OPS. He clearly has strides to make defensively, however, after he transitioned from first base to the outfield last season.
"He can hit in the middle of a big league lineup," said Green. "We have good confidence he's that type of a bat. He's got work to do in the outfield. ... He's a big league bat right now. The whole organization feels that way."
For Guerra, it's the reverse. He's clearly a big league-caliber defender in the infield. But his bat has lagged well behind. Guerra batted .136 in 16 games this spring. A one-time top prospect, Guerra's place on the 40-man roster is suddenly tenuous. If the Padres add any non-roster players before Opening Day, it could come at the expense of the 23-year-old.
Noteworthy
• Eric Lauer worked four scoreless innings on Friday night, striking out four and allowing just two hits and a walk. He threw 67 pitches, then retreated to the bullpen for a few more. In three Cactus League appearances, Lauer did not allow a run over 10 innings. He's made two more appearances in back-field games this spring.
• Third baseman Manny Machado went 1-for-3 with a double, but his most dazzling contribution came on a slow chopper from Mark Reynolds in the bottom of the first. Machado charged, barehanded and fired an off-balance strike to first base.
• Right-hander Luis Perdomo has struggled in his transition to a one-inning bullpen role. He surrendered five runs in the ninth, including a walk-off three-run blast to Garrett Hampson. Given his struggles, it's hard to envision Perdomo on the Padres' Opening Day roster. He'll almost certainly open the year at Triple-A El Paso.
• In partnership with USAA, the Padres announced military discounts on tickets for all home games -- including a 50 percent discount on military Sundays.
Up next
The Padres have yet to name their Opening Day starter, but they've lined left-hander Joey Lucchesi up for it. With five days remaining until the opener against San Francisco, Lucchesi will start Saturday when the Padres host the Angels at 1:10 p.m. PT at Peoria Stadium.