Chipper helping Riley take the next step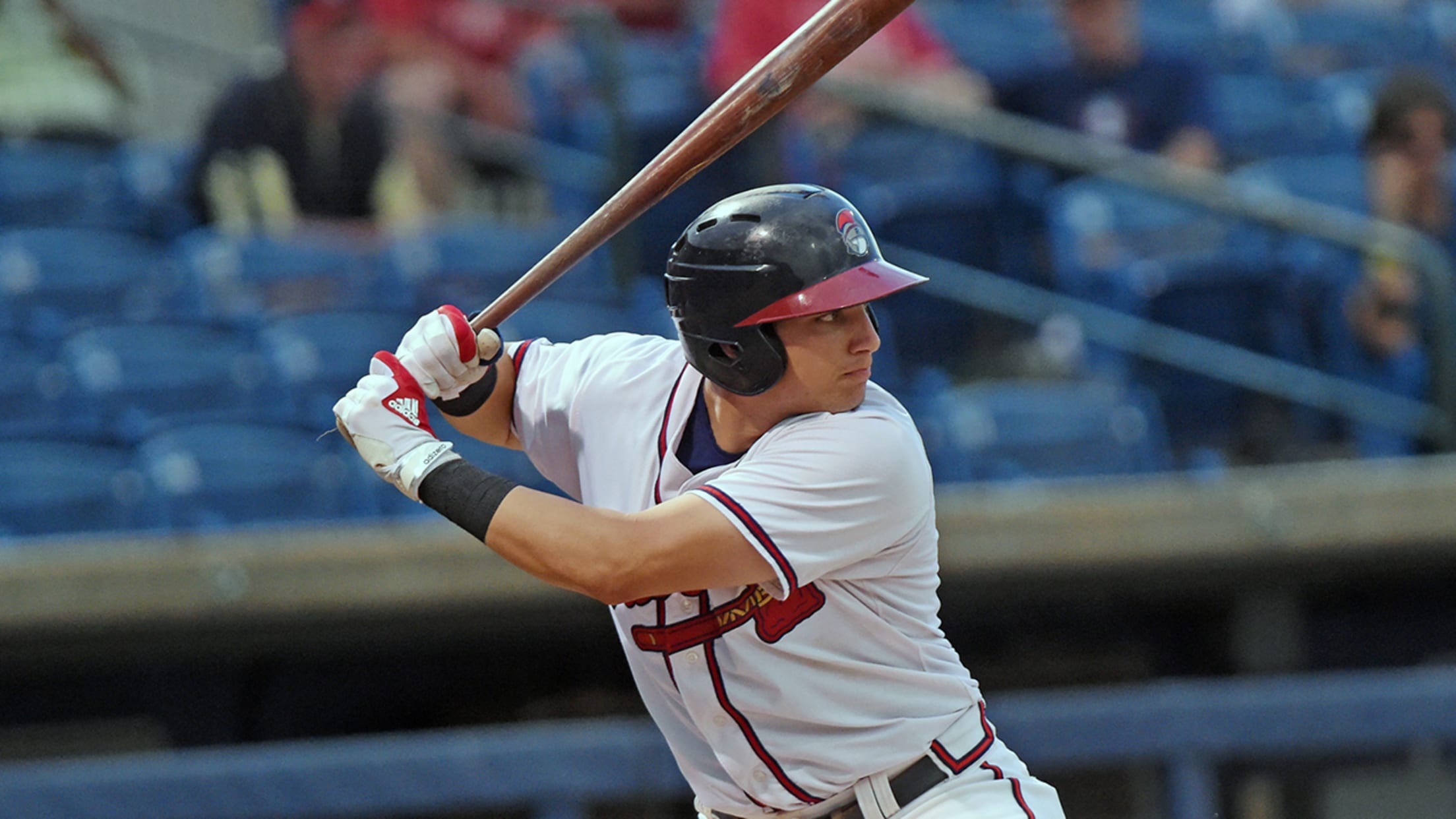 Austin Riley has shown potential of what he can do, but Chipper Jones is helping him make the proper mental adjustments to improve his game. (MiLB)
LAKE BUENA VISTA, Fla. -- Having had the opportunity to see Austin Riley's potential during Spring Training last year, Chipper Jones was among those surprised when the young third baseman homered just three times and struck out five more times than he walked during last season's first half with Class
LAKE BUENA VISTA, Fla. -- Having had the opportunity to see Austin Riley's potential during Spring Training last year, Chipper Jones was among those surprised when the young third baseman homered just three times and struck out five more times than he walked during last season's first half with Class A Rome.
Providing a glimpse of his mental resolve and ability to make necessary adjustments, Riley lived up to expectations during the season's second half as he homered 17 times and produced a more acceptable 2.8 strikeouts per walk ratio.
"I looked at his first-half numbers and thought, 'He's better than that,'" Jones said of Riley, ranked as the No. 13 prospect in Atlanta's farm system by MLBPipeline.com. "Then you saw the second-half numbers and it was obvious something clicked. So when I saw him this year, I asked, 'What was the deal?' He said, 'Breaking balls for strikes and 2-0 changeups.' I looked at him and said, 'Welcome to the three-hole, buddy. That's the way it is. When they come to the ballpark, what they're saying is we can't let Austin Riley beat us.'"
Though he is not a part of this year's big league camp, Riley made his second start of the Grapefruit League season during Thursday's 8-7 loss to Yankees. He recorded a pair of hits against the Marlins on Saturday, but he has gone hitless in the four at-bats that have followed.
As Jones has spent time with Riley over the past week, the two have traded offseason hunting tales and discussed those mental aspects that could help the 19-year-old Riley develop a better plate approach as he prepares to begin the upcoming season at the Class A Advanced level.
"Austin Riley could be Freddie Freeman's protection in the lineup within the next two to three years," Jones said. "That's what we're shooting for. So, I'm really trying to talk the mental side of hitting as opposed to the fundamentals because the fundamentals are there."
Just two years removed from high school, Riley garnered the attention of Bobby Cox during the 2015 Instructional League and then ended up with an .803 OPS despite experiencing a disappointing first half of his first full pro season last year. He also committed 30 errors, but as he moves closer to ending his teenage years, he has started to grow into his big frame and gain the mobility he'll need to serve as an adequate defender at third base.
"Chipper and I have talked about last year's first half and how I could have done things better," Riley said. "It was all about how I could have simplified things. He gave me some feedback and it all made sense about why the first half went bad and the second half went good. During the first half, I was looking offspeed. In the second half, I was hunting the fastball and it went a lot better."
Mark Bowman has covered the Braves for MLB.com since 2001.