ATL-LAD Gm. 7 lineups, FAQ (FOX/FS1, 8 ET)
A highly entertaining battle will come to a close when the Braves and Dodgers battle in Game 7 of the National League Championship Series on Sunday night at Globe Life Field.
A highly entertaining battle will come to a close when the Braves and Dodgers battle in Game 7 of the National League Championship Series on Sunday night at Globe Life Field.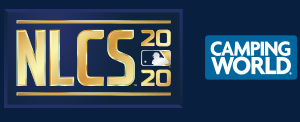 Having seen their 3-1 series lead erased by consecutive losses, the Braves will give the ball to Ian Anderson, who will become the first rookie pitcher in club history to start Game 7 of any series.
The Dodgers will turn to rookie Dustin May, who pitched two innings in a Game 5 start on Friday. It will be his third appearance of the series. The matchup will be the first time in Major League history that both teams will start a rookie pitcher in a winner-take-all postseason game.
After fending off elimination twice already, history is on the Dodgers' side to complete the comeback. Of the 17 teams to force a Game 7 after trailing, 3-1, in a best-of-seven series, 13 have gone on to win that last game.
Here's a look at some of the questions you may have about Game 7:
When is the game and how can I watch it?
The game will air Sunday on FOX and FS1 at 8 p.m. ET/5 PT. It is also available to stream on MLB.TV.
What do the starting lineups look like?
Braves: Manager Brian Snitker has used essentially the same lineup throughout the postseason.
1) Ronald Acuña Jr., RF
2) Freddie Freeman, 1B (L)
3) Marcell Ozuna, DH
4) Travis d'Arnaud, C
5) Ozzie Albies, 2B (S)
6) Dansby Swanson, SS
7) Austin Riley, 3B
8) Nick Markakis, LF (L)
9) Cristian Pache, CF
• Who has the most riding on NLCS Game 7?
Dodgers: Chris Taylor's right ankle appears to be better, as the Dodgers went with the same lineup as they did in Game 2 against Anderson. The Dodgers didn't score off Anderson in four innings, but they walked five times and ran his pitch count to 85. They saw six relievers after Anderson and scored 15 runs the following game.
1) Mookie Betts, RF
2) Corey Seager, SS (L)
3) Justin Turner, 3B
4) Max Muncy, 1B (L)
5) Will Smith, C
6) Cody Bellinger, CF (L)
7) AJ Pollock, LF
8) Joc Pederson, DH (L)
9) Chris Taylor, 2B
Who are the starting pitchers?
Braves: Anderson made just six career starts before the playoffs began, but he has not allowed a run over the 15 2/3 innings through his first three career postseason starts. The 22-year-old right-hander did not give in as he pitched around the five walks he issued over four innings against the Dodgers in Game 2. He was selected with the third overall pick in the 2016 MLB Draft and ranks No. 34 on MLB Pipeline's Top 100 Prospects list.
Dodgers: It was announced during Sunday's pregame availability that May will open Game 7 on Sunday on one day of rest. Manager Dave Roberts wouldn't commit to a starter after Saturday's game, but he did say Tony Gonsolin would take down a good bit of the innings. Starting pitchers Clayton Kershaw and Julio Urías are also available.
How will the bullpens line up after the starter?
Braves: Atlanta would love to get six innings from Anderson. But if he were to be limited to four or five, the club would have enough depth to cover an early absence. Lefty Tyler Matzek will be called upon during the middle innings to face any situation that could include Betts. Darren O'Day will also be an option to bridge the gap to closer Mark Melancon, along with the primary setup guys -- Will Smith, Shane Greene and Chris Martin.
Dodgers: Kenley Jansen, Blake Treinen and Pedro Báez pitched in the last two games, and none has gone three consecutive days this year. That could mean significant roles for Brusdar Graterol and Joe Kelly, as well as lefty Victor González. As noted above, starters Kershaw and Urías could be at the ready.
Are there any relievers who are unavailable?
Braves: Atlanta might try to stay away from Huascar Ynoa (92 pitches in Game 3 on Wednesday) and possibly A.J. Minter (42 pitches in Game 5 on Friday). But it will be all hands on deck in this win-or-go-home contest.
Dodgers: Hard to rule out anybody in an elimination game, but Jansen, Treinen and Báez have been used the most lately.
• How the bullpens stack up for NLCS Game 7
Any injuries of note?
Braves: Adam Duvall was removed from the NLCS roster after straining his left oblique in Game 1 on Monday.
Dodgers: Taylor turned his right ankle Friday night and did not appear on Saturday, although Roberts said he was available. He was back in Sunday's lineup batting ninth and playing second base.
Who is hot and who is not?
Braves: Freeman has gone 9-for-22 with three doubles and two homers in the NLCS. Riley hit the go-ahead homer in the ninth inning of Game 1, but he is 3-for-24 with nine strikeouts through the first six games of this series.
Dodgers: Seager (five home runs, 11 RBIs) is absolutely on fire, rewriting the record books with daily blasts. Turner (5-for-14 with a homer, two doubles and five runs since Game 3) also is heating up. Betts isn't impacting the game with his bat (5-for-22) the way he is with his glove.
Anything else fans want to know?
Braves: Anderson will be 22 years and 169 days old on Sunday. Beyond the three starts he has already made this postseason, the only Braves to start a postseason game at a younger age were Steve Avery and Mike Soroka. Avery actually made four starts at a younger age than Anderson will be entering this contest.
Dodgers: L.A. will be playing a winner-take-all postseason game for a sixth straight season, going 2-3 in the previous five.
Mark Bowman has covered the Braves for MLB.com since 2001.
Ken Gurnick has covered the Dodgers for MLB.com since 2001.